11 best places to see fall colors in Cincinnati and Northern Kentucky
When the seasons change from summer to fall, the Cincy Region gets the ultimate glow-up. Cincy's parks, gardens, and trails throughout the area offer surprising and breathtaking views and fall colors. Experience acres of autumnal leaves aglow at these ten best places to see fall colors throughout Cincinnati and Northern Kentucky.  
When are peak fall colors in Cincinnati?
While fall colors typically reach their peak by the third week of October, you can enjoy leaf peeping in Cincinnati throughout the month. Plan the ultimate fall getaway and enjoy fun Halloween events in Cincy. Don't forget to visit some family-friendly breweries while you're in town. If you're not traveling with kids, take a self-guided tour down the B-Line trail and enjoy fall colors while you visit some of Northern Kentucky's best stops for bourbon and bites.
Roebling Bridge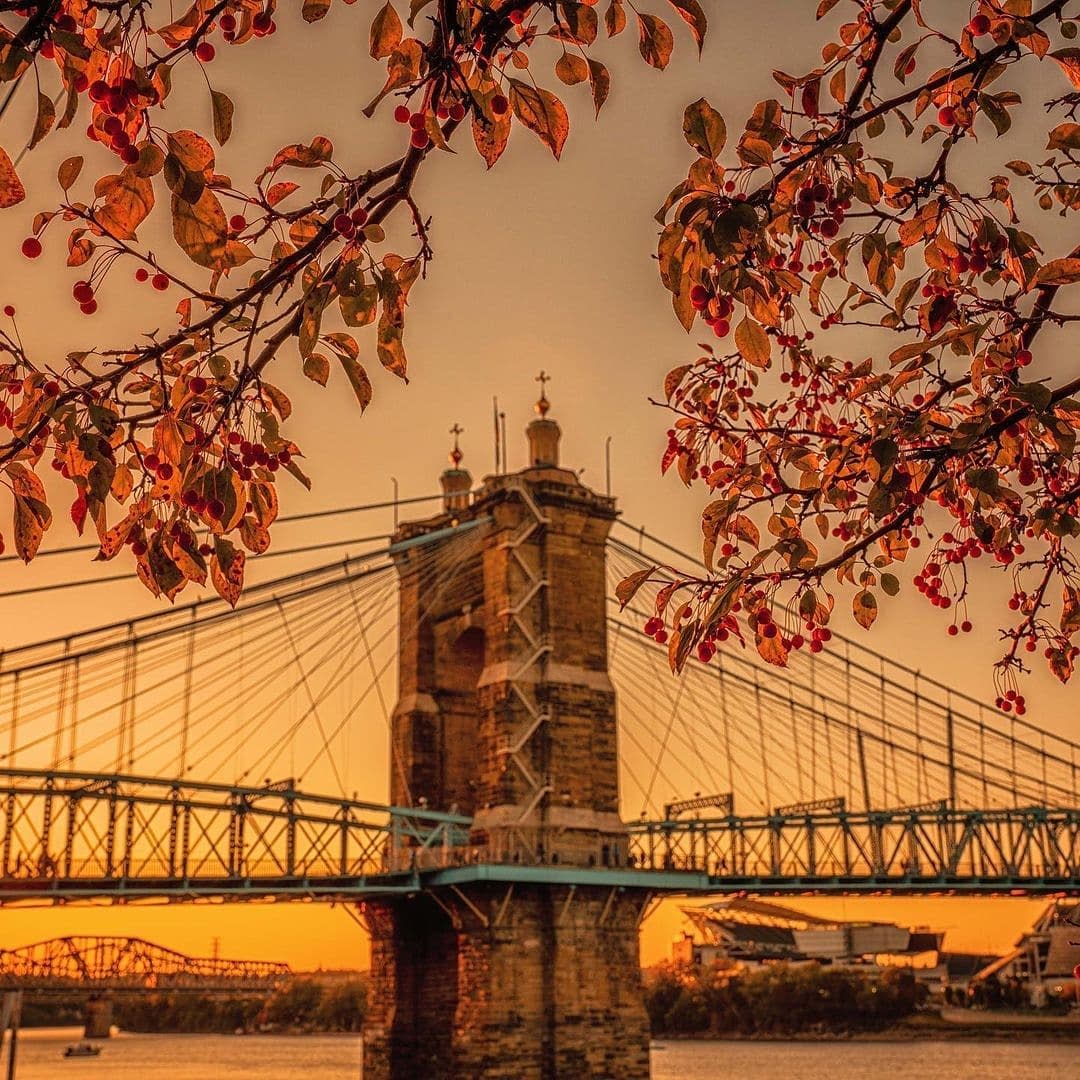 @jonreynoldsphoto
The Roebling Suspension Bridge is always iconic but the historic bridge is spectacular basking in fall's glow. Enjoy a stroll along the riverfront or cross the bridge for unmatched views of the skyline and unique fall foliage photo ops. 
Alms Park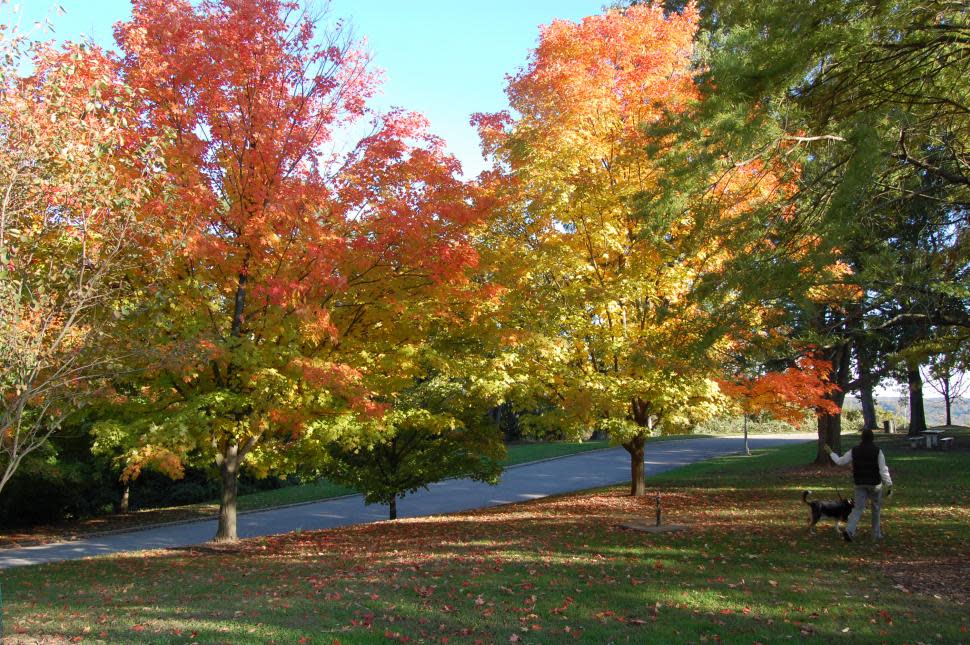 Alms Park in the fall
Alms Park's 94 acres are situated on a hilltop that offers panoramic views of the Ohio River and Little Miami River juncture, historic Lunken Airport, and the hills of Northern Kentucky.
Ault Park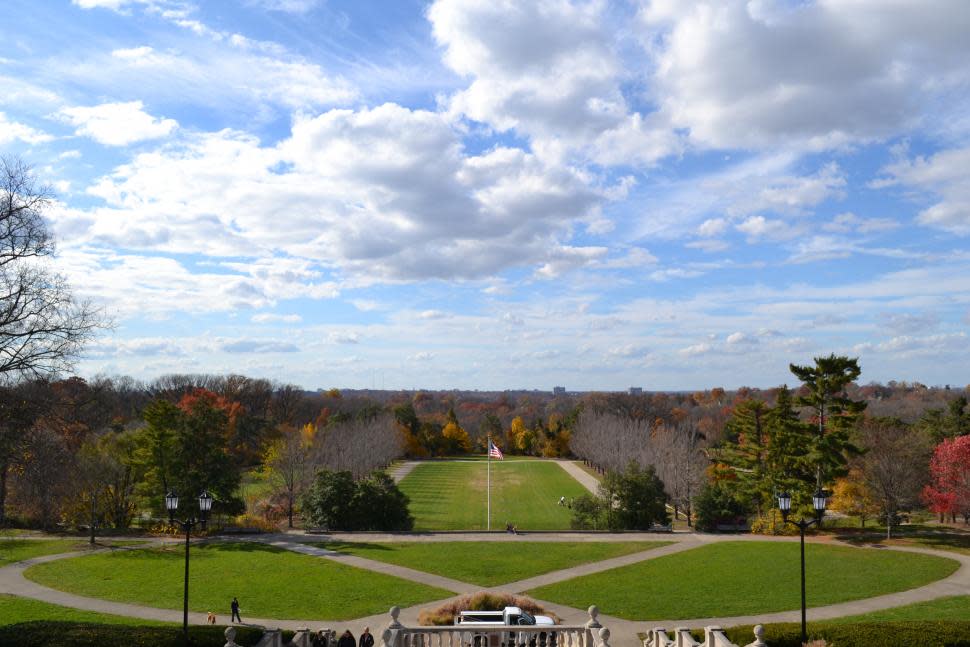 Ault Park (photo: Cincinnati Parks)
As one of the largest Cincinnati Parks, Ault Park offers a vast landscape to explore as you enjoy the changing hues of the fall foliage. Pack a picnic and stroll the meandering trails and gardens. 
Boone County Arboretum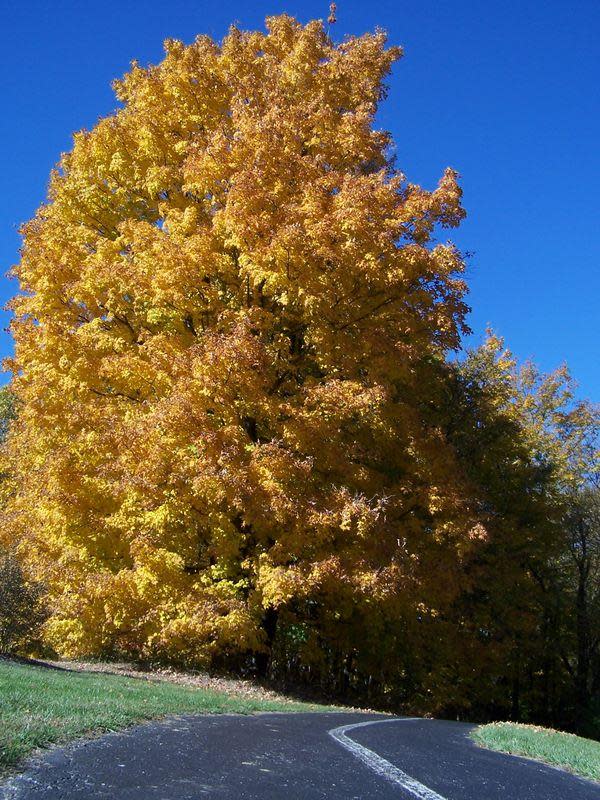 Boone County Arboretum (photo: Cincinnati Enquirer)
They call it a living museum for a reason. With more than 3,600 trees and shrubs, the Boone County Arboretum features everything from ginkgo and maple to redwood and crabapple trees. There's also a Children's Garden and a wildlife viewing area. 
Idlewild Park
Located just down the road from the Boone County Arboretum in Burlington, Kentucky, stop by Idlewild Park to soak in fall colors, a dog park, and a nationally-ranked disc golf course!
Loveland Bike Trail
Part of a 70-mile paved trail that follows an old railway line through the Little Miami Scenic State Park, the Loveland Bike Trail is a beloved outdoor attraction. Cruise the scenic route, breathe the crisp fall air, and make a pit stop in the charming town of Loveland. 
Mt. Airy Forest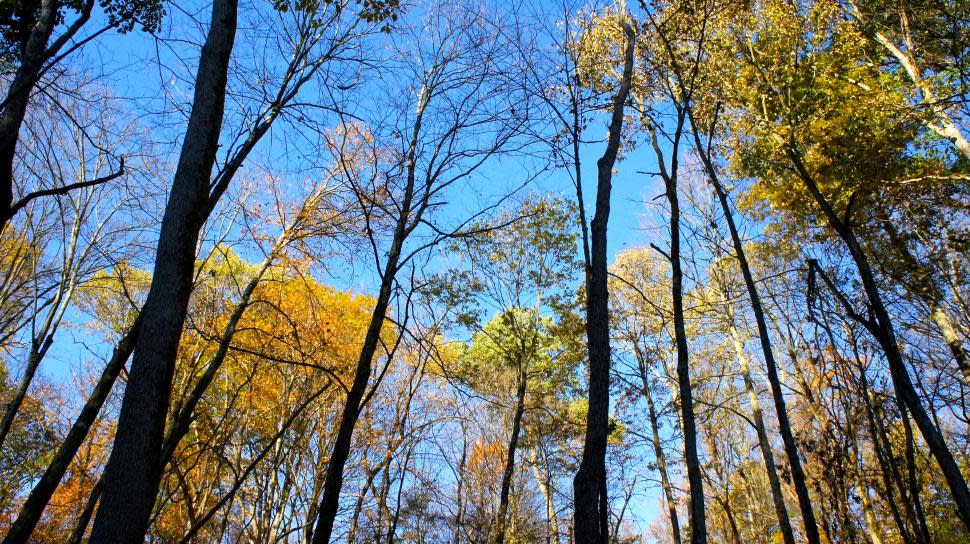 Mt. Airy Forest (photo: Cincinnati Parks)
View the fall foliage from up high at Mt. Airy Forest, which has miles of hiking and bridle trails and Ohio's only wheelchair-accessible public tree house. Also, the pups can run in the enclosed dog park and you can play a round of disc golf. 
Smale Park, Sawyer Point & Yeatman's Cove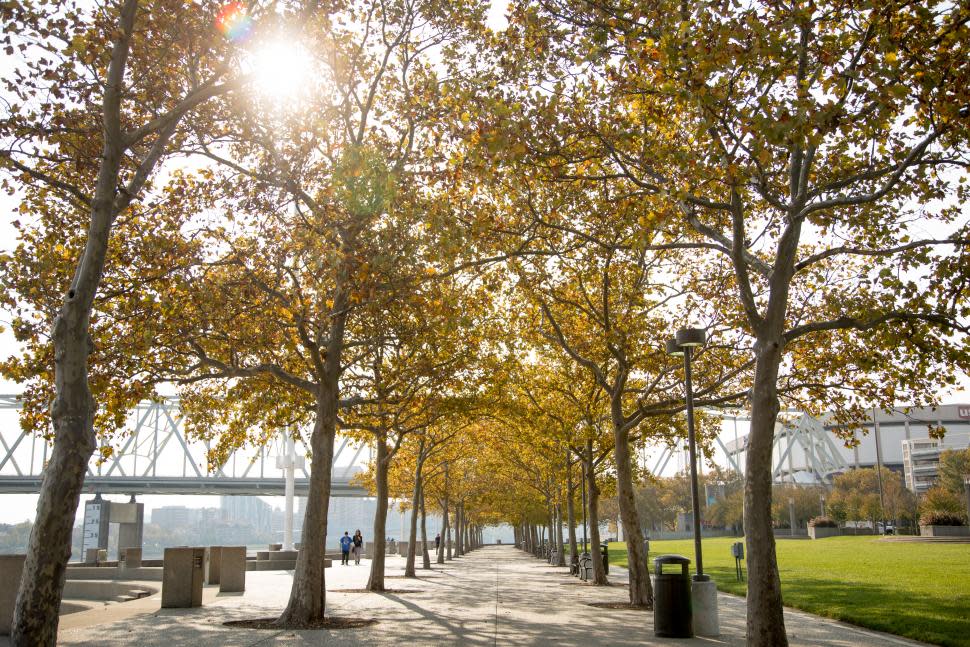 Sawyer Point 
While these three parks may sound like separate locations, you can check out all three during a relaxing stroll along Cincinnati's iconic waterfront. Situated along the Ohio River in downtown Cincinnati, this green space series features interactive playgrounds, swings, ample places to picnic, pickleball and tennis courts, and access to several pedestrian bridges that cross the river into Northern Kentucky. 
Sharon Woods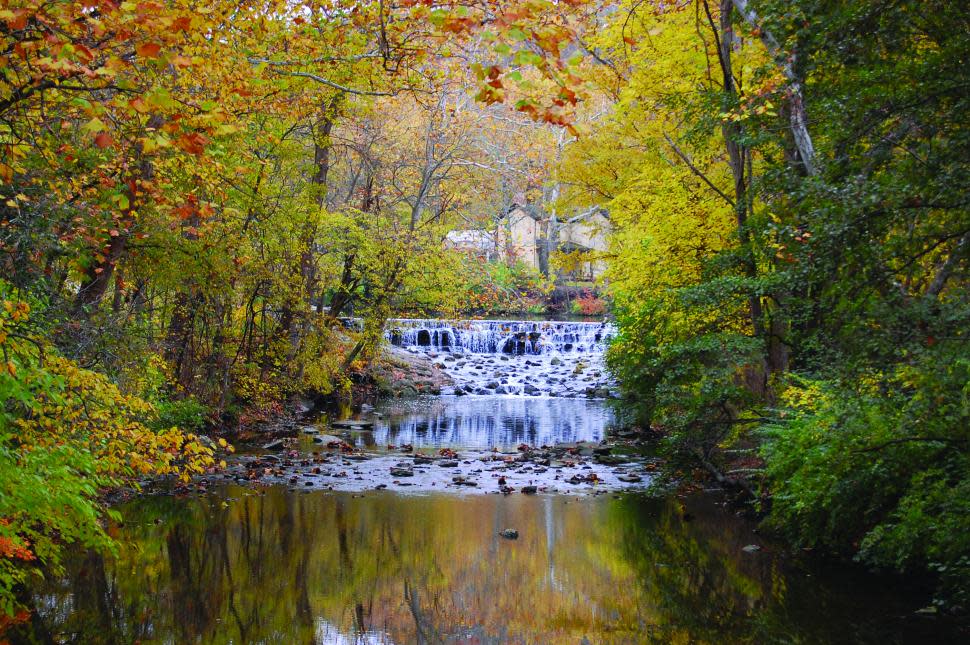 Sharon Woods
Sharon Woods spans 730 acres and offers a variety of wooded trails to explore while enjoying the beauty of the season. You can also rent a paddle board, pontoon boat, or bike from the Sharon Woods Boathouse. 
Shawnee Lookout: Miami Fort Trail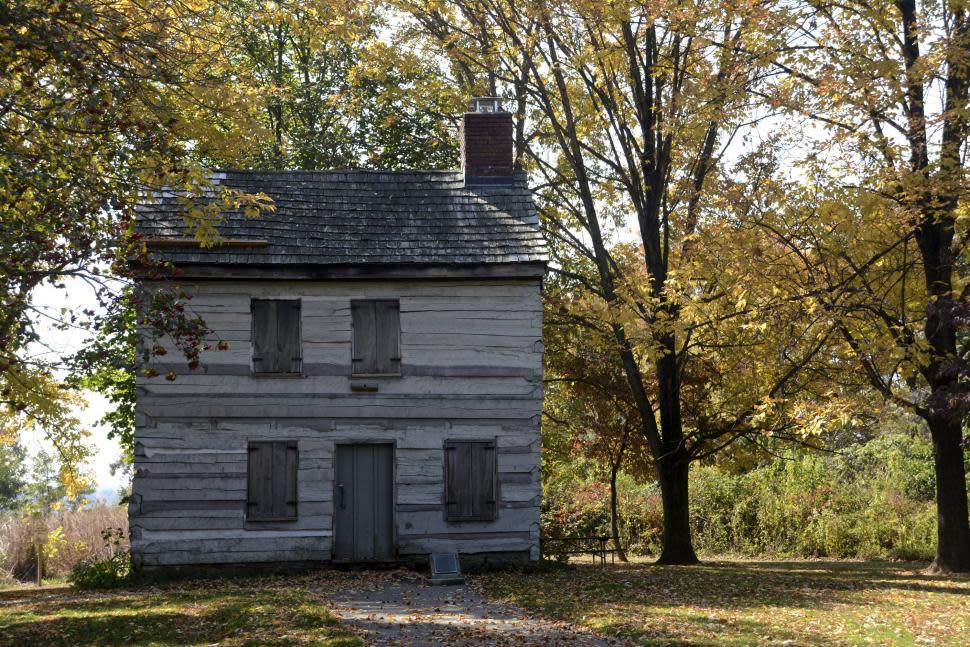 Shawnee Lookout
Hear the songbirds and migrating warblers as you trek to the top of the Miami Fort Trail. The first overlook features a view of the Miami River Valley; on a clear day, you can see the Whitewater River. 
Spring Grove Cemetery & Arboretum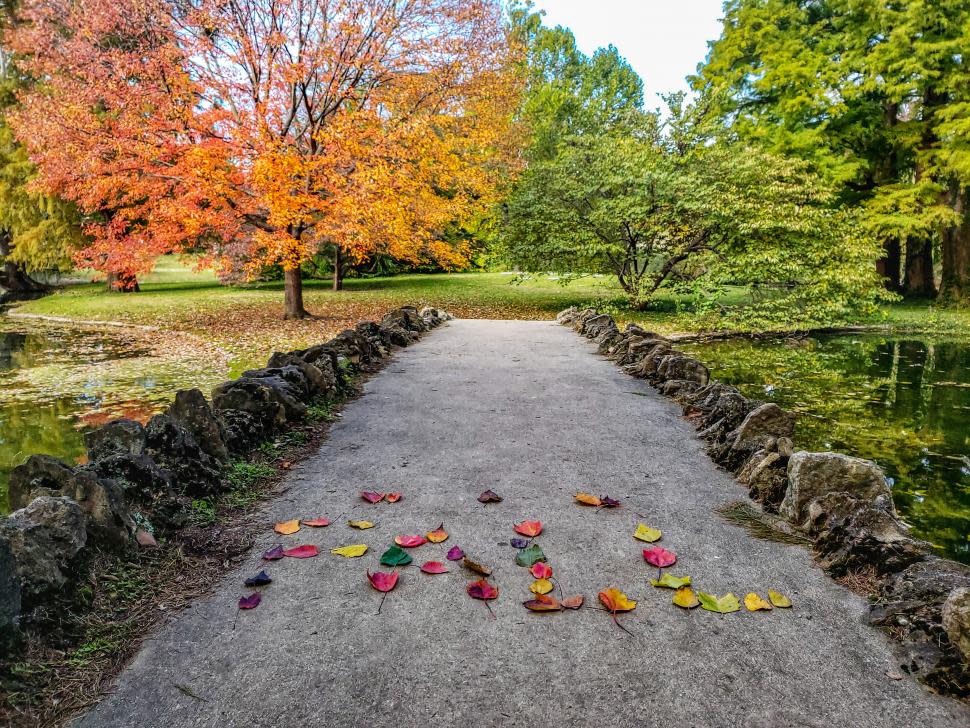 Spring Grove Cemetery and Arboretum in the fall (photo: Abby Erwin)
The 733-acre Spring Grove Cemetery & Arboretum features some of the largest trees in the state. During the autumn months, the leaves turn striking shades of orange and yellow, offering the perfect backdrop for a leisurely walk. 
Need more inspiration for a trip to the Cincy Region this fall? Check out these spooky underground Cincy experiences. If you're traveling with kids, don't miss these family-friendly Halloween events in Cincinnati.