Ground transportation
It's easy to get around in Cincy with world-class attractions, a major league ballpark, and four-star restaurants—all within walking distance. But when you want to explore all that Cincinnati and Northern Kentucky have to offer, convenient transportation services are available throughout the region.
Public transportation
Metro is Southwest Ohio's fixed route bus service. Providing more than 14 million rides per year, Metro brings approximately 20% of downtown Cincinnati's workforce into the city. Metro operates from approximately 4 a.m. to 1:30 a.m. seven days a week.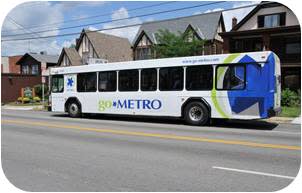 Metro serves many of Cincinnati's top cultural and tourist attractions for only $2.00 each way:
Take in Eden Park and the Cincinnati Art Museum on Rt. 1
See the world-famous Cincinnati Zoo on Rt. 46
Visit the Cincinnati Museum Center on Rt. 49
Shop at Kenwood Towne Centre on Rt. 90 MetroPlus, a limited-stop service
Metro's day pass for Zones 1 and 2 are sold on the bus for extra convenience. They're perfect for visitors, occasional riders, and anyone who plans to ride frequently throughout the day without worrying about exact change or transfers.
Running up to 18 hours a day and 365 days a year, the streetcar operates on a 3.6-mile loop from The Banks and up to the brewery district in Over-the-Rhine, and rides are offered at no charge.
Whether you're arriving or departing from Cincinnati/Northern Kentucky International Airport (CVG) the Airporter is the fastest, easiest, and least expensive way to get between downtown Cincinnati and CVG and downtown Covington and CVG. It means no cab fare, no extra time parking, and no worries. Let TANK do the driving for you. Only $1.50 each way or $3 roundtrip.
Taxi
Taxis are usually outside the entrance to major hotels in Downtown Cincinnati. Ask the hotel bell staff for assistance.
Cincinnati Taxi Companies
Community Yellow Cab
859.727.2900 or 859.261.4400
Dual licensed in Ohio & in Kentucky; vans are available
General Cab number
513.353.3824
The meter starts at $3.60; $1.60 per mile thereafter. This is an approximate fee schedule.
Kentucky Taxi Companies
Community Yellow Cab
859.727.2900 or 859.261.4400
Dual licensed in Ohio & in Kentucky; vans are available
Airport Transport by Taxi
The rate from Cincinnati/Northern KY airport (CVG) to downtown Cincinnati is $34 for one to four people. CVG is located 13 miles south of downtown Cincinnati in Northern Kentucky.
Important note: Cincinnati taxi companies cannot pick up passengers in Kentucky and Kentucky taxi companies cannot pick up passengers in Ohio. However, any company that holds a dual state license can pick up at the airport.
Visit the taxi desk in the baggage claim area or use the courtesy phone near the exit of Terminal 2 (dial 3260) to make arrangements.
Uber, Lyft, and eScooters
Uber and Lyft are app-powered rideshare programs available throughout Cincinnati and Northern Kentucky. eScooters like Bird and Lime can also be found throughout the area.
Cincy Red Bike
More than 50 stations are located downtown, uptown, and in Northern Kentucky to conveniently rent your ride. A $10 day pass offers unlimited 60-minute rides.
OGGO and GEST Carts
Download the apps. Each of these companies offer green, easy, and safe transportation with its fleet of zero-emissions, multi-passenger vehicles. Rides are also completely free.
Airport Shuttle
Airport Executive Shuttle - Local 859.261.8841 / Toll Free 1.800.990.8841
Call the day prior to your arrival or departure to guarantee your reservation. Have flight, hotel, and phone information available.