Cincinnati's streetcar
The Connector Streetcar is a fun and FREE way to navigate Cincinnati's compact downtown area. Traveling in a 3.6 mile loop that spans from Over-the-Rhine to The Banks, all you've got to do is hop on! Even better? This is a fully electric mode of transportation, so it's an environmentally friendly way to explore Cincinnati. 
The streetcar operates 365 days a year per the following core schedule with extended service hours for select events:
Monday through Friday: 7:30 a.m. - 11:30 p.m.
Saturday: 8:30 a.m. - 11:30 p.m.
Sunday: 9:30 a.m. - 9:30 p.m. 
The easiest way to calculate your Connector route is by utilizing your preferred mapping app (Google maps or Apple maps), and switching to the "Public Transportation" or "Public Transit" mode. The Connector generally comes by a stop every 20 - 25 minutes - just listen for the bells!
Once you're on and riding and when you're ready to get off the Connector, simply press one of the red "stop" buttons right before your preferred stop and you'll hear an overhead voice say "stop requested".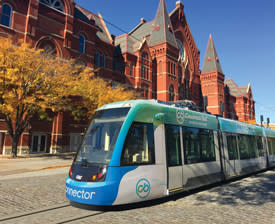 Map of route
The Connector travels on a loop from Second Street (at The Banks on the riverfront) to Henry Street (just north of the Findlay Market in Over the Rhine), with 18 stops located along the route. These stops are generally within two to three blocks of some of downtown's largest attractions, including:
Popular destinations include: 
Paycor Stadium
Great American Ball Park
Heritage Bank Center
Duke Energy Convention Center
Government Square
Fountain Square
Contemporary Arts Center
Public Library
Aronoff Center
Hard Rock Casino
Music Hall
Washington Park
Downtown Hotels
Heritage Bank Center
Protip: Coming downtown for a big event like a Bengals or Reds game? Maybe you've got tickets to a sold out concert at the Andrew J. Brady Center, or you're planning on checking out the annual Riverfest fireworks show for Labor Day. If parking during busy downtown events stresses you out, you can always park further from your destination and hop on the Connector.