Cincinnati's streetcar
Cincinnati's compact downtown makes getting around incredibly easy. If you want to explore all that Cincinnati and Northern Kentucky have to offer, convenient transportation services are available throughout the region. Hop on the free Connector streetcar, which travels a 3.6 mile loop through the heart of the city, or walk to world-class attractions, major league ballparks, and four-star restaurants. All rides are free of charge!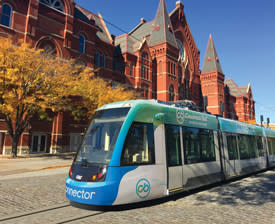 The Connector
The Cincinnati streetcar is an electric mode of transportation operating on a 3.6-mile loop connecting key communities in the city's urban core. The streetcar attracts roughly 1,800 riders a day, runs 18 hours each day and 365 days a year. The first phase of the streetcar was a $148 million development, but the vision is to create a system that spurs development and is part of a larger multimodal transportation system that links areas outside the downtown core and throughout the larger region.
Map of route
The streetcar travels on a loop from Second Street (at The Banks on the riverfront) to Henry Street (just north of the Findlay Market in Over the Rhine). There are 18 stops located along the first phase of the route. The stops are one to two blocks from downtown hotels and three blocks from the Duke Energy Convention Center.
Popular destinations include: 
Duke Energy Convention Center
Government Square
Fountain Square
Contemporary Arts Center
Public Library
Aronoff Center
Hard Rock Casino
Music Hall
Washington Park
Downtown Hotels
Station stops
DNK Architects developed a design for the station shelters that would be easily recognized and protect riders from the elements for the short time that they will be waiting at the stops.