About Us
Visit Cincy is a destination marketing organization that drives travel to create ongoing economic impact and vitality for the Cincy Region's people, businesses and communities in which we serve.
Whether for leisure travelers or meeting professionals, Visit Cincy promotes distinctively memorable experiences that attract, delight, and connect people to the diverse heritage, rich history, deep culture, and values that are uniquely Cincinnati.
Our overall goal: supporting the residents of the Cincy region through increased tax revenue and direct spending in area businesses by visitors, meeting planners and convention goers. This goal is accomplished through strategic sales, marketing, event services, destination leadership, diversity and inclusion initiatives and tourism industry engagement strategies.
Organizational Overview
A 501(c)6 corporation, Visit Cincy is comprised of four departments (Finance/Admin; Sales; Marketing and Diversity, Equity & Inclusion). Support comes from a Hamilton County dedicated transient occupancy tax, as well as nearly 500-member companies throughout the region that invest in our efforts and help make the Cincinnati region a top destination by offering their services, attractions and facilities to visitors, meeting planners and convention goers.
Over the years, Visit Cincy has developed partnerships to strengthen our marketing impact and leverage our regional relationships. One of closest partne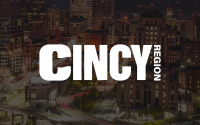 rships is with meetNKY, the Northern Kentucky Convention & Visitors Bureau. In 2020, the two organizations solidified a direct collaboration to build leisure tourism business, promote the region for meetings together and maximize business system efficiencies. Joint strategies include building a targeted leisure tourism campaign, this web site, visitor resource materials and more. The organizations also work together to promote meetings and events, group and packaged travel, international outreach and support airline development for the region. When we collaborate for a campaign or event, we use the umbrella brand of "Cincy Region." Cincy Region not only refers to the four counties that primarily fund our organizations (Hamilton County, Ohio; Boone, Kenton and Campbell, KY), but the full 10-county metropolitan statistical area (MSA) of greater Cincinnati.
 
An independent entity, Visit Cincy also works closely with hotels throughout the region and a host of regional business and economic development organizations in addition to meetNKY, including the Cincinnati USA Regional Chamber, African American Chamber, Hispanic Chamber Cincinnati USA, REDI Cincinnati, 3CDC, The Sharonville Convention Center and the current Duke Energy Convention Center management company, to market Cincinnati, Hamilton County and the region.
Visit Cincy was previously known as the Cincinnati USA Convention & Visitors Bureau and the Greater Cincinnati Convention & Visitors Bureau.
Mission Statement
Visit Cincy is the region's primary destination marketing and management organization. Its mission is to increase economic impact in Hamilton County and its cities by growing visitor expenditures - conventions, trade shows and tourism.
Vision
Here are the principles that guide our vision work and inform our annual planning efforts:
Elevate the Cincy Region as a must-visit travel destination that offers a distinctly unique experience from the rest.
Continuously define the financial impact of the visitor economy and its importance to the Cincinnati region.
Understand and meet the needs of meeting planners, convention attendees and leisure/tourism visitors.
Enhance the quality of life for our citizens.