Best parks in the Cincy Region for outdoor family fun
Cincy is home to some really fantastic parks, and those of us who live here are thankful to have so many options for going to the park. From interactive gardens to wide open spaces, there are many family-friendly parks in Cincinnati. This list is just a start to all of the outdoor fun you can find for your family in Cincinnati, so take time to explore the great outdoors that Cincinnati and Northern Kentucky have to offer. 
Cincinnati Nature Center at Rowe Woods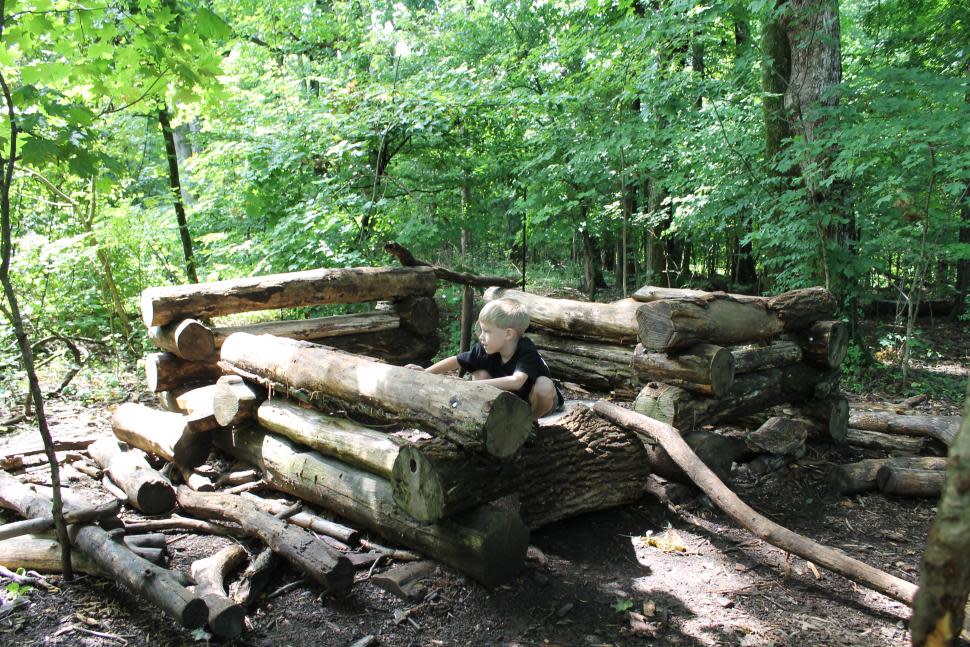 Cincinnati Nature Center (photo: Katie Scheper)
If you are in the mood for a beautiful walk in the woods and a creative place for kids to play, then you need to head to Rowe Woods, home of the Cincinnati Nature Center. You can walk around ponds and look for turtles, let your children explore nature and construct things with actual logs, watch your wee ones splash in a creek, and climb on rocks. It's a nature wonderland for the whole family!
George Rogers Clark Park in Covington, KY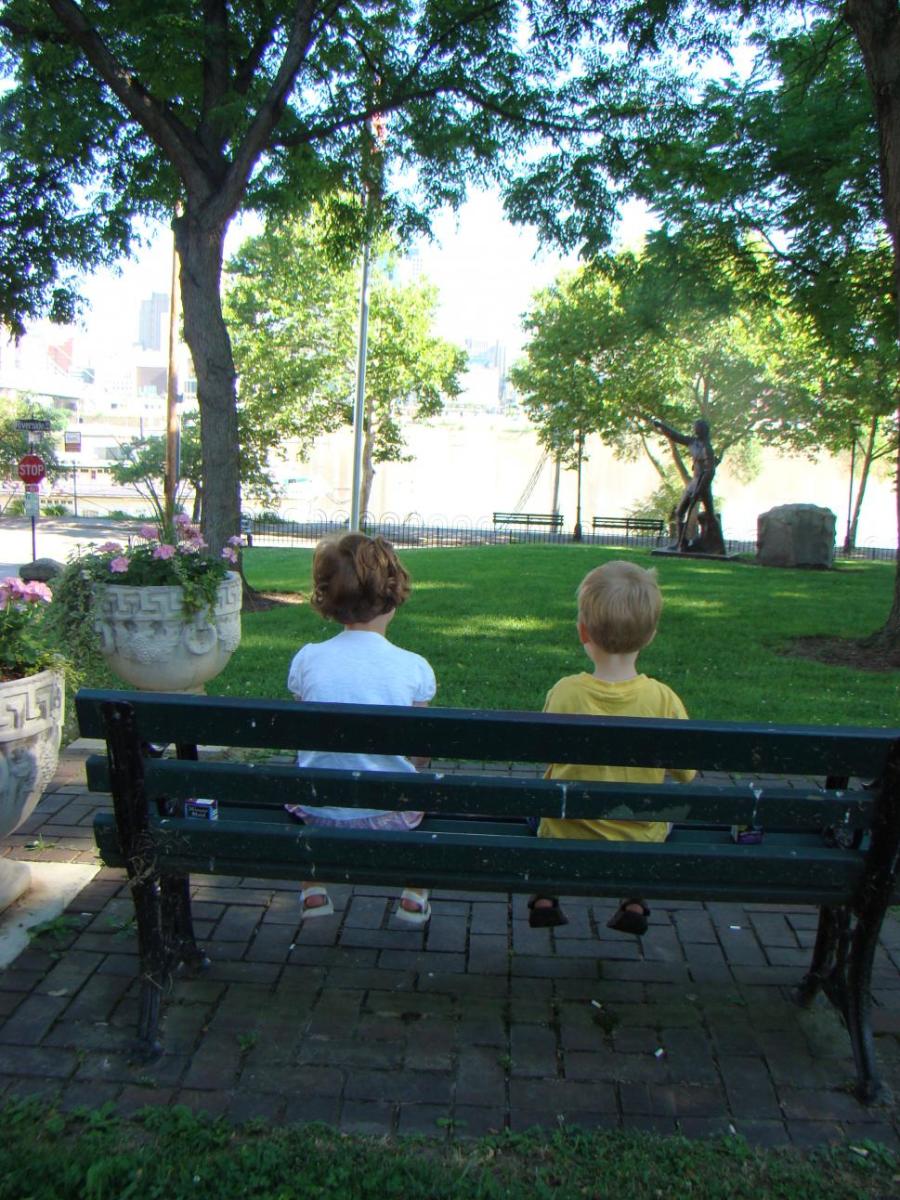 George Rogers Clark Park (photo: Katie Scheper)
Located in Covington, Ky., at the corner of Riverside Drive and Garrard Street, George Rogers Clark Park does not boast a playground or have a lot of acreage, but for a tiny patch of park in an urban area it does have big charm. Pack a picnic and sit on a blanket while enjoying the sights. Watch barges go by on the river, count cars that pass on the Roebling Suspension Bridge, and maybe you'll get lucky and be at the park when the Reds score a homerun and you can see fireworks from the ballpark! After your picnic, take a walk by the river – if you walk towards the old Covington Landing you can see the beautiful Roebling Murals, and if geocaching is your thing, there's a rather fun set of geocaches to be found along the river. 
Goebel Park in Covington, KY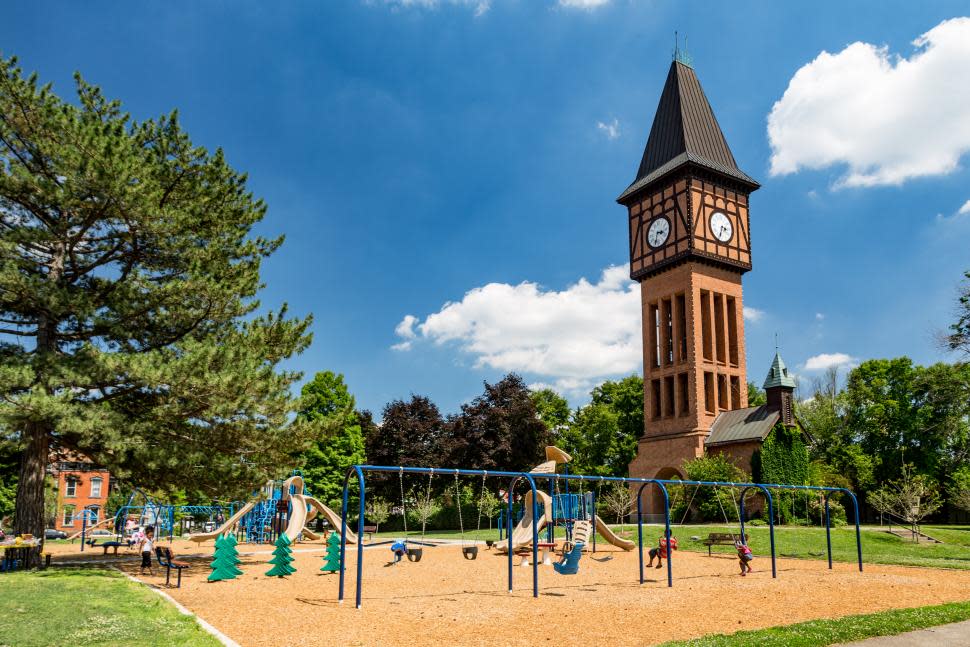 If you've driven on I-75 through Northern Kentucky you've probably noticed the grand clock tower in Covington, Ky. This clock tower is the centerpiece of a small park with big charm. Goebel Park's historic Carroll Chimes Clock Tower has a mechanical puppet show production of the Pied Piper of Hamlin that plays every hour on the hour (April-December), and you can sit on the promenade and enjoy some sweets from the Candy Bar while you take in the show. It's the playground and surrounding park that are making news, though. There have been some major renovations and now the park has a playground that kids LOVE. The park is also home to goats brought in to eat the overgrown grass in different parts of the park! There are also plans to create a pump track for bikes.  All of these plans for betterment have been championed by the families in the neighborhood and will be enjoyed by many.
Highfield Discovery Garden at Glenwood Gardens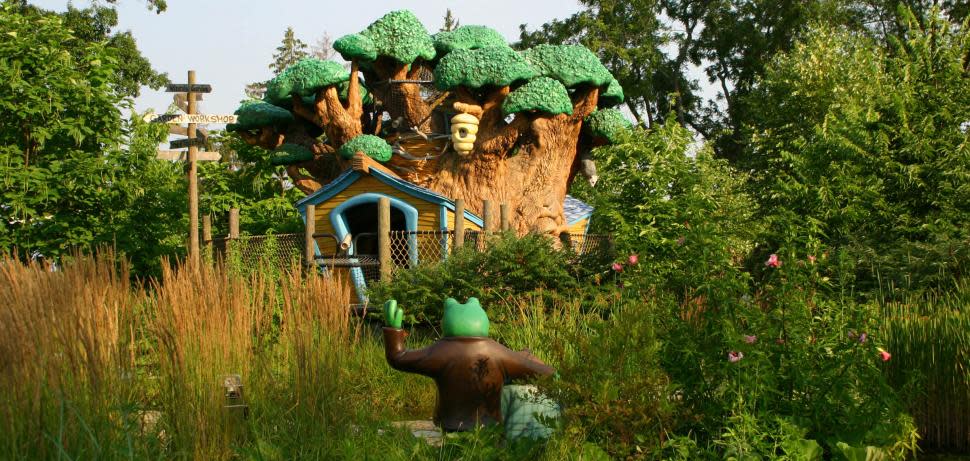 Highfield Discovery Garden (photo: Katie Scheper)
North of Cincinnati is a magical wonderland of a playspace for children. The Highfield Discovery Garden at Glenwood Gardens has a giant treehouse, fairy gardens, goldfish ponds, model trains whizzing above your head, a little house perfect for tea parties, and more. Children big and small love this creative play space. Pack a picnic to eat in the gardens and then spend an afternoon exploring. Season passes are reasonably priced and the Discovery Garden offers children's programming.
Pyramid Hill Sculpture Park & Museum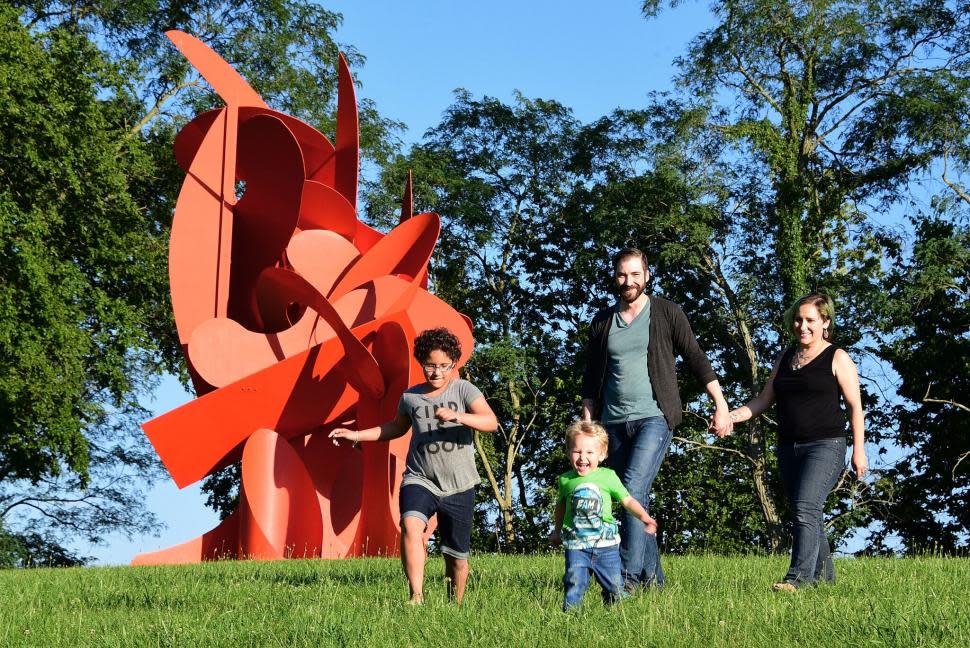 Pyramid Hill Sculpture Park
If your family is into the arts, I highly recommend a trip to Hamilton to visit the Pyramid Hill Sculpture Park and Museum. Sculptures of all sorts are spread throughout the hills and valleys of this gorgeous park. It's a great place to get some exercise while exploring phenomenal art. If walking isn't your thing, the park does rent carts to get around to see all the sculptures.
Riverfront Parks in Cincinnati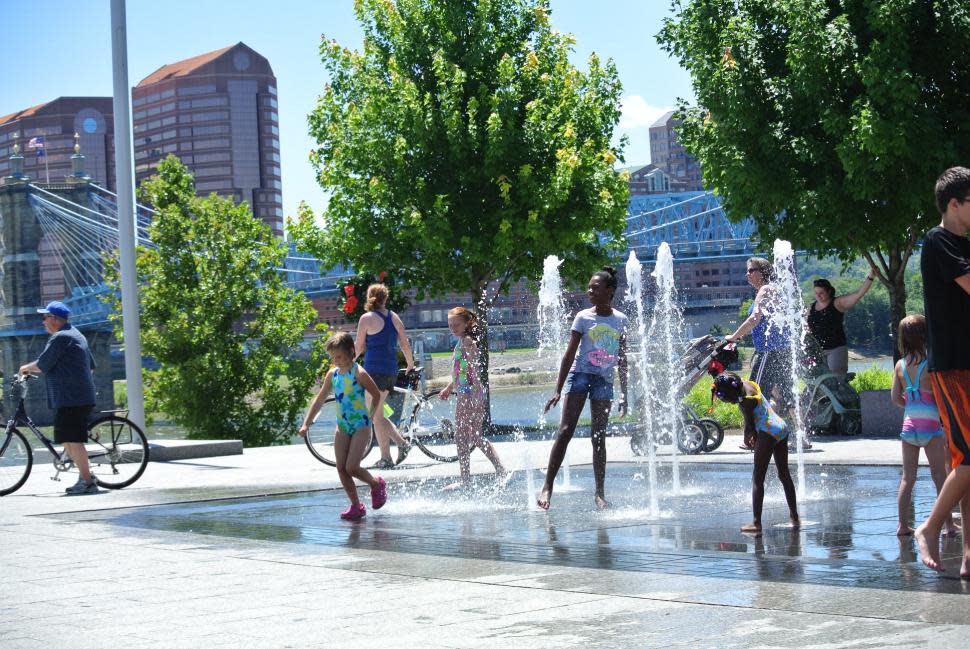 Smale Riverfront Park
On any given sunny weekend day, you can find families hanging out in the parks along the Ohio River. Start out at the International Friendship Park on bikes and then head down to Sawyer Point for some fun playtime at the inclusive "Every Child's Playground". Then we hop back on the bikes and finish up at Smale Riverfront Park, where there are giant swings (resembling porch swings), interactive water features to splash in, and a playground for the kids as well as the magical Carol Ann's Carousel. If we are hungry after all of this bike riding and playing there are numerous restaurants at The Banks to choose from!
Washington Park in Over-the-Rhine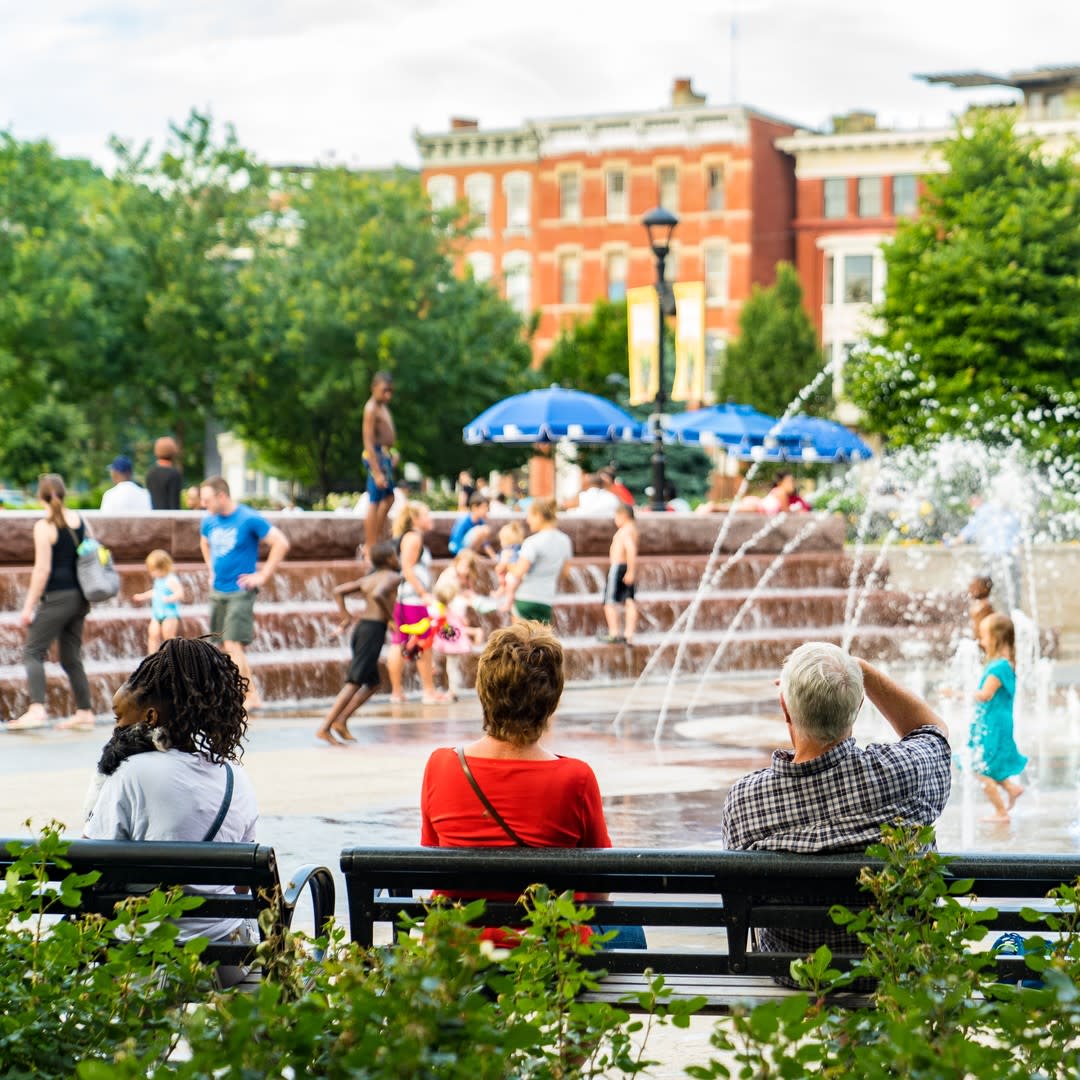 The green space right smack in the middle of downtown called Washington Park is not just a park, it's an events center. On any given day in the warmer months, you can find all sorts of fun things happening at this popular Over-the-Rhine gathering spot. Come for the splash area and playground and stay for free live music, outdoor movies, yoga, kids' activities, and much more!