11 of the best rooftop bars in Cincinnati and Northern Kentucky
Who doesn't love a happy hour with a view in Cincinnati? Whether you're looking for a craft beer, glass of wine, or cocktail with a view, these are the best rooftop bars in Cincinnati.
AC Upper Deck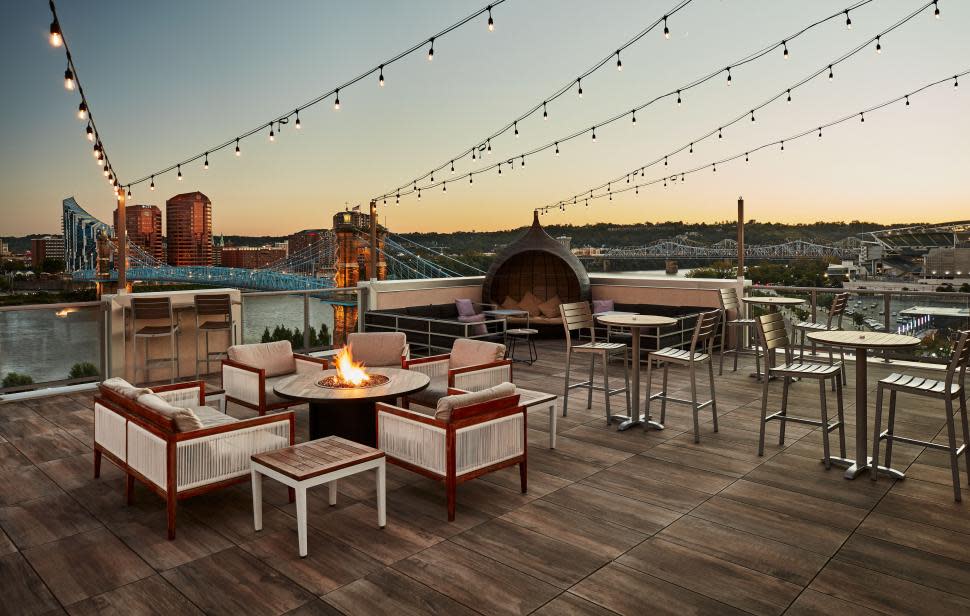 AC Upper Deck (photo: AC Hotel)
Situated at The Banks, AC Upper Deck at the AC Hotel Cincinnati gives visitors views of Great American Ball Park, Covington, Ky., and the riverfront. Watch the river traffic pass by as you admire the sunset after a day of sightseeing. String lights create a romantic and stylish setting, perfect for date night. Enjoy tapas, such as roasted red pepper hummus and margarita flatbread. If you want to learn how to explore The Banks like a local, check out our local's guide.
Bishop's Quarter
Enjoy a craft beer or cool cocktail in this New Orleans-inspired venue. Located just off the Loveland Bike Trail in historic downtown Loveland, Bishop's Quarter offers three levels for drinks and dining including the rooftop bar on the third level, known as "The Landing."
Braxton Brewing Co.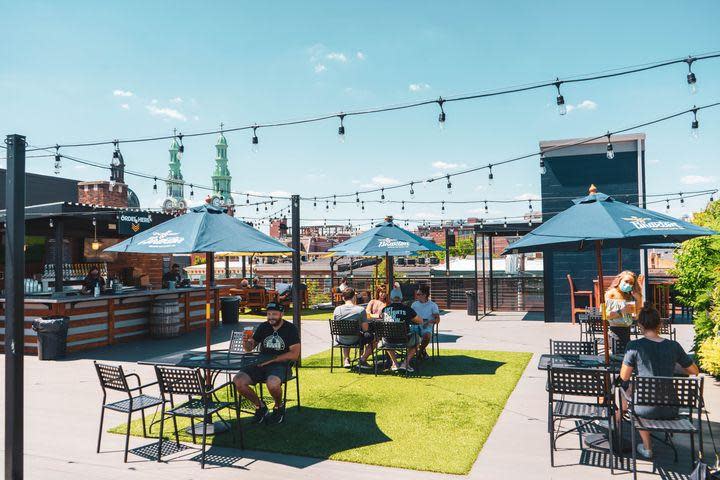 Rooftop bar at Braxton Brewing (photo: provided by Braxton Brewing)
This popular Northern Kentucky brewery is even better thanks to its rooftop bar perfect for enjoying the summer sunshine. Braxton Brewing Company's rooftop bar features 20 beers on tap, a large cocktail menu, and breathtaking views of both Covington and Cincinnati. Plenty of seating, a living plant wall, and live music keep the good vibes going. What more could you ask for? Stop by for a cold brew and a great time with friends and family. 
Gaslight Bar & Grill
Home to the old Clifton branch of the Cincinnati Public Library, Gaslight Bar & Grill has recently added a beautiful new rooftop patio, which makes it the neighborhood's first rooftop bar. The extensive drink menu pays homage to its literary roots with cocktails named after classic books, like Tell Tale Heart and Farenheit 451. 
Overlook Kitchen + Bar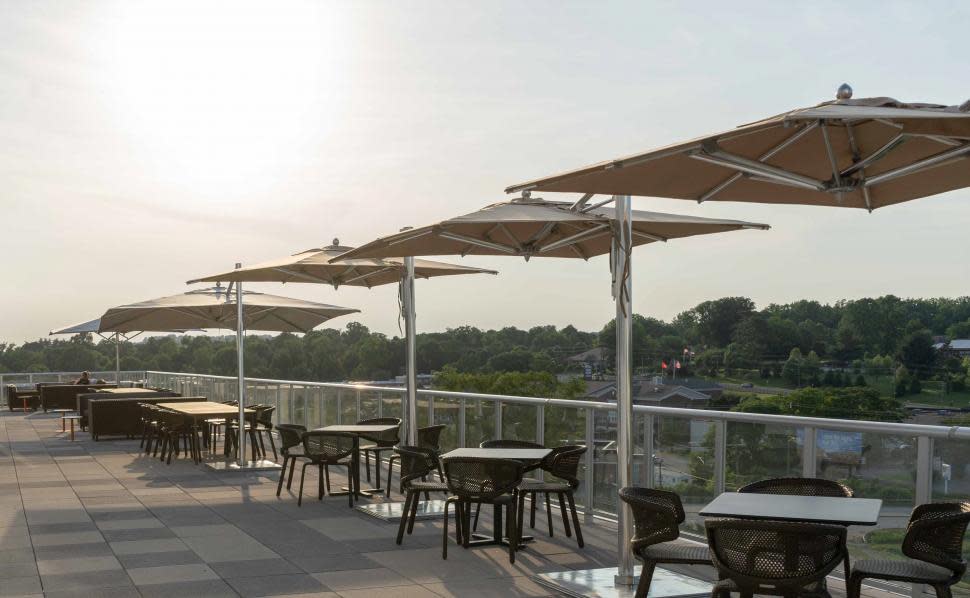 Overlook Kitchen + Bar (photo: The Summit Hotel)
Located on the 4th floor of The Summit Hotel, Overlook Kitchen + Bar has a vast 3,800 square foot outdoor patio that offers views of the surrounding neighborhood and greenery. Order cocktails to sip during sunset or indulge in a three-course meal while enjoying the breeze. 
Lisse
Looking for a new date night spot? Check out Lisse in Northern Kentucky. This classy, upscale steakhouse with Dutch influences features a rooftop bar that offers breathtaking views of the Cincinnati skyline. Sip on a signature cocktail and enjoy great conversation on the intimate patio, or indulge in one of the many mouthwatering dishes available from the menu. We recommend making a reservation, as the dining area and rooftop fill up quickly.
Pins Mechanical Company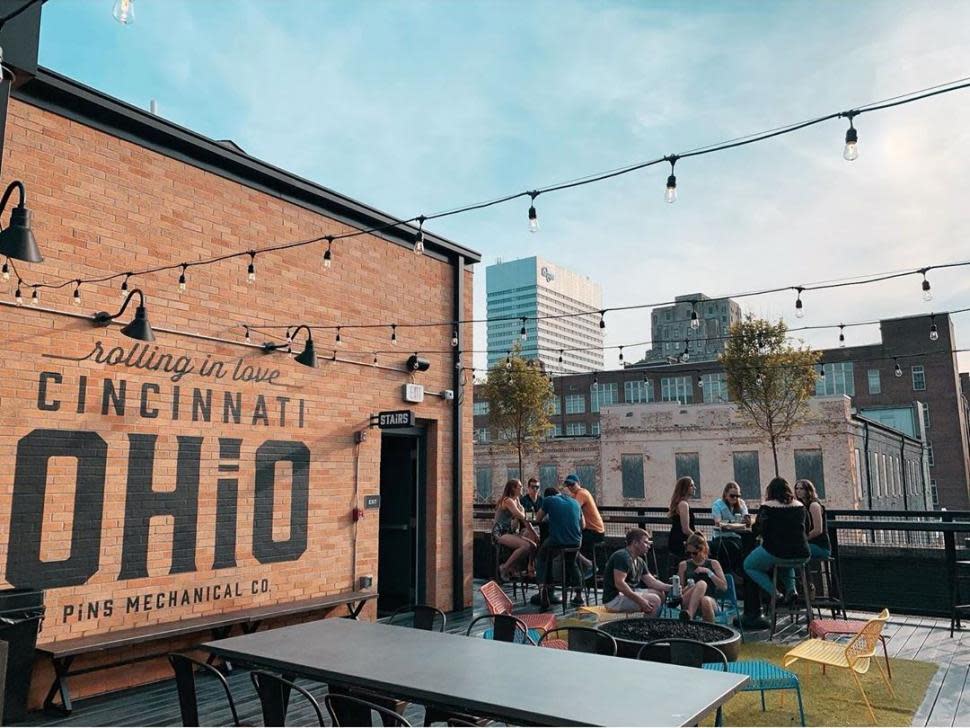 Rooftop bar at Pins Mechanical (photo: @lunalyss)
The lively, dynamic rooftop bar at Pins Mechanical is a great spot to grab a drink and enjoy the fresh air in historic Over-the-Rhine. Sip on a signature cocktail and play jumbo Jenga, or head inside and give bowling or foosball a try. Dress is casual, with employees participating in the theme by wearing retro bowling jerseys. With a variety of things to do, Pins Mechanical is fun for the whole family! 
Rhinegeist Brewery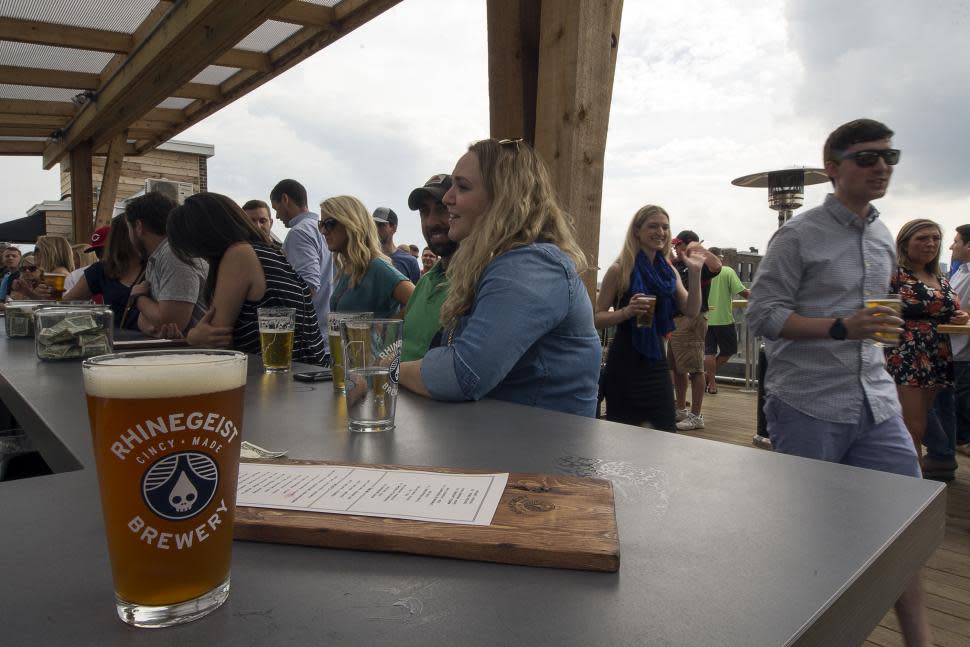 Rhinegeist rooftop bar (photo: Wendy Pramik)
A Cincinnati original, Rhinegeist Brewery is located in the heart of Over-the-Rhine. Enjoy this large rooftop bar offering panoramic views while sipping locally-crafted brews. This casual, relaxed establishment welcomes all ages, so bring the whole family and enjoy some food from the newly opened OTR Chili Company. If you're looking for more places to eat and drink in this neighborhood, check out our local's guide to Over-the-Rhine.
Top of the Park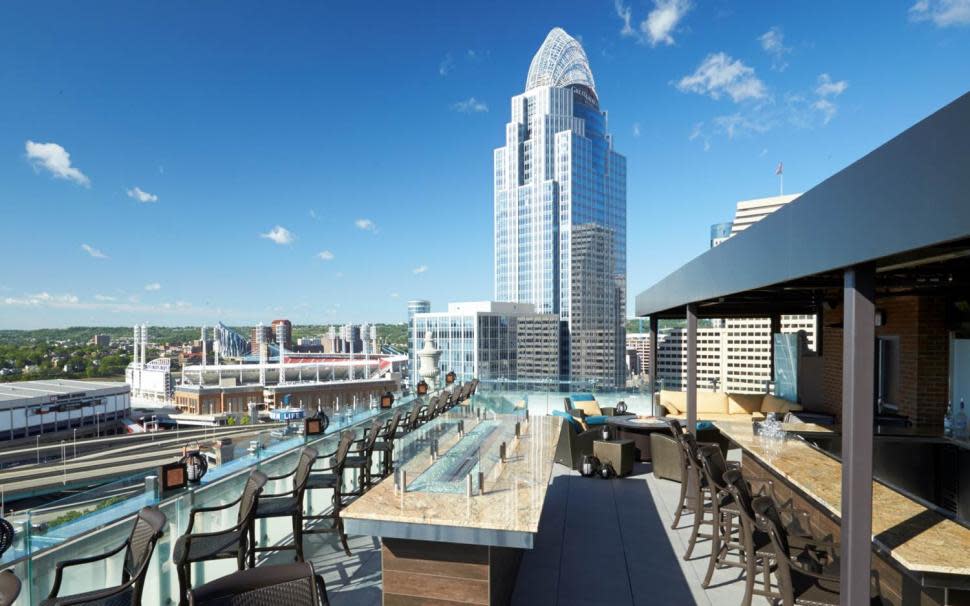 Top of the Park at Residence Inn (Photo: OMS Photography)
Located atop the Residence Inn, Top of the Park offers stunning views of the city. Enjoy tapas and signature cocktails in an upscale, elegant setting. Try the signature Rooftop Lemonade, or go the more traditional route with a beer or glass of bubbly. Live entertainment is available several nights each week.
The View at Shires Garden
The View at Shires Garden is perched atop the City Club Apartments on Vine Street in downtown Cincinnati on the grounds of a former amusement resort owned by an English aristocrat that burned down in 1848. The venue features beautiful city views from its 2,000-square-foot outdoor space with a bird's-eye view of the Ohio River, Roebling Suspension Bridge, Paycor Stadium, and more. The greenery-trimmed rooftop escape offers lunch, dinner, and a full bar.
Vista at Lytle Park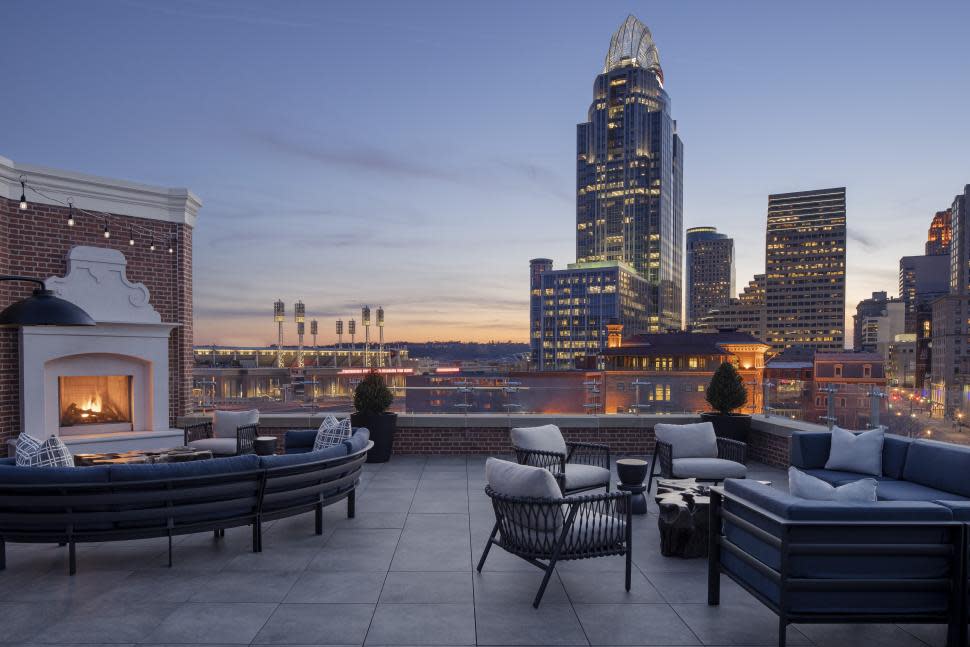 Vista at The Lytle Park Hotel (photo: Photofusion, Gabe Roth)
Enjoy delicious food, hand-crafted cocktails, and panoramic views at this new rooftop bar, the crowning jewel atop The Lytle Park Hotel, Autograph Collection.
Discover Cincinnati's unique restaurants and plan your Cincy foodie adventure now.