Cincy Tourism Ambassadors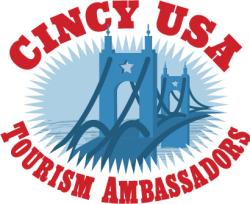 The Cincy USA Tourism Ambassador™ Program is part of a national customer service certification program created to increase tourism by inspiring front-line hospitality employees and volunteers to turn every visitor encounter into a positive experience.
The premise is simple. When they receive quality service, visitors (convention attendees, leisure and business travelers, etc.) are more likely to have positive experiences; and importantly, are more likely to return in the future. They will share their perceptions with their networks. Everyone benefits – visitors, hospitality workers and their employers as well as the local and regional economies.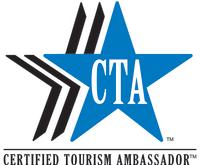 The Tourism Ambassador Program is more than a front-line hospitality training course  … it's certification.  Successful candidates will receive the designation Certified Tourism Ambassador™ (e.g. John Smith, CTA) and will renew their certification on an annual basis to maintain their knowledge and skill base. 
This industry-recognized certification program, Tourism Ambassador Institute™, has been featured in USA Today, the L.A. Times and Business Week Online and CVBs across the country are rapidly adopting it — including  Anaheim, Door County, Tuscon, Bermuda, and San Antonio. More than 20,000 individuals have achieved the CTA designation nationwide to-date, and the number continues to grow.
How to Sign Up for a Class
Click here to check on class locations and dates. 
How it works:
Front-line hospitality staff, volunteers, managers and anyone who comes in contact with Cincinnati visitors are welcome to join the program. Once registered for a session, a person receives the Cincinnati-based text as a pre-read. Then, they attend one four-hour session which covers four modules to enhance our visitor experience:
Importance of the Tourism Industry
Cincinnati's Unique Assets
Cincinnati Resources
Customer Service Excellence
At the end of the session, an open-book test is administered, and those who pass become Certified Tourism Ambassadors (tm) The Cincy USA CTAs will have the benefit of using this designation in their signature, receiving city/program updates, experience opportunities, discounts and freebies to further learn and enjoy the Cincinnati region.
Upcoming Classes
Stay tuned for upcoming classes
Sign Up online or by application
Sign up online at CTAnetwork.com. You must fill out an enrollment form, and then available class times will be shown.
Bringing a Class to Your Facility
Many employers are interested in hosting classes for their employees, and can do so at discounted rates. Contact Tyler Minton for more details: TMinton@VisitCincy.com.
Program Fees
Classes are $36 for the first year of the program, and includes the 180-page PreRead Binder, class costs, and pin. Group discounts are available for employers who enroll 7 or more employees. Email TMinton@VisitCincy.com for details.
Renewal
Renewal of your CTA Certification happens on an annual basis in the last quarter of each year. Here are the steps to renew:
Visit www.ctanetwork.com
Login using your Username & Password.
On the left side, in the blue box, click "Record My Points".
Click "Record Points" 
Review your profile information, make changes if necessary, then click, "Save".
Record your points.  
For attractions not on the list you can enter them either under "Attending CTA networking Events/Activities or Attending Educational programs, Seminars" and get 5 points.
Once you've gotten 50 points, no need to go over the points, you can save them for next year.
Host a Class at your Facility
We are currently seeking facilities to host CTA classes. Please contact Tyler Minton at tminton@VisitCincy.com if you can host a class.