Food is culture and one of the best ways to get to know a region and its people. Dig into Cincy's dining scene and grub out on barbecue, West African cuisine, Cajun and creole dishes, locally roasted coffee, sweets, and more at these Black-owned restaurants in Cincinnati and Northern Kentucky.  
Black-owned breakfast and coffee joints
There's nothing better than a cup of coffee and some light bites to start your day. Consider one of these Black-owned coffee and breakfast spots in Cincinnati.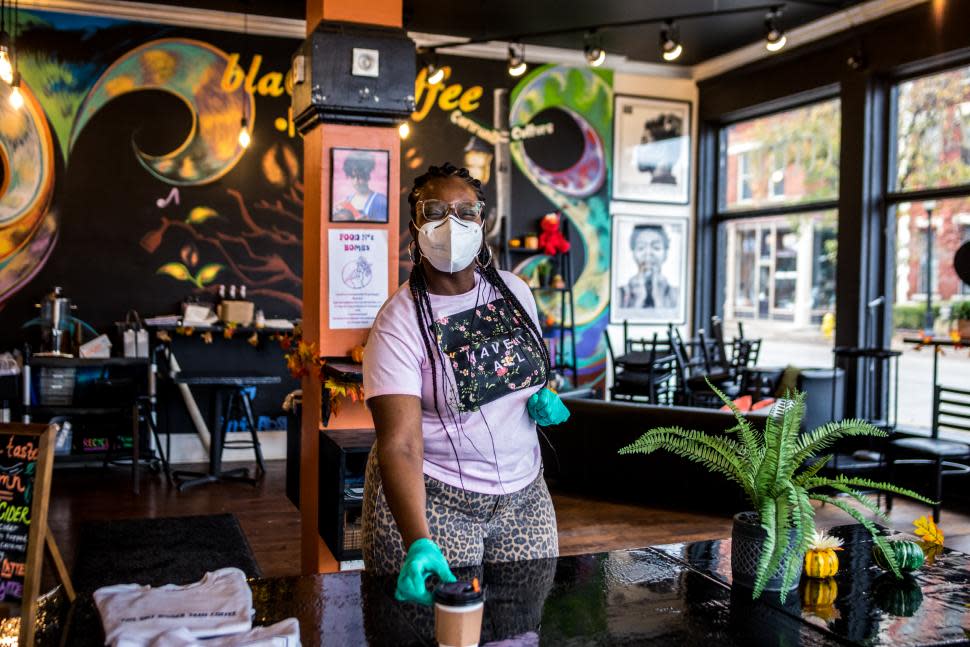 BlaCk Coffee
Located in downtown Cincinnati, this specialty coffee shop is inspired by hip-hop and community. Be sure to grab a pastry or sandwich to accompany your beverage. And don't miss their original apparel shop, BlaCk OWned, just next door.
Boomtown Biscuits & Whiskey
Chef Christian Gill's Boomtown Biscuits & Whiskey serves up homemade biscuits with jams and butter, three types of gravy, or as a hearty sandwich. Their location in the Pendleton neighborhood offers indoor and outdoor seating and carryout.
Cream + Sugar
A newly opened shop near Xavier University serves gourmet coffee, espresso, specialty drinks, and breakfast and lunch fare. Dine in at Cream + Sugar or take your goodies to go.
Black-owned Barbecue in Cincy
These places will hook you up with some delicious, finger-lickin' barbecue.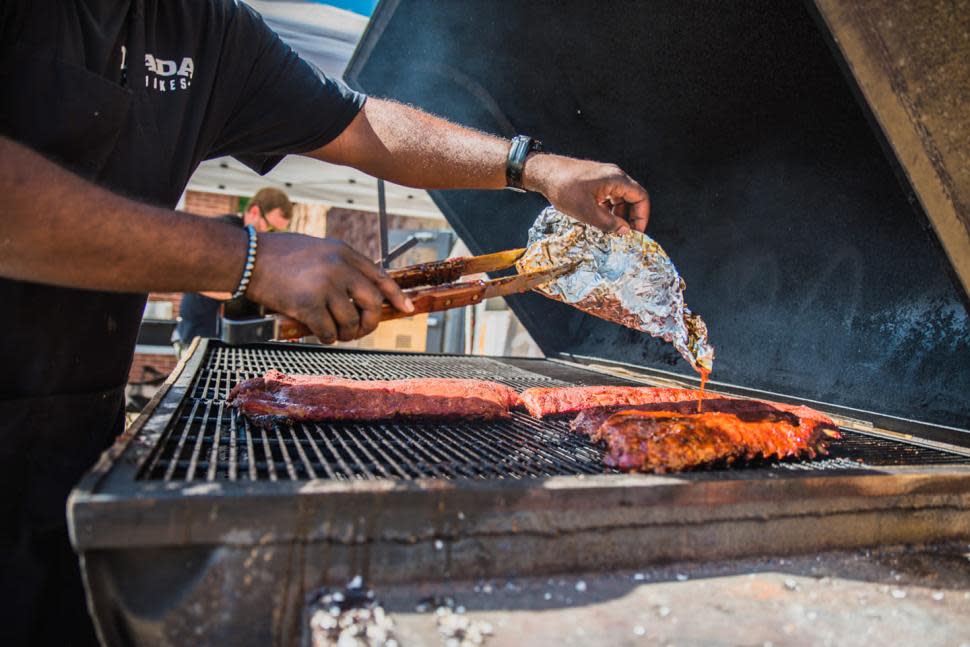 Alabama Que
The restaurant's name and the food pay homage to the state where the owner grew up, Alabama. Alabama Que's menu includes ribs, pulled pork, brisket, chicken, salmon, and their claim to fame–Turkey Tips.
Dada Smokes
Dada Smokes is a catering and food delivery business based in Newport, Kentucky. You can find them slingin' their delicious smoked meats and sides around town at various venues. Follow them on social media to find out where they'll be next.
Just Q'in
Just Q'in is known for its excellent brisket, and other freshly prepared options including many vegetarian and gluten-free sides, but its mission makes them more than a great barbecue restaurant. They are a for-profit social enterprise that hires, develops, and trains individuals with barriers to employment.
Sweets & Meats BBQ
The husband and wife duo that operate this Sweets & Meats BBQ has been honored with awards for their delicious food and business accomplishments. Grab carryout from their permanent location in Mt. Washington or their popular food truck as it travels around the region.
Black-owned southern favorites, seafood, and more
These restaurants are serving up everything from burgers to southern favorites to West African Senegalese fare. 
Nolia Kitchen
Nominated for a James Beard Foundation award, chef Jeff Harris brings classic southern flavors with a unique spin to his restaurant Nolia Kitchen in the Over-The-Rhine neighborhood. 
Darou Salam African Halal
Darou Salam is a cozy spot in Northside that serves authentic West African Senegalese food. Get some to-go and pair it with a drink on the patio of Northside Tavern just next door.
Island Frydays
Also, near the University of Cincinnati's main campus, Island Frydays is serving up a taste of paradise with flavorful Jamaican cuisine using seasonings like jerk and curry.
K&J Seafood Co
K&J Seafood Co brings "Nawlins to the Nati," and it is good! Enjoy Louisiana-style fresh seafood from this spot near the University of Cincinnati's main campus. 
Ollie's Trolley
Ollie's Trolley is a takeout-only restaurant serves burgers, ribs & other Southern-style food from a vintage trolley car in the West End.
Black-owned Sweet Treats
Sugar
Everything at Sugar is tempting, so it will be hard to decide between homemade cookies, brownies, banana pudding, crispy bars, and more. Order online or stop by their bake shop in Over-the-Rhine. 
Sweet Petit Desserts
The name says it all. Sweet Petit Desserts specializes in delicious, small-bite desserts like cake pops, mini cupcakes, mini brownies, and more. Order online from their website and schedule a pickup. Check out their baking classes if you want to learn all of their baking secrets!
Black-owned breweries and bars in Cincy
Cinema
Popular bar and lounge dedicated to 90s R&B, hip hop, and classic black films. Check out Cinema in the historic Over-The-Rhine neighborhood. 
Nostalgia Wine and Jazz Lounge
Celebrate Cincinnati's rich musical heritage and love of wine at Nostalgia. This intimate lounge features live traditional and contemporary jazz & soul music sets three nights a week and over forty wines by the glass with a focus on highlighting minority and female winemakers.   
Looking for more Black-owned businesses in Cincy?