Who doesn't love food that you can order by the "slab"? We have a serious taste for barbecue around here, and we're lucky to have so many places that do it right in the Cincy Region. There's nothing quite like the smell of firing up the grill or smoker. If you're craving smoked meats while you're in Cincy, check out these fantastic places to grab a bite. 
Eli's BBQ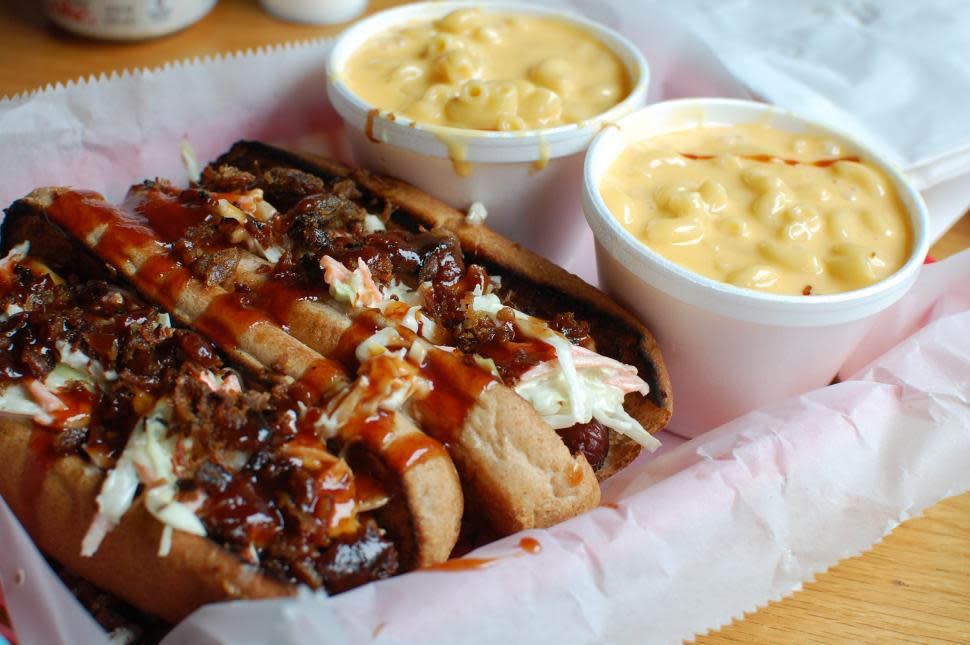 Eli's BBQ may always have a line, but it moves quite quickly and is worth the wait. The meat is smoked to perfection and the jalepeño cheese grits and jalepeño cornbread are out of this world. Hot dogs get the BBQ treatment too, topped with signature sauce, cole slaw, and fried barbecue! This is the perfect place to take the whole family. *Insider tip: the Columbia-Tusculum location is BYOB, so don't forget a six-pack of local craft beer to wash it all down with!
Eli's BBQ is located at 3313 Riverside Drive in Cincinnati and Findlay Market, 1801 Race Street in Cincinnati.
City Barbeque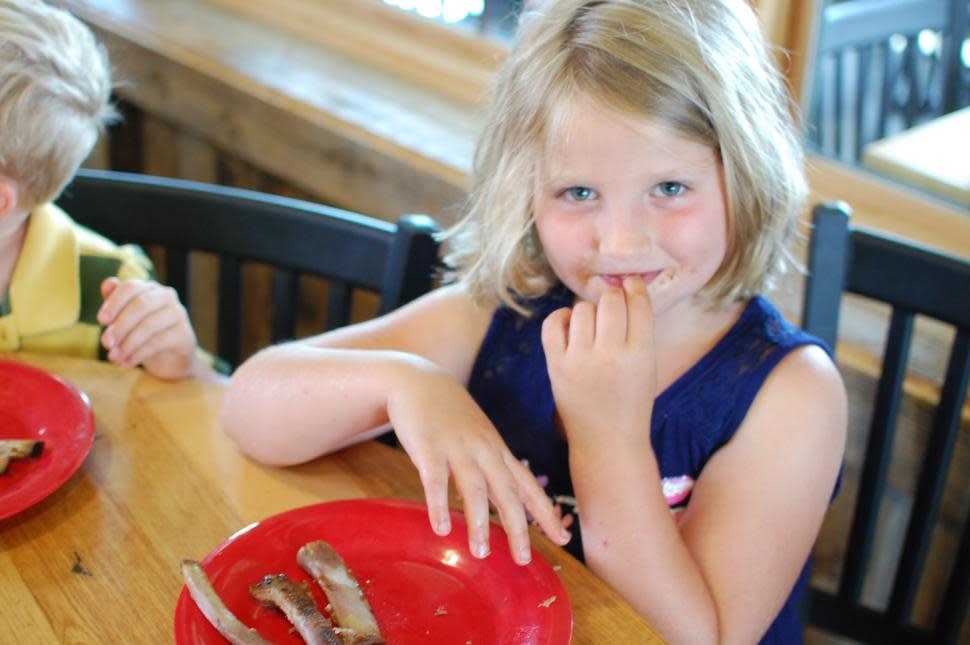 City Barbeque is "All Smoke - No Mirrors", always delivering brisket that is consistently smoked to perfection.  On Tuesdays enjoy "Rib Bone Tuesday" for $1.35 per bone. And don't forget the fried pickles. 
City Barbeque has a few local locations in Blue Ash, Eastgate, West Chester, Florence, and Highland Heights.
Montgomery Inn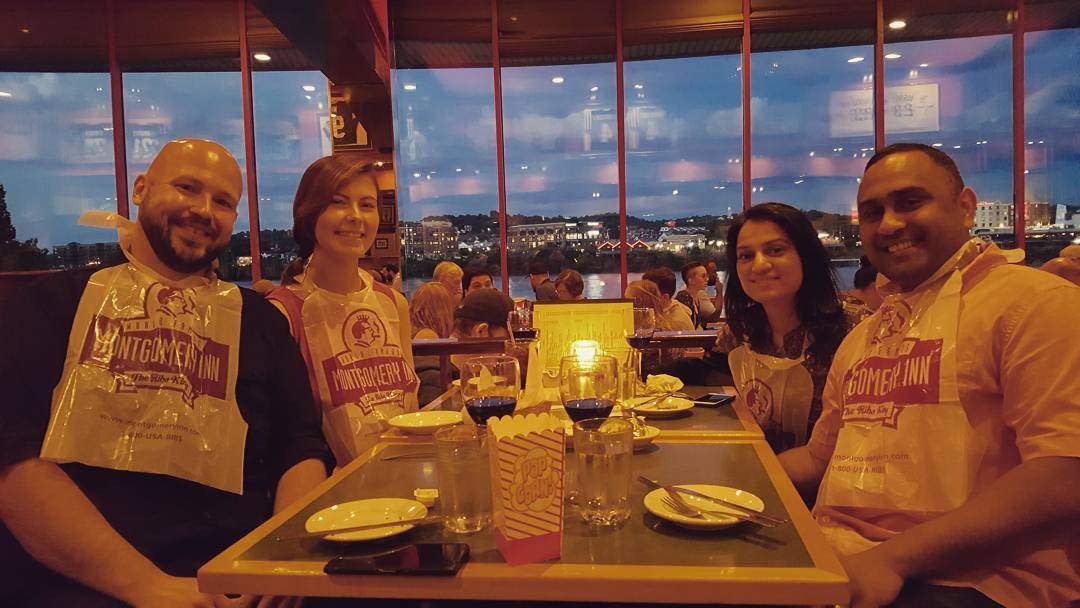 Image credit: @kristen_collier
You can't talk barbecue in Cincy without mentioning Montgomery Inn and their famous ribs. They have been at it since 1951, so they know a thing or two about smoked meats. There's something for everyone at Montgomery Inn, from their iconic and sweet sauce, to their crispy and addictive saratoga chips, to the main event - juicy slabs of ribs. Messy, tender, saucy, and delicious. The bib is essential.
Montgomery Inn has two locations: the original in Montgomery and the Boathouse on the riverfront in downtown Cincinnati.
Alabama Que
Alabama Que knows BBQ. They use a signature dry rub and house-made barbecue sauce to create a memorable flavor. The gold sauce is mustard-based so it has a lovely vinegar tang that stands out. You've got to try the turkey tips, a definite menu standout. Alabama Que also features delicious specialty iced teas that use fresh fruit and loose tea leaves. This is a frequent spot for Cincinnati Bengals players, so you know it's good.
Alabama Que is located at 2733 Vine Street in Cincinnati.
Velvet Smoke
Going to five-time Kansas City Barbecue Society grand champion Velvet Smoke for some smoky barbecue is a perfect way to dine in Cincinnati. The menu all-stars here are the burnt ends and the tender brisket. 
Velvet Smoke is located at 10515 New Haven Road, Harrison, OH; with a take-out location (limited seating) at 5626 Cheviot Road, Cincinnati, OH.
Walt's Hitching Post
Walt's Hitching Post is a Northern Kentucky institution since 1942! There's only one location so a quick trip over the bridge to the Bluegrass State to get some of their fantastic smoked meat is an easy must. The secret sauce is legendary, and on Mondays, you can get a slab of ribs, home fries, and a salad for 15 bucks. Walt's is a great spot for a group looking for variety. They serve up burgers, steaks, salads, seafood, and more. 
Walt's Hitching Post is located at 3300 Madison Pike in Fort Wright, Kentucky.
Sweets and Meats BBQ
Sweets and Meats BBQ in Mount Washington is a MUST. They are a woman-owned and operated BBQ joint that serves up award-winning smoked meats, homemade sides, and desserts. Everything is good, but their mac and cheese and crunch cakes are out of this world. If you can't make it to their brick-and-mortar spot, keep an eye out for their BBQ food truck at special events and hot spots around Cincy.
Sweets and Meats BBQ is located at 2249 Beechmont Ave Suite B, Cincinnati, OH.
Just Q'in BBQ 
Low and slow with cherry and sugar maple wood is how they do it at Just Q'in. Their pastrami is out of this world and received top marks from the Cooking Channel. The mac n cheese is gluten-free–an added bonus! Just Q'in even offers BBQ classes, where you will learn everything from meat trimming, knife handling, smoking, and more. Plus, lunch is included!
Just Q'in is located at 975 E Mcmillan St Cincinnati, Ohio.
Lucius Q
Everyone is welcome at fan-favorite Lucius Q, located in Pendleton. Featuring a laid-back vibe, with great food, and drinks–this place is a winner. Pulled pork, brisket, BBQ 3-way–no matter your order, everything at Lucius Q is locally sourced and made in-house. With easy counter service, this is an awesome choice for groups of all ages. If you love live music, head to Lucius Q on a Friday night for some good grub and local musicians.
Lucius Q is located at 1131 Broadway Street, Cincinnati, Ohio. 
Pontiac
If you're looking for a BBQ joint with a fun atmosphere, great cocktails, is kid-friendly, AND is located in the heart of OTR–Pontiac is the place for you. They've got all the BBQ and bourbon you could want, plus a great tiki bar. Go with a group and order a smorgasbord of meats and one of their tiki bowls! Don't forget to try their famous smoked wings!
Pontiac BBQ is located at 1403 Vine St Cincinnati, Ohio
Want to sample the best of Cincy BBQ? Make plans to visit during Cincinnati BBQ Week June 6th - 12th 2023.