Best places to find epic views in Cincinnati and Northern Kentucky
More sunshine and warmer weather mean we spend more time outside Cincinnati's parks and trails. Thanks to Cincy's rolling hills, you can get an incredible view of Cincinnati from many places around the region. If you're looking for a great photo spot or a peaceful place to enjoy a picnic and view, this list details where to find the most spectacular views of the Cincinnati skyline, the Ohio River, and more.
Mt. Echo Park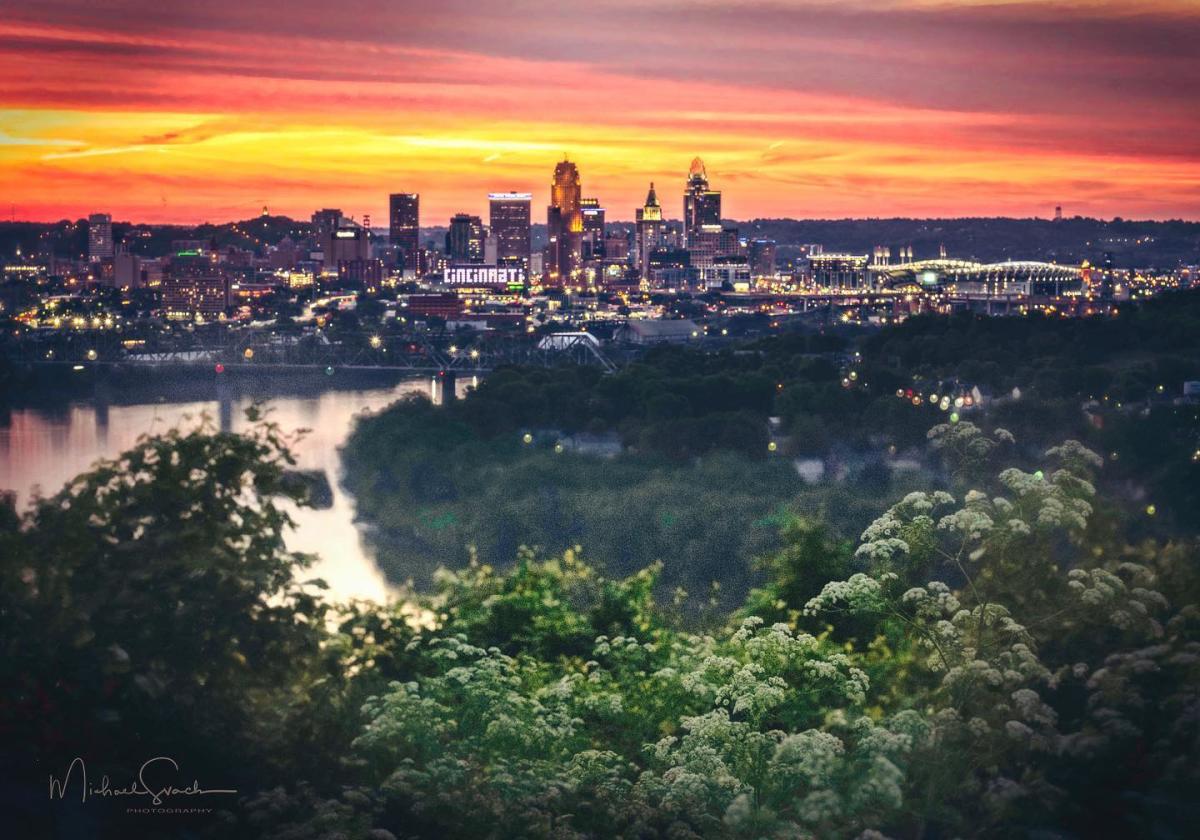 View from Mt. Echo (photo: @msvachphotography)
Take a 10-minute drive west of downtown to Mt. Echo Park for a West Side vantage point. The overlook here offers a sweeping view of downtown, the Ohio River and Kentucky's riverside hills. While you're there, stop by the unique Frank Lloyd Wright–inspired shelter supported by two massive stone chimneys at its center. 
Bellevue Hill Park
Bellevue Hill Park (photo: Louis Rideout)
Tucked into a dense neighborhood near the University of Cincinnati, Bellevue Hill Park offers a magnificent view of the entire downtown Cincinnati basin. Plus, admire the historic architectural concrete cupolas that remain from a bygone era when this served as a depot for the Cincinnati Incline.
Devou Park
Cincinnati Skyline view from Devou Park (photo: kcackerman_photography)
Find your way to the top of the grassy knolls at this beloved Northern Kentucky park and enjoy wide-angle views of the Cincinnati skyline, the Ohio River, and even parts of Covington, Kentucky. Clusters of picnic tables and park benches make Devou Park an ideal locale for picnics and photo ops. Don't forget the frisbee!
Olden View Park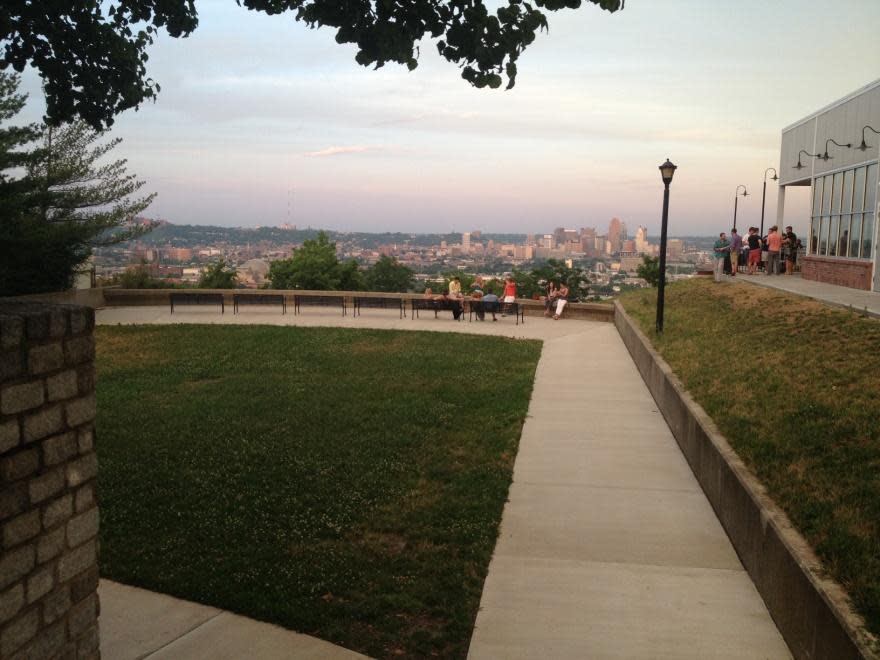 High on Price Hill is Olden View Park. Enjoy the view and a leisurely stroll on the paved walking path or sit a while on one of the park's benches. Learn about the history of the Price Hill neighborhood and Price Hill Incline. Before you head back down the hill, grab a drink or bite at the Incline Public House. This hilltop hideaway is a local favorite for outdoor dining and has incredible views of downtown Cincinnati. Check out more Cincy restaurants with a view.
Newport on the Levee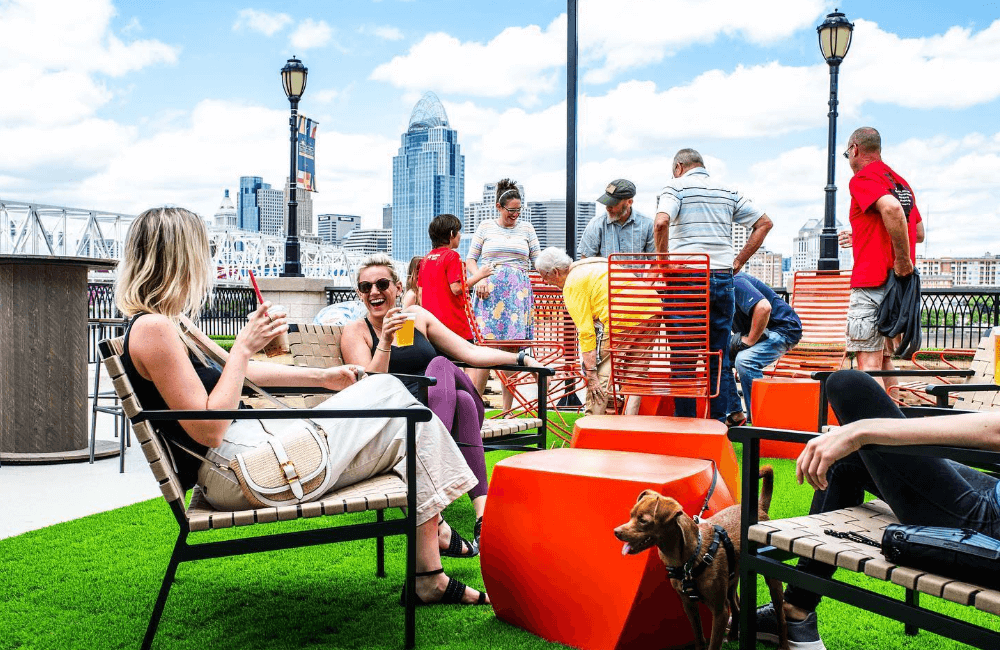 Newport on the Levee's Bridgeview Box Park offers panoramic views of the Cincinnati skyline and riverfront. The open-air shipping container park overlooks the Ohio River and features dining and retail spaces, communal seating options, and outdoor games. Come to the park for beautiful views of the Cincinnati skyline and stay for some delicious food and drink from Blackmarket Saloon, The Buzz, Crepe Guys, Kon Tiki, and West Sixth Brewing.
Covington's Historic Licking Riverside Neighborhood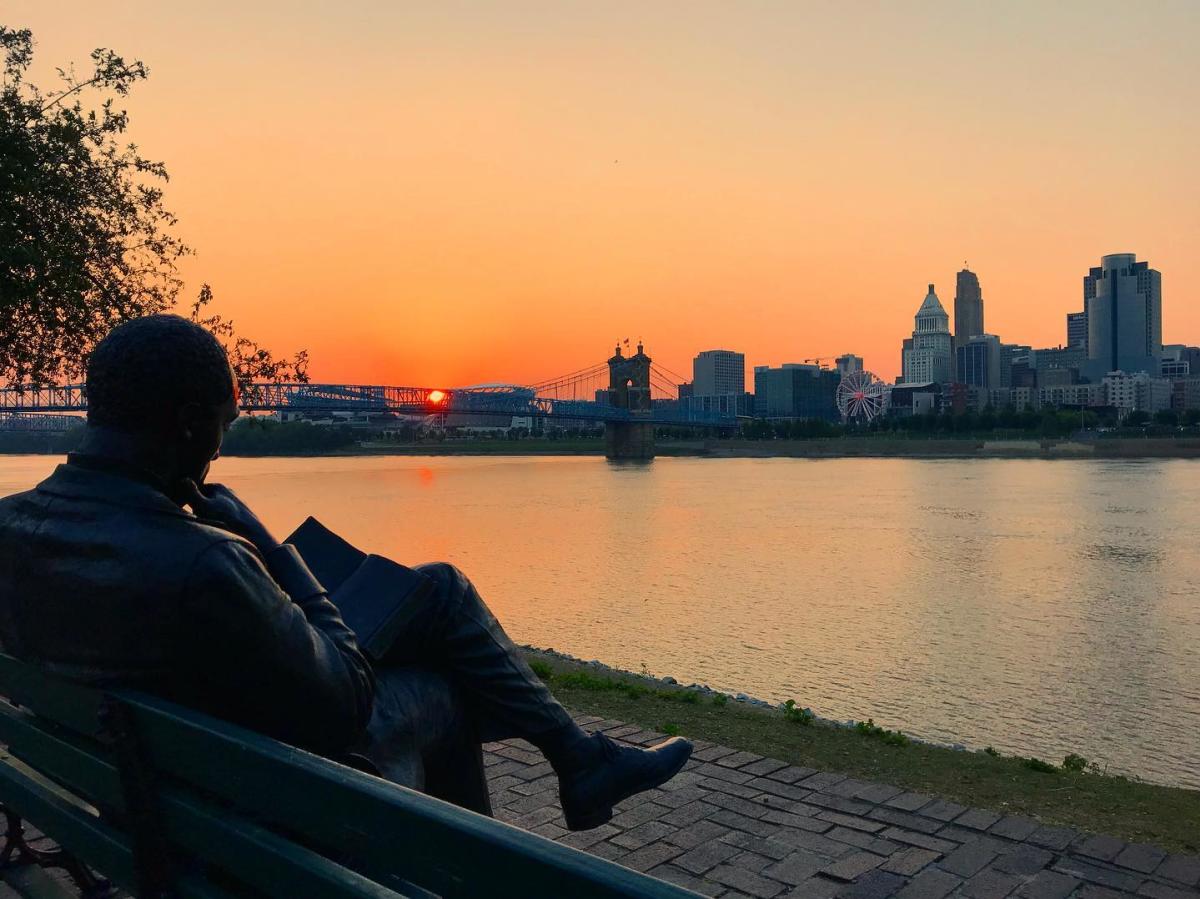 Riverside Drive (photo: @jcleedy)
This tree-lined street in Covington's Historic Licking Riverside neighborhood is not technically a park, but a beautiful place for a stroll. Pair it with a majestic, panoramic view of the Cincinnati skyline, the Ohio River, and the historic Roebling Suspension Bridge, it is like no other view in the Cincinnati region. While you're there, take in some local history with the Riverside Drive Statue Tour and admire the architecture of the mansions built in every style of American architecture from 1815 to 1920.
Eden Park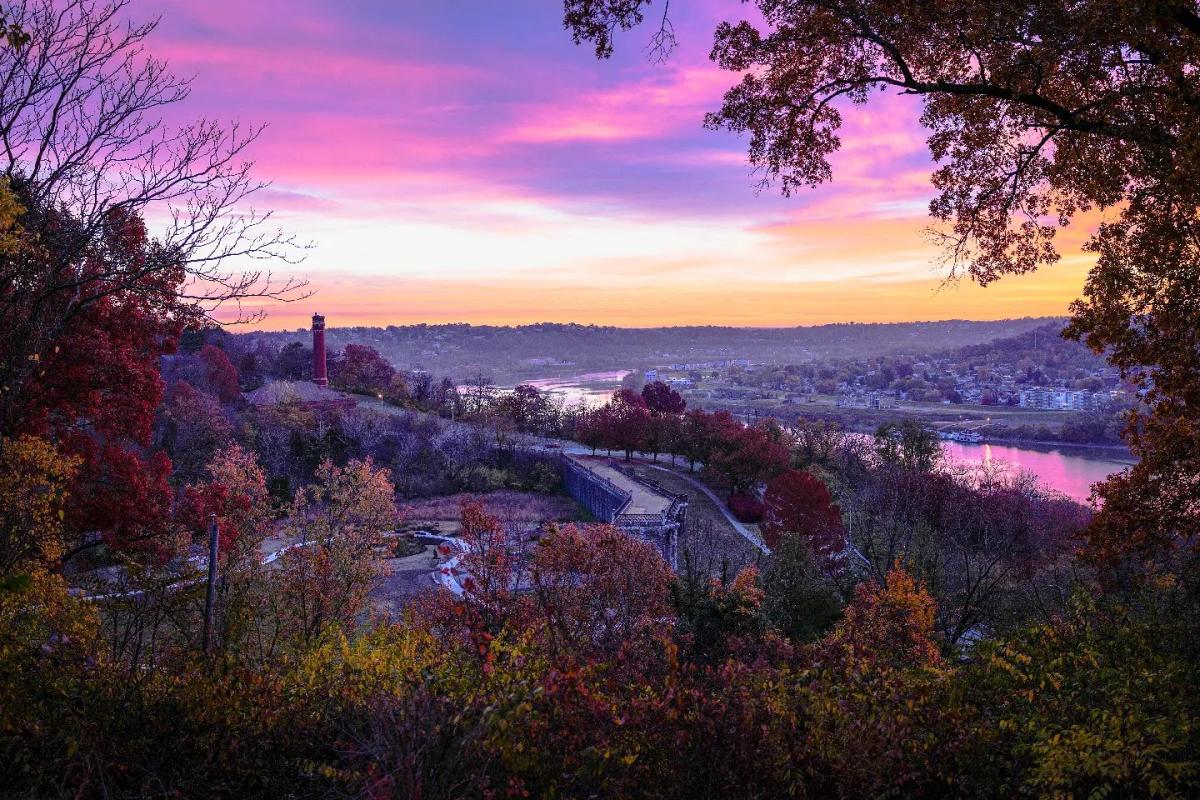 Eden Park (photo: @ericvicephoto)
Perched between Walnut Hills and Mount Adams, Eden Park is a must for the river view. Pick a shaded park bench in the Twin Lakes area and behold the mighty Ohio River. Scan to the left to see the river's famous "bend" or shift your gaze to the right to find the iconic yellow arches of the Big Mac Bridge (formally named the Daniel Carter Beard Bridge). Those grid-like clusters of homes straight ahead? That's Bellevue and Dayton, Kentucky. Don't miss Cincinnati Art Museum, Cincinnati Playhouse in the Park, and the Krohn Conservatory during your visit to Eden Park. 
Looking for more things to do in the outdoors? Enjoy a boat tour, explore Cincy by water, or check out some kid-friendly hiking trails.