For some good old-fashioned, free, family fun in the Cincy Region, take a hike with the whole family. Spending time outside is beneficial for everyone but especially kids–what kid doesn't love the freedom to run wild? When you're exploring Cincy, don't miss exploring the great outdoors. To help you plan your outdoor adventure, we've rounded up some of the best places to hike in Cincinnati and Northern Kentucky with your entire family. 
Note: Be sure to check park websites for unexpected closures due to trail conditions and admission/parking fees.  
Easy hikes for kids near Cincinnati
If you're looking for kid-friendly hikes near Cincinnati, these are a few convenient hiking trails near the city.
Cincinnati Nature Center, Rowe Woods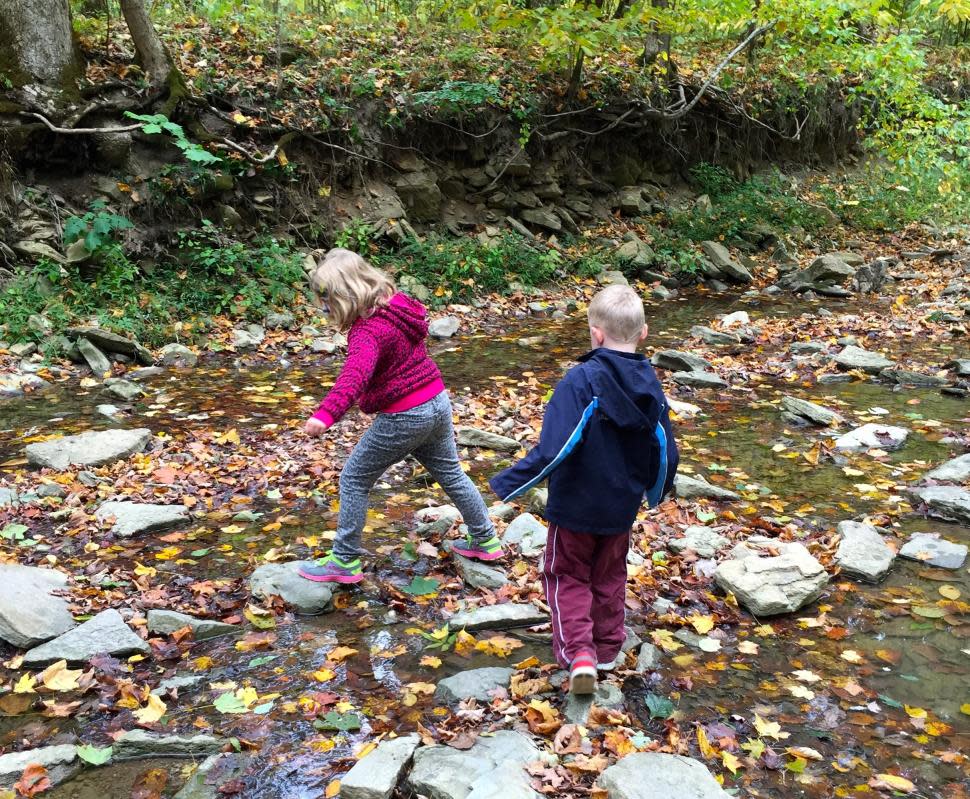 Cincinnati Nature Center (photo: Erin Woiteshek)
Rowe Woods at Cincinnati Nature Center features award-winning trails that wind through an Eastern deciduous forest, fields, streams, and ponds. They offer Trail Passports and you get a stamp for each trail you complete, earning prizes and incentives along the way. You can also check out heart monitors and track your progress. They also have a really neat Nature PlayScape designed for open-ended creative play. Plants, soil, and water can be touched and manipulated, not just observed, to stimulate the senses and promote a sense of wonder. The kids obviously love this part! We even became members to save some cash. Love this place. 
East Fork State Park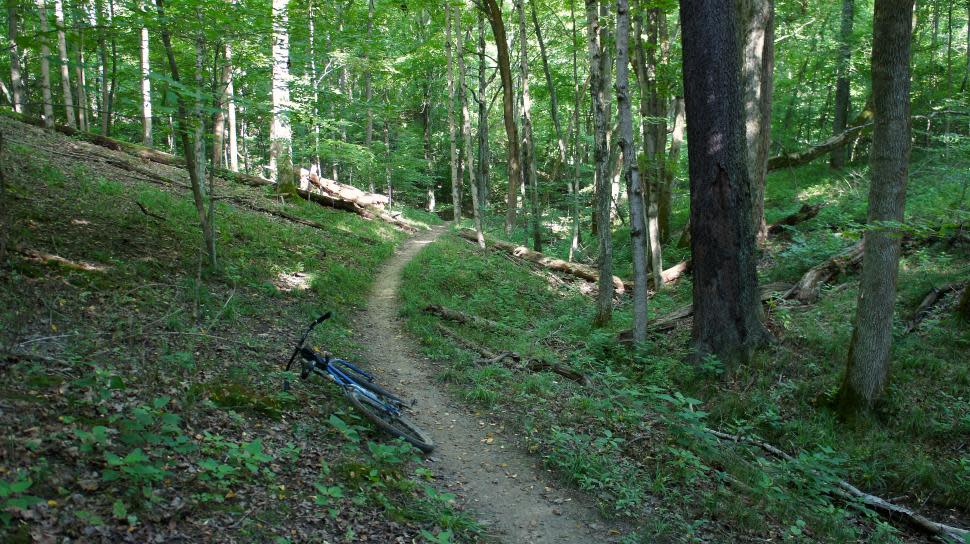 East Fork Mountain Bike Trails (photo: Cody Sowers)
East Fork State Park is one of Ohio's largest state parks. It's 4,870 acres of great diversity and recreational opportunities. The park includes both rugged hills and open meadows. We love hiking there, but they also offer a variety of activities including, fishing, boating, camping, picnicking, mountain biking, kayaking, horseback riding, and swimming! The East Fork region is also rich in Native American history dating back 3,000 years. It's a great local adventure and the perfect getaway. 
Mt. Airy Forest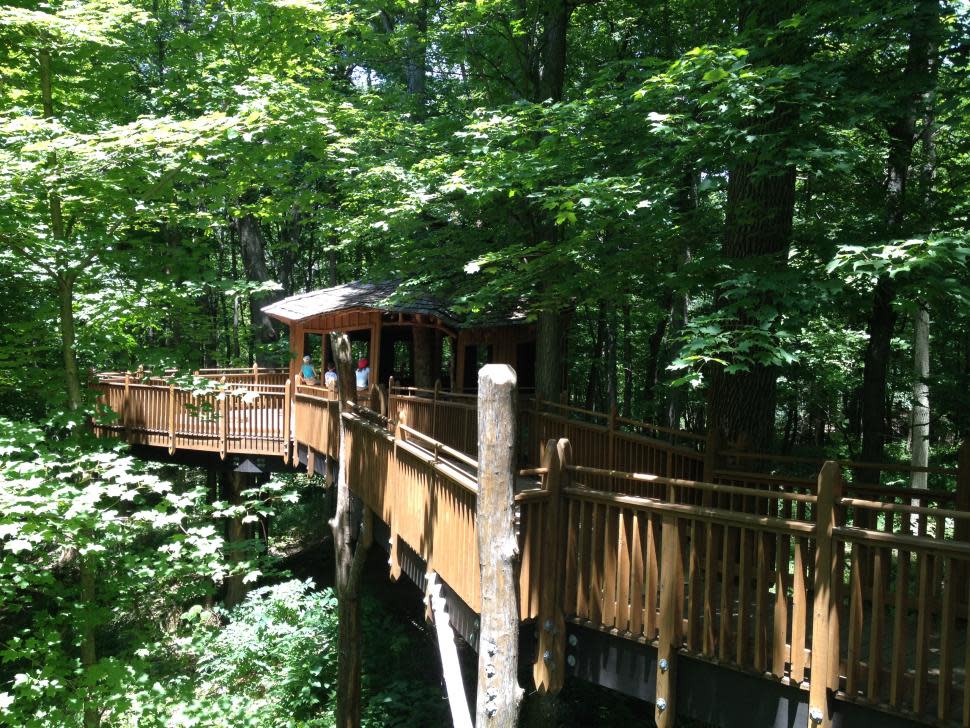 Mt. Airy Forest is 1,459 acres of hiking and bridle trails. It's Cincinnati's largest park and the lush wooded ridges and valleys make it hard to believe that downtown is only a few minutes away. Mt. Airy has Ohio's only wheelchair-accessible public tree house, an enclosed dog park, and disc golf, too. Mt. Airy Arboretum's specialty gardens, gazebos, and lake are just gorgeous. They also have forest lodges, picnic areas, and playgrounds. It's a great place to spend a few hours hiking and exploring. 
Miami Whitewater Forest
Miami Whitewater Forest opened in 1949 and has a sprawling 4,345 acres, including Shaker Trace Wetlands with a wildlife viewing shelter on the trail. The Shaker Trace Trail has a 1.2-mile inner loop with 18 fully accessible Parcours fitness stations to liven things up. It also has an extended 7.8-mile outer loop that weaves through the gorgeous park. Both loops begin and end at the harbor. The entire trail is paved and gently graded. You'll get to see restored wetlands, prairie, creek beds, and farmland on your hike. 
Kid-friendly hikes in Northern Kentucky
Northern Kentucky is full of rolling hills and beautiful bluffs to explore. So lace up your hiking boots, and come across the river to Kentucky for some of the best family-friendly hikes the Cincy Region has to offer! 
Middle Creek Park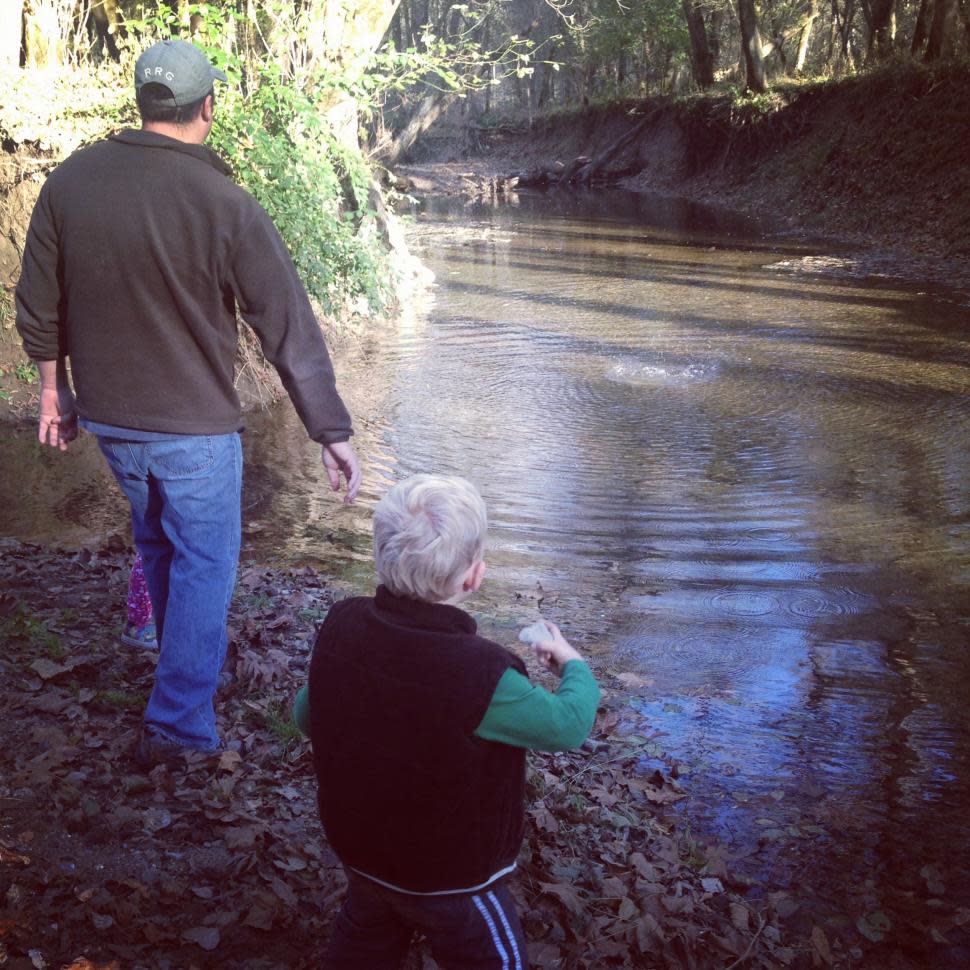 Middle Creek Park (photo: Erin Woiteshek)
Middle Creek Park opened in 1993 and is 230 acres of pristine forest with wildflowers, wildlife, and unpaved moderate trails available for hiking and horseback riding. We love this hike because it's easy and the kids enjoy it. We see deer every time we hike here. Crossing the creek and following the trail up to the top is a fun walk and you'll find the ruins of an old house. During hunting season please use caution as private land surrounds the park. 
Dinsmore Woods 
Dinsmore Woods is 107 acres of unaltered old-growth, large canopy forest located next to the historic Dinsmore Homestead. The Dinsmore is a gorgeous old homestead that gives you a glimpse into daily life in the early 1800s. Plan extra time if you would like to explore the homestead, outbuildings, cabin, and cemetery. There is an unpaved moderate to difficult trail through wildflowers and wildlife. 
Gunpowder Creek Nature Park 
Gunpowder Creek Nature Park has 122 wooded acres. It features an unpaved upgraded 1800s logging trail that travels from an elevation of 830 feet to 620 feet and ends near Gunpowder Creek at a stone seating area. The park also has a stand of mature oaks on the northern hillside, one of the region's best remaining undisturbed areas of woodland. 
Fort Thomas Landmark Tree Trail
Fort Thomas Landmark Tree Trail is only 1.1 miles long but moderately difficult because of some steep hills. It's a gorgeous hike to take because of the "Ft. Thomas Landmark Trees" you'll pass which is well over 100 years old. These are some spectacular and enormous old-growth trees! This quiet hike weaves through the ridges and valleys of Northern Kentucky while improving your tree identification skills. The kids love it. A branch of the trail leads to a long rock wall constructed when the property was part of a military fort. 
Big Bone Lick State Park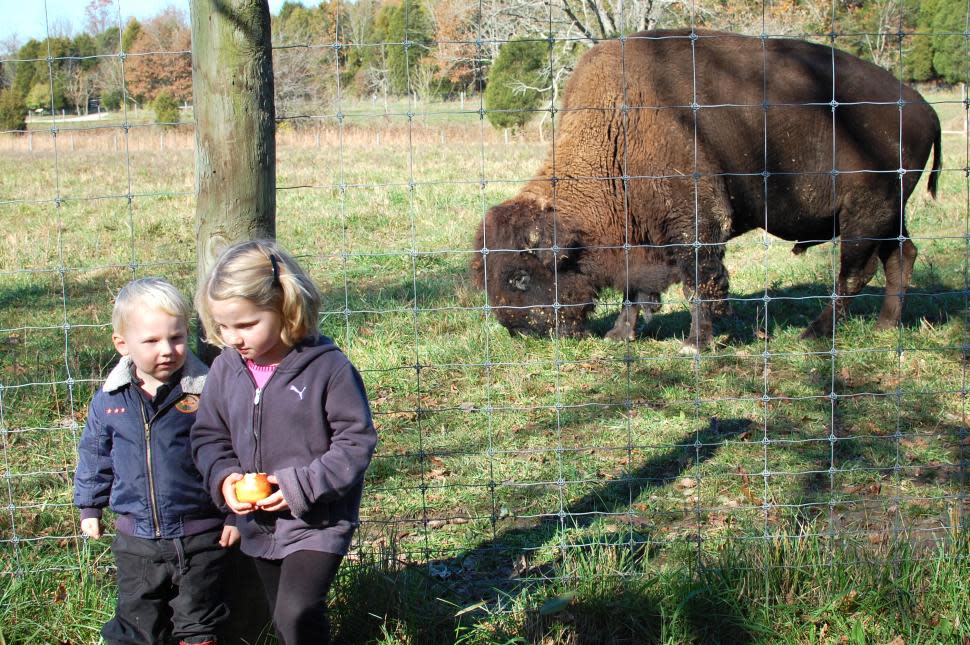 Bison at Big Bone Lick State Historic Site (photo: Erin Woiteshek)
Big Bone Lick State Park was once home to mastodons, giant sloths, mammoths, and bison. Visiting Big Bone Lick is like taking a trip back in time. They have an indoor and outdoor museum, a nature center, great trails, and an actual herd of real buffalo. The area is rich in minerals and salts and provides vital nutrients to the buffalo. It was known as the land of big bones due to the skeletal remains of mammoths, mastodons, and giant sloths that visited here for the salt and mineral springs. 
If you're looking for more outdoor recreation, check out these Cincinnati parks.