Over-the-Rhine (OTR) is one of Cincinnati's historic neighborhoods full of life, culture, food, shopping, sports, and events that can be enjoyed throughout the year. This is a great neighborhood for visitors to explore because there's always something to see and do. From historic architecture to colorful murals, Over-the-Rhine is a beautiful and unique feast for your eyes. Read on for more local tips on what to see, eat, and do in OTR on your next trip to Cincy. 
How did Over-the-Rhine get its name?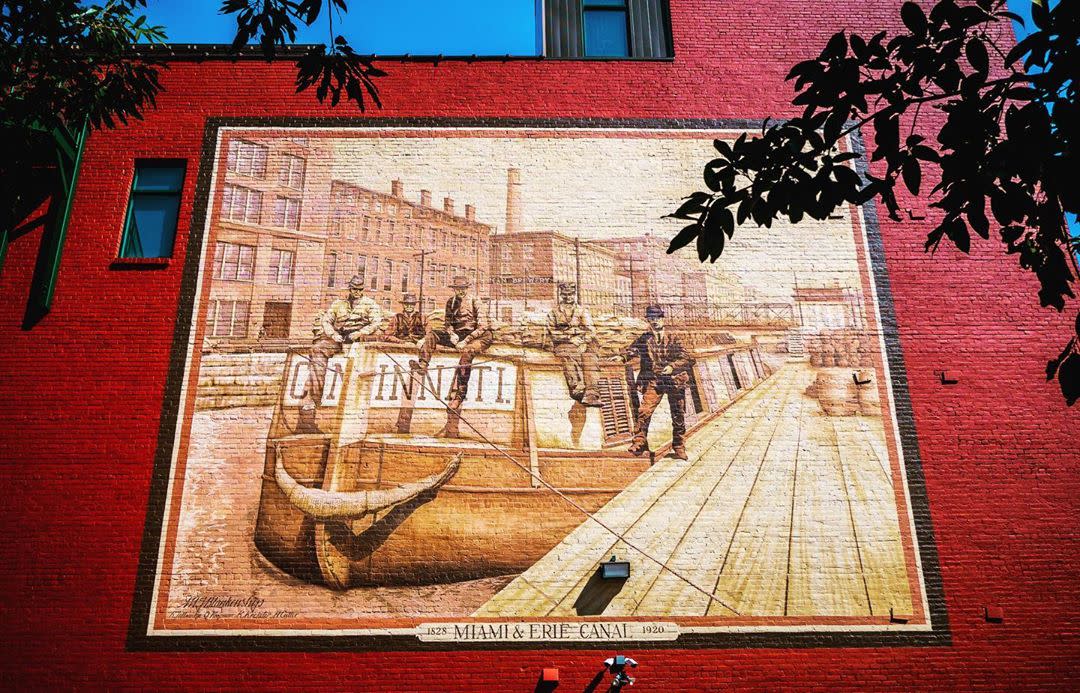 Miami & Erie Canal Mural (Photo: @daley_visuals)
OTR is truly an architectural treasure with a strong European influence, brought by Germans and Italians who started to immigrate to the region in the early 1830s. What's in a name? It goes back to the 1870s when German immigrants likened crossing over Cincinnati's Miami and Erie Canal to the Rhine River in Germany to get to and from work daily. 
Getting around Cincy's Over-the-Rhine neighborhood
With over 362 acres, there is plenty of walking you can do to explore OTR. Northern Row Brewery to the North or Taft's Ale House and Cincinnati Music Hall in Washington Park all the way to E.Central Pkwy and Liberty Streets. Fear not, we do offer a free streetcar that will take you around OTR and all the way to The Banks on the riverfront where you can easily walk one of many bridges to get to Northern Kentucky. 
Over-the-Rhine shopping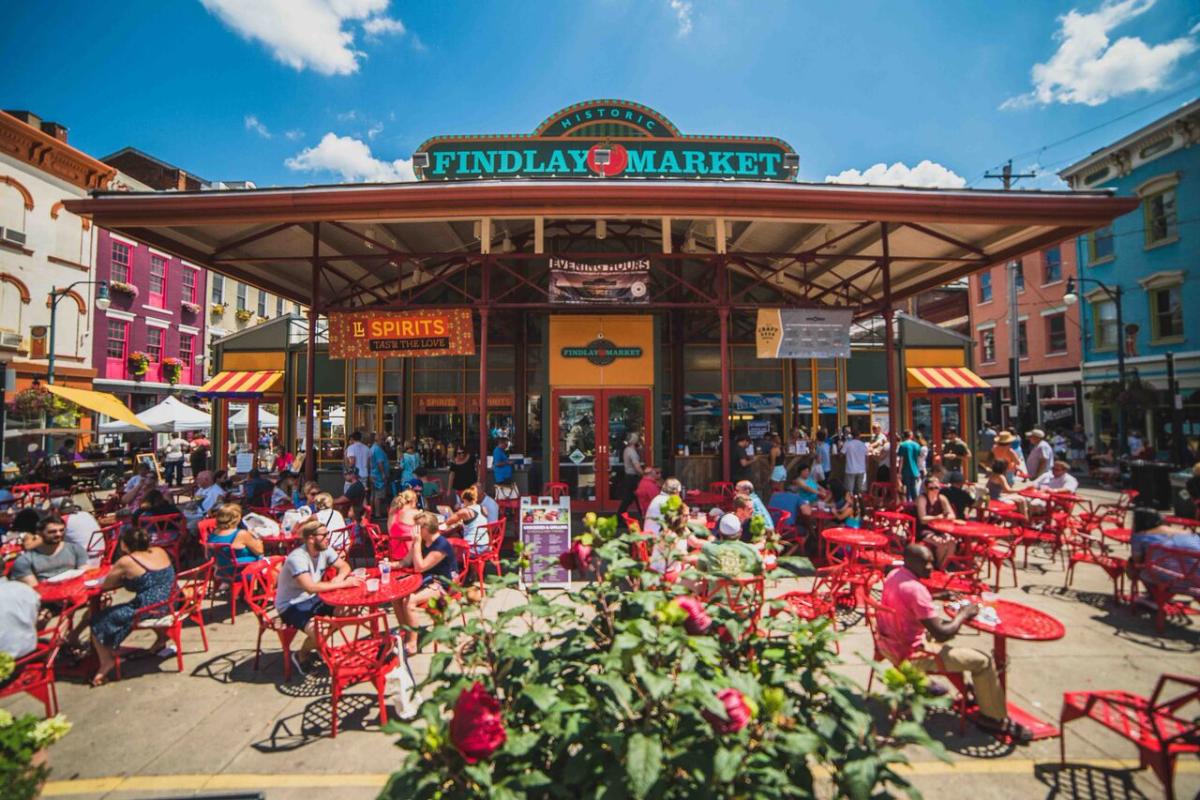 Visit our iconic Findlay Market, the oldest public market in the state of Ohio, dating back to 1855. It's the one market you go to even when you think you don't need anything. The weekends are vibrant with vendors lining the sidewalks selling one-of-a-kind jewelry, fresh flowers, candles, and more. Inside Findlay Market is home to local butchers, an oyster bar, spices galore, and everything in between. 
Boutiques and specialty stores in Over-the-Rhine
Once you've shopped at Findlay Market check out some other specialty stores and boutiques in the Over-the-Rhine neighborhood. Next to Findlay Market is Artichoke, a fantastic place to shop for kitchen tools, cookware, and linens. Find high-quality pottery and architectural tile at the flagship store of Rookwood Pottery. Founded by Maria Longworth Storer, this brand made history in 1880 as the first women-owned and operated manufacturer and still operates in the heart of OTR. 
For clothing and gifts, Wolfpack features ethical and sustainable art and clothing. For men's and women's fashion-forward styles, check out Sloane Boutique. Shop for sweet gifts like honey, salves, candles, and more at Bee Haven made by hard-working Cincy bees. 
Explore Washington Park in Over-the-Rhine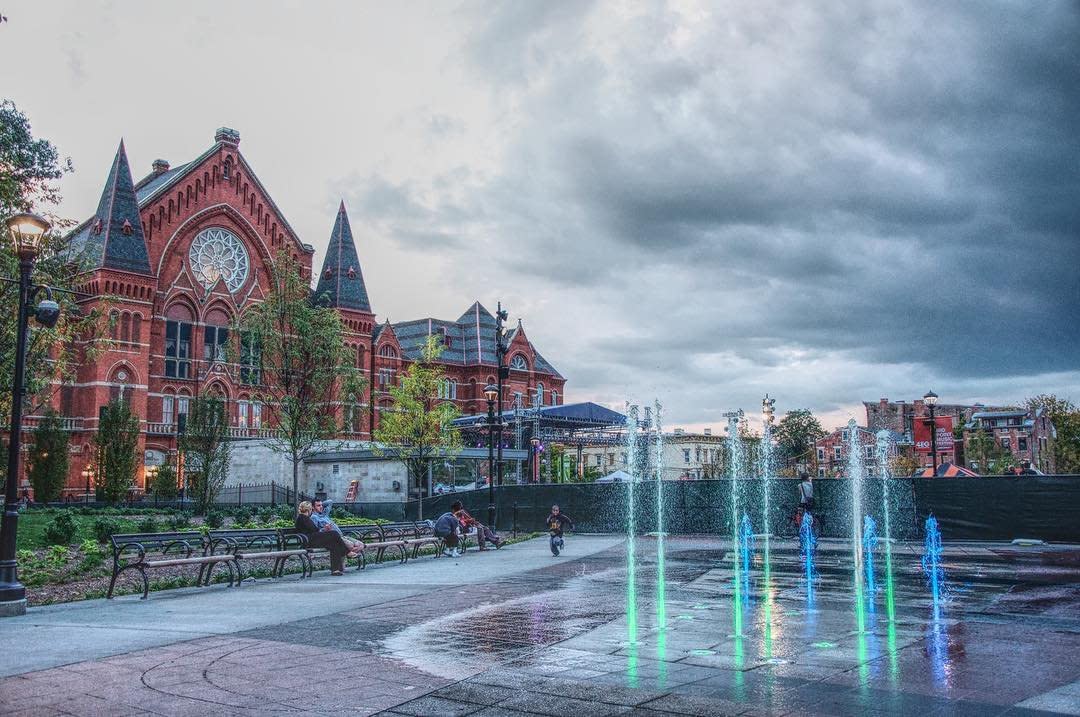 Washington Park (Photo: 
@thereina
)
When you need to relax or let the kids (or dogs) run wild, head over to Washington Park.  
There's a great playground and splash pads for kids and a bark park for your furry friends. Grab a drink at The Porch and relax. Washington Park is a popular gathering place year-round and also hosts live music, movies under the stars, pre-match parties for FC Cincinnati soccer home games, yoga and workouts during the summer, and festive get-togethers during the holiday season. 
Washington Park (Photo: Byron Photography)
Also in the park is the stunning Cincinnati Music Hall. Home to many world-renowned performing arts organizations like The Cincinnati Symphony, Cincinnati Ballet, and the Cincinnati Opera, Music Hall is a must-visit. If you love architecture, sign up for a historic building tour to learn more about this iconic landmark. 
Best places to eat in Cincinnati's Over-the-Rhine
We have a food scene and chefs in our city that will rock your world. OTR is a mecca for quaint restaurants with many that have James Beard-nominated chefs that will make your palate happy as can be. 
But first, grab a great cup of coffee. Coffee Emporium is a local favorite serving up classic coffees, pastries, and a very popular honey vanilla latte. For a quick pick-me-up while shopping in Findlay Market, stop by Urbana Coffee Shop and Roastery. For brunch any day of the week, enjoy a legendary waffle at Taste of Belgium. Sit and sip on coffee or wine at 1215 Wine Bar & Coffee Lab.  
For eats, Abigail Street serves up unique tapas-style Mediterranean fare. Goose & Elder is a casual American Eatery from James Beard nominated chef Jose Salazar. Want fried chicken and beer? The Eagle is the place. Pepp & Dolores is for pasta lovers. You'll feel like you're in someone's home enjoying comforting family recipes and an insta-worthy atmosphere.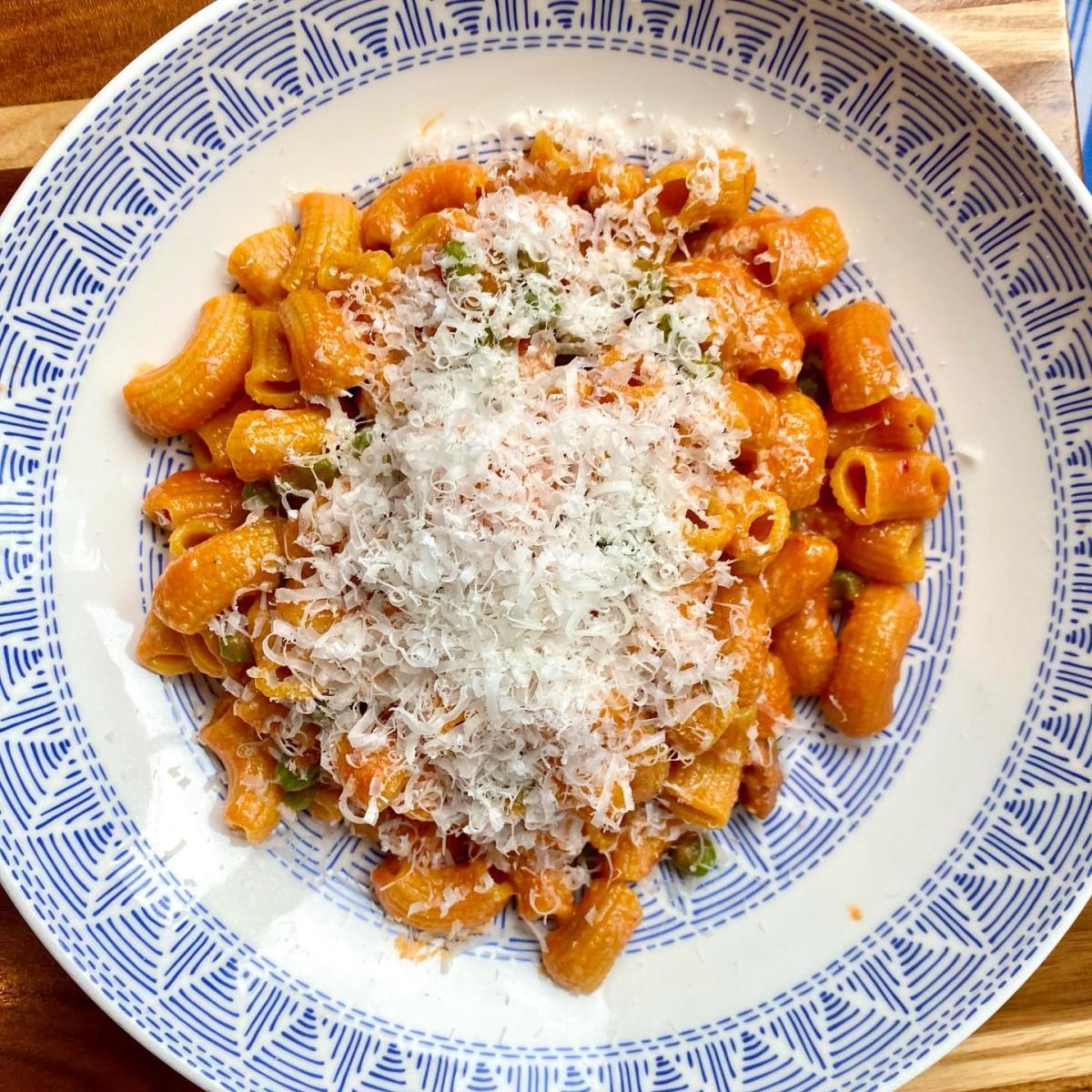 Pepp and Dolores in Over-the-Rhine
Graeter's Ice Cream is a must-have in Cincy. They've been making ice cream for over 105 years and the Black Raspberry Chocolate Chip is the signature flavor. Grab some gelato at uGOgelato - near Findlay Market - (try the almond-inspired gold medal winner). 
Breweries and bars to visit in Over-the-Rhine
Sip your way through OTR and discover how Cincinnati's rich German history has contributed to the ever-growing number of breweries and distilleries in our town. The Brewery District in OTR is the home of Rhinegeist, Taft's Ale House, Sam Adams, and Northern Row Brewery. On a nice day, create your own brewery tour walking to each one and sampling a variety of brews. 
If you're looking for a cocktail experience, check out some unique bars where the creation of the cocktail is a show itself. 
Ghost Baby (Photo: @courtneyschulz)
Lost & Found is a creative hidden gem with awesome happy hour specials Wednesday-Sunday. 
Ghost Baby is the coolest subterranean lounge, ranked one of Esquire's Best Bars in America. Enjoy a classic cocktail with live jazz music from swanky clamshell booths.
Uncle Leo's is a fun, old-school dive pub
50/50 is a woman-owned intimate adorable gin joint with just 22 seats. 
La Ofrenda for a huge selection of tequila and the best margarita in Cincy. 
Wodka Bar is a woman-owned, eastern European bar that features - you guessed it - vodka! Try a flight of house-infused vodkas (from cherry to pepperoncini flavors), and top it off with homemade pierogies, borscht, and golumpki.
Mecca has quirky cocktails, live music, DJ pop-ups, and OTR's largest patio. 
Knox Joseph Distillery at OTR Stillhouse is the largest indoor/outdoor venue in OTR and serves up its house bourbons, gins, and vodkas. 
Tours in Over-the-Rhine 
There's so much to see and experience in OTR, let an expert guide show you around! Get a taste of OTR with Cincinnati Food Tours Findlay Market Tour or the OTR Cocktail Tour with Riverside Food Tours. Learn about Cincy's German heritage with the Ultimate Underground Cincinnati tour and explore the lagering tunnels that played a role in the city's beer industry. 
Boutique hotels to stay in and around Over-the-Rhine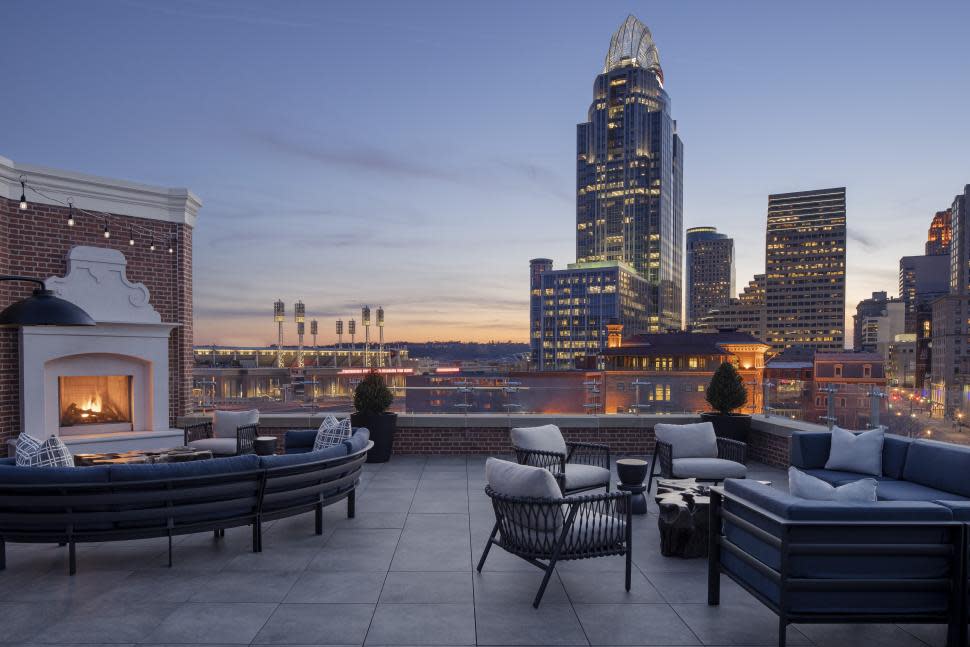 Vista at The Lytle Park Hotel (photo: Photofusion, Gabe Roth)
OTR is an eclectic neighborhood and there are several boutique hotels nearby to keep that vibe going during your trip. With 9 unique rooms, the historic Symphony Hotel is a great hotel in the heart of OTR. Over-the-Rhine is just a few blocks from chic downtown hotels like the 21c Museum Hotel and the Lytle Hotel with incredible views of the city from their rooftop.  
You can easily spend several days exploring and eating your way through Cincinnati's Over-the-Rhine neighborhood. Start planning your trip today!