Cold temperatures can't keep Cincy indoors. If you're looking for a fun and cozy place to enjoy a cocktail outdoors with friends and stay comfy, check out these restaurants and bars around Cincy with private igloos and patios with plenty of fire pits. Make your reservations soon, these are sure to be the hottest tickets this season!
The AC Upper Deck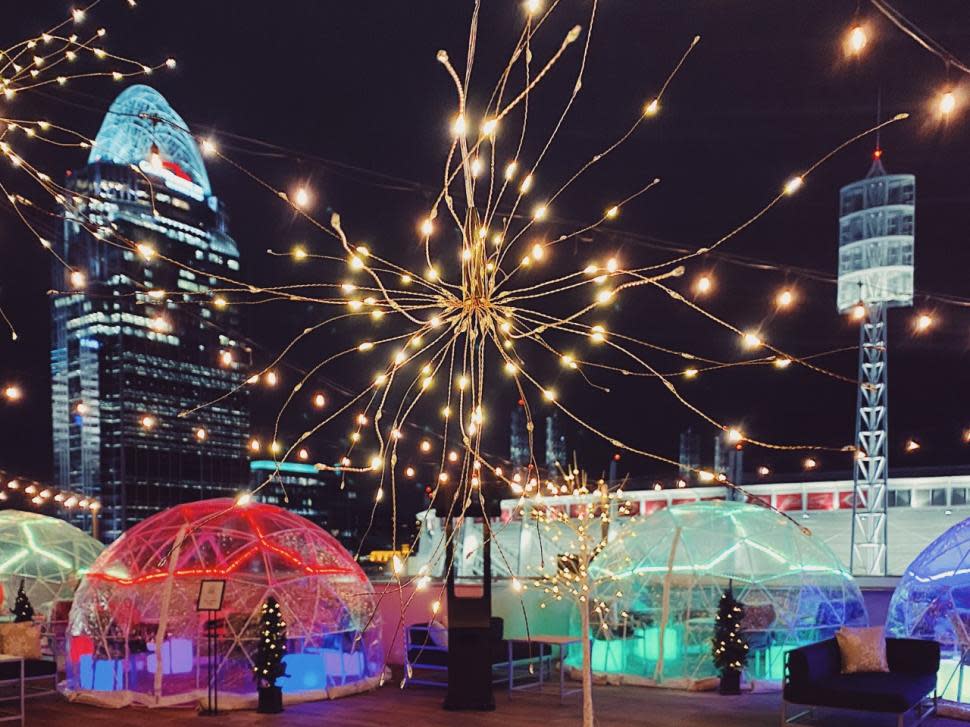 Amazing views of the Ohio River, Roebling Bridge, and downtown Cincinnati await you at The AC Upper Deck at The Banks. Igloos are available Thursday through Saturday evenings with a $32 booking fee and a required minimum during your experience. Up to eight people can enjoy the intimate space with appetizers, cocktails, spiked hot chocolate, and more. Reservations are required.
Braxton Brewing Igloobar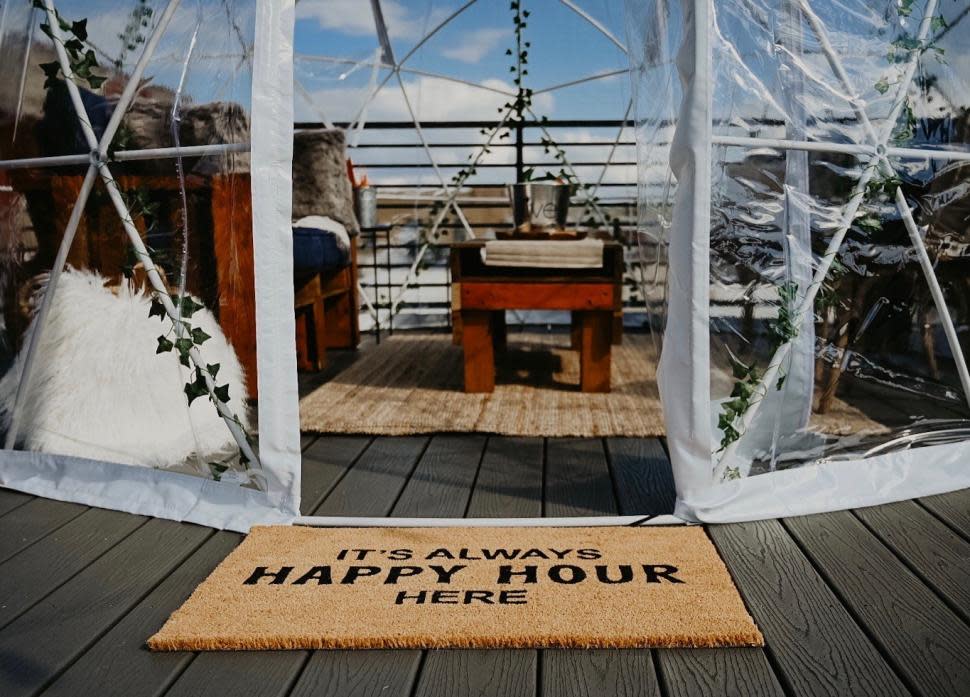 Escape the bitterness of a Midwest winter and retreat to a private, heated oasis at Braxton Brewing's Igloobar on the Rooftop. Igloos accommodate up to eight people and include a dedicated bartender. Spice up the night with tunes on the Bluetooth speaker and add a food and drink package for more revelry. Reservations required with $35 reservation fee are required to hold the spot and applied to your overall bill. 
Catch-A-Fire Pizza Blue Ash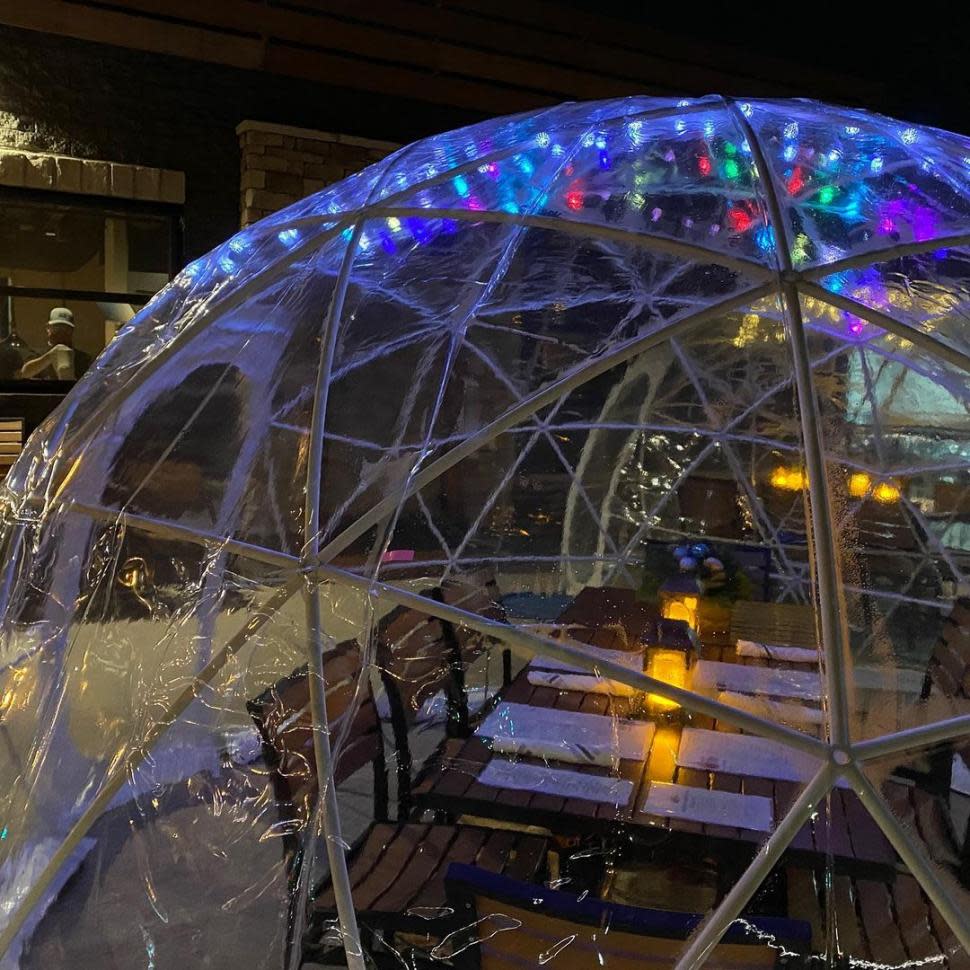 Enjoy a local brew and hot pizza at Catch-A-Fire's Blue Ash location in your own private igloo! Reservable for two-hour time slots from 11 a.m. to 9 p.m., the igloos include Bluetooth speakers, full service from a dedicated server, and can hold up to six people. A rental fee of $35 is required and will be applied to your final bill. (There is a minimum spending requirement on select days and times). Available every year from mid-November through March. 
Winter Wonderyard at Covington Yard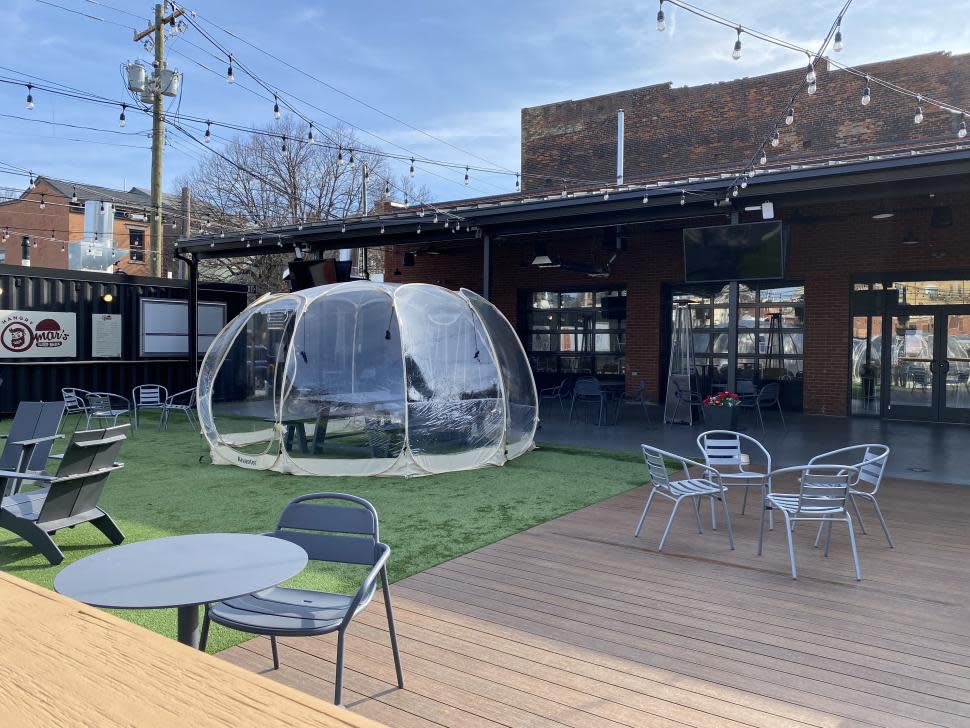 A favorite dog-friendly outdoor oasis that turns into a winter wonderyard in the winter, Covington Yard is a fun place to meet up with friends for a happy hour outdoors even in the middle of winter. Check out delicious tacos, Korean BBQ, beers, and cocktails at Covington's neighborhood hangout and stay for their first-come-first-served heated igloos. 
DeSha's American Tavern
Stay warm dining outdoors at DeSha's American Tavern. Small electric heaters keep the cold away for groups of up to eight people. There is a booking fee of $25-$50 (depending on the day and time) and reservations are required.
Fifty West Brewing Company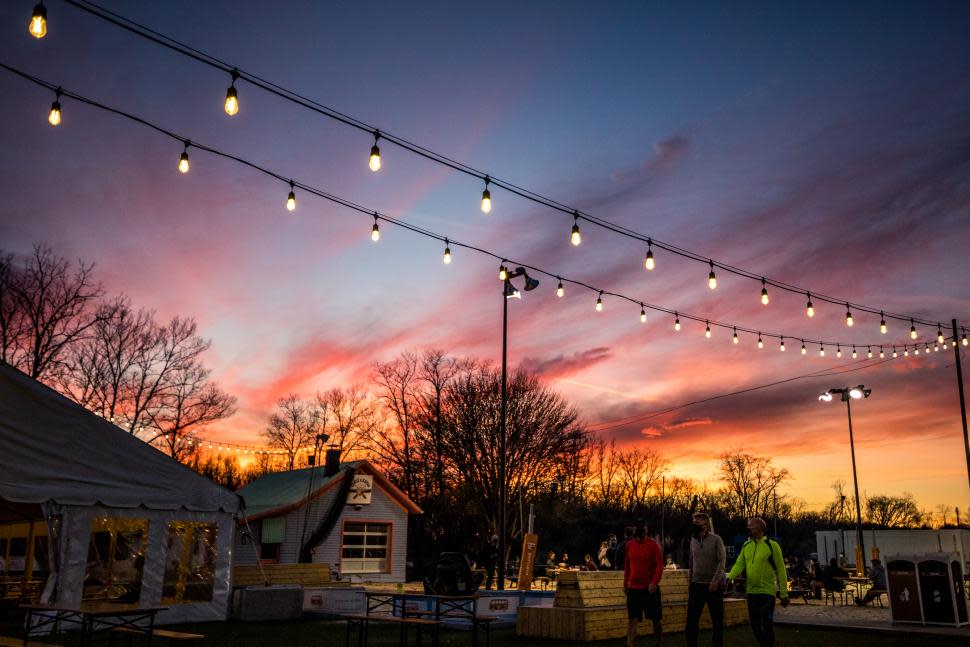 In addition to sipping on a locally-crafted beer, Fifty West West Brewing Company has created a winter wonderland of family fun including bonfire pits, heated tents, and igloos to keep guests warm. Hot chocolate and ice skating round out the wintry experience.
Bridgeview Box Park on the Levee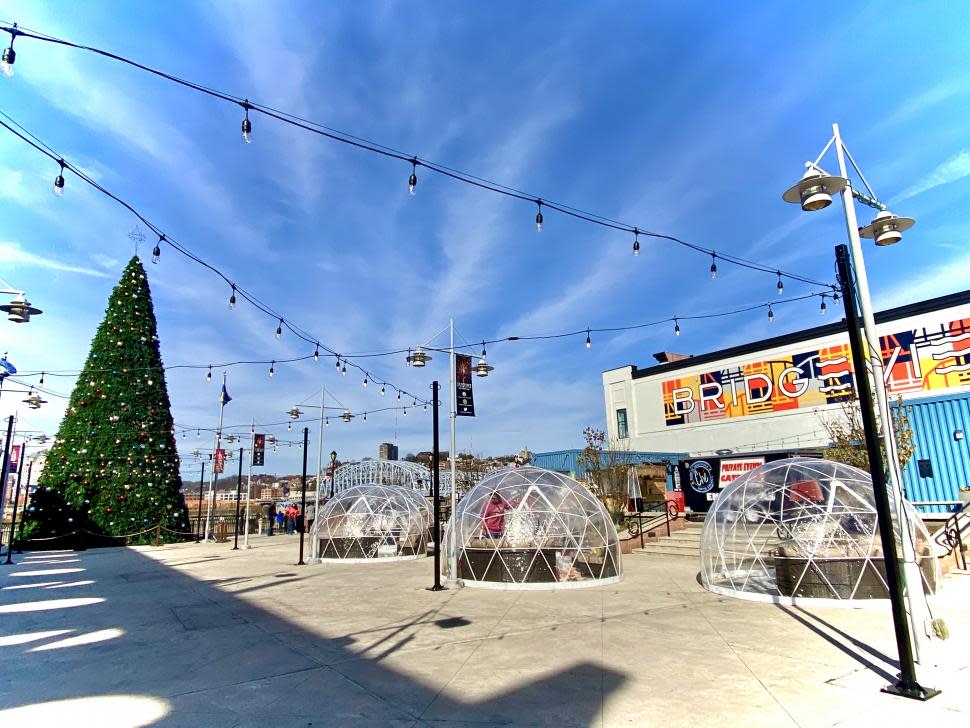 Bridgeview Box Park at Newport on the Levee is continuing the party all winter long with igloos for small group outings. Reservations must be made 48 hours in advance, and pricing starts at $40/hour with a two-hour minimum reservation.
The View at Shires' Garden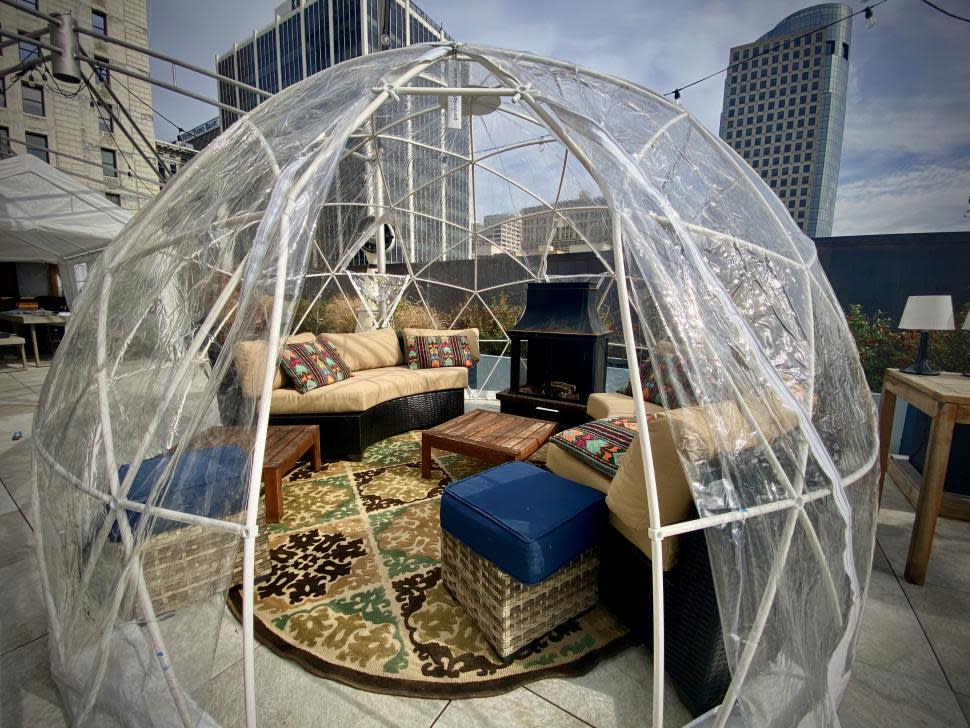 With panoramic views of the city and riverfront, The View at Shires' Garden is in-demand even in the winter with the Garden Igloo and Terrace Greenhouse experiences. Bring up to eight people for a full-service dining experience in two-hour time slots. Minimum order is required.
The Blind Lemon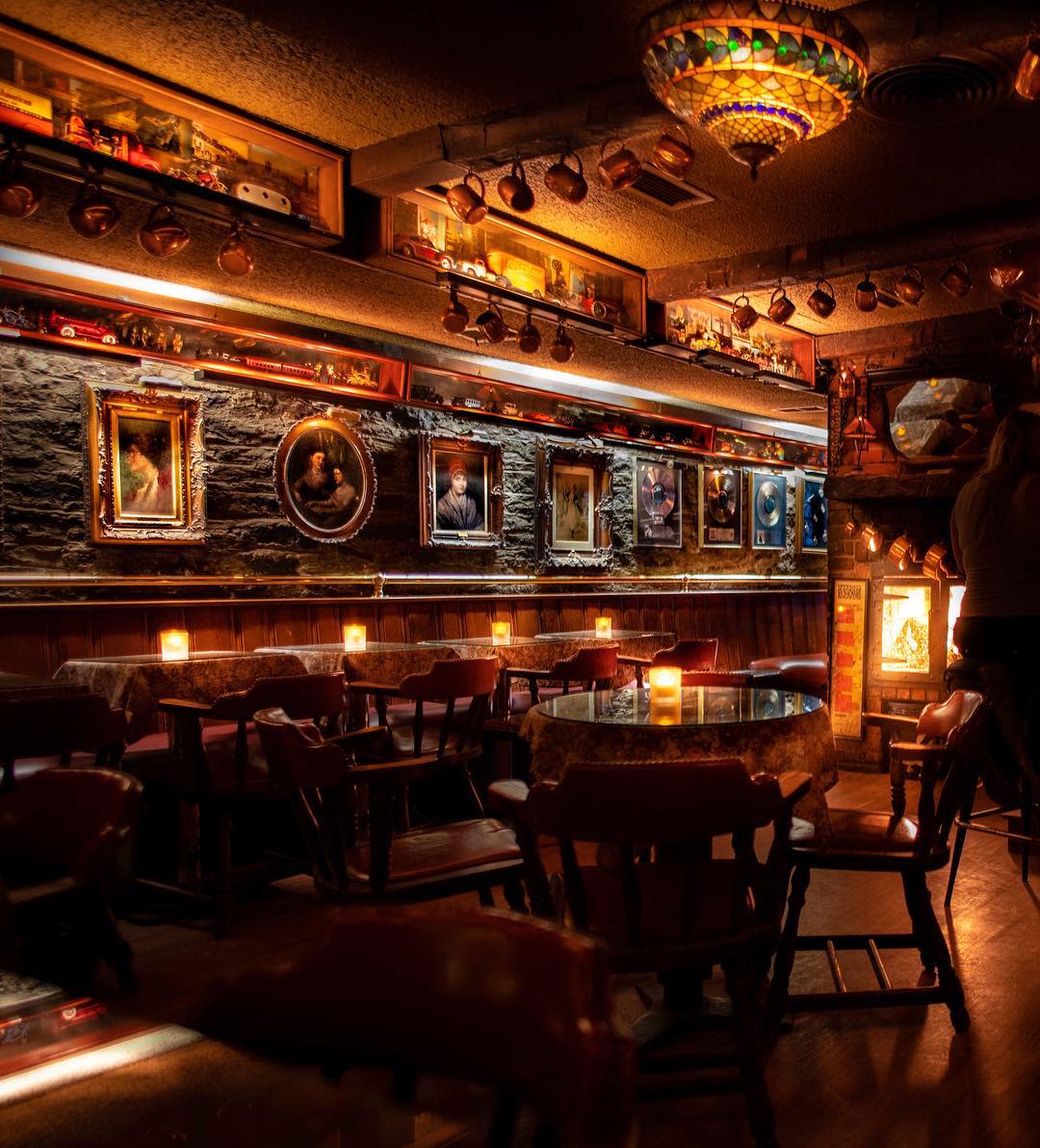 Located in the quaint neighborhood of Mount Adams, the Blind Lemon is a true hidden gem and one of the most romantic spots in all of the city! Enjoy a winter-themed cocktail on their unforgettable private terrace, featuring lush plants, live music, and a wood-burning fireplace. 
Little Miami Brewing Company
Little Miami Brewing Company is a family-friendly local favorite in Milford, Ohio is a great brewery to visit year-round. In the winter, you can kick back and enjoy a craft beer by their roaring fire pits and a view of the Little Miami River. Top off your night with some brick-oven pizzas made from scratch.
Even if you can't snag an igloo reservation, many restaurants and bars in Cincy are warming up the outdoors with covered patios, tents, and space heaters. Check with local restaurants and bars to see how they're cozying things up this winter.