Everything you need to know to experience Taste of Cincinnati like a pro
At the Taste of Cincinnati, one of the longest-running and largest free street food festivals in the nation, foodies can find the best of the best from some of Cincinnati's most creative chefs and experience a wide variety of tasty treats that showcase Cincy's rich culinary traditions.
Kicking off the summer season, Taste of Cincinnati takes to the streets of downtown Cincy on May 27 - 29, serving up fan favorites from burgers, barbecue, and brats to goetta, gyros, and greens–and just about everything you can imagine in between.  So bring your appetites and prepare to dig into some of the tastiest treats from more than 65 of Cincy's favorite restaurants, food trucks, and Findlay Market vendors.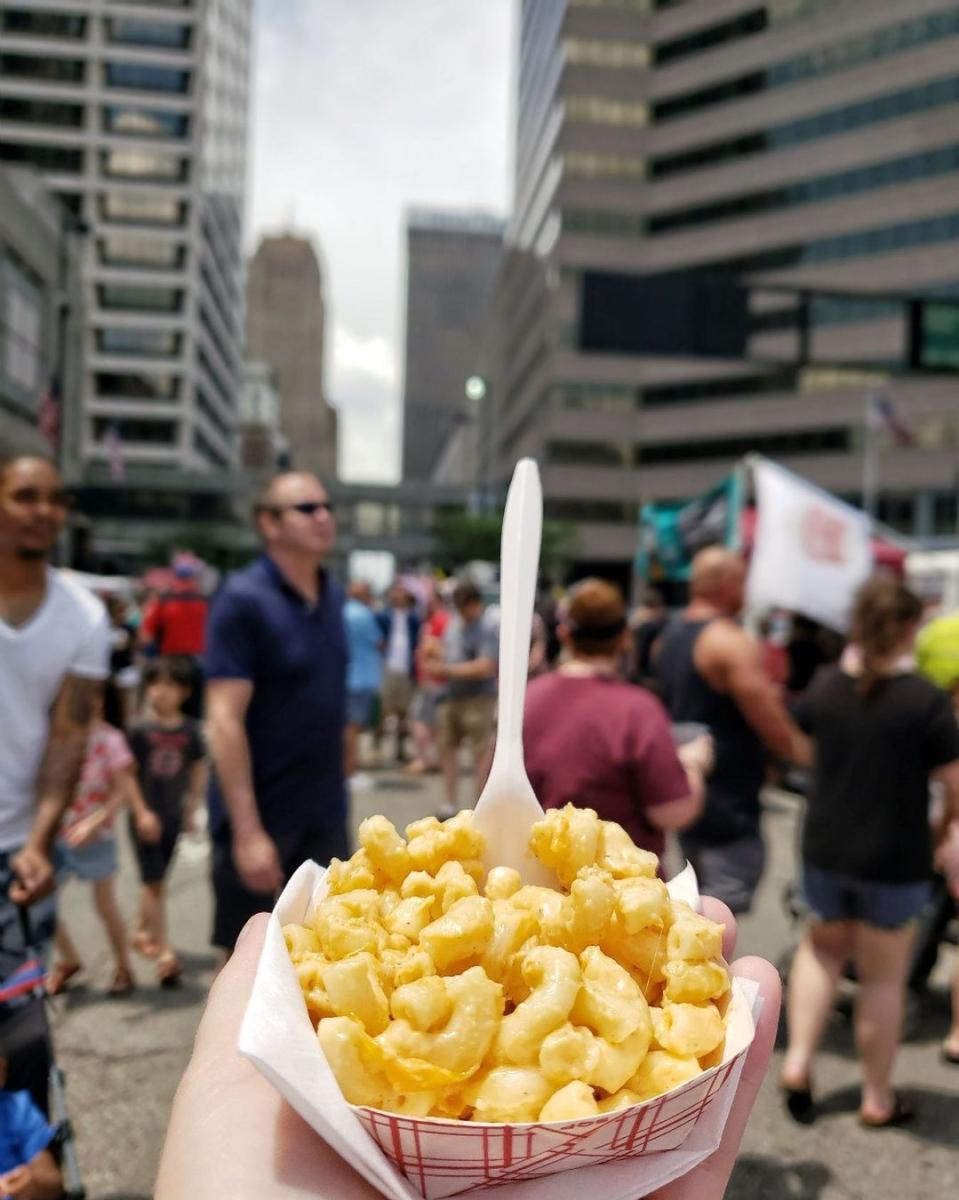 Taste of Cincinnati
Held every Memorial Day weekend, Taste of Cincinnati spans four city blocks in downtown Cincy along Fifth Street from Walnut to Sentinel. More than 550,000 people are expected to attend this annual event that's been around since 1979.  
Top restaurants featured at the Taste of Cincinnati
While the list of restaurants and food trucks hasn't quite been finalized yet, some of the most popular fan favorites from years past have committed and are working on their award-winning menus. Also to come is the big announcement of the Best of Taste awards in early May.  Judges select 24 winners, receiving gold, silver, and bronze awards, in eight categories as the best that Taste of Cincinnati 2023 offers.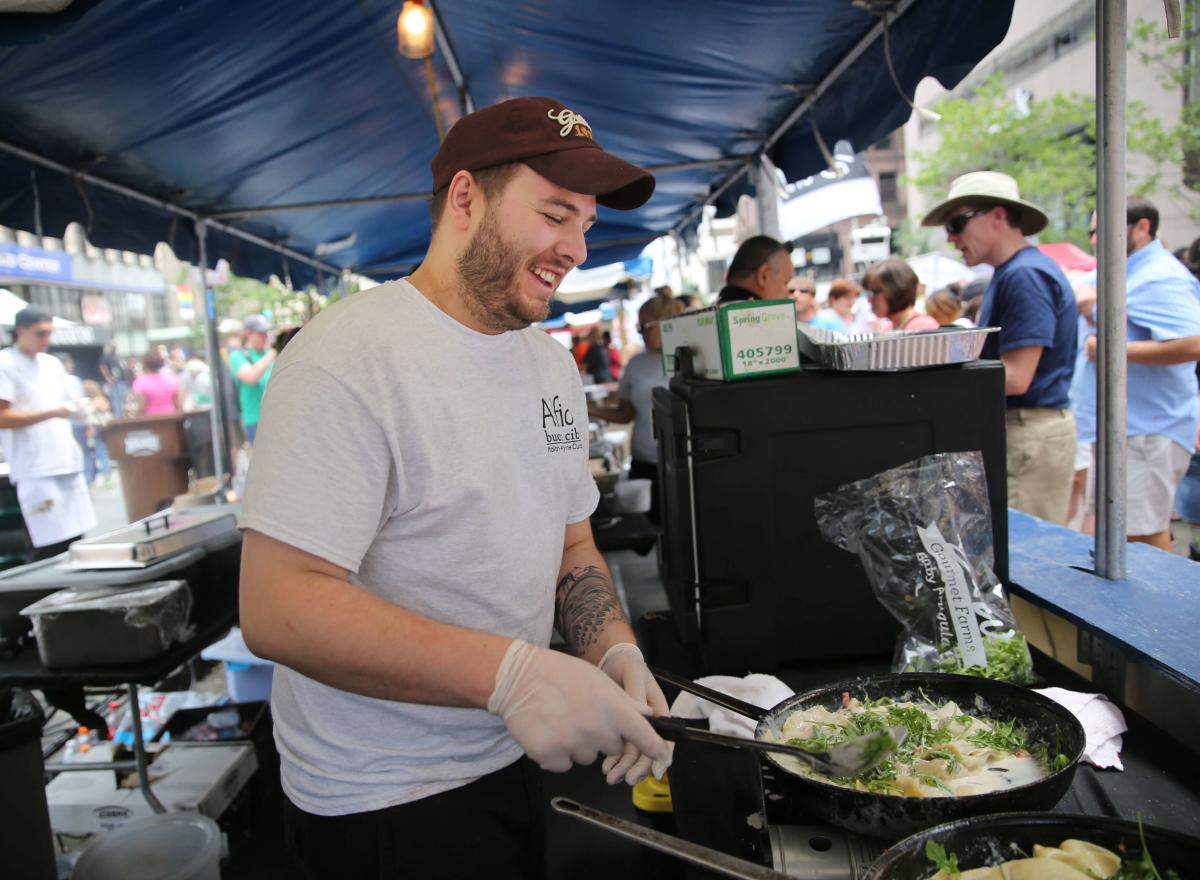 Alfio's Buon Cibo at Taste of Cincinnati
Alfio's Buon Cibo, a Hyde Park Square favorite restaurant featuring Italian food with an Argentinian twist,  took home three of the coveted Best of Taste awards for their amazing Veal Short Rib Ravioli Creamy Truffle Marsala Sauce (gold,) their tantalizing Korean Pork Barbeque Empanada (silver,) and their decadent Chocolate Caramel Tiramisu (bronze.)  Also returning for an encore appearance is a fan-favorite food truck Sugar Snap! Sweet Treats from nearby Alexandria in Northern Kentucky. They won a silver Best of Taste for their Salted Caramel Brownie Sundae. People were lined up around the block for Sugar Snap's Cheesecake on a Stick.
Some new names are on the lineup for 2023.  Maw Maw's Creole Kitchen food truck will be offering up  Creole, Cajun, and Caribbean favorites.  You can also catch some old favorites, including Tickle Pickle and Adena's Beefstroll. 
And while you might need to bring a big appetite, you don't need to spend big money.  Each food truck or restaurant is offering up to four selections and none costs more than $8. Beer, wine, and spirits will also be available for purchase throughout the event. 
History of the Taste of Cincinnati food festival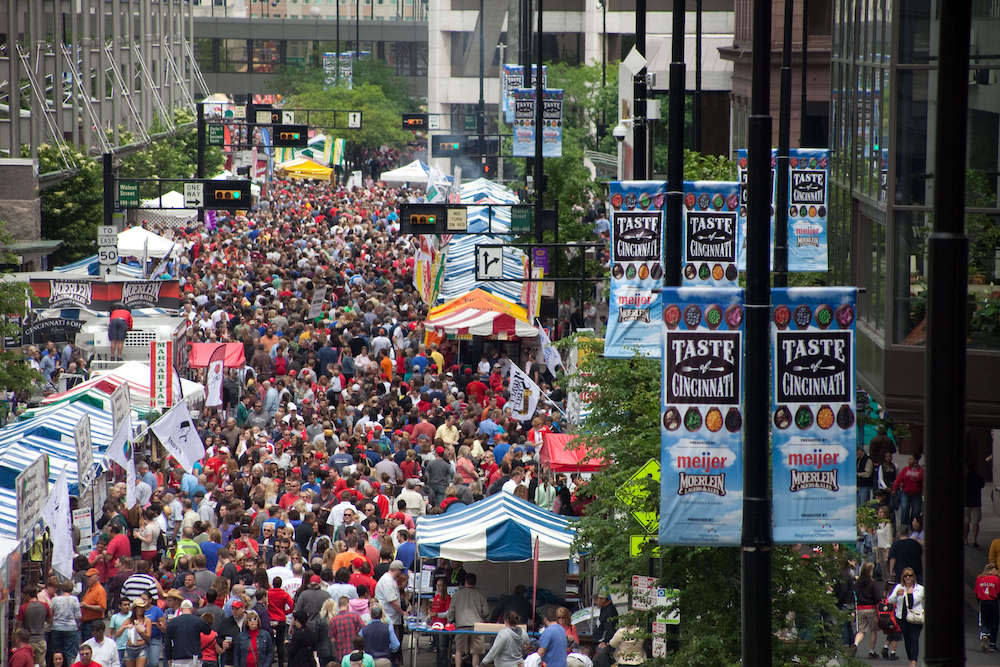 Taste of Cincinnati
Taste of Cincinnati is sponsored by the Cincinnati USA Regional Chamber and is now the nation's longest-running culinary arts festival. It began in 1979 as a small, one-day festival in Piatt Park, then known as Garfield Park, with about 5,000 people in attendance.  By 1981, it expanded to two days, then jumped to three days in 1988 and moved locations to Central Parkway. By 2007, Taste of Cincinnati hit three full days and nights and moved to Fifth Street in order to showcase Cincy's expanding eclectic culinary scene and spotlight Cincy's $42-million Fountain Square renovation–complete with an underground parking garage.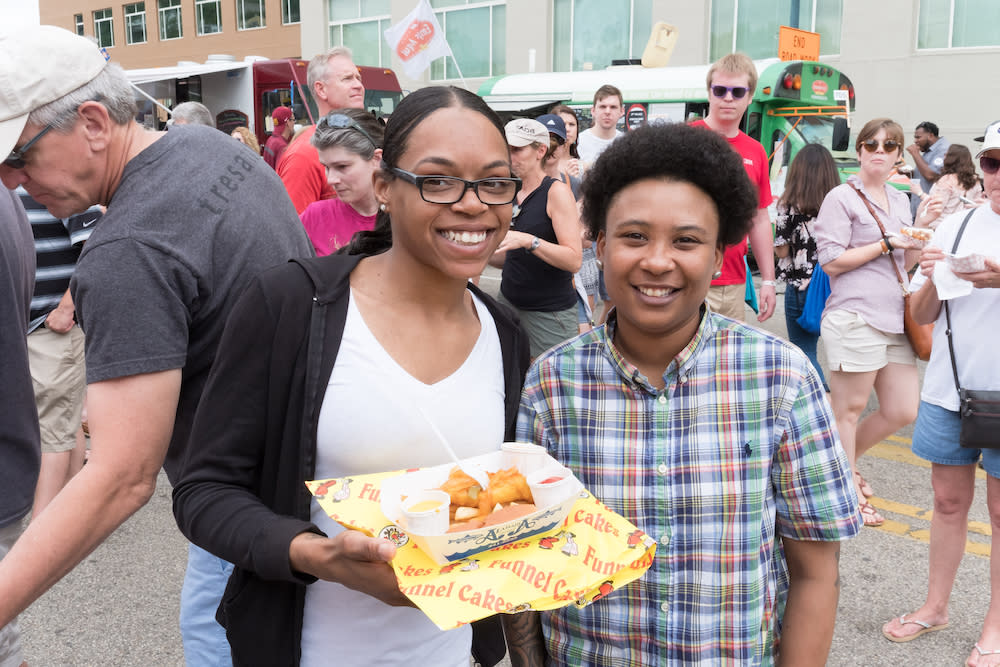 Taste of Cincinnati
Today, nearly a half million visitors attend this spectacular food event in downtown Cincy, known for its locally-owned restaurants, award-winning chefs, and its vibrant culinary scene.  The food offerings selected for this feeding extravaganza are often inspired by the region's rich German and Greek heritage, so you can expect to find goetta and gyros–and everything in between–on at least a few menus throughout the festival.  
Live music & entertainment at Taste of Cincinnati
Did we mention there's entertainment?  After you have tasted to your heart's (and belly's) content, you can kick back, relax and take in some of Cincy's best f musicians and musical acts.  Like its culinary past, Cincy has a long-standing tradition of producing great musicians as well as hosting historic performances throughout the decades. Whether you are into the 90s grunge scene, the latest pop sounds, country music, or the nostalgic sounds of yesteryear, the musical lineup at Taste of Cincinnati, featuring more than 40 acts, has something for you.  Think Bogarts to the Southgate House Revival to Riverbend. The lineup isn't finalized yet but you can count on continuous live entertainment from a wide variety of local and national recording stars performing on multiple stages throughout the event.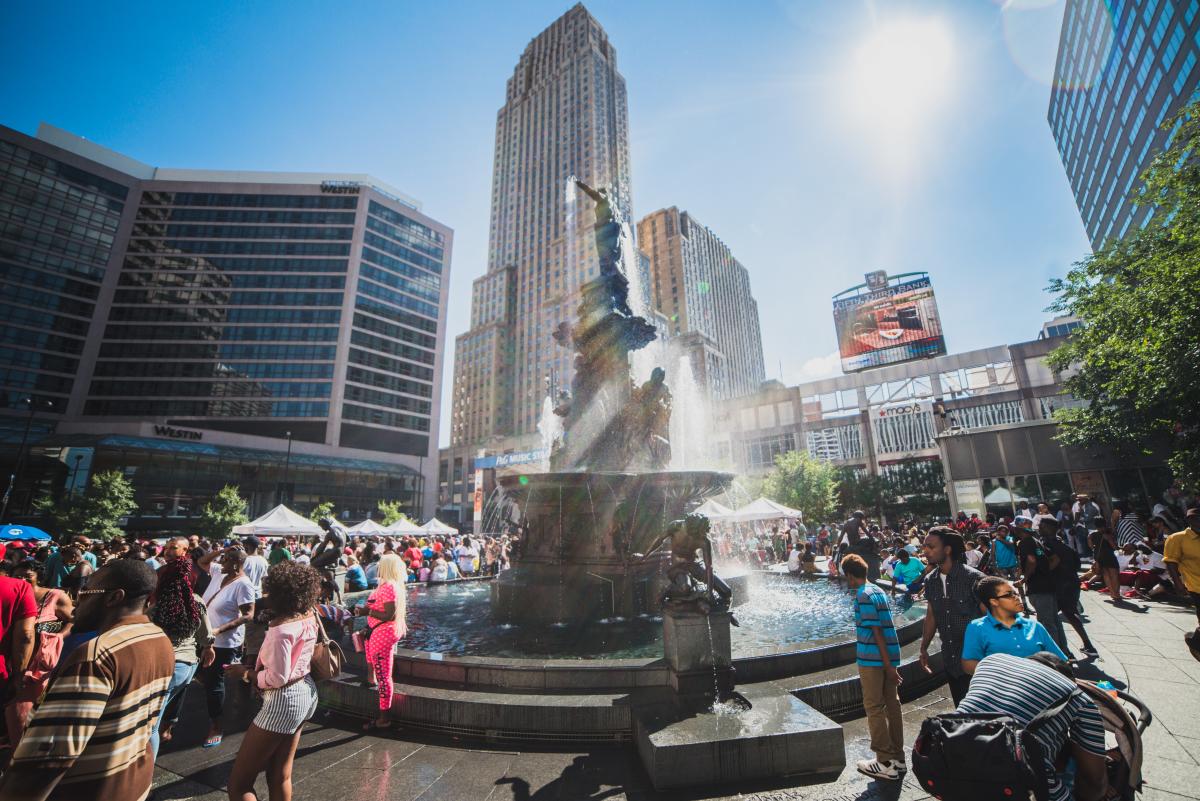 Helpful tips for visiting Taste of Cincinnati
Explore parking information, how to get around, and other helpful tips to make the most out of your experience at Taste of Cincinnati. 
Parking for Taste of Cincinnati
Several downtown streets are closed for this event from 6 p.m. on Friday, May 26, and will reopen at 5 a.m. on Tuesday, May 30. Taste of Cincinnati parking is available in several nearby parking garages and parking lots on Third, Fourth, and Sixth Streets are available. Street closures and parking info will be updated throughout the weekend. Hotels in downtown Cincy are also offering parking for this event. 
The Cincinnati Connector, downtown Cincy's own streetcar, makes a 3.6-mile loop through the city. It can easily connect you to Taste of Cincinnati and it's free! Cincy Red Bikes has 52 stations and more than 400 bikes located throughout Cincy and NKY.  Ridesharing with Uber or Lyft is always available–although rates could increase during the peak hours of this event. 
Check out Taste of Cincinnati on Facebook and Instagram for the latest updates on parking, road closures, restaurants, entertainment, and other info. Event guides and maps are also available.
Taste of Cincinnati 2023 Hours & Schedule
Saturday, May 27, 2023 –11 a.m. – 11 p.m.
Sunday, May 28, 2023 – 11 a.m. – 11 p.m.
Monday, May 29, 2023 – 11 a.m. – 8 p.m.
There is no admission for Taste of Cincinnati. Menu items range from $4 - $8. 
Mark your calendars now and don't miss out on this fabulous weekend of food, fun, entertainment, and so much more. See you there!