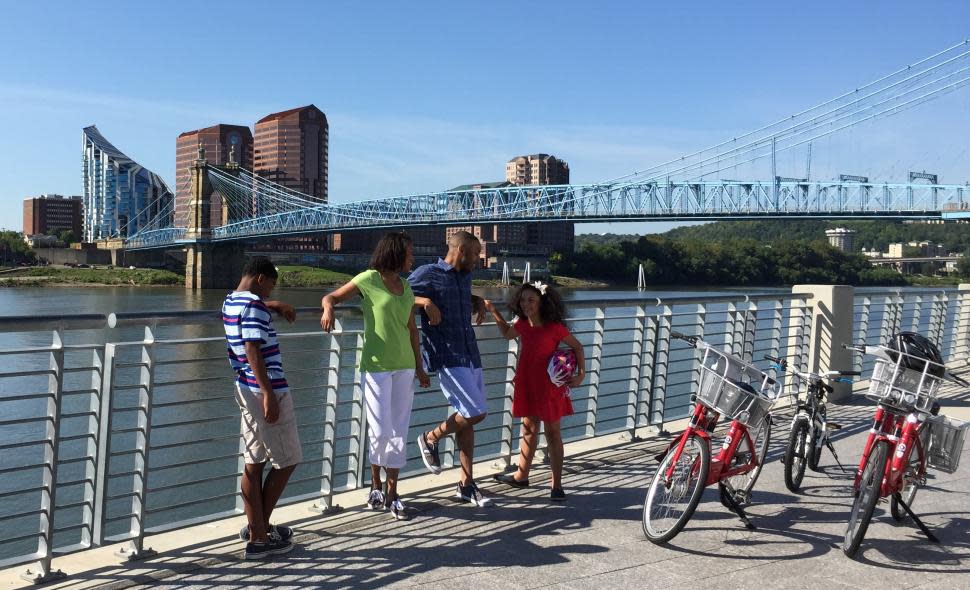 So you want to spend the day exploring the Cincinnati region, but you don't want to have to pay for parking at multiple places, or wait for the bus? Have no fear, Cincy Red Bike is here! It's a fun and cheap way to see both sides of the Ohio River, while getting some exercise at the same time!
How it works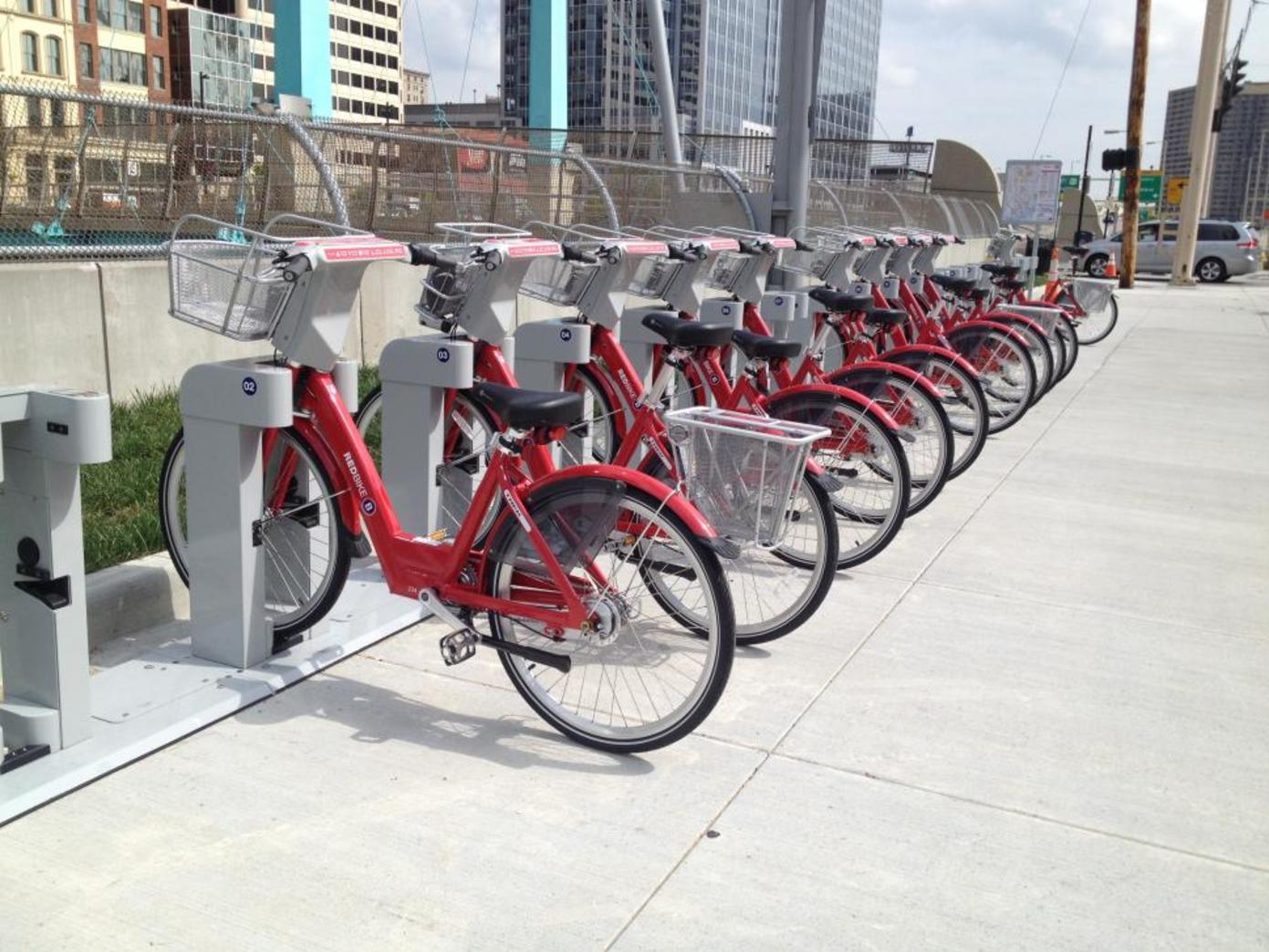 Purchase a day pass for $10 at any Red Bike pay station. The pass gives you unlimited 2-hour rides for 24 hours. Your pass is good for the entire day, but you must check in every 120 minutes by docking your bike at any of the 59 Red Bike locations in Cincinnati, Covington, Newport and Bellevue. Once you dock your bike, you can check out a new one at no extra charge and begin another 120-minute cycle. A single use 20-minute pass is also available for $3, or purchase a month pass for just $18.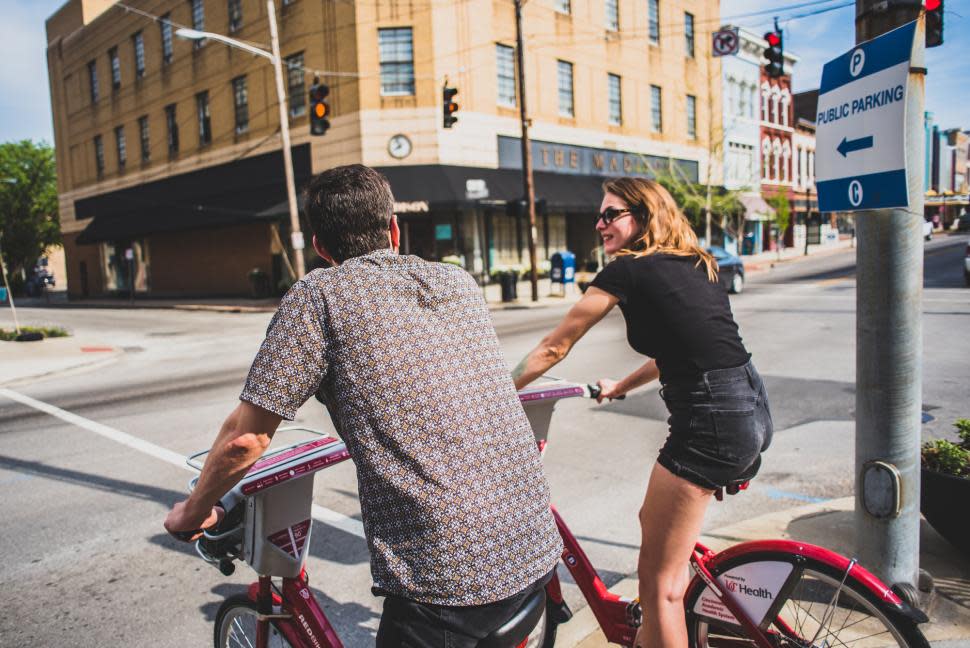 The bike itself is designed with the rider in mind. There's a chain guard and splash guards to keep you (and your pants) clean and intact. Flashing lights are also included on the front and back of the bike for safety. The fleet now includes 200 e-bikes (electric-assisted bikes) that help you gain and maintain speed. This can be quite helpful in our hilly region. The e-bikes can be easily identified by their black basket and large battery near the rear wheel (as pictured below).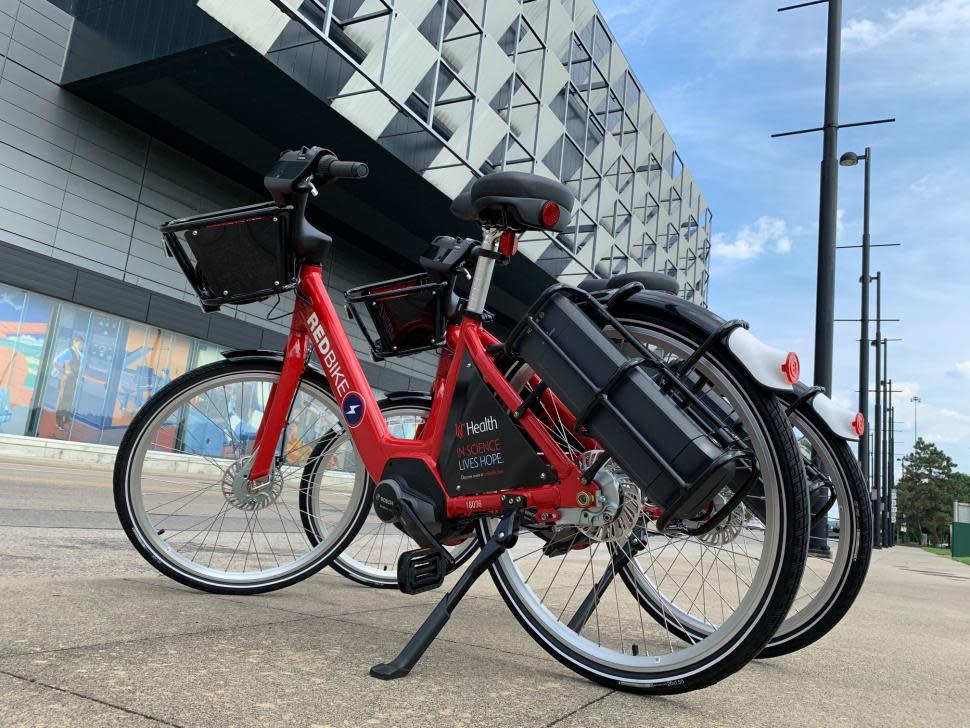 Try these routes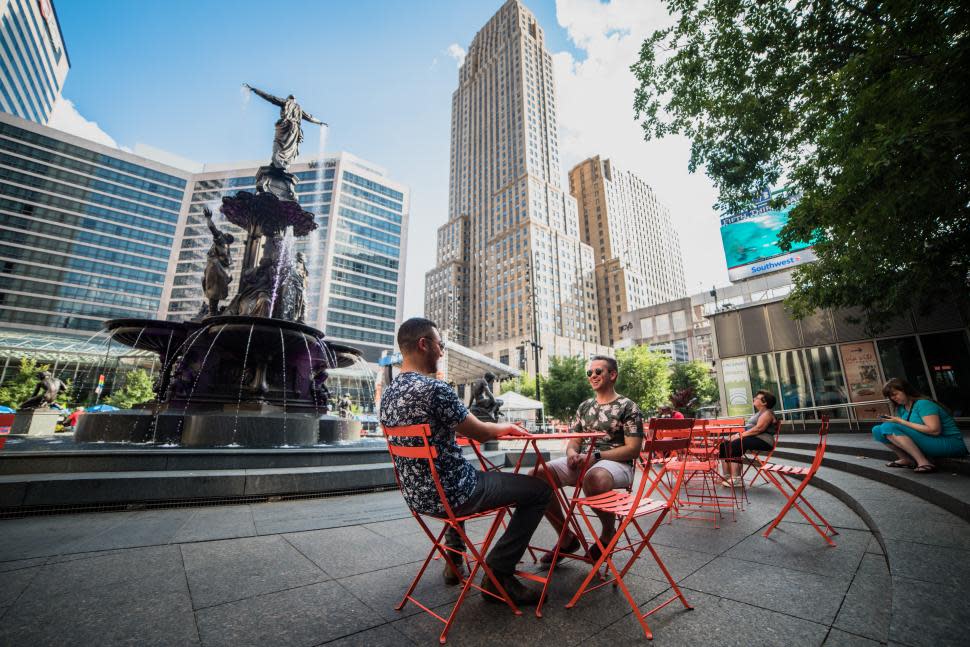 Fountain Square to Public Library to Findlay Market
Estimated time: 11 minutes
Start your morning on Fountain Square in the heart of downtown Cincinnati. Grab a donut from Graeter's for breakfast and sit and eat by the fountain. Climb to the top of Carew Tower (currently closed) for breathtaking 360-degree views of the river and region. Next, stop by the main branch of the Public Library of Cincinnati and Hamilton County. This five-star library takes up three floors and has two buildings! Check out the current exhibit on display and explore the MakerSpace. Browse the Library Friends' Shop for a used book or DVD at a great price. Once you're done there, pedal your way to Findlay Market in Over-the-Rhine. Take a guided tour of the historic market or explore on your own. There's something to satisfy everyone's appetite!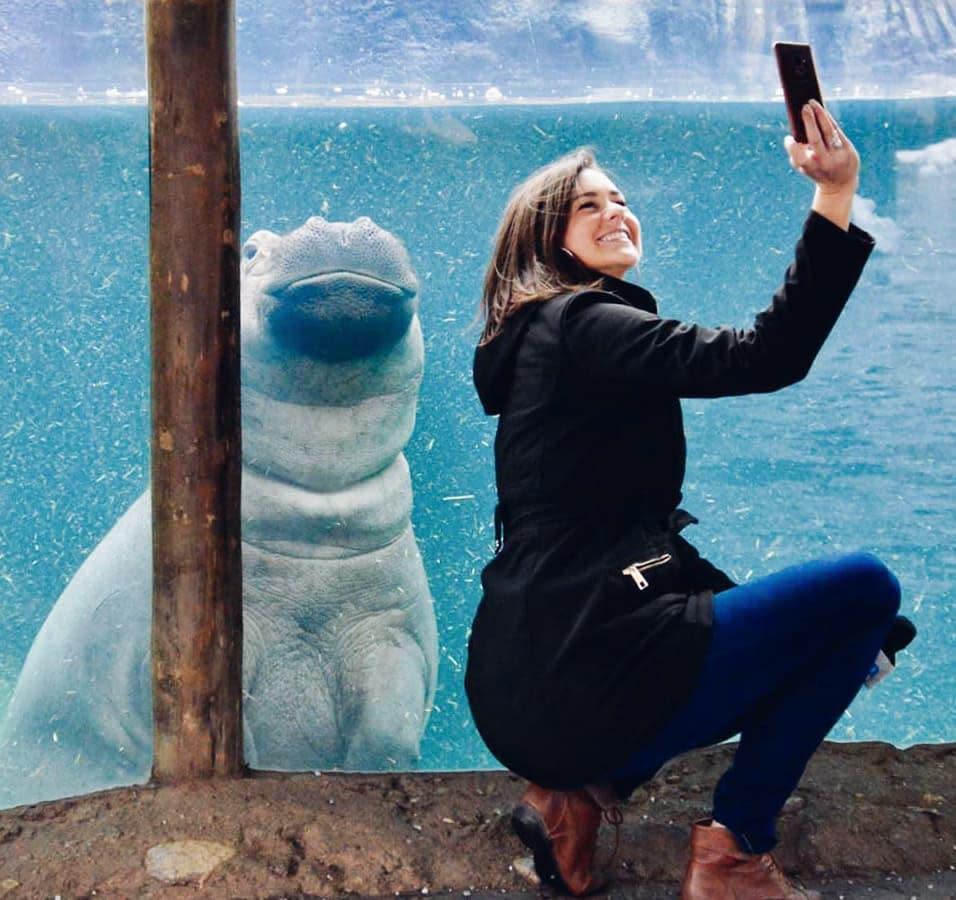 University of Cincinnati to Cincinnati Zoo & Botanical Garden
Estimated time: 6 minutes
Explore the hangout for UC Bearcats and then head to the Cincinnati Zoo & Botanical Garden to see a real live Bearcat! Hang out in U-Square on Calhoun Street for great shopping and dining. Grab a beer and a pizza at Adriatico's or build the pizza of your dreams at Pieology. Be sure to load your pie with as many toppings as you want. Choose your bike from the station on the corner of Calhoun and Dennis, and it's just a 6-minute pedal down Vine Street to the zoo!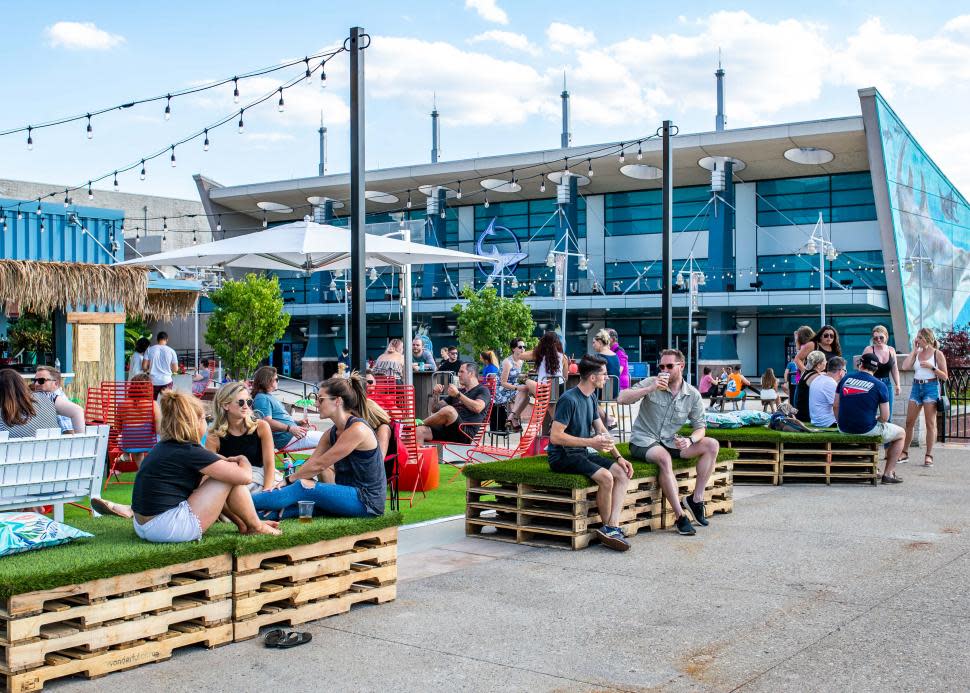 Roebling Point Books and Coffee to Newport on the Levee
Estimated time: 10 minutes
Grab a coffee at this quaint café in Covington, Ky., and pick up a good book while you're at it. Then take a stroll at the base of the Roebling Suspension Bridge and look across the Ohio River for picture-perfect views of Cincinnati. Check out the historic Riverfront Floodwall Mural Tour to learn about the history of Covington. After you've soaked in the view, hop on your bike and pedal along the river to Newport on the Levee. There you grab a snack from Bridgeview Box Park, do some shopping, or explore the Newport Aquarium. If you're up for exploring another Northern Kentucky city, Bellevue is just a 7-minute ride away. Park your bike in the station at Port Bellevue, and walk across the street for a stop on the Kentucky Bourbon Trail Craft Tour at New Riff Distilling, or it's just a short 10-minute walk to explore the unique shopping and dining that Bellevue has to offer.
Family-friendly routes
Washington Park to Findlay Market
Estimated time: 2 minutes
Hang out in Washington Park and then head up the street to Findlay Market for lunch. With a great playground and lots of green space, Washington Park is full of fun for kids! Make sure to take a photo in front of Music Hall, it was designated a National Historic Landmark in 1975 and makes a great backdrop for photos! After your adventure in the park, pedal up the street to Findlay Market for lunch. Save room for Dojo Gelato for dessert.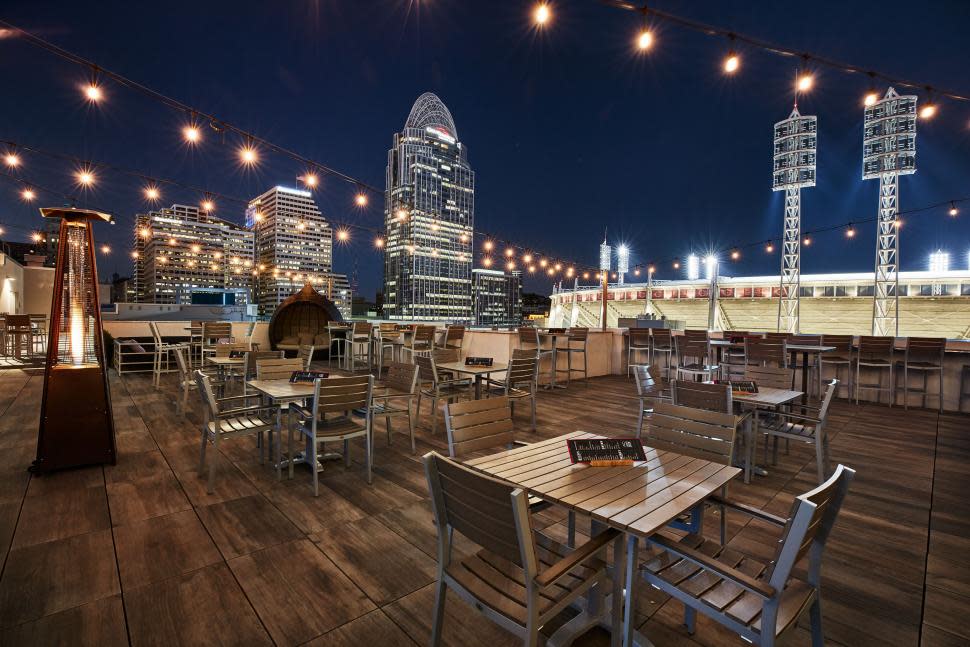 The Banks to Sawyer Point to Newport on the Levee
Estimated time: 9 minutes
Feel the excitement of the Reds no matter what time of year at The Banks across from Great American Ball Park where there's a Red Bike station just outside then main entrance. Pedal along the river for views of Sawyer Point and Yeatman's Cove. Stop by the Serpentine Wall for a great photo opportunity. When you're finished exploring, pedal across the pedestrian-only Purple People Bridge to Newport on the Levee for dinner at one of the fun dining options available.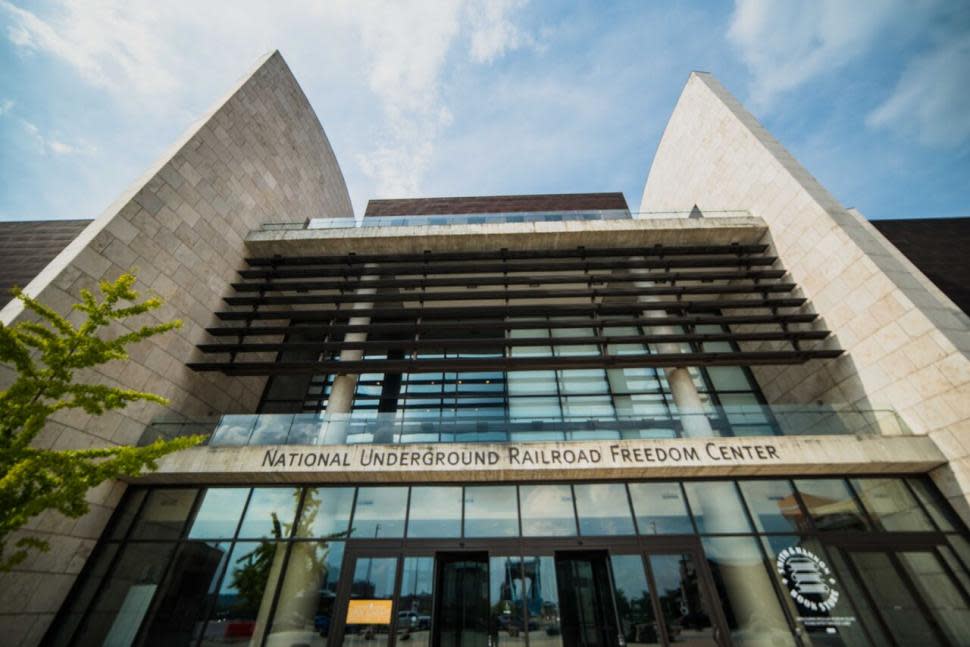 Freedom Center to Smale Riverfront Park to MainStrasse Village
Estimated time: 10 minutes
Explore an important part of Ohio's history at the the National Underground Railroad Freedom Center and then have some fun at Smale Riverfront Park. Take a ride on Carol Ann's Carousel and climb, slide and run on the playground. Once you've worked up an appetite, take your bike across the Roebling Suspension Bridge and ride to MainStrasse Village in Covington, Ky. Choose from a variety of great restaurants for lunch and have fun playing at Goebel Park, you'll find it by the German-style Carroll Chimes Clock Tower.