Cooler temperatures are on the horizon as are autumn's rich fall colors. Fall also brings out the best seasonal treats at Cincy's local restaurants, bakeries, coffee shops, and breweries. It is the season for whipped cream-topped PSLs, pumpkin beers, fall cookies, and more. Here are some of our favorite fall treats and where you can find them in Cincinnati and Northern Kentucky.
Fall treats around Cincinnati
Pumpkin ice cream at Graeter's
No matter the season, Graeter's is a must-visit for ice cream. The limited edition flavor returns every fall at this landmark Cincinnati establishment, stirring up warm memories of Grandma's pumpkin pie. 
Spiced pumpkin macaron at Macaron Bar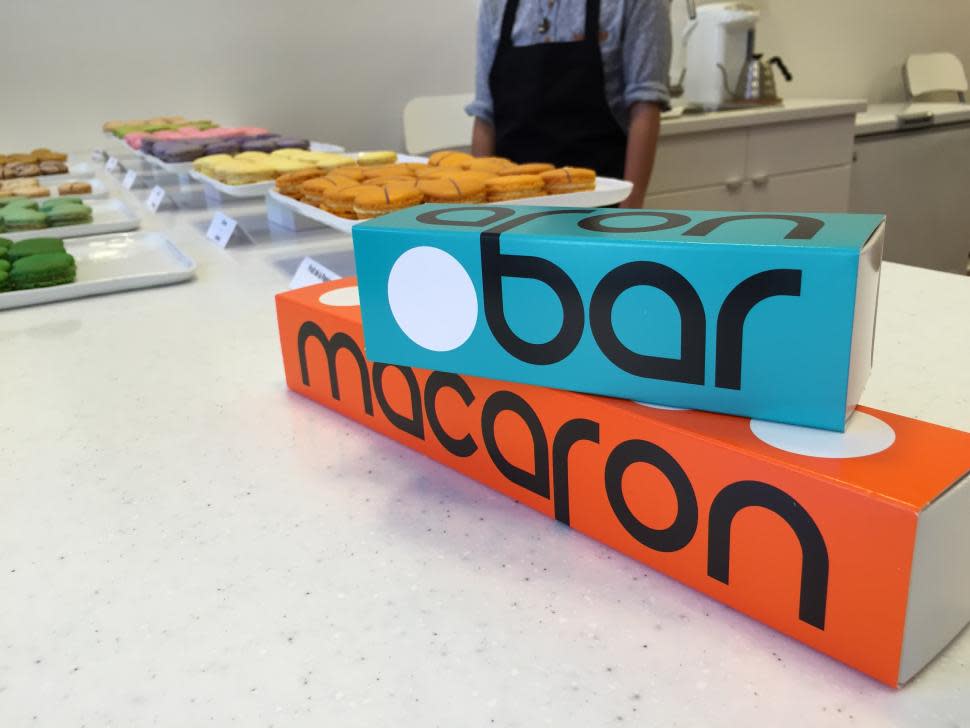 Everyone's favorite gluten-free French treat gets a fall glow up at Macaron Bar. Don't miss their macarons filled with a chocolate ganache with toasted nutmeg, ginger, cinnamon, and fresh pureed pumpkin. Aspiring bakers can sign up for a macaron making class to get all of their baking secrets! For the most up-to-date information on flavors check out their website. 
Pumpkin beers around Cincinnati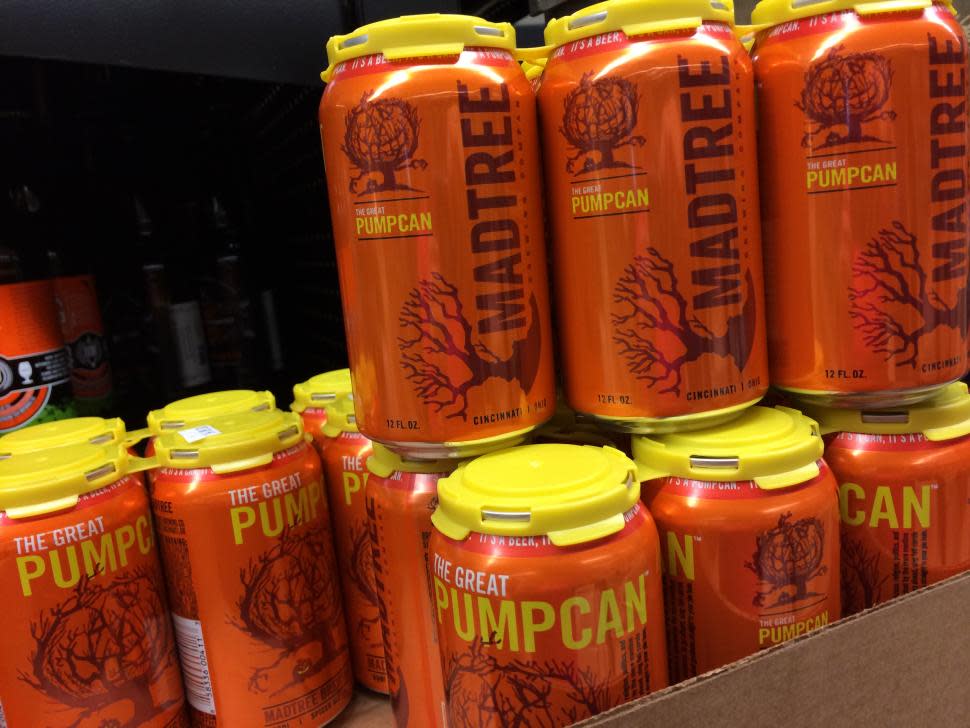 Madtree tree (photo: Katie Scheper)
The Cincinnati area is full of some great craft breweries and many of those breweries have come out with some special brews to celebrate fall. Madtree's The Great PumpCan is a standout. Taft's Brewing Company partners with hometown favorite Frisch's to offer a Pumpkin Pie Ale with notes of cinnamon and nutmeg. Braxton Brewing in NKY also pours an excellent pumpkin pie ale! No matter the brewery, don't miss pumpkin seasonals and unique Oktoberfest beers at Cincy breweries this fall! 
Caramel apple pie at Iron's Fruit Farm
This Lebanon farm and bakery serves up all kinds of fall treats but the caramel apple pie is legendary. You can also find cinnamon cider donuts, apple fritters, and more. The bakery is open June-December.  
Seasonal latte flights at Wholy Beans Coffee
Can't decide on a latte flavor? No worries. Wholy Beans Coffee makes it easy to sample the latest flavors with a seasonal latte flight (hot or iced). Don't miss the pumpkin white chocolate!
Fall cookies from the BonBonerie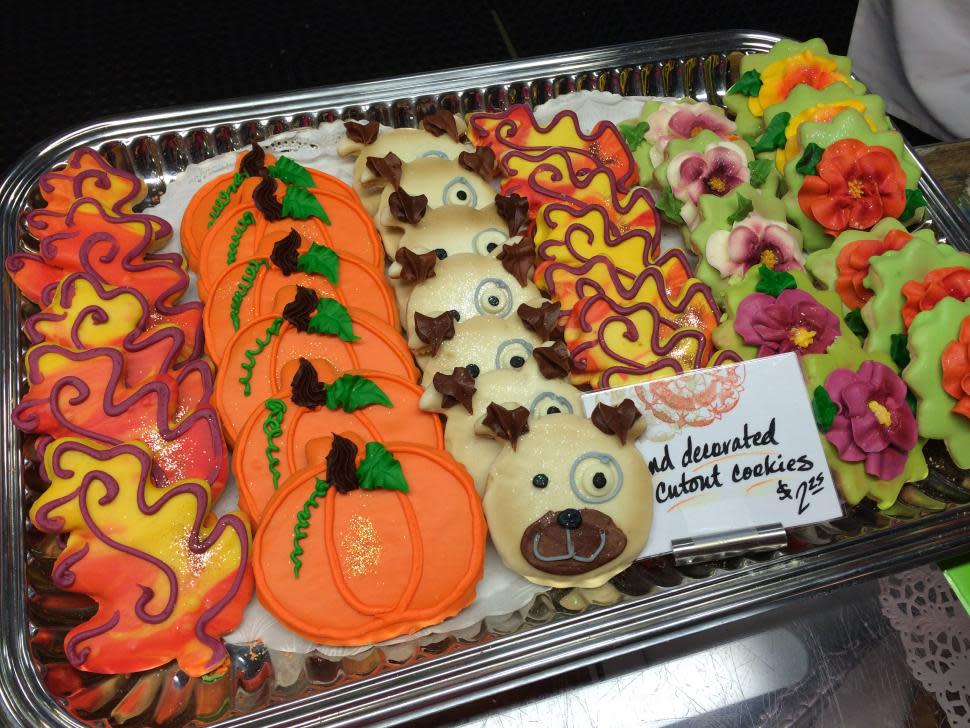 The BonBonerie (photo: Katie Scheper)
If you're not a fan of pumpkin-flavored treats, perhaps you would prefer a cookie shaped like a pumpkin. The BonBonerie offers many fall desserts like decadent French apple slices and pies. Don't miss these cute iced cookies that change with the seasons. 
Pumptini at Oak Tavern
Pumpkin spice meets espresso in a martini glass at this Oakley neighborhood watering hole.
Pumpkin spice cake donuts at Holtman's Donuts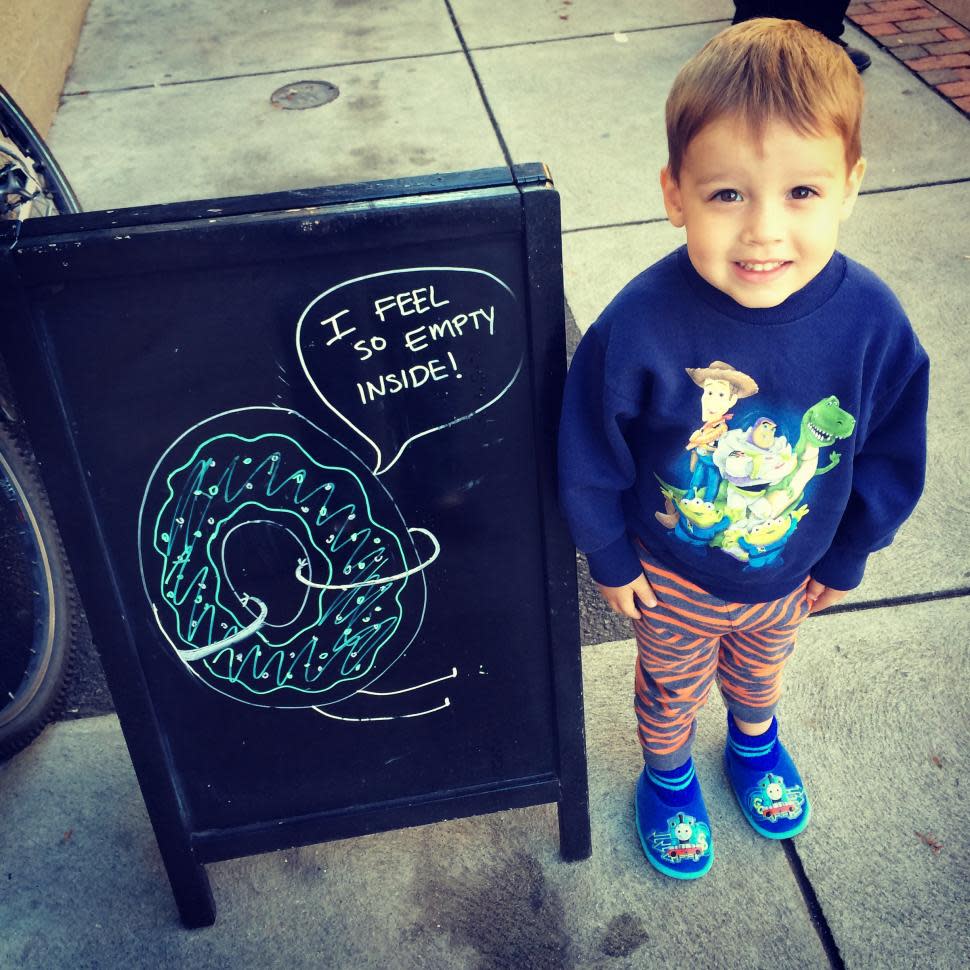 Holtman's Donuts (photo: Katie Scheper)
Looking for the perfect fall breakfast treat? Pumpkin spice donuts at Holtman's are an easy favorite. This pumpkin cake donut is rolled in cinnamon sugar and slathered with house-made caramel–yes, please! Holtman's has a great selection of homemade donuts, so stop in and grab a dozen. Bonus, Holtman's has locations all around Cincy making it easy to find these sweet treats. 
Mama Made It kettle corn at Findlay Market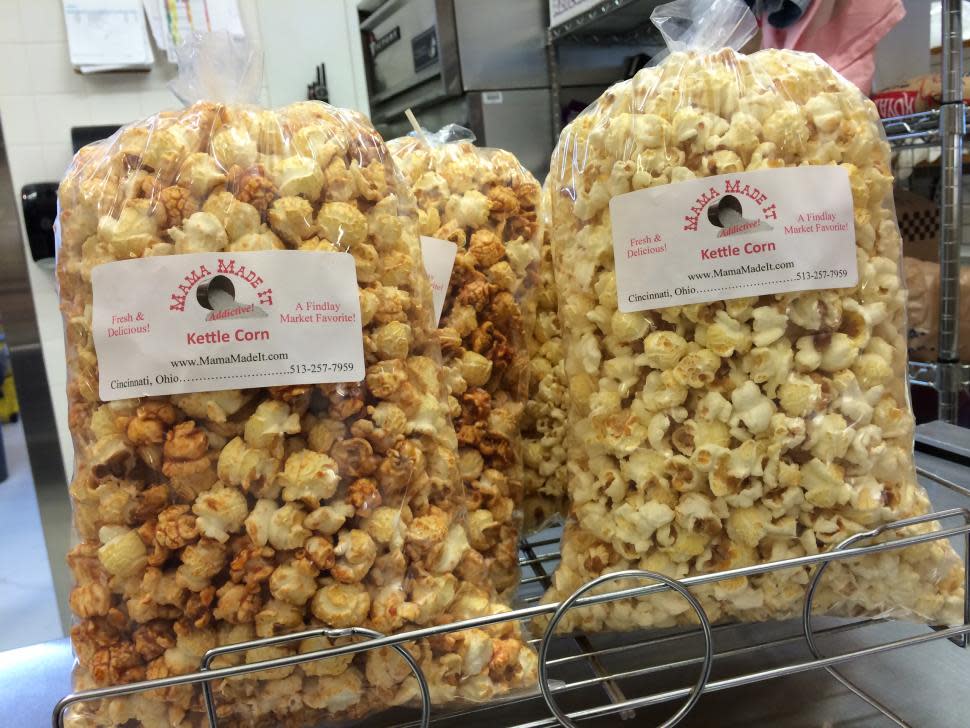 Mama Made It Kettle Corn at Findlay Market (photo: Katie Scheper)
Who doesn't love kettle corn? Findlay Market without grabbing a bag of this awesome Kettle Corn. It's so tasty! Sometimes on the weekends, you can find the folks from Mama Made It stirring the big kettle outside the doors of the market. That's how fresh this kettle corn is. And it is the perfect combination of sweet and salty! 
Find fall flavors in NKY
Pumpkin pie latte at Left Bank Coffeehouse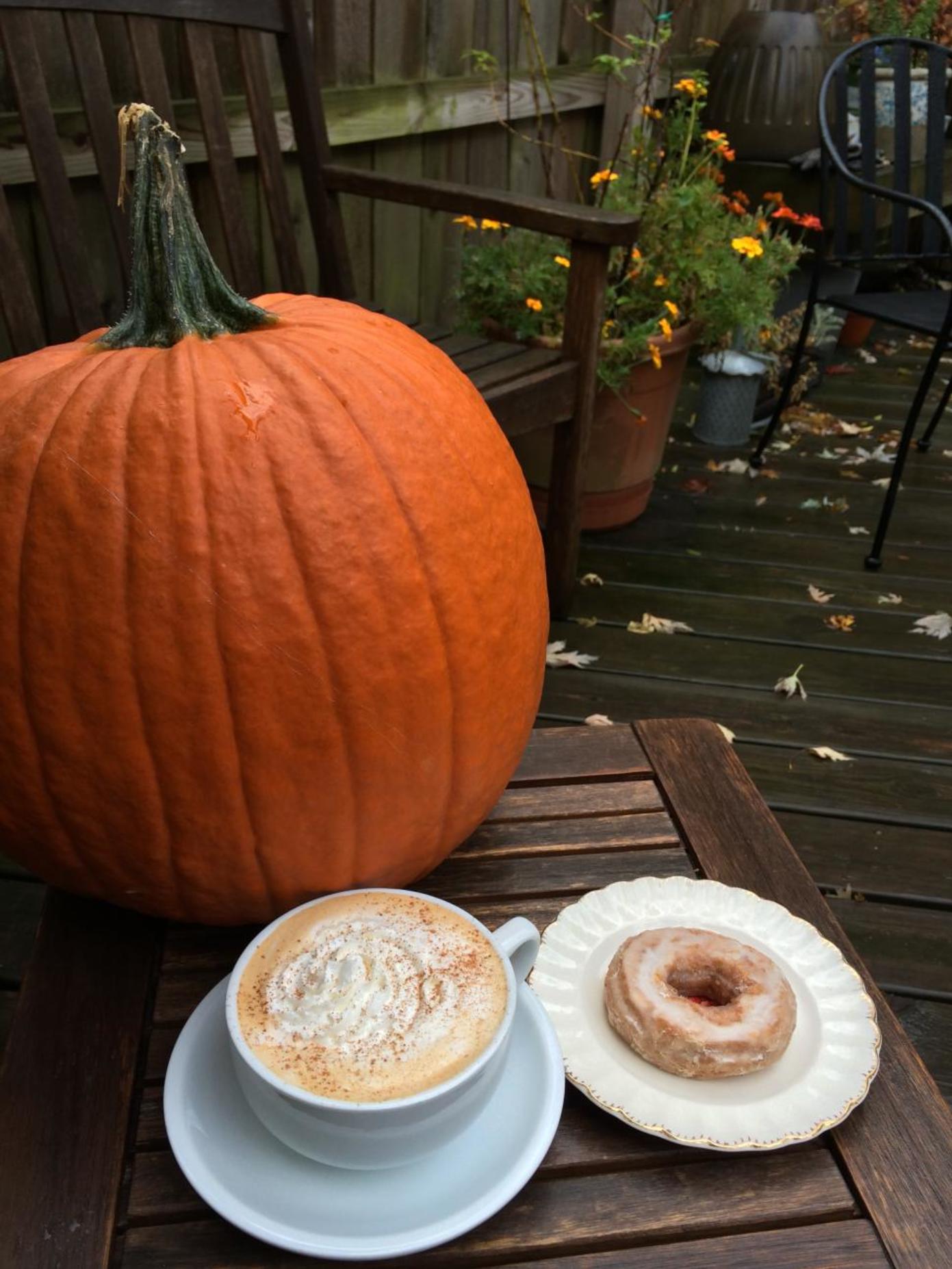 Left Bank Coffeehouse (photo: Katie Scheper)
This latte is a perfect way to start a cool fall morning – it tastes like Autumn in a mug! And it's made even more perfect when paired with a tasty baked treat. If the pumpkin latte isn't your thing then try a spiced apple chai latte or coconut ginger iced latte. Left Bank is a favorite for their coffee but it's also a cozy place to read or work and they have excellent outdoor seating on milder days. 
Fudge apples at Kremer's Market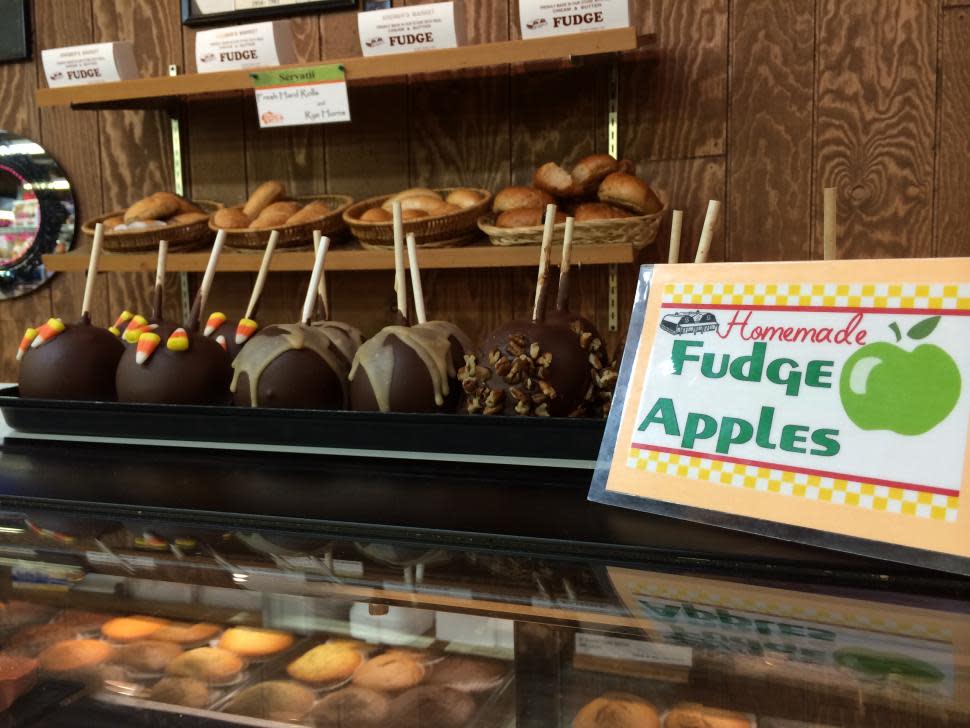 Kremer's Market (photo: Katie Scheper)
Fall is usually associated with caramel apples, but have you ever tried a fudge apple? They are so delicious! At Kremer's, they use Granny Smith apples and dip them in chocolate fudge or peanut butter fudge to create a culinary delight that my kids love this time of year. While you are at Kremer's you can also find all kinds of other great locally-sourced products including mums and pumpkins that are grown on local farms. Or grab a sandwich at their deli counter for lunch with a Fudge Apple as dessert of course.
Pumpkin cream cheese delights at Reality Tuesday Café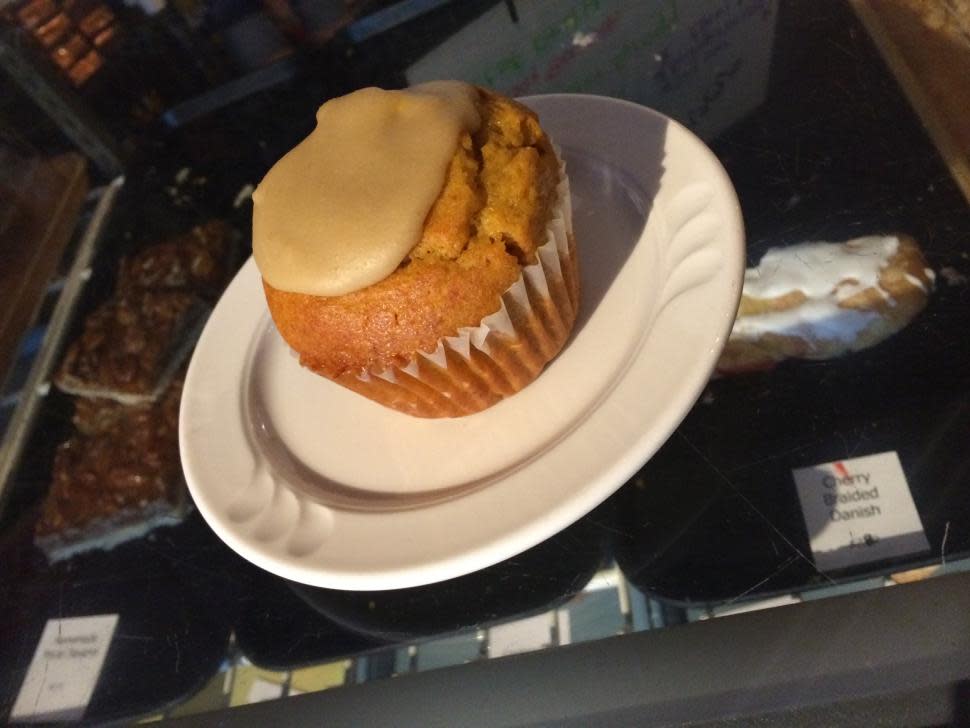 Reality Tuesday Cafe (photo: Katie Scheper)
Truth be told you can get pumpkin spice lattes year-round at Reality Tuesday Café Don't miss their seasonal pumpkin baked goods like their famous pumpkin cream cheese muffins. They're always baked fresh and delight true pumpkin lovers.  
Pumpkin rolls from Servatii Pastry Shop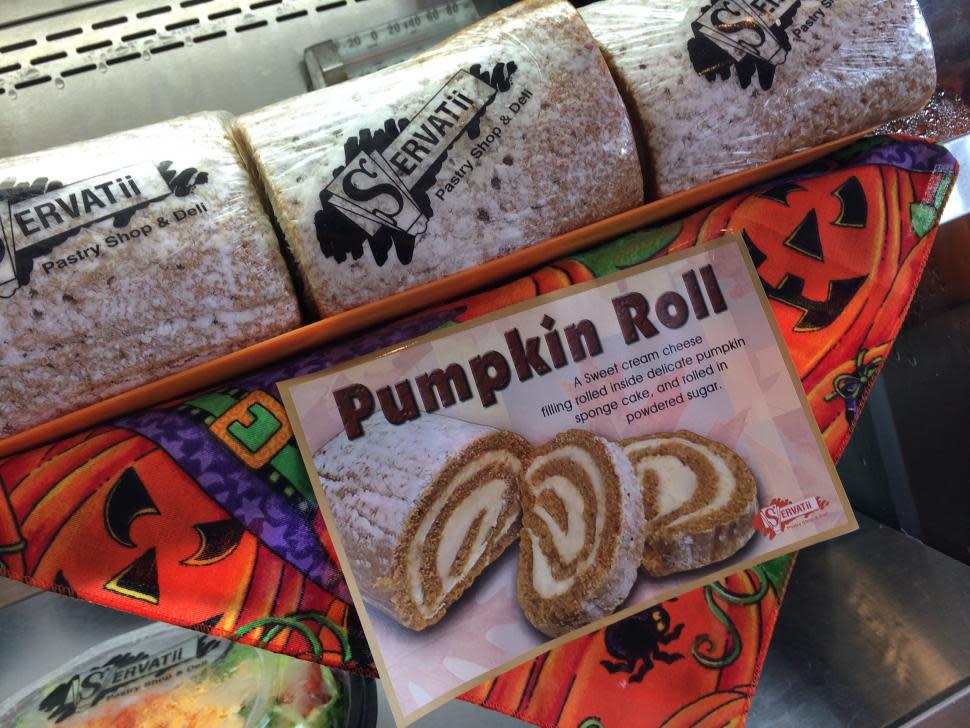 Servatii Pastry Shop (photo: Katie Scheper)
There are are lot of pumpkin rolls but Servatii serves up some of the best! Cream cheese and pumpkin spice rolled up into the most delicious fall dessert. Don't miss their pumpkin donuts either! 
Whether you're looking for pumpkin treats or all things apple, find decadent seasonal fall desserts and flavors around Cincy. Looking for the perfect place to enjoy a coffee and a book, check out these Cincinnati coffee shops. Love craft beer? We have a guide for that too. Start planning your delicious tour of Cincinnati and Northern Kentucky now. 
From trick-or-treat extravaganzas to fall festival fun, the Cincy Region is bustling with bewitching family fun that will delight kids of all ages this Halloween.
Find the most beautiful parks, trails, and outdoor locations to see fall foliage in Cincinnati and Northern Kentucky this fall.