To explore the Cincy Region, you must be properly caffeinated. No matter where you stay in Cincy, there's a great coffee shop around the corner. Whether you need to get your morning going or need a quick bite to eat and warm up during your day, check out one of these cool coffee shops in Cincinnati and Northern Kentucky. 
Mom n 'Em Coffee & Wine
This unique spot was named the best coffee shop in Ohio by Food & Wine magazine so you know it's good. Part coffee shop, part wine bar, Mom n 'Em Coffee & Wine was created by the Ferrari brothers to pay homage to their mom Theresa. And yes, you can still find Theresa pouring lattes behind the counter in Camp Washington. The place serves up good vibes and delicious bites all day long. Don't miss the famed Dirty Nati egg sandwich.
blaCK Coffee
This Black-owned coffee shop is a destination for coffee and culture lovers. With unique coffee blends, signature drinks, and hosted speaker series blaCK Coffee is a great place to gather and share ideas.
Reality Tuesday
Reality Tuesday is a fun place in Park Hills, Ky., run by husband and wife team, Bill and Traci Gregg. They opened in December of 2001, and it all grew from Reality Ministries, a young adult Bible study on Tuesday nights that they hosted in their Park Hills apartment. The coffee is specially roasted for them by Seven Hills Coffee. Non-coffee drinkers will find cool creations like the Grasshopper with mint and Oreos! There are plenty of pastries and cookies to satisfy your sweet tooth. Pro tip: try the cream cheese cut-out cookies–they are huge, delicious and a beloved family recipe.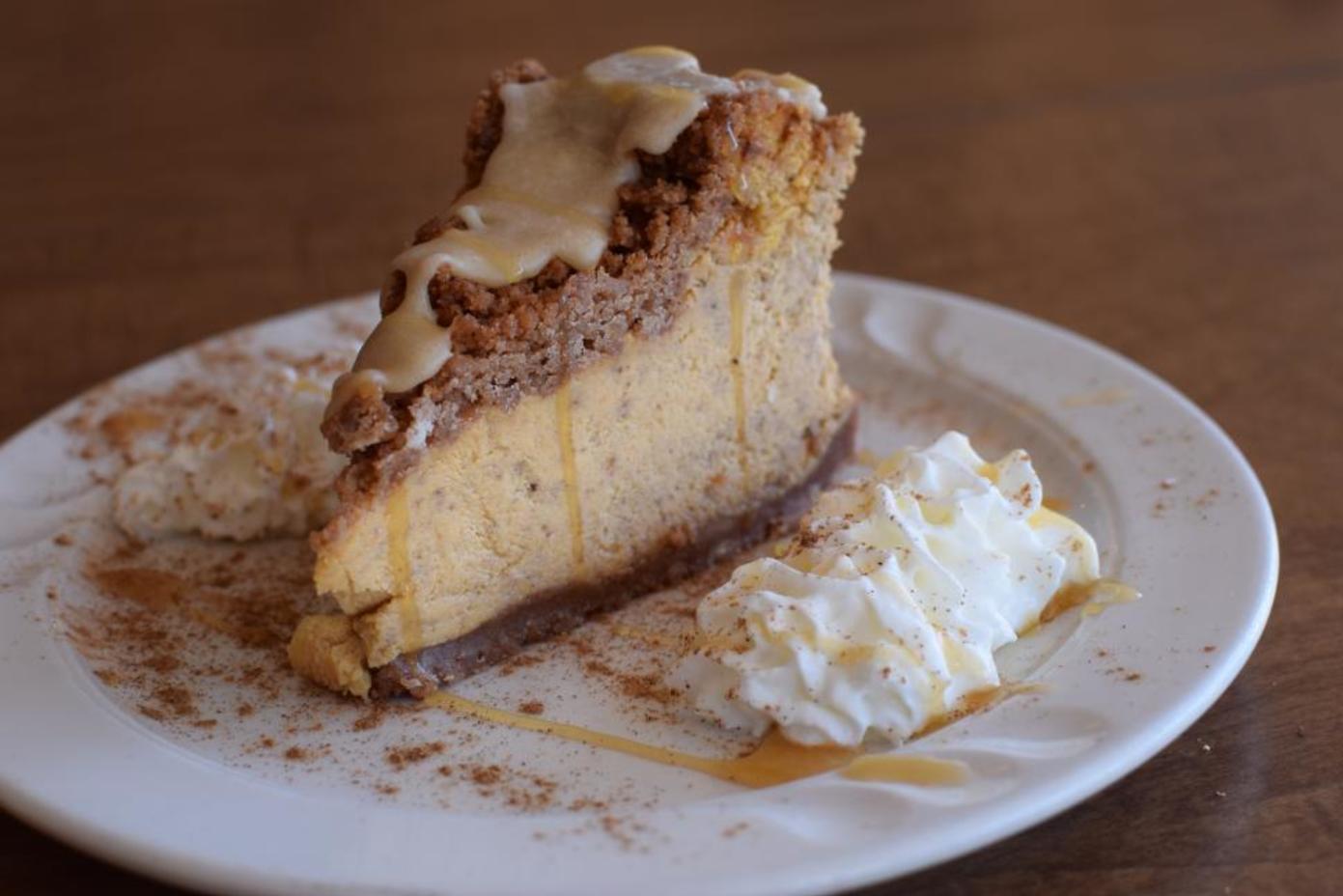 Reality Tuesday (photo: Erin Woiteshek)
Velocity Bike and Bean
Velocity Bike and Bean is a comfy and quirky coffee and full-service bicycle shop in Florence, Ky. They offer new and consignment bicycles and repairs and brew a great cup of coffee. The owners, Mark and Lisa Ball, also include live local music on Saturday mornings, unique gifts to purchase, and a really fun atmosphere. Stop in for a Nutella Mocha, a Dirty Hippy, or a Seabird.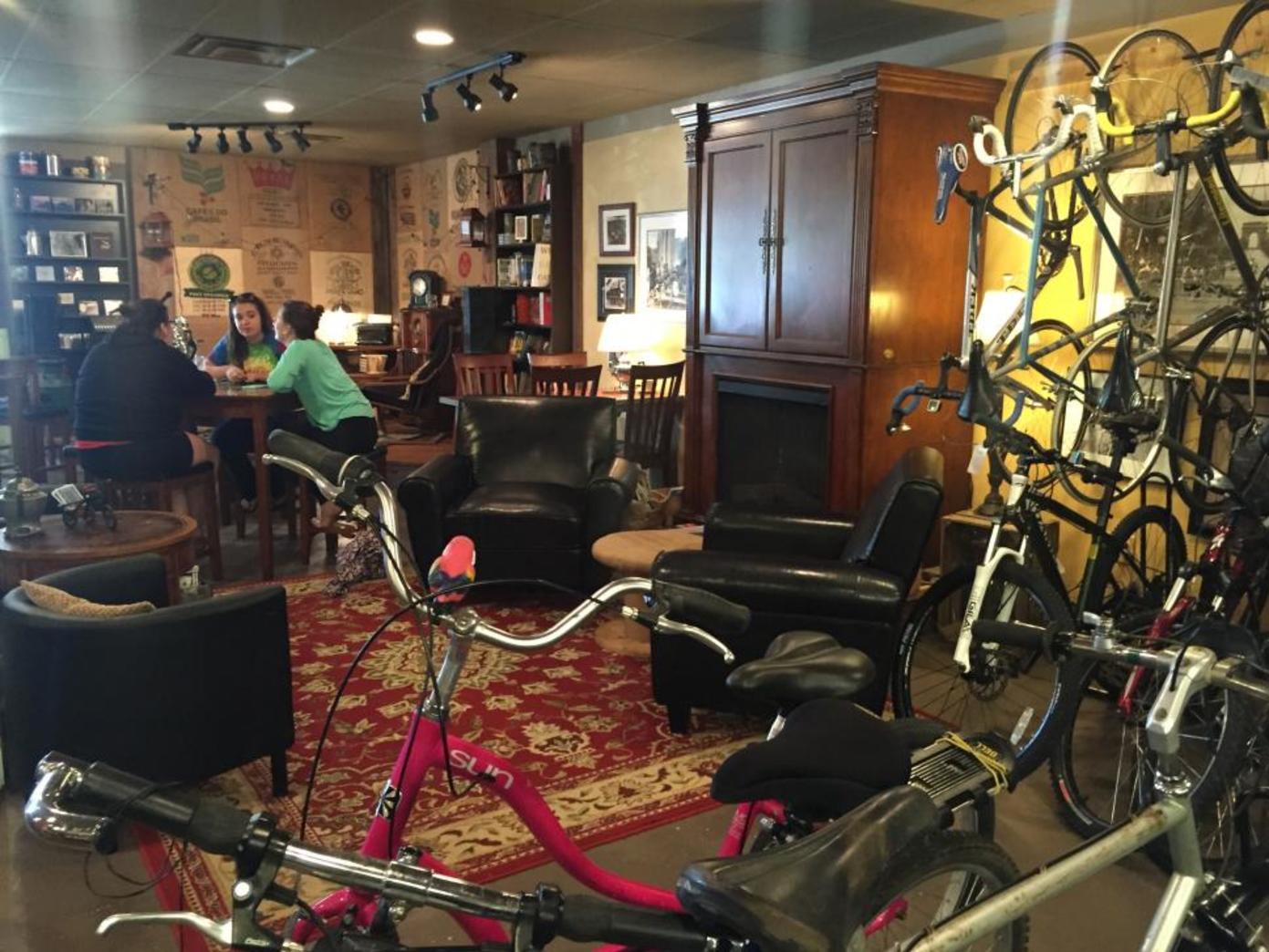 Velocity Bike and Bean (photo: Erin Woiteshek)
Left Bank Coffeehouse
Left Bank Coffeehouse is a perfectly quaint place for a cup of coffee and some seriously awesome soup, located on the left bank of the Ohio River in historic Licking Riverside District, in Covington. It's truly a family-run business with the whole family working behind the counter. The gardens and patio at the coffeehouse are just beautiful, and there is plenty of seating inside and out. Grab a book or grab a friend and check it out. It's a great place to relax, grab a bite to eat, and shop. Don't miss their unique shop Maison Covington featuring gifts for you and your home.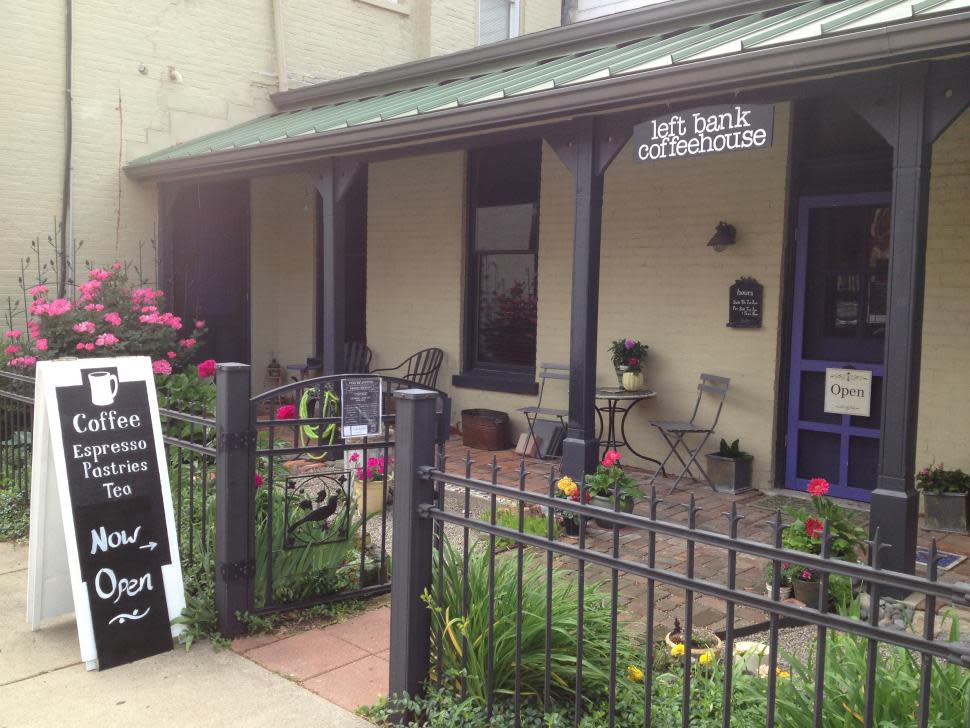 Roebling Point Books and Coffee
Located in Covington with a view of the iconic Roebling Suspension Bridge, Roebling Point Books and Coffee is bridging the gap between beans and books. Enjoy free Wi-Fi in this quiet, comfy, and dog-friendly spot with walls and walls of books to peruse or purchase. This is a hidden gem in Northern Kentucky. Great news for 2023 - you can look forward to a Roebling Point partnership with another community staple, Lil's Bagels!
Roebling Point Books (photo: Wendy Pramik)
Coffee Emporium
With two locations in Cincy, Coffee Emporium is the oldest coffee house operating in Cincinnati. The artisan coffee purveyor skillfully roasts the finest quality beans in small batches at their very own roastery. The Hyde Park location is one of the most popular because it has one of the best patios in town beneath a cool canopy of vines. Besides a great atmosphere and coffee, they also offer delicious baked goods,  teas, and a friendly staff — not to mention a serious commitment to the community.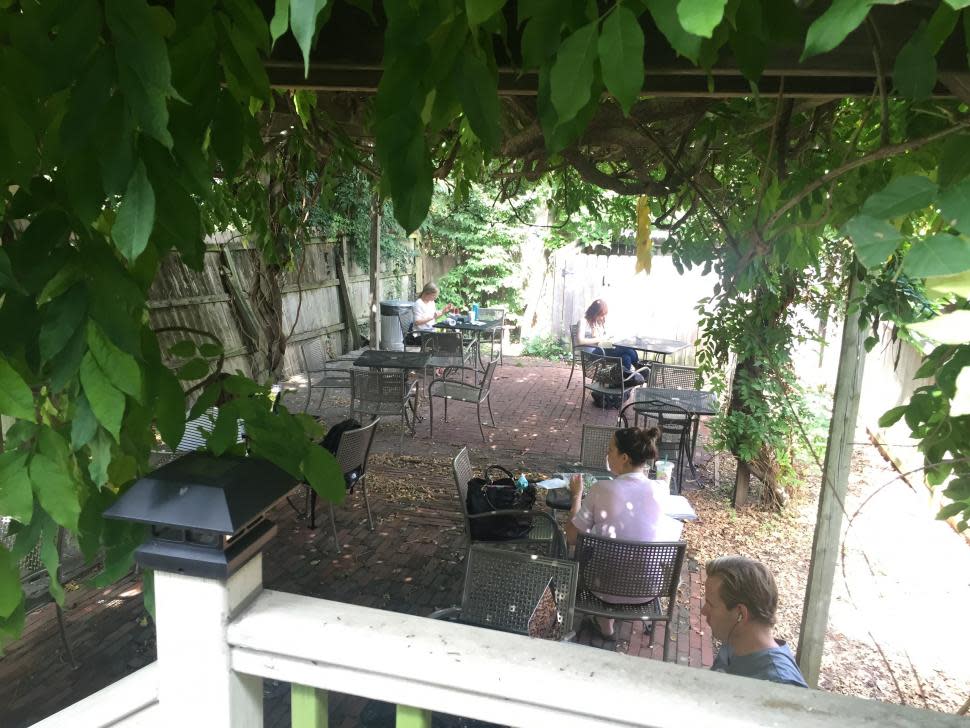 Coffee Emporium - Hyde Park (photo: Erin Woiteshek)
Redtree Art Gallery and Coffee Shop
Redtree Art Gallery and Coffee Shop is a fun place to drink coffee and view beautiful local art. It all started out of a love for the Cincinnati art scene and a mission to provide a place to showcase local art and help artists thrive. The shop/gallery exists to create a space where creativity and community meet, which means seasonal art shows and plenty of comfortable space to hang out with friends, work, or have a meeting. Redtree also curates shelves full of unique, locally handmade specialty items and gifts — you can find anything from shirts and scarves to bags and baby gifts.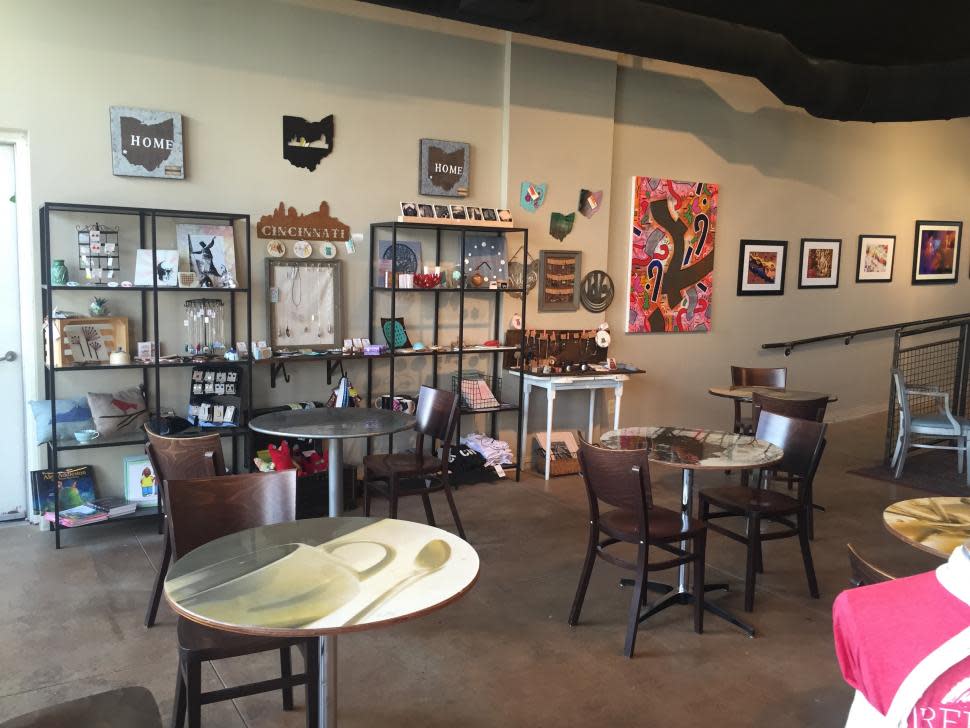 Redtree Art Gallery and Coffee Shop (photo: Erin Woiteshek)
Deeper Roots Coffee
Deeper Roots Coffee focuses on coffee sourcing, roasting, and prep. It's a simple coffee-focused menu with a creative twist. The vision started in 2006 with a drive to improve coffee quality by striving for excellence in ethical sourcing and crafting of specialty coffees. Les Stoneham is the director of coffee and the founder of Deeper Roots Development, a development organization working to improve communities of small coffee farmers. He has been involved in all aspects of the coffee industry from roasting to technical work, training, and sourcing. Deeper Roots also offers cold Nitro, a draft coffee that comes straight out of the tap, like beer.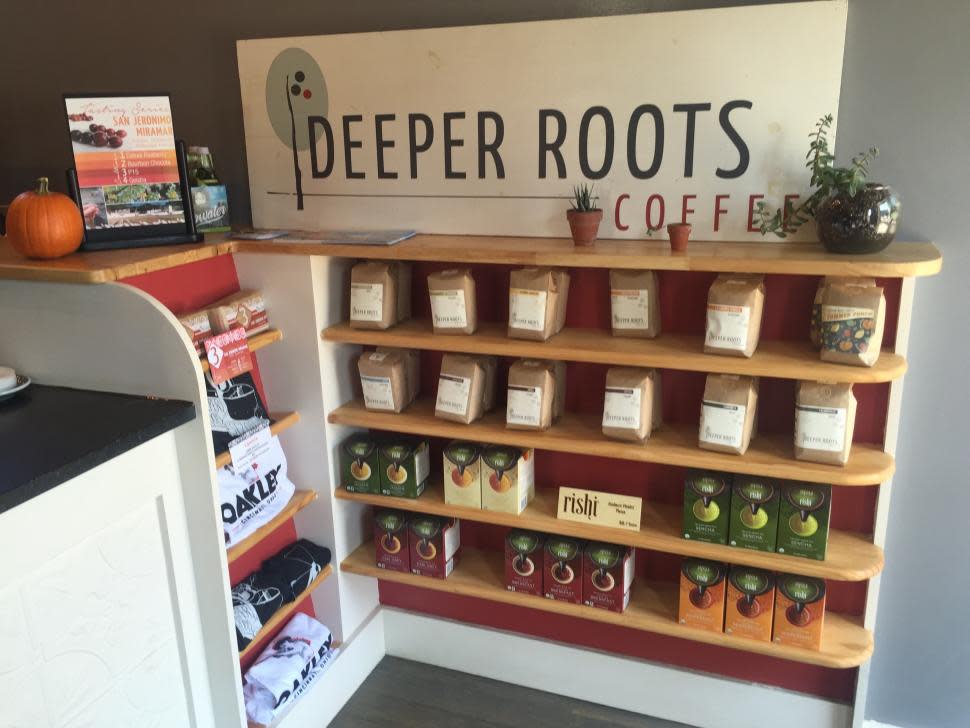 Deeper Roots Coffee (photo: Erin Woiteshek)
Kidd Coffee & Wine Bar
Kidd Coffee & Wine Bar brings together two favorite beverages in one cozy location. This locally-owned family business first opened in Mason, Ohio in 1999 with a focus on serving high-quality coffees in a relaxed atmosphere where customers can enjoy socializing. Kidd Coffee is also a popular gathering place for coffee and wine but they also host yoga nights, open mic nights, college nights, and poetry nights. If you have an idea for an event, make it known by leaving a suggestion in the events booklet at the counter. The place is so friendly and welcoming that you just feel at home when you walk in. They have a great menu of pastries and sandwiches if you're hungry.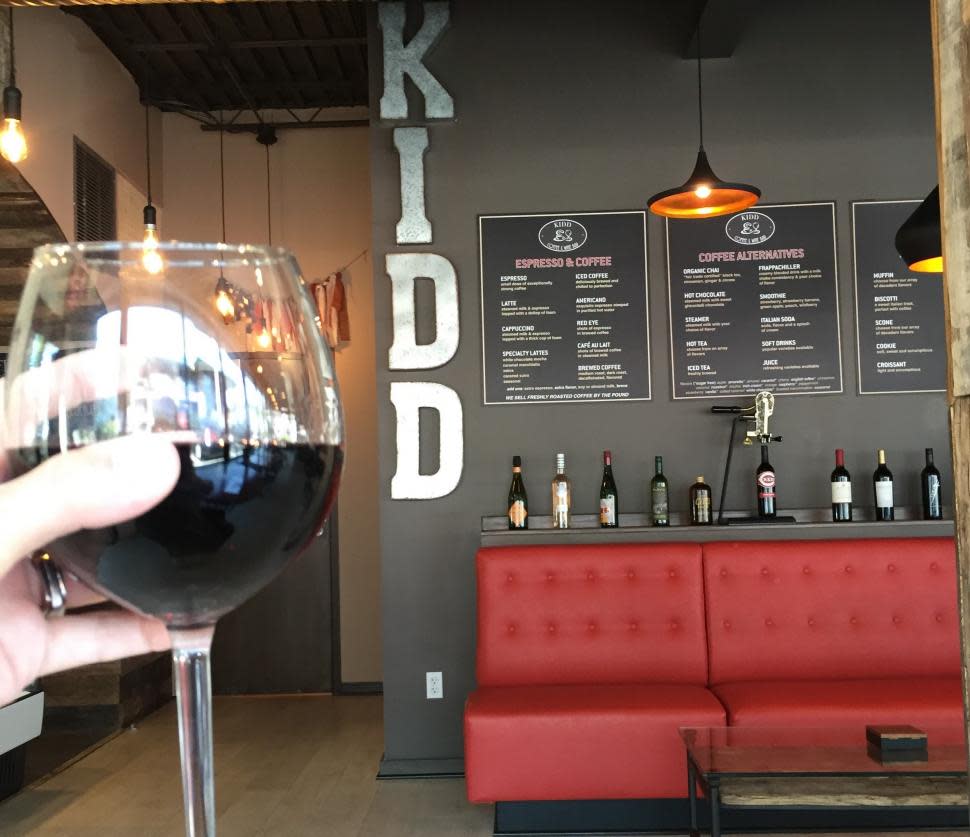 Kidd Coffee & Wine Bar Mason (photo: Erin Woiteshek)
Lola's Coffee and Bar
One of the region's most eclectic and warm coffee shops has to be Lola's. The vibe is cozy and inviting thanks to quirky vintage furniture, local art, and many plants. You'll find free Wi-Fi and all your favorite coffee shop staples at Lola's plus some yummy spiked versions. Don't miss the spiked frappes and butterbeer.