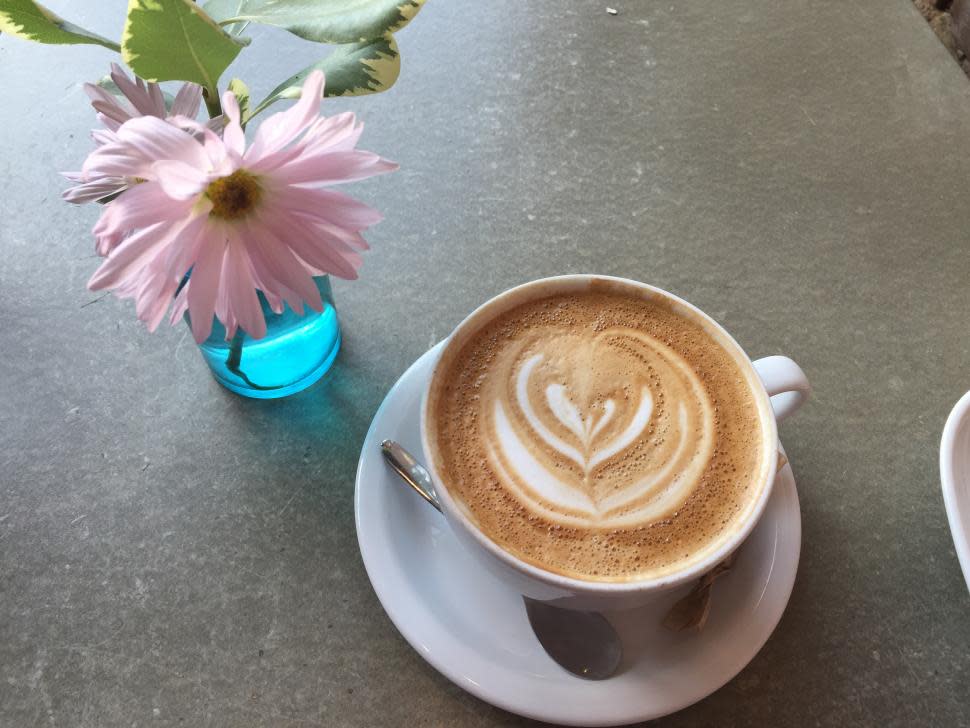 This amazing coffee place has a sweet story and philanthropic heart. Justin and Emily Carabello were both public school teachers with a vision to start a small business as a way to help fund change in underdeveloped nations. They started in their garage in the fall of 2009 with a hot air popcorn popper and a few pounds of green coffee beans. Carabello Coffee offers the very best in quality through Fair Trade, organic, farm direct coffees. Their mission is to artisan roast exceptional coffees and then use the profits to fund "works of compassion." And they do that both here in our own Cincinnati community as well as abroad in places like Nicaragua and Kenya. The tag line is "Coffee & Compassion in Tandem" and they are truly living this. There is seating inside and out. If you enjoy handcrafted lattes or grabbing a bag of artisan roasted beans to take home then head to Carabello and turn your purchase into a way to help others. Carabello is located at 107 East 9th Street in Newport, KY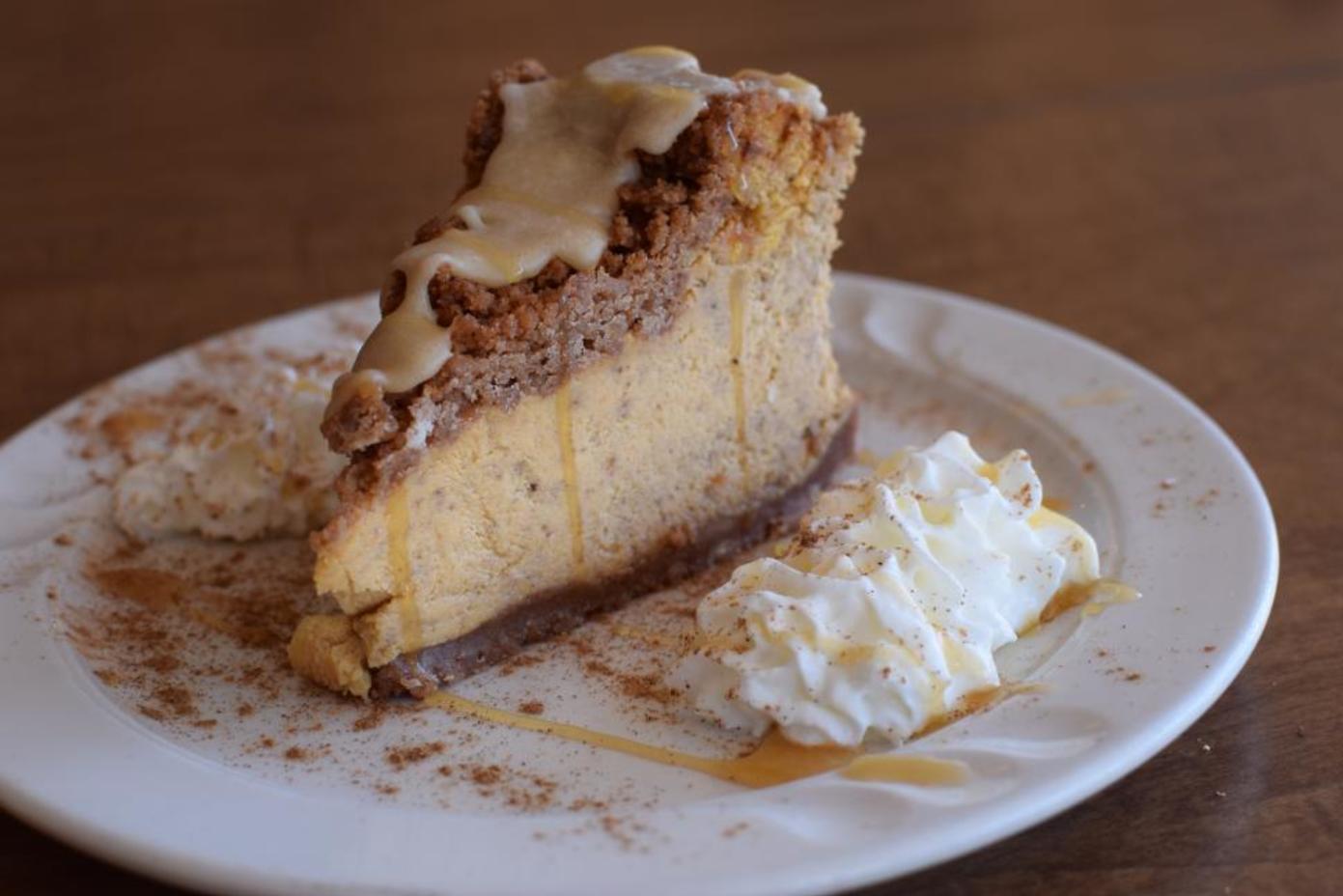 Reality Tuesday is a fun place in Park Hills, Ky., run by husband and wife team, Bill and Traci Gregg. They opened in December of 2001, and it all grew from Reality Ministries, a young adult Bible study on Tuesday nights that they hosted in their Park Hills apartment. The coffee is specially roasted for them by Seven Hills Coffee. They also have a popular non-coffee drink called the Grasshopper with mint and Oreos! YUM! Bill's father was a pastry chef and he learned all kinds of mad skills from him. The pastries and cookies are divine. The cream cheese cut-out cookies are huge, delicious, and his own Grandma's recipe! They have lots of comfortable seating, so stop on in and enjoy a cookie and a cup of joe. Reality Tuesday Cafe is located at 1518 Dixie Highway in Park Hills, KY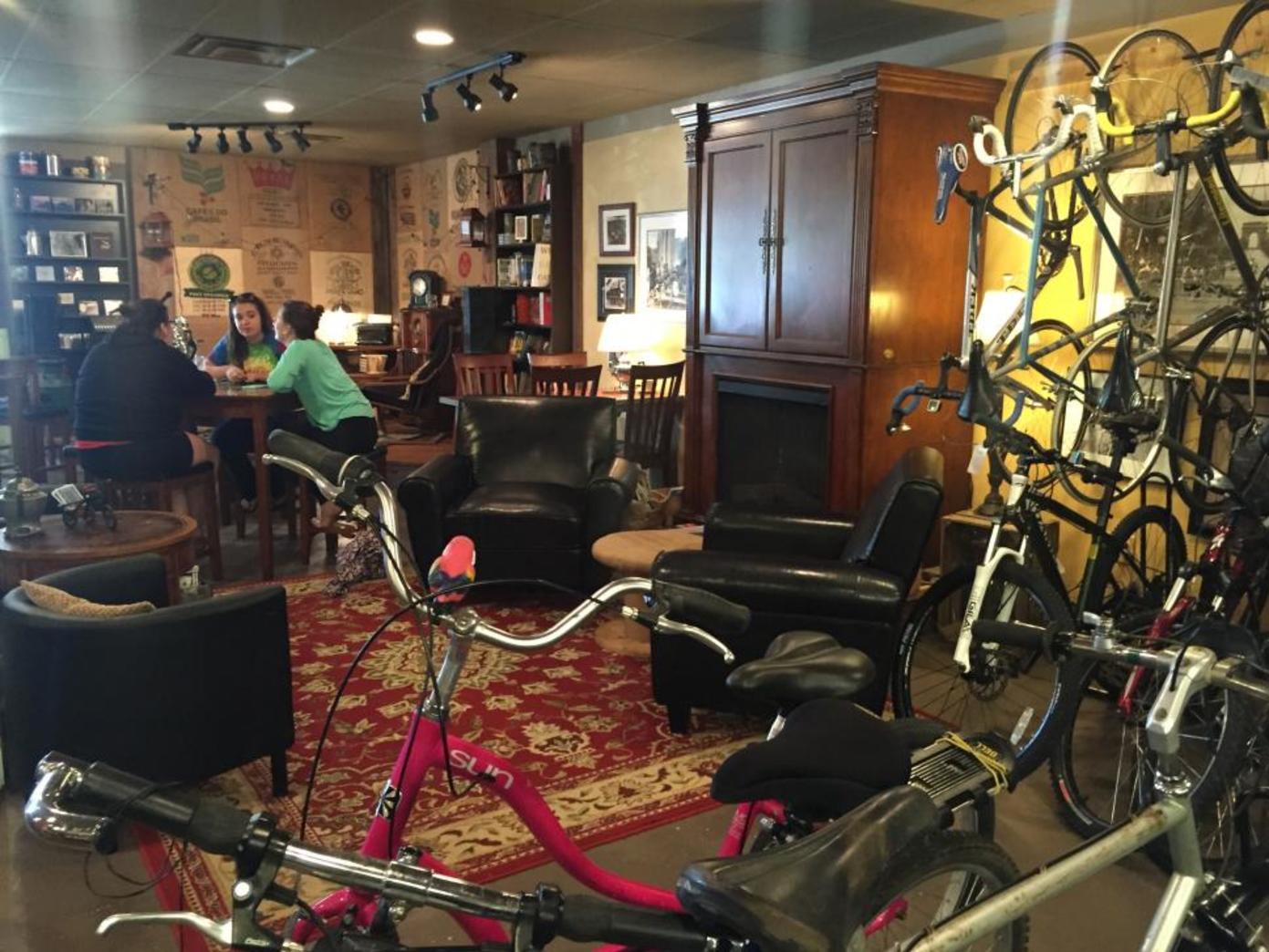 Velocity Bike and Bean is a comfy and quirky place in Florence, Ky. It is a full-service bicycle shop that offers new and consignment bicycles and repairs. And they also brew a mean cuppa coffee. They take coffee very seriously and are proud to offer coffee roasted by one of the area's finest roasters – Carabello Coffee (see above)! The owners, Mark and Lisa Ball, also include live local music on Saturday mornings, unique gifts to purchase and a really fun atmosphere. Stop in for a Nutella Mocha, a Dirty Hippy, or a Seabird! Velocity is located at 7560 Burlington Pike in Florence, KY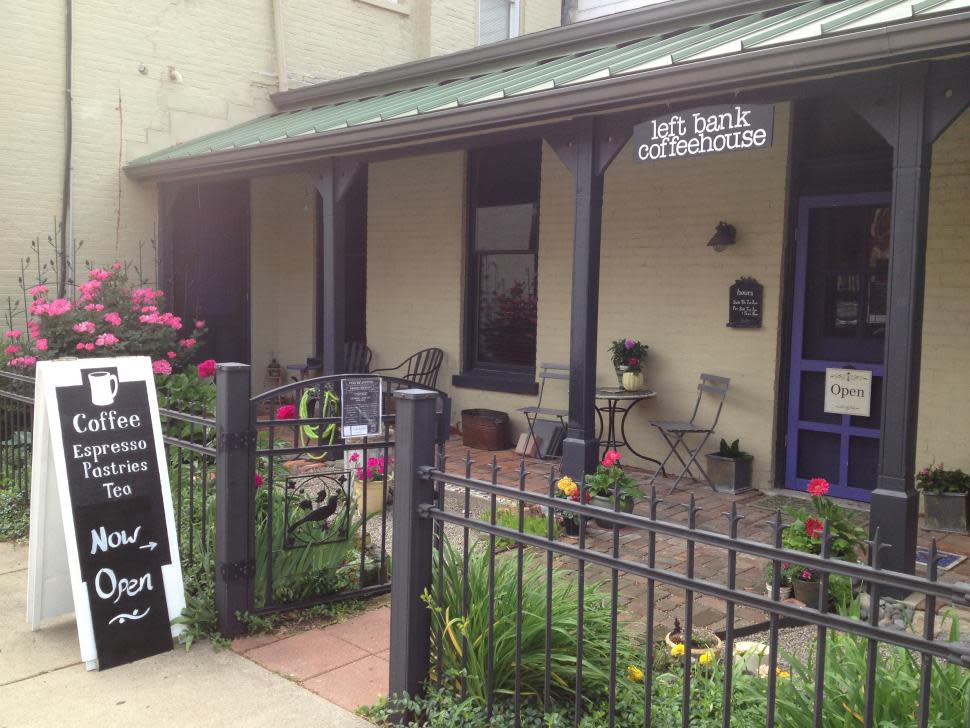 Left Bank Coffeehouse is a perfectly quaint place for a cup of coffee and some seriously awesome soup! It's located on the right on "left bank" of both the Ohio and Licking Rivers, in Covington, Ky. The owners have brought great coffee, delicious food and a warm, comfortable and quirky atmosphere to the historic Licking Riverside District of Covington. It's truly a unique and special place. It's a family business owned by Russ and Jackie Slone; and their daughters, Katy and Maggie, work right there with them. They are all so friendly.  I love hanging out there while my kids are taking classes at nearby Baker Hunt. Jackie happens to be a mosaics teacher at Baker Hunt, and you can see her cool art work all over the place. It's gorgeous! The gardens and patio at the coffeehouse are just beautiful, and there is plenty of seating inside and out. Grab a book or grab a friend and check it out. Left Bank Coffee House is located at 7th and Greenup Streets in Covington, KY
Roebling Point Books and Coffee is bridging the gap between beans and books! Located in Covington, Ky., within view of the iconic Roebling Suspension Bridge, this place smells like good coffee and books. (Two of my favorite smells.) It is dog-friendly with ample, comfortable seating and walls and walls of books to peruse or purchase. It's quiet and comfy with free wi-fi and so many books that you could spend hours there reading and working with your cuppa joe. It's a hidden gem in Northern Kentucky. Roebling Point Books and Coffee is located at 306 Greenup Street in Covington, KY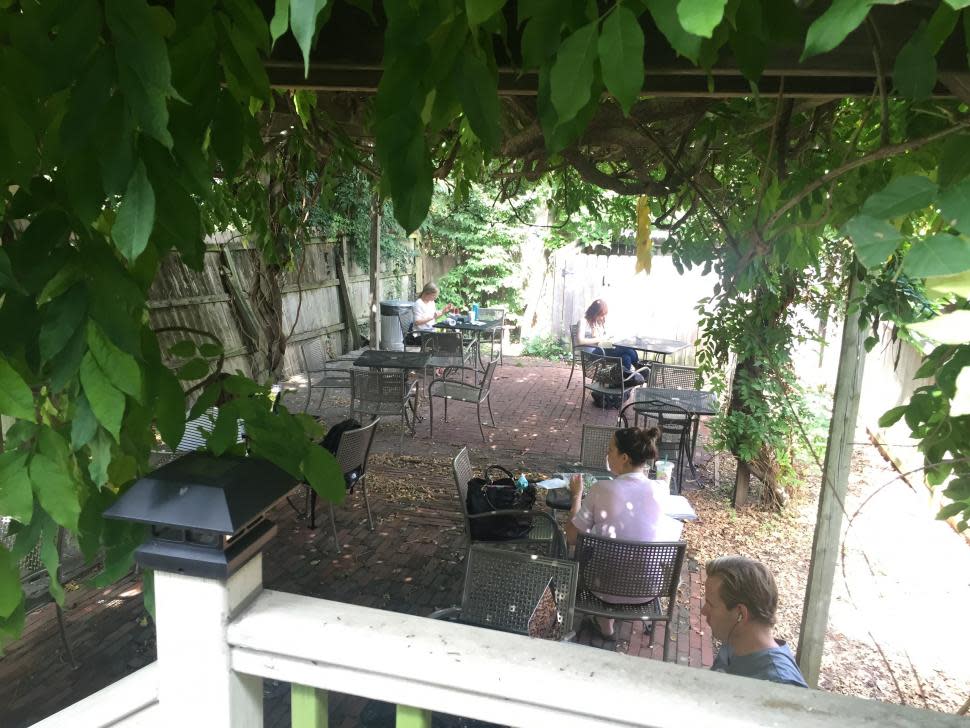 With two locations in our fair region, Coffee Emporium is the oldest coffee house operating in Cincinnati. The artisan roaster skillfully roasts the finest quality beans in small batches at their very own roastery. The Hyde Park location is the one I frequent because I just love sitting under the canopy of vines. Besides a great atmosphere and coffee, they also offer delicious baked goods and teas. The coffee is amazing and the staff is friendly and knowledgable. They have a serious commitment to coffee and our community. Coffee Emporium is located at 110 East Central Parkway in Cincinnati, OH (Over-the-Rhine) and 3316 Erie Avenue in Cincinnati, OH (Hyde Park).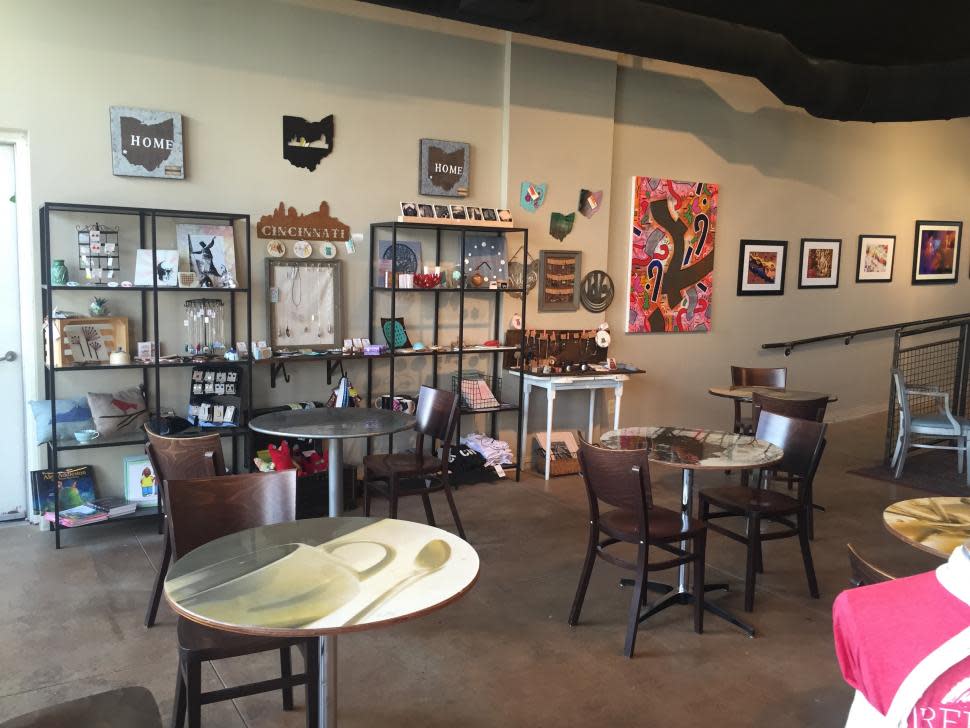 Redtree Art Gallery and Coffee Shop is a fun place to drink coffee and view beautiful local art. It all started out of love for art and the local artists who create it. The gallery/shop's mission has always been to provide a place to showcase local art and help artists thrive. They really do have a heart and passion for the Cincinnati art scene. There's a lot of comfortable space to hang out with friends, work or have a meeting. They exist to provide a space in Cincinnati where creativity and community meet. Red Tree has a changing art show each season. The shelves and walls are well-stocked with art and gifts because Redtree curates unique, locally handmade specialty items. You can find anything from shirts and scarves to bags and baby gifts. Red Tree is located at 3210 Madison Road in Cincinnati, OH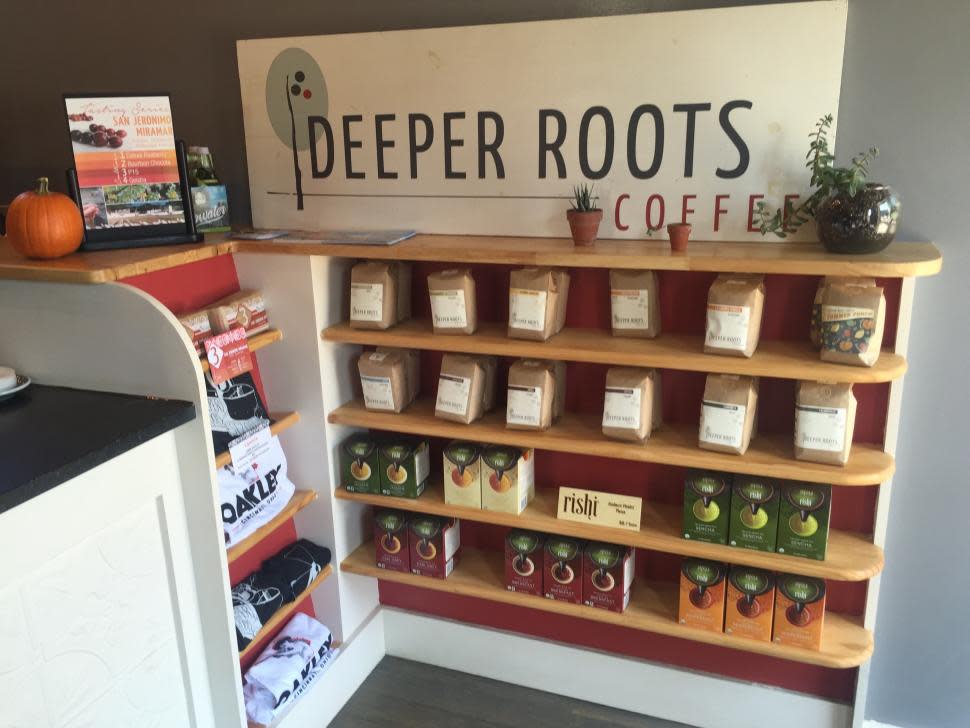 Deeper Roots Coffee focuses on coffee sourcing, roasting, and prep. It's a simple coffee-focused menu with a creative twist. The vision started in 2006 with a drive to improve coffee quality by striving for excellence in ethical sourcing and crafting of specialty coffees. Les Stoneham is the director of coffee and the founder of Deeper Roots Development, a development organization working to improve communities of small coffee farmers. He has been involved in all aspects of the coffee industry from roasting to technical work, training and sourcing. Deeper Roots also offers cold Nitro, a draft coffee that comes straight out of the tap, like beer! It has become quite a phenomenon. Grab a friend and check out of all that Deeper Roots Coffee has to offer. You may have tasted their brew, even if you've never been, because they sell the beans to places like Crossroads and Cheapside Cafe. Visits to the roasterie on Colerain Avenue are by appointment only so stop by for a taste, a tour and to buy some fresh beans. Deeper Roots Coffee is located in Oakley Square at 3056 Madison Road, Cincinnati, OH and in Findlay Market at 1814 Race Street, Cincinnati, OH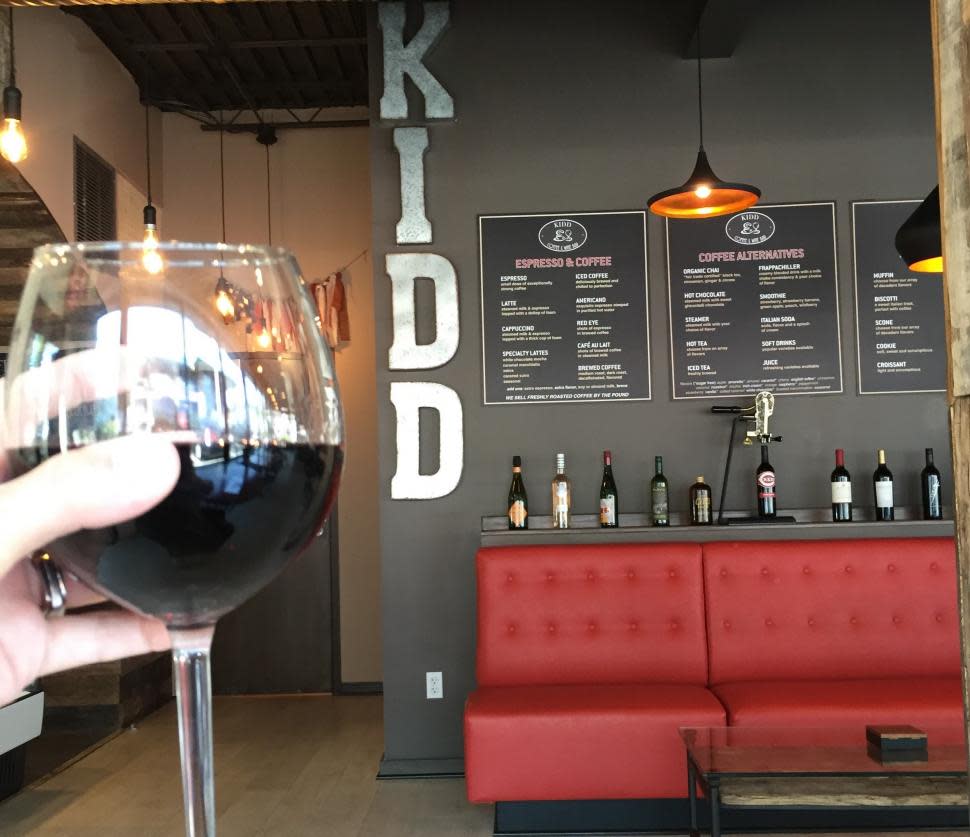 I love that Kidd Coffee & Wine Bar has coffee and wine, my two favorite beverages. Because life is what happens between coffee and wine! GENIUS! This locally-owned family business first opened in Mason in 1999. The focus is on serving high quality coffees in a relaxed atmosphere where customers can enjoy socializing. And they have perfected that special atmosphere. Kidd Coffee is a popular gathering place with yoga nights, open mic nights, college nights, poetry nights and a drive thru! There's a booklet on the counter where customers can leave ideas and things that they would like to see happen. They have local artwork around for sale and are involved in helping the local schools because the owner, Patti, says, if you can help the community you're in...why not!? It's truly an over-the-counter and behind-the-counter experience. The place is so friendly and welcoming that you just feel at home when you walk in. The whole staff is like a family and you're invited! If you're hungry, they have a great menu of pastries and sandwiches. Win. Win. Kidd Coffee is located at 653 Reading Road, Mason, OH 45040.
Click here for even more local coffee shops and cafes.