Explore the best hotels, restaurants, and attractions in Newport, KY near Cincinnati
Nestled along the banks of the Ohio River, just across Cincinnati's Purple People Bridge, lies the historic city of Newport, KY—the original "Sin City." What used to be a town famous for gambling, bootlegging, and debauchery has developed into a charming, family-friendly city with tons of great restaurants, shops, and entertainment. With so much to do and see in, we recommend visitors have a game plan for exploring. So, we've compiled a list of must-try foods and things to do in Newport, KY to help aid every visitor.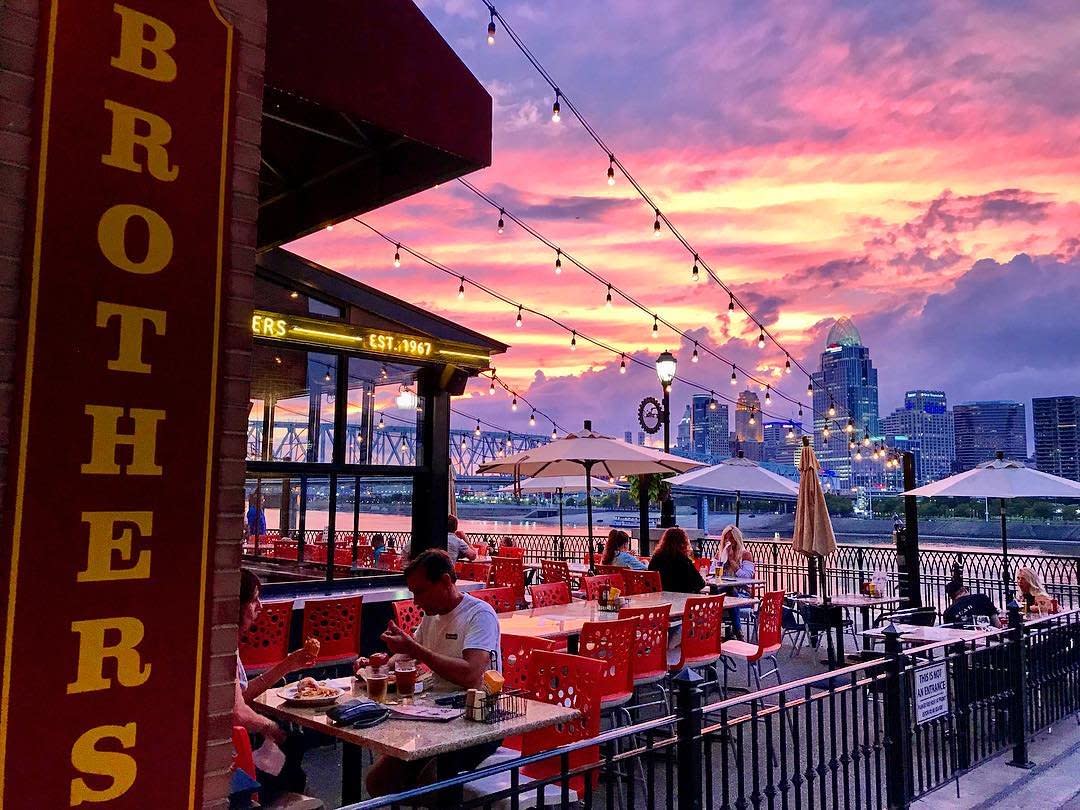 Best hotels & places to stay in Newport, KY
Newport, KY has a variety of hotels to choose from, making it easy to find the perfect place to stay while exploring the city. Aloft Newport on the Levee is a modern Marriott property with a great location, indoor pool, and fitness center. The hotel is within walking distance of Newport on the Levee and the MegaCorp Logistics Pavillion Music Venue, making it a convenient choice for anyone looking to explore the area. Their spacious rooms are family and pet-friendly, and the hotel offers a range of amenities to ensure a comfortable stay.
The Hampton Inn & Suites Newport is another centrally-located hotel in Newport, KY. Also within walking distance of the MegaCorp Pavilion, Newport on the Levee, and the BB Riverboats, the Hampton Inn is an excellent choice for visitors attending events in the area. They offer a complimentary hot breakfast, an indoor pool, and pet-friendly rooms.
For a more unique lodging experience, consider the Gateway Bed and Breakfast, a historic property located in the heart of the East Row Historic District. Built in 1878, the property features Victorian-style architecture and a range of amenities to ensure a comfortable stay. Visitors can enjoy exploring the historic neighborhood on foot, with many attractions and restaurants within walking distance.
Top brunch restaurants in Newport, Kentucky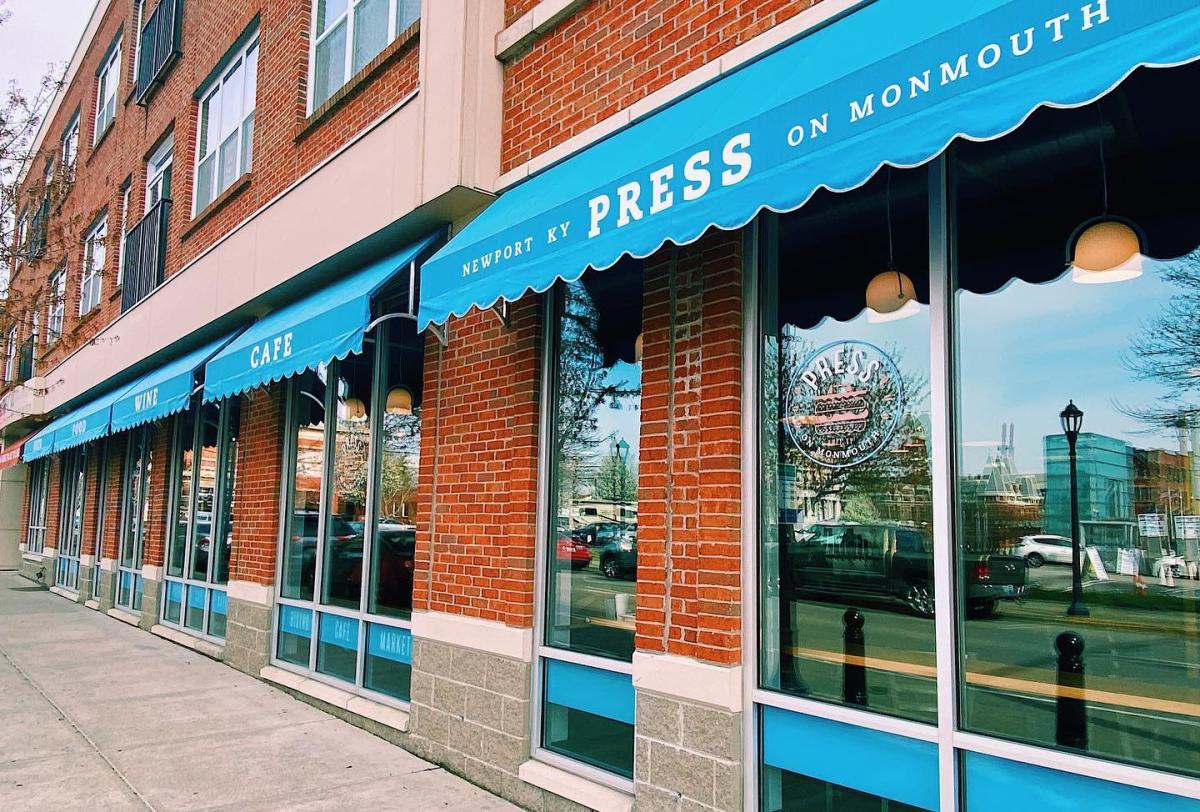 Press on Monmouth (photo: Press on Monmouth)
Brunch in Newport should be step one on your itinerary of exploring the town. Luckily for visitors, there are tons of great places to eat in Newport, and this is just the beginning. 
Press on Monmouth is a modern coffee shop and cafe specializing in pressed paninis and gourmet soups. You can almost always expect a line out the door for weekend brunch. But don't worry; the line moves quickly, and you seat yourself after ordering! We recommend the tater tot waffle with goetta—the local ground sausage and oat specialty all visitors must try while in town. 
If French toast is what you crave, opt for Mokka and the Sunset Bar and Grill for their rotating breakfast specials. This spot is a down-to-earth, family-friendly diner without any frills. They offer great homestyle cooking that will leave you feeling full and ready for your day. 
To brunch like a local, stop by Pepper Pod Restaurant, the city's landmark diner that serves nostalgia just as well as it does breakfast. Be sure to order the mac and cheese bites, regardless of the time of day—the dipping sauce is out of this world. Travelers be aware: Kentucky still allows smoking indoors in certain situations, and Pepper Pod embraces this fact. 
Plan your visit to the Newport Aquarium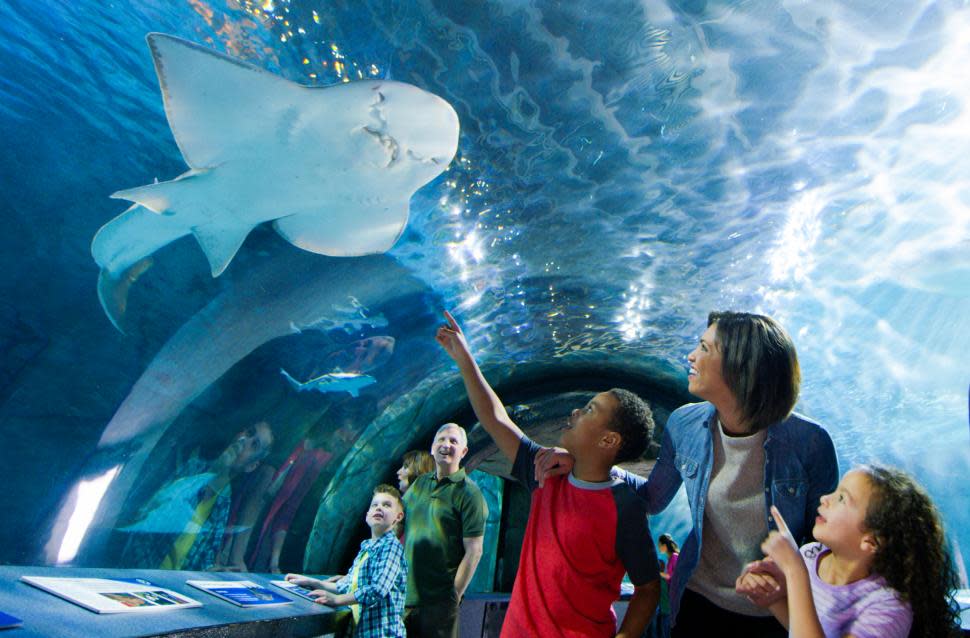 Shark Tunnel at Newport Aquarium (photo: Newport Aquarium)
After a hearty breakfast, it's time to seriously start exploring. Up first is the Newport Aquarium. Located conveniently on the Levee, the Newport Aquarium is home to thousands of incredible animals from more than 90 different species, including Scooter and Sweet Pea, two of the aquarium's shark rays. The Newport Aquarium is one of the only aquariums in the world with a successful shark ray breeding program. You should not pass up the chance to see these magnificent creatures. Spend the afternoon exploring all 70 exhibits and five seamless acrylic tunnels that truly transport you to an underwater world of wonder. 
Purchase your tickets ahead of time to make for a smooth experience. 
Take a scenic cruise on the Ohio River
There's something exceptional about exploring river towns. And there's no better way to view all that Newport and Cincinnati have to offer than by boat. Book a tour with the BB Riverboats for an afternoon of sailing, sunshine, and sightseeing. 
Explore Newport on the Levee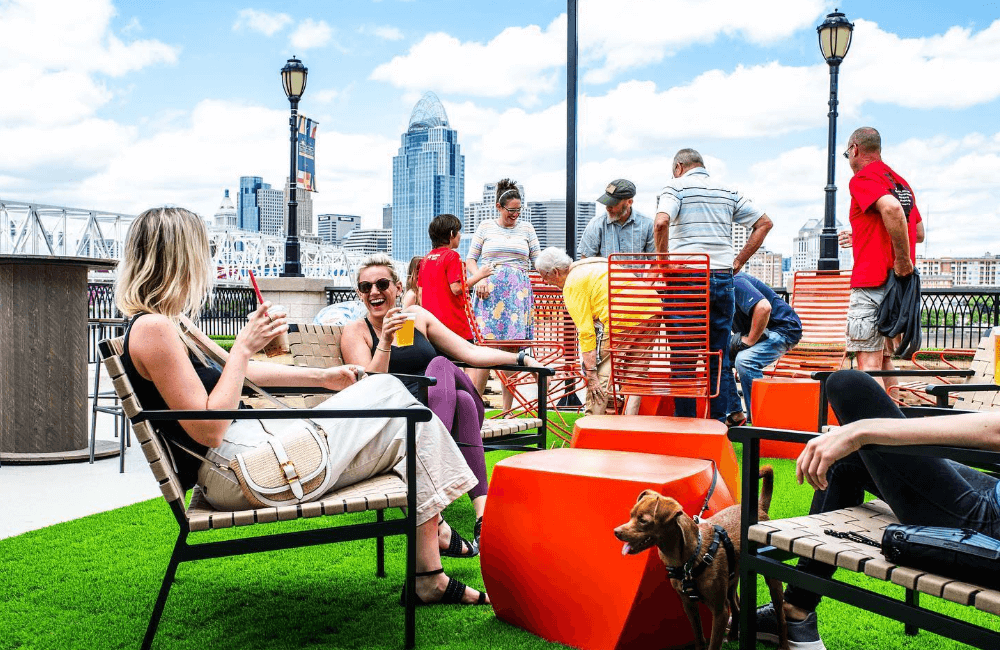 Bridgeview Box Park (photo: Newport on the Levee)
One of the most famous entertainment districts in the Cincinnati area is Newport on the Levee. Recently revamped, "The Levee" continues to grow with shops, restaurants, arcades, bars, and more. Stroll along the riverfront and enjoy the stunning views of the Cincinnati skyline, challenge friends and family to a round of bowling or bocce ball at Rotolo, or shop unique wares at Trade, the popup shop located inside the Gallery. 
The Levee is also home to Bridgeview Box Park, an open-air shipping container park featuring plenty of food and beverage options and outdoor games. The Levee's open container recreation area allows guests to enjoy their drinks on the go while taking in all there is to see.
Hunt for vintage treasures on Monmouth Street 
Antique aficionados will be thrilled to discover Newport's unique vintage shops on Monmouth St. From Tesori Vintage Home and Antiques to Mustang Betty's, there are plenty of fun shops you won't find anywhere else. 
If you need a caffeine boost to fuel your shopping feet, stop by Carabello Coffee for some locally roasted and sustainably sourced refreshments. 
Find the best dinner spots in Newport, KY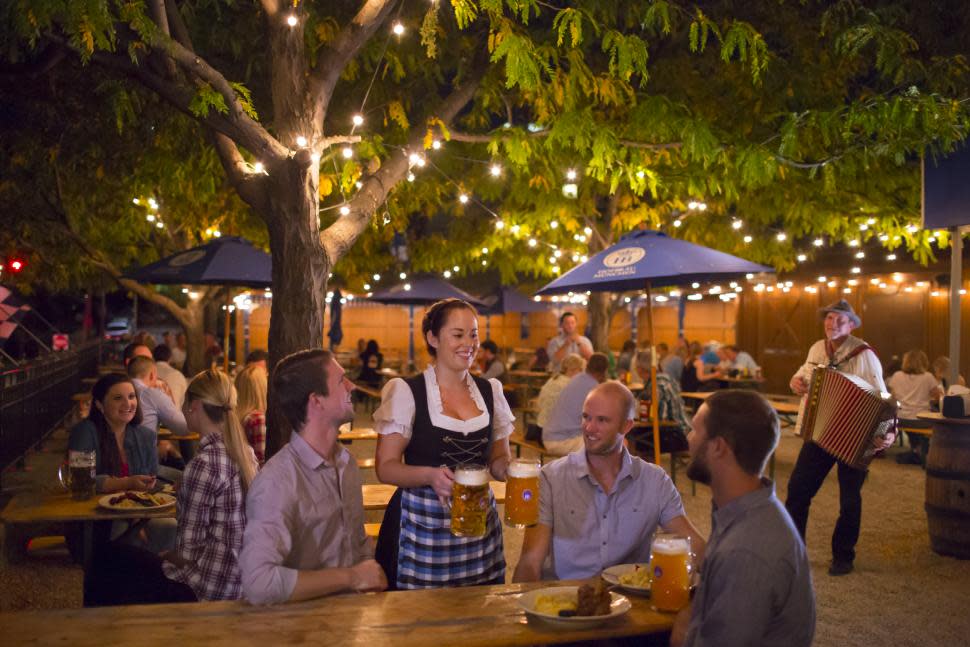 Hofbrauhaus Newport (photo: KentuckyTourism.com)
After a long day of exploring, you'll surely have an appetite for dinner. Luckily there are tons of fantastic dinner spots in Newport ready to welcome you with open arms. 
Explore the bustling bars and live music in Newport, KY
Wrap up your stay with a nightcap at one of Newport's local watering holes. Prohibition Bourbon Bar is home to the world's largest bourbon collection. Beeline at Newport on the Levee has incredible views of Cincinnati and tasty cocktails worth trying. Brothers Bar & Grill is a popular hotspot for college students known for its pitcher deals.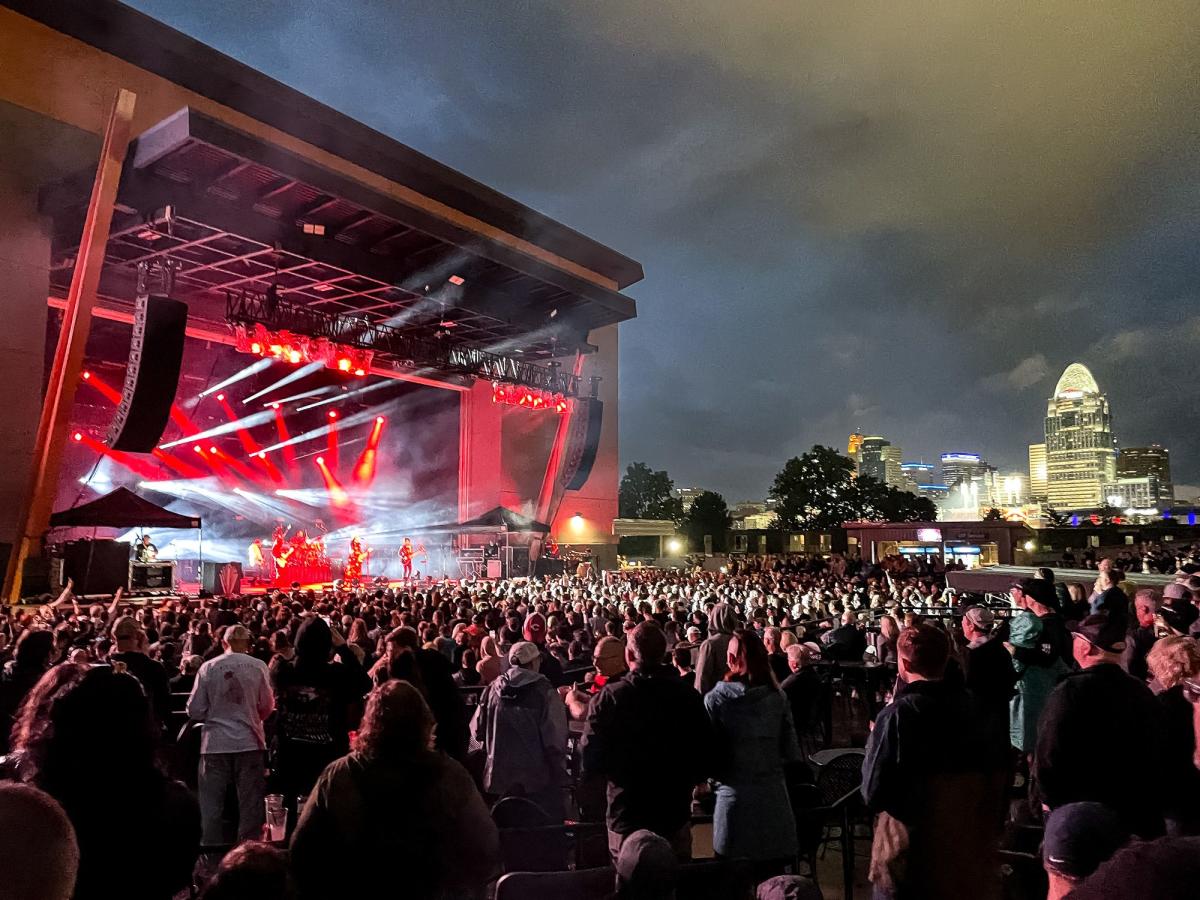 For live music, see who's playing at the Promowest indoor/outdoor venue, MegaCorp Pavillion. For a more intimate concert experience, check out the lineup at Southgate House Revival or Thompson House for local and touring acts. Finally, if you're feeling adventurous, stop by the allegedly haunted country music bar and venue, Bobby Mackey's for a ride on their mechanical bull, or a ghost tour!