Home to a dense population of corporate headquarters (including Citigroup, Sunny Delight, and Kroger Technology), Cincinnati's Blue Ash neighborhood has been named among the top U.S. cities to attract companies. Blue Ash's population essentially quadruples during weekdays due to the 2,000 businesses within the city limits.
The suburban neighborhood, located 20 minutes northeast of downtown Cincinnati, also attracts families with its excellent array of public and private schools, along with a regional campus for the University of Cincinnati.
But Blue Ash knows how to work and play, making it a perfect spot in the Cincy Region to spend a day.
Eat, drink, and play your way through Summit Park
At the heart of the neighborhood is Summit Park, so chock-full of features, you could easily spend a full day in Blue Ash without ever leaving park grounds.
Located on the former site of Ohio's first municipal airport, the park is laid out with social spots and eateries on the east side and more natural, recreational spaces on the west. A contemporary green space designed with nods to its aviation past, you'll find swings and pergolas, a large lawn, an event stage, several on-site and nearby restaurants and bars, and ample parking. There's even a nail salon!
Bars and restaurants in Blue Ash's Summit Park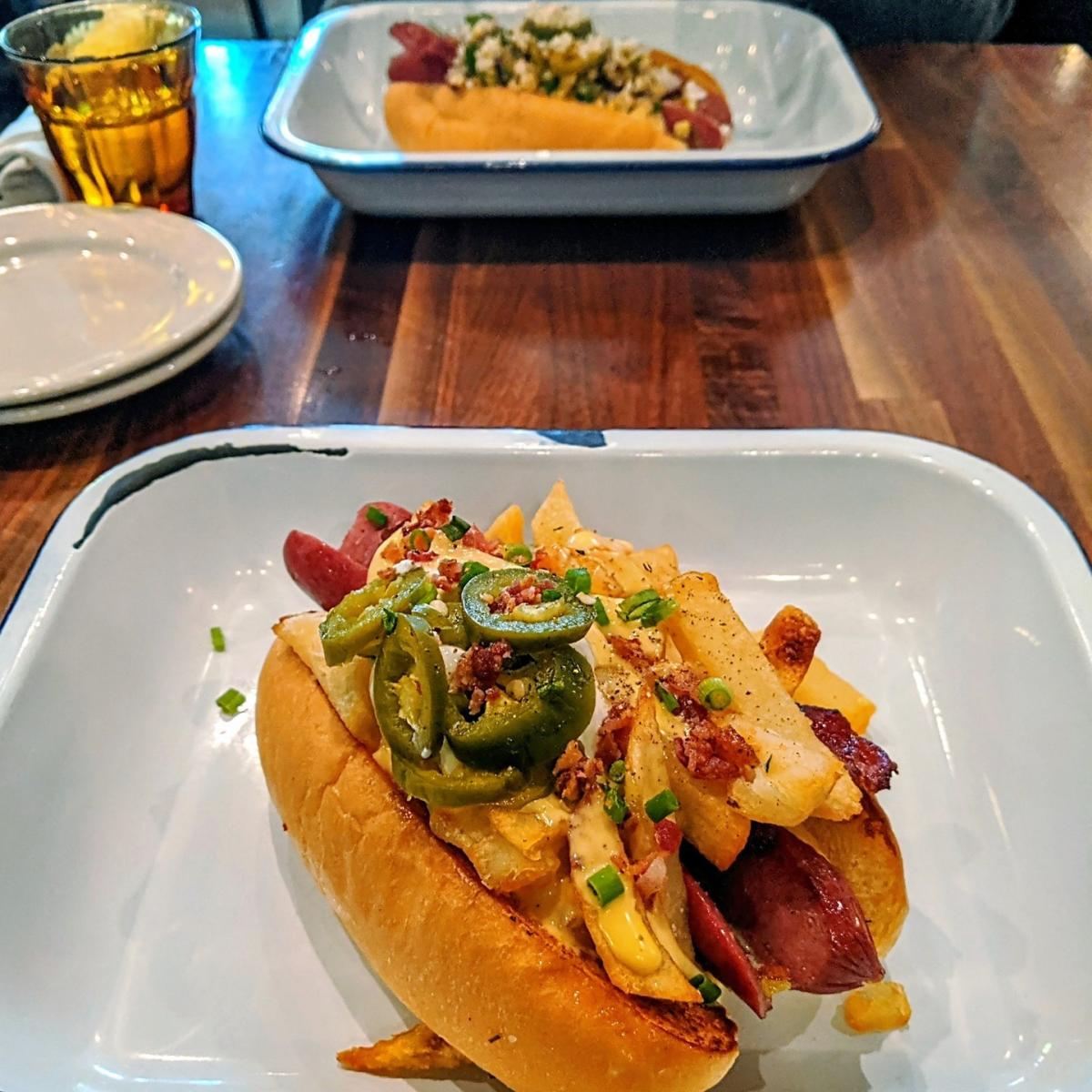 Senate Blue Ash (photo: @foodiesoup)
Try Senate for uber-gourmet hot dogs and duck fat fries; upscale brunch, dinner, and cocktails at Brown Dog Cafe; TAHONA taqueria and tequila bar for Taco Tuesday (any day of the week); and Nanny Belle's ice cream for dessert. 
Adjacent to the park is Sugar n Spice, a beloved breakfast spot known for its wispy thin pancakes, Higher Gravity bar and bottle shop, and Gold Spoon Creamery.
Pro tip: Take your boozy drinks to go! As a designated outdoor refreshment area (DORA), open containers are allowed throughout Summit Park and the surrounding area. Just get a special cup from participating establishments and sip while you explore the park.
Parks and recreation in Summit Park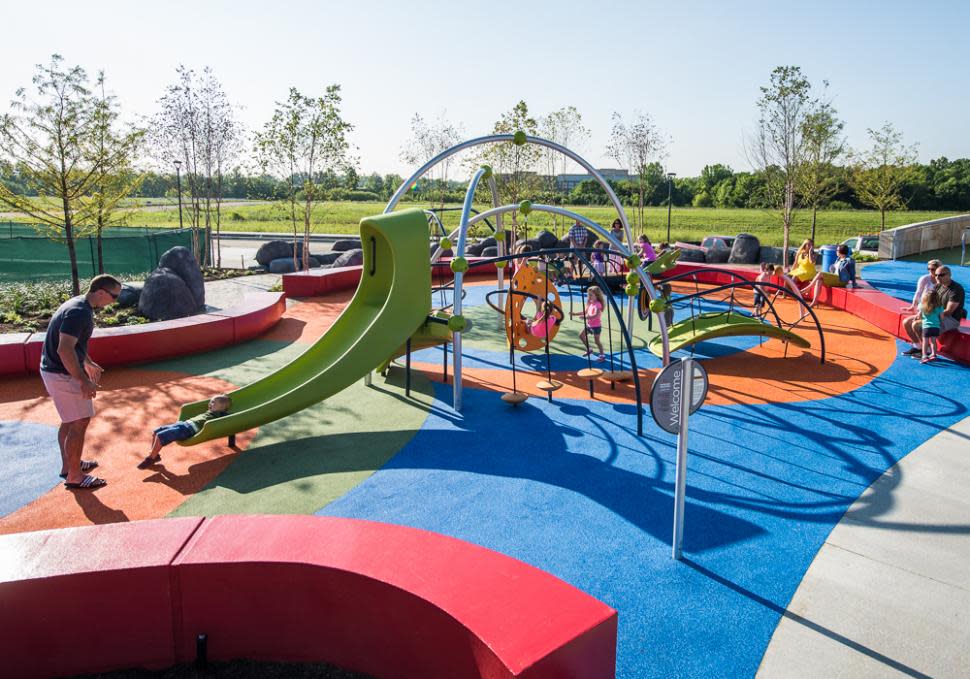 On the western side of the 130-acre park is a nature playscape and a more traditional playground for kids, a dog park, a catch-and-release fishing pond, and walking trails.
If you're looking to get 18 holes in, just across Plainfield Road is Blue Ash Golf Course, an award-winning course recognized by Golf Digest.
 
Summit Park Seasonal events
Summit Park hosts many events and concerts, like the Fourth of July's Red, White, and Blue Ash, an annual bash that draws 100,000+ attendees and has featured big-name musical acts like Peter Frampton and Pat Benatar; free summer movie nights and fitness classes; and, in the winter, an ice rink, sledding, reindeer encounters, and Santa visits.

Iconic local restaurants in Blue Ash
Blue Ash Chili: A must-stop for visitors looking to try the oft-debated Cincinnati chili at OG local chili parlors. A neighborhood staple since 1969, Blue Ash Chili is also known for its towering double-decker sandwiches.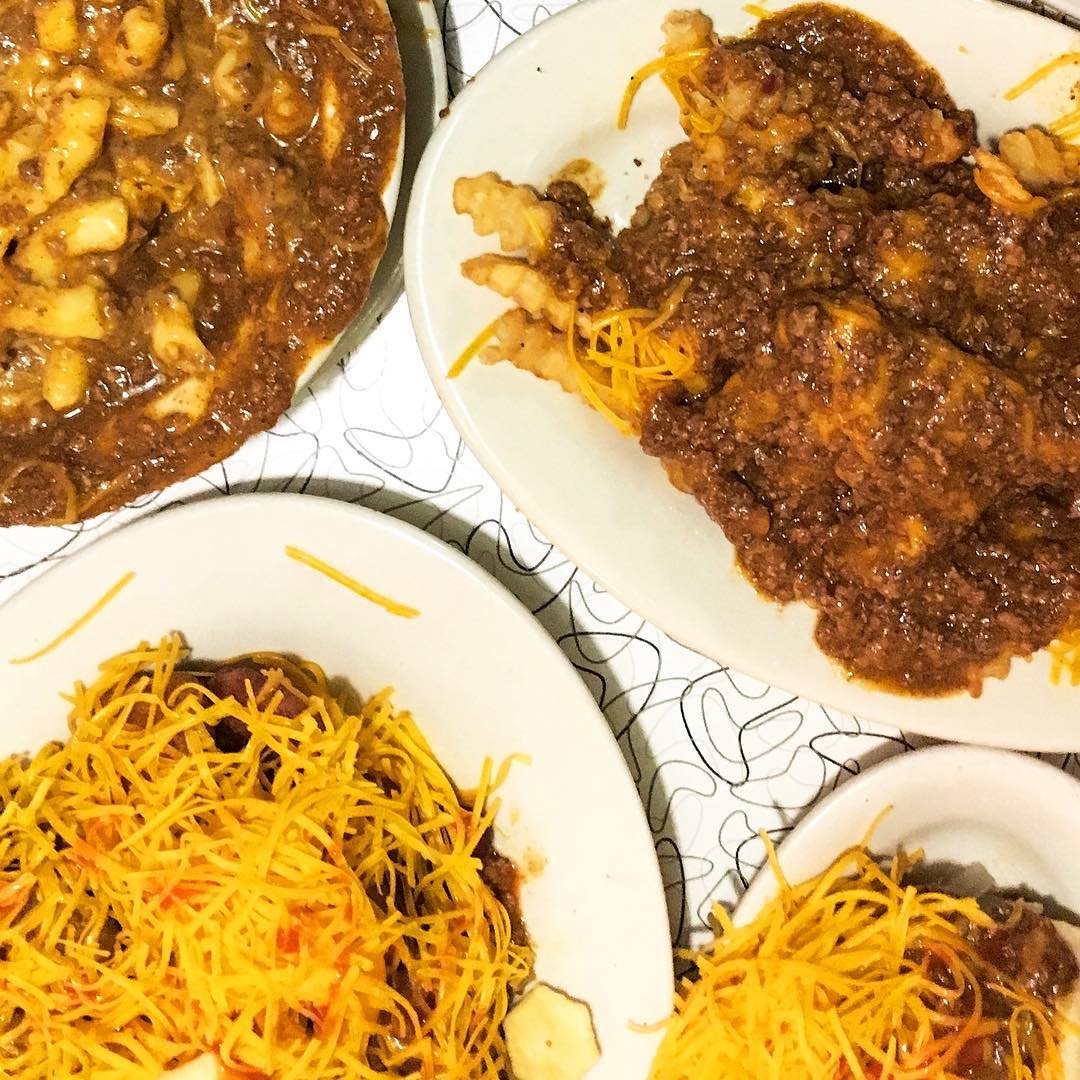 Blue Ash Chili (photo: @linsinnati)
Feeling extra hungry? Take on their No Freakin' Way Challenge. As seen on Food Network, if you can finish this eight-pound, fried jalapeno-topped 3-way in one hour, it's free, and you'll earn a T-shirt and a spot on their hall of fame. If not, it's $40 and the wall of shame for you!

Marx Bagels: An authentic New York-style Kosher bagel shop, also dating back to 1969. Longtime owner John Marx is something of a local legend. Marx had an alter-ego, Bagelman (yes, he wore tights and a cape), and a playful rudeness with which he'd keep guests moving along. He recently retired and sold the shop, but the new owners pay homage to Bagelman and preserve the veritable vibes of this unique establishment.
Marx has all the bagel classics like raisin cinnamon and Nova lox, plus unique bagel flavors like banana, tomato, and taco. Try a strawberry bagel with an ice cream scoop-sized dollop of cream cheese, or tuna on pumpernickel.

Servatii Pastry Shop: A bakery famous for its Bavarian pretzels, cheese danish, and decorated cakes (rule of thumb: it's a good party if the cake is from Servatii).
Named for its German roots, Servatii is one of the oldest local bakery chains in Cincy, dating back to—you guessed it—the '60s. Fun fact: Blue Ash is the sister city of Ilmenau, Germany.
This location is closed on Sundays.

Blue Ash breweries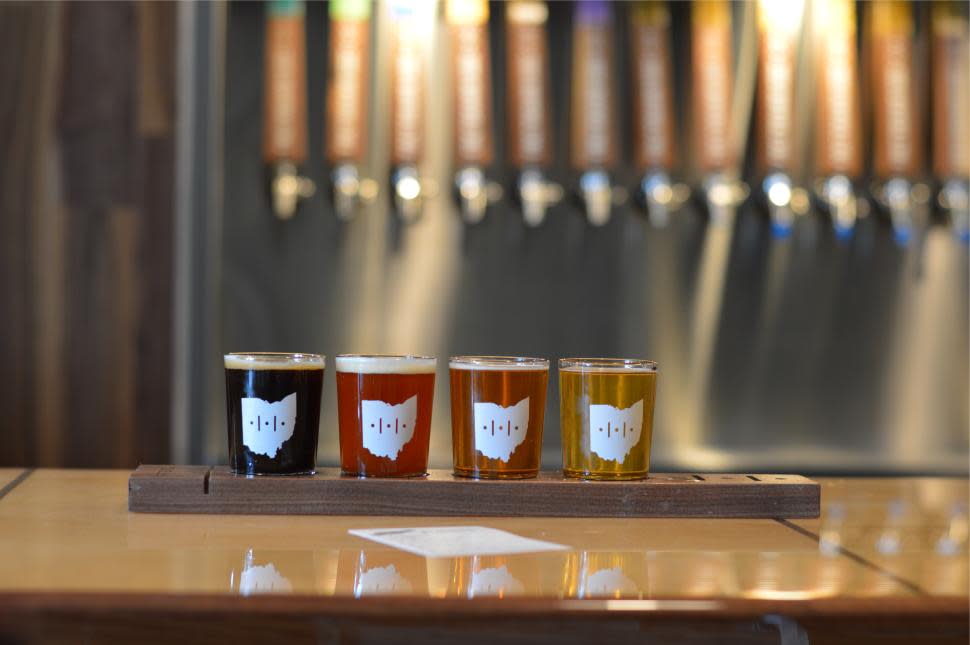 Fretboard Brewing flight
In a beer city like Cincy, you'll be hard-pressed to find a neighborhood that doesn't include a brewery. 
Fretboard Brewing is a large taproom with around 20 options on tap, wine, cider, and seltzer, plus live music every Friday and Saturday night and BBQ from Smoked Out Cincy. 
Funk legend Bootsy Collins even has his own brew here!
Firehouse Grill & Brewery offers a dozen beers brewed on-site, an extensive food and wine menu, and a massive patio that overlooks a lake.
From business to leisure, Blue Ash has much to offer visitors. Its highly-ranked and reviewed restaurants and recreation make this close-knit city a destination within the northern Cincinnati suburbs.