Brown Dog Cafe
Located in Blue Ash's Summit Park, Brown Dog Cafe is a relaxed fine-dining destination with an eclectic American menu. They strive to make everything with local ingredients when available, such as bread from Sixteen Bricks Bakery. You can order your eggs on a sandwich, gyro, burger, and as an omelet, or try one on top of their gluten-free breakfast poutine. Brown Dog also serves french toast and pancakes, as well as salad bowls using fresh local ingredients. Brunch at Brown Dog on Saturdays from 11:30 a.m. until 2 p.m.
Che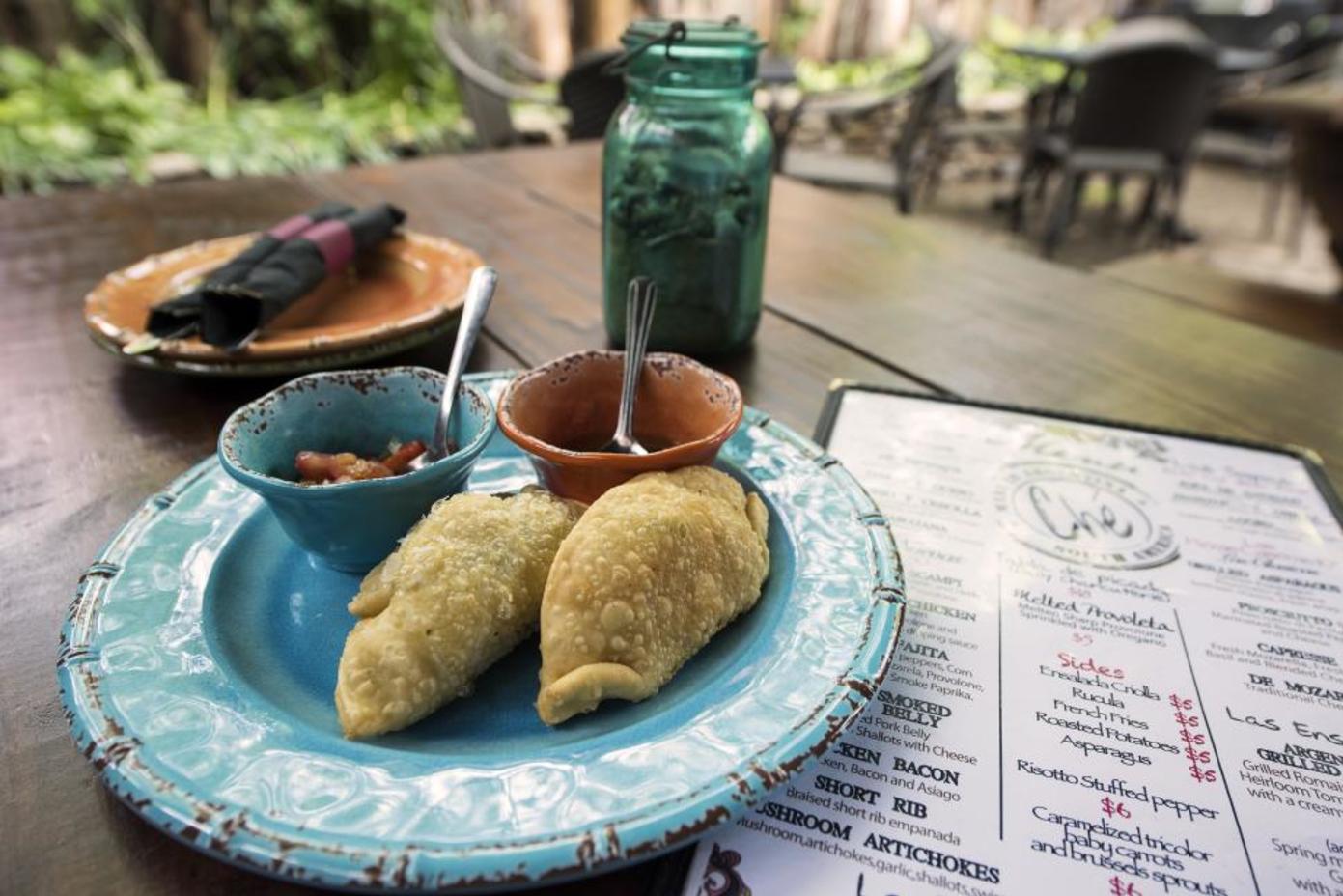 Famous for their empanadas, Che also dishes up some great brunch. You can order empanadas of course, but don't be afraid to try other offerings, like thick-cut french toast or steak & eggs. If you had a bit too much fun the night before, dive into the "Goodbye Hangover" – two beef or short rib empanadas over breakfast potatoes, chorizo goetta gravy, melted mozzarella, and house relish. It's sure to put you back on your feet! Che also offers a variety of coffee beverages, as well as brunch favorites like Bloody Marys and mimosas. Get your brunch on from 11 a.m. until 3 p.m. on Saturdays and Sundays.
Coppin's Restaurant and Bar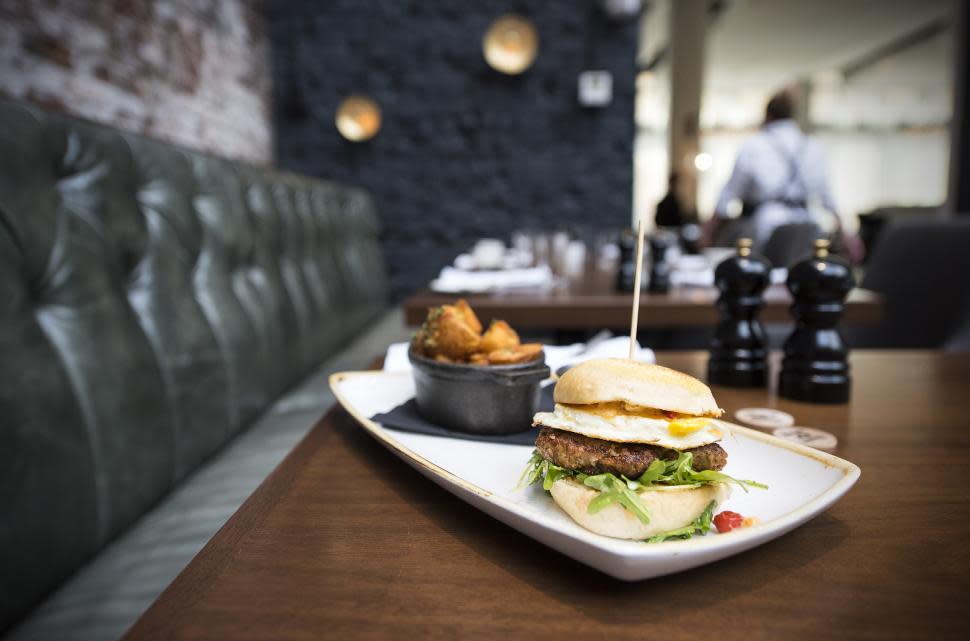 Located inside Hotel Covington, Coppin's is all about locally-sourced New American fare in a rustic-chic setting. Go for a classic like biscuits & gravy or a breakfast sandwich, or try the Roebling benedict made with goetta. Small plates can include chorizo grits, bread pudding, and a breakfast "corn dog." (Menu changes seasonally.) Drop into Hotel Covington and enjoy brunch at Coppin's on Saturdays and Sundays from 10 a.m. until 2 p.m.
Incline Public House
Famous for the amazing patio view of downtown Cincinnati, Incline Public House serves up a hearty brunch. Choose from a variety of dishes featuring biscuits, waffles, and a breakfast burrito, or try the three cheese & bacon quiche. The Incline also has a customizable cocktail menu. Sip on a strawberry, peach, or blueberry mimosa, or try a spiked lemonade flavor. The cocktail menu also features Bloody Marys and sangria. Enjoy brunch and the view at the Incline on Sundays from 10 a.m. until 2 p.m.
Maplewood Kitchen & Bar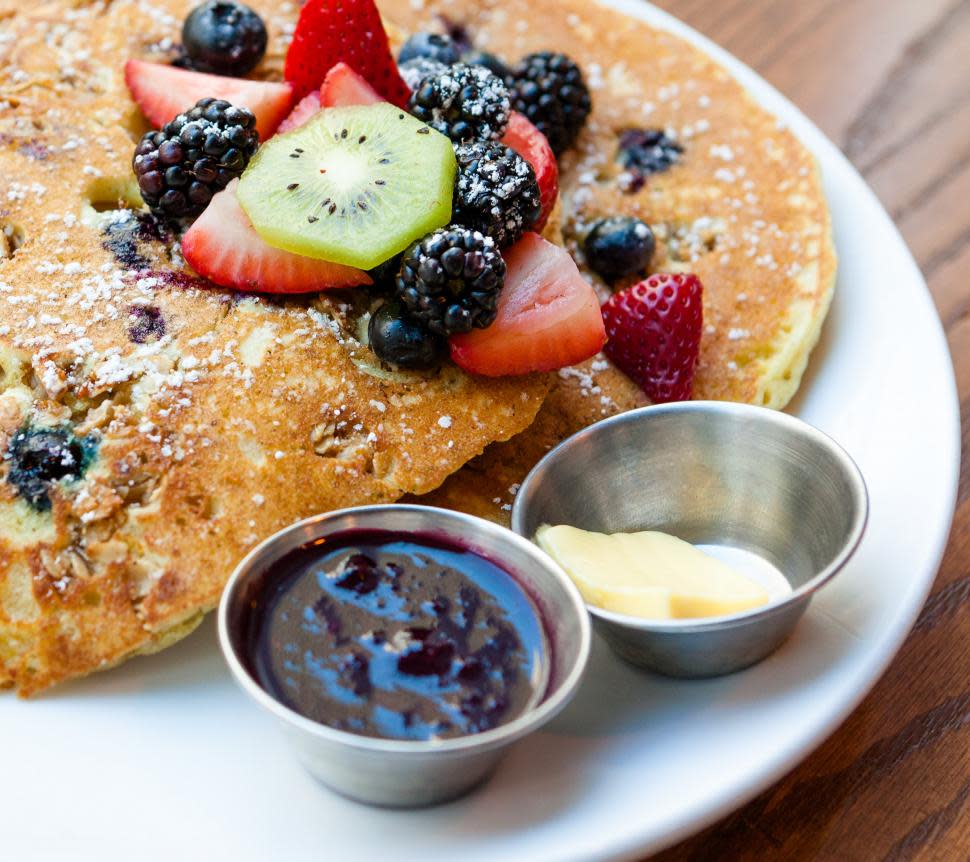 Maplewood is a spacious cafe focusing on Californian cuisine right here in the Midest. Start with a brunch staple: avocado toast. Theirs is loaded with pistachios, honey drizzle, and sea salt. The main courses offer a twist on brunch favorites. The lemon ricotta pancakes are made with fresh seasonal fruit, berry compote and Ohio maple syrup. Maplewood even offers a breakfast sandwich that comes with goetta on it! Don't forget to quench your thirst with a cold-pressed juice. Order one solo or as a mimosa, or sip on a Bloody Mary. Maplewood opens at 8 a.m. on both Saturday and Sunday and they dish up brunch until 3 p.m. Downtown location reopened for dine-in and take-out in August 2021. 
Nada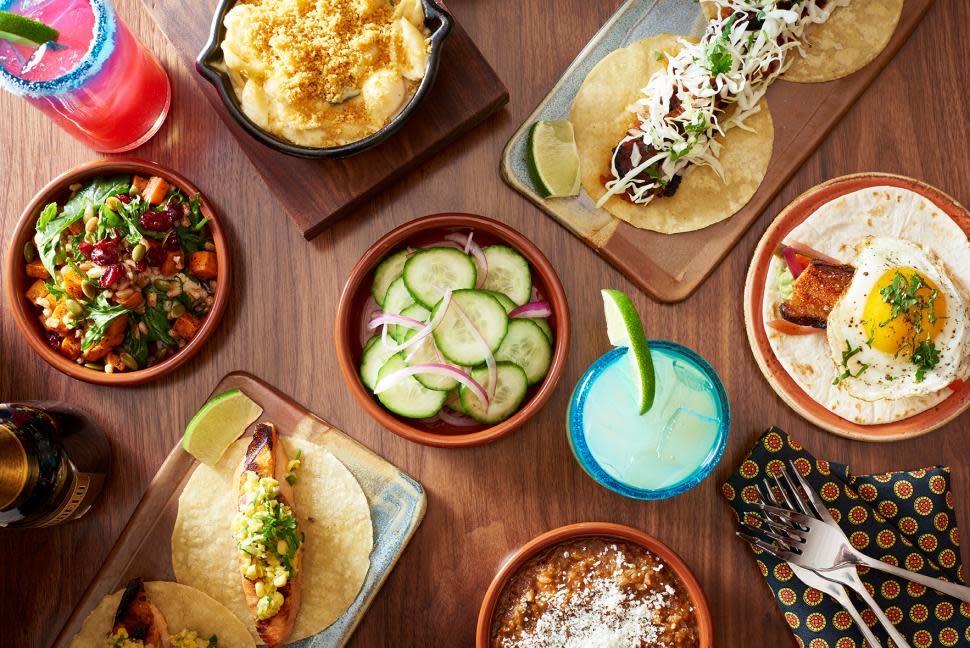 This trendy cantina brings a Mexican twist to brunch. At Nada, dig into a classic like Huevos Rancheros or try the Papas con Chorizo with crema fresca and pickled white onion. Tacos and salads are also available during brunch, as well as chips with salsa or guacamole for the whole table. Nada also offers a variety of cocktails including The Valencia made with cava, lemon juice, tuaca and orange juice. Nada's brunch lasts from 10:30 a.m. until 2:30 p.m. on Saturdays and Sundays.
Otto's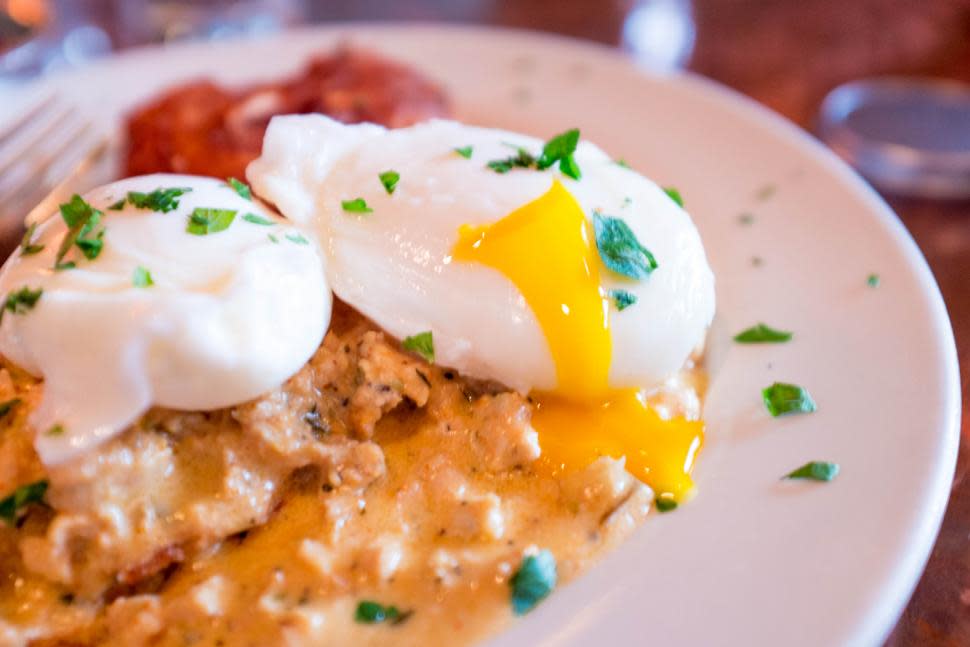 Located in Covington, this intimate, refined American bistro serves Southern inspired fare in the heart of MainStrasse Village. Order a BLFGT (a BLT with a fried green tomato) or the crab hash, which is a lump crab and potato hash with a poached egg on top and a spicy sour cream sauce. For a more traditional brunch approach, dig into classic French toast or try the lox & bagel. Otto's serves brunch on Saturdays and Sundays from 10 a.m. until 3 p.m.
Red Feather Kitchen and Wine Bar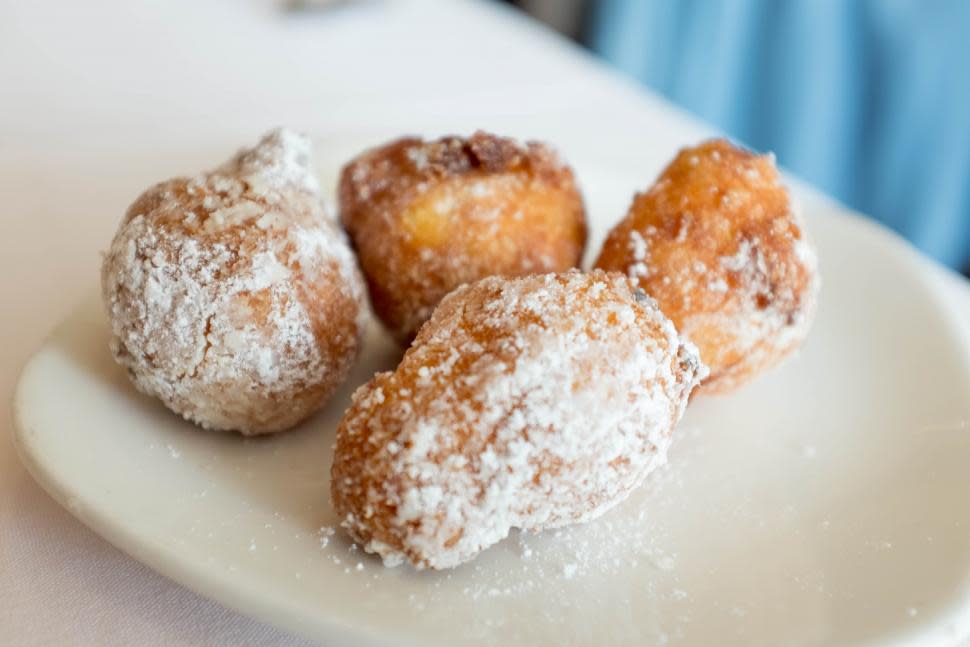 *Brunch currently not offered, but plans are in the works to bring it back later in the spring.
Red Feather serves up inventive, seasonal American cooking in a playful, chic atmosphere. It's a farm to table restaurant that utilizes slow, carfeul preparations. Choose from four different omelets or tackle the breakfast poutine, a hearty helping of breakfast potatoes covered in short rib gravy, cheddar cheese, an egg, and scallions.
Revolution Rotisserie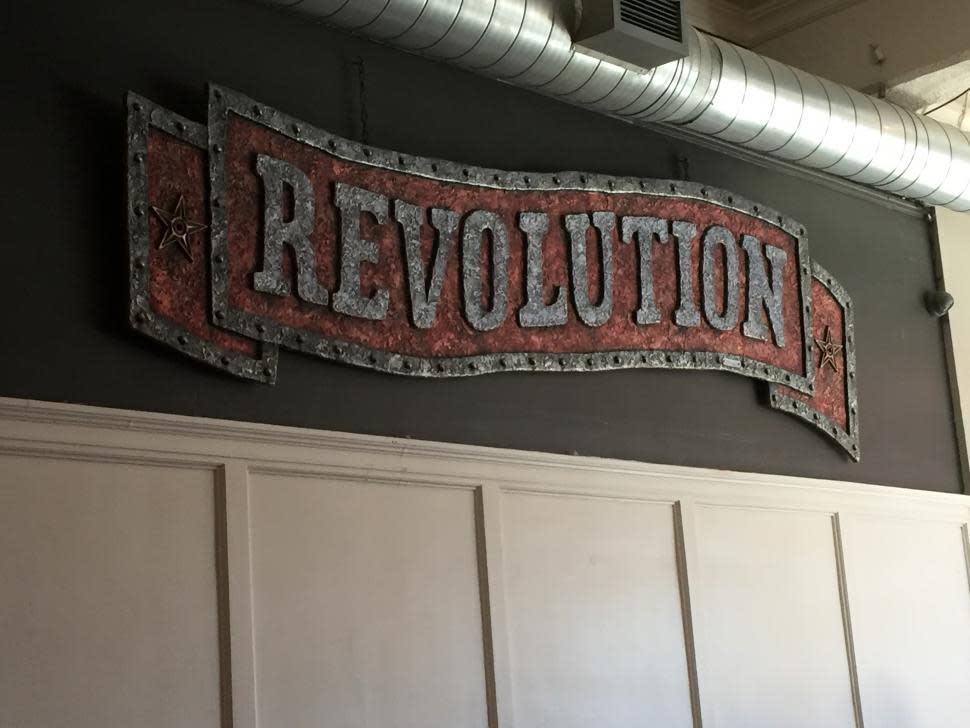 The dishes served here are centered on rotisserie chicken, but you'll enjoy more than just chicken when you stop in for brunch. Start with Revolution's breakfast poutine; it's got ham, mozzarella, and hollandaise all piled on top of tater tots. Traditional brunch choices include egg dishes, shrimp & grits, biscuits & gravy, and french toast. If you're looking for a dish made with their famous chicken, try the rotisserie chicken & waffles, rotisserie chicken wings (yes, for brunch!), or the Jackie Robinson, a pita filled with rotisserie chicken, bacon, pepperjack cheese, tater tot hash, and spicy syrup! You can wash everything down with bottomless mimosas or another creative cocktail. Revolution Rotisserie's brunch is on Saturdays and Sundays from 10 a.m. until 2 p.m.
Taste of Belgium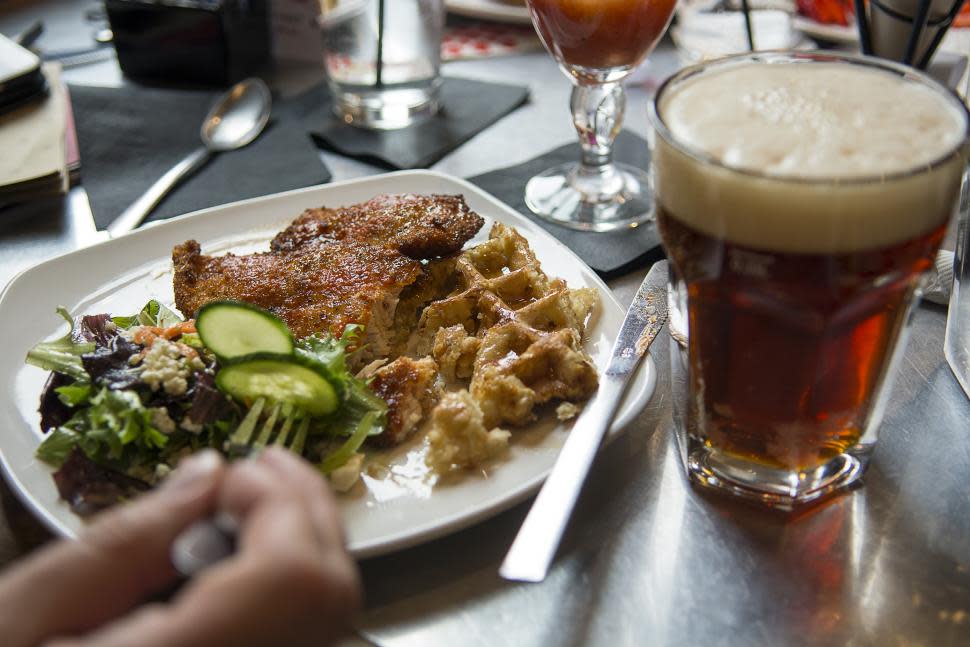 How can you go wrong brunching at a restaurant that is known for its thick, sweet Belgian waffles? You must try the perfect combo of sweet and savory with the signature dish: waffle & chicken, served with maple syrup and hot sauce; or top a waffle with strawberries and cream, banana and nutella, or make it a sumptuous s'more! Dishes with eggs, goetta and bacon can satiate a need for something more savory. Pair your meal with an espresso, one of several Bloody Mary or mimosa varieties or a local beer. And the best part is, brunch is served all day!
Is your stomach still growling? Find more places to get your breakfast fix here.
Written by Emily Lloyd with updates by Amber Potter