People make a place a great place to live and visit. In February, we honor the Black history, the people, and the places that make Cincy unique. Discover Cincinnati museums, performances, restaurants, and more to celebrate Black History month this February. 
Black history museums and historic sights in Cincinnati and Northern Kentucky
Harriet Beecher Stowe House
Harriet Beecher Stowe lived in Cincinnati during the formative years that led to her writing the anti-slavery novel, Uncle Tom's Cabin. Schedule a visit or take a virtual tour of the Harriet Beecher Stowe House to learn more about the author, the Underground Railroad, and the historic site that was listed in the Green Book in the 1930s and 40s. 
National Underground Railroad Freedom Center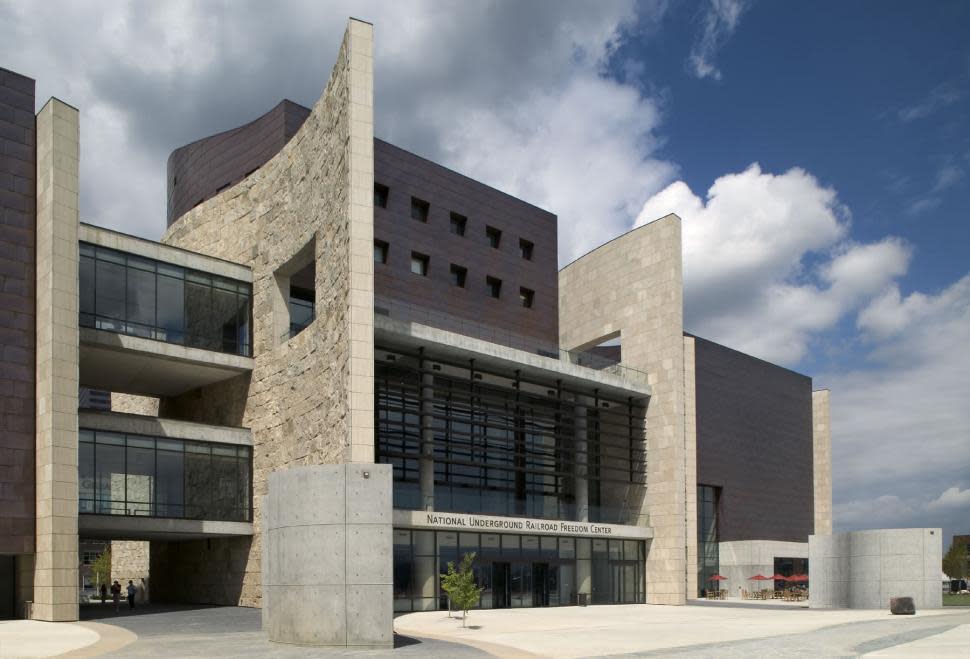 Standing as a monument to freedom, the National Underground Railroad Freedom Center brings to life the importance, and relevance, of struggles for freedom worldwide throughout history and today. For Black History Month 2023, the Freedom Center has events planned all month long including documentary films, a health and wellness panel discussion on February 2, a panel discussion entitled From Black Health & Wellness to Black Resistance on the health and wellness of African Americans, and a New Orleans Mardi Gras concert on March 3 featuring Grammy award winner Ashlin Park. Enjoy free admission on February 19th.   
Visit the Freedom Center in person or explore online exhibits. Check out their full events calendar here or take a photo tour of some of the Freedom Center's pivotal exhibits.
The Black Brigade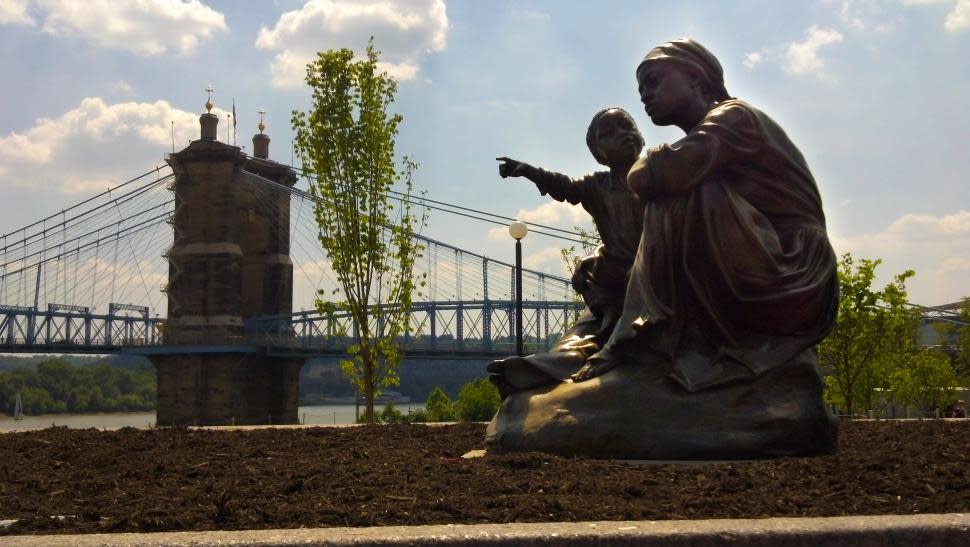 The Black Brigade was formed in 1862 during the Civil War to construct barricades to defend Cincinnati from Confederate attacks. Initially, members were forced into service, but after a public outcry, African-American men volunteered and formed The Black Brigade. You can visit a monument to the brigade's efforts at Smale Riverfront Park, consisting of bronze statues and plaques, interpretive signs, and carved stones which include the names of all 718 members of the brigade.
Clermont County Freedom Trail
Explore the 42 historical sites of Clermont County Freedom Trail, 22 of which are included in the National Underground Railroad Network to Freedom. This self-guided journey highlights one of the largest Network to Freedom programs in the nation today. Sign up to receive the Clermont County Freedom Trail mobile passport and start exploring.  
Allen Temple AME Church
Allen Temple AME Church was the first organized Black congregation west of the Allegheny Mountains when it was formed in 1824.
Improved Benevolent Protective Order of the Elks of the World
The Improved Benevolent Protective Order of Elks of the World (IBPOEW) was formed in Cincinnati in 1898 and today, IBPOEW boasts 500,000 members in over 1,500 lodges worldwide making it the largest Black fraternal organization in the world.
Union Baptist Church 
Union Baptist Church is the oldest African American Baptist church in Cincinnati. During the 1800s, the church served as a sanctuary for Black men and women crossing the Ohio River to escape slavery. The church provided them with food and clothing and set up a school to teach reading and writing. The church also runs United American Cemetery where many notable African Americans are buried including Underground Railroad conductors and abolitionists.
Black history month events in Cincinnati
Black-owned restaurants in Cincy
In Cincinnati and Northern Kentucky, you'll find Black-owned restaurants serving up everything from coffee and pastries to barbecue to Southern foods.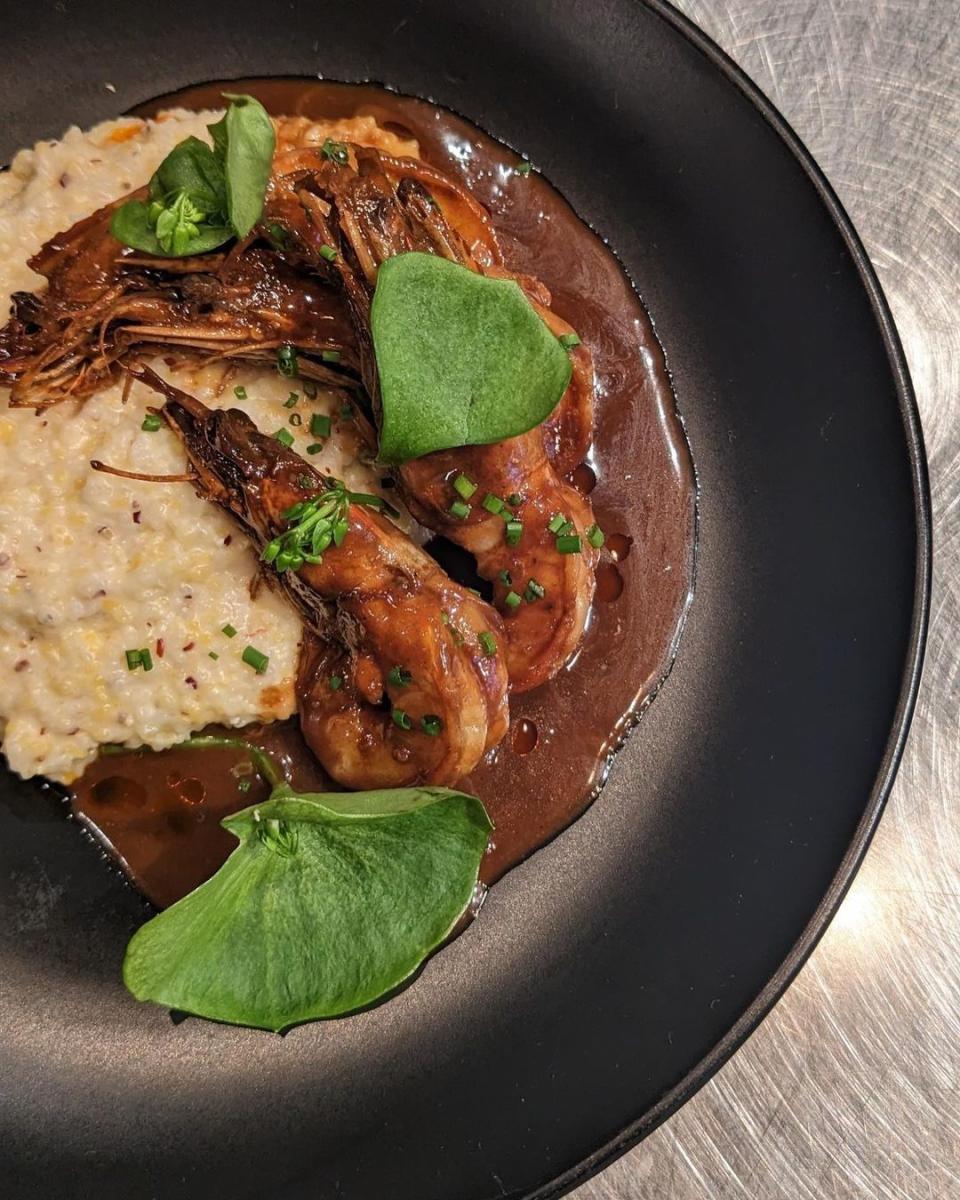 Shrimp and Grits (Photo credit: Noila Kitchen)
Nolia Kitchen
Nominated for a James Beard Foundation Award, chef and owner Jeff Harris brings the south to Cincinnati on a plate in Nolia Kitchen. Inspired by his upbringing in New Orleans, Harris showcases classic southern flavors with unexpected twists in his restaurant in the Over-the-Rhine neighborhood. 
Check out this handy list of Black-owned restaurants and support them this month and all year long.
Black-owned shops and businesses in Cincinnati
Originalitees
Print shop specializing in collegiate, state, city, and neighborhood pride apparel. Originalitees even has a collection of bandanas for your pup.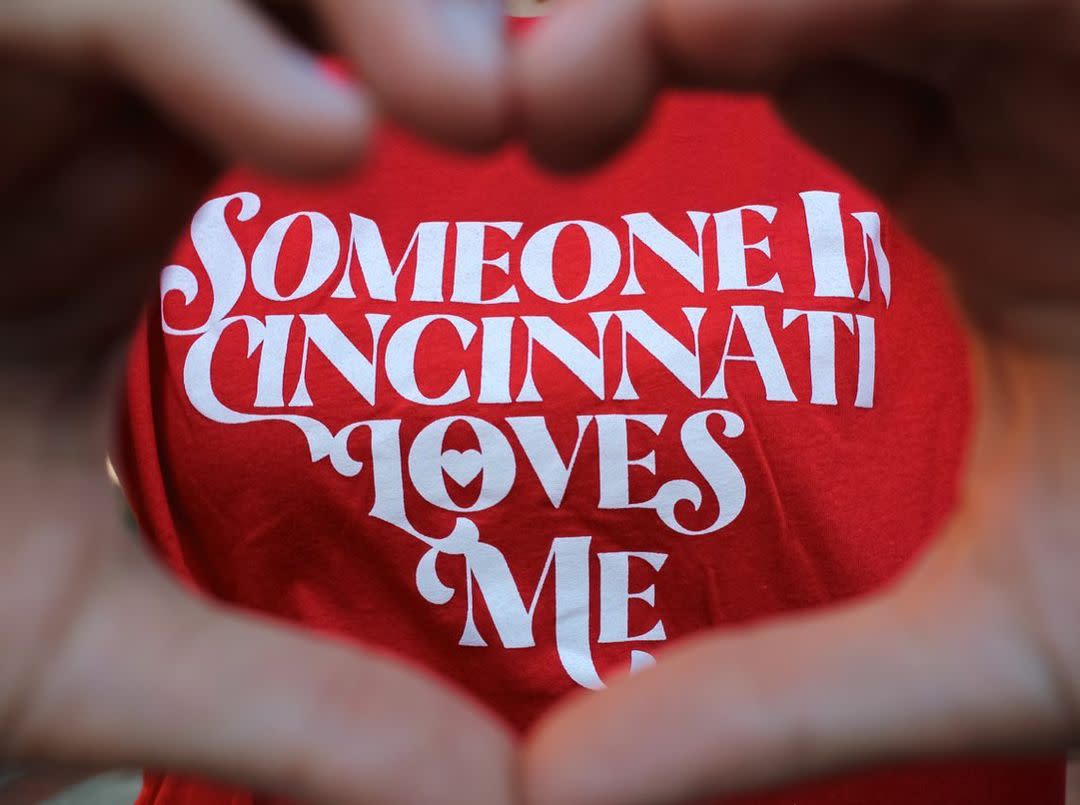 Photo credit: Originalitees
Hutch Baby 
Hutch Baby is an upscale children's boutique with fun and colorful clothing for newborns through the tween years.
District 78 
Shop gifts and home decor at District 78 near the University of Cincinnati. They have a curated collection of candles, plants, clothing, and more
We Are Mortar  
We are Mortar is an entrepreneurial hub for dreamers and doers providing access to the resources needed to start & run successful businesses 
The Confetti Room 
Plan your next event in this chic event space in the Over-The-Rhine neighborhood. 
Soul Palette  
Soul Palette creates unique paint experiences and works of art at any scale to celebrate any occasion
The Sweet Body Bakery 
Almost good enough to eat, The Sweet Body Bakery creates natural body treats that exfoliate and hydrate your skin.
Black-owned breweries and bars in Cincinnati and Northern Kentucky
Try a more elevated craft beer experience by visiting Cincinnati's first brew lounge. Great beer and delicious Korean fried chicken by Decibel Chicken? Yes, please!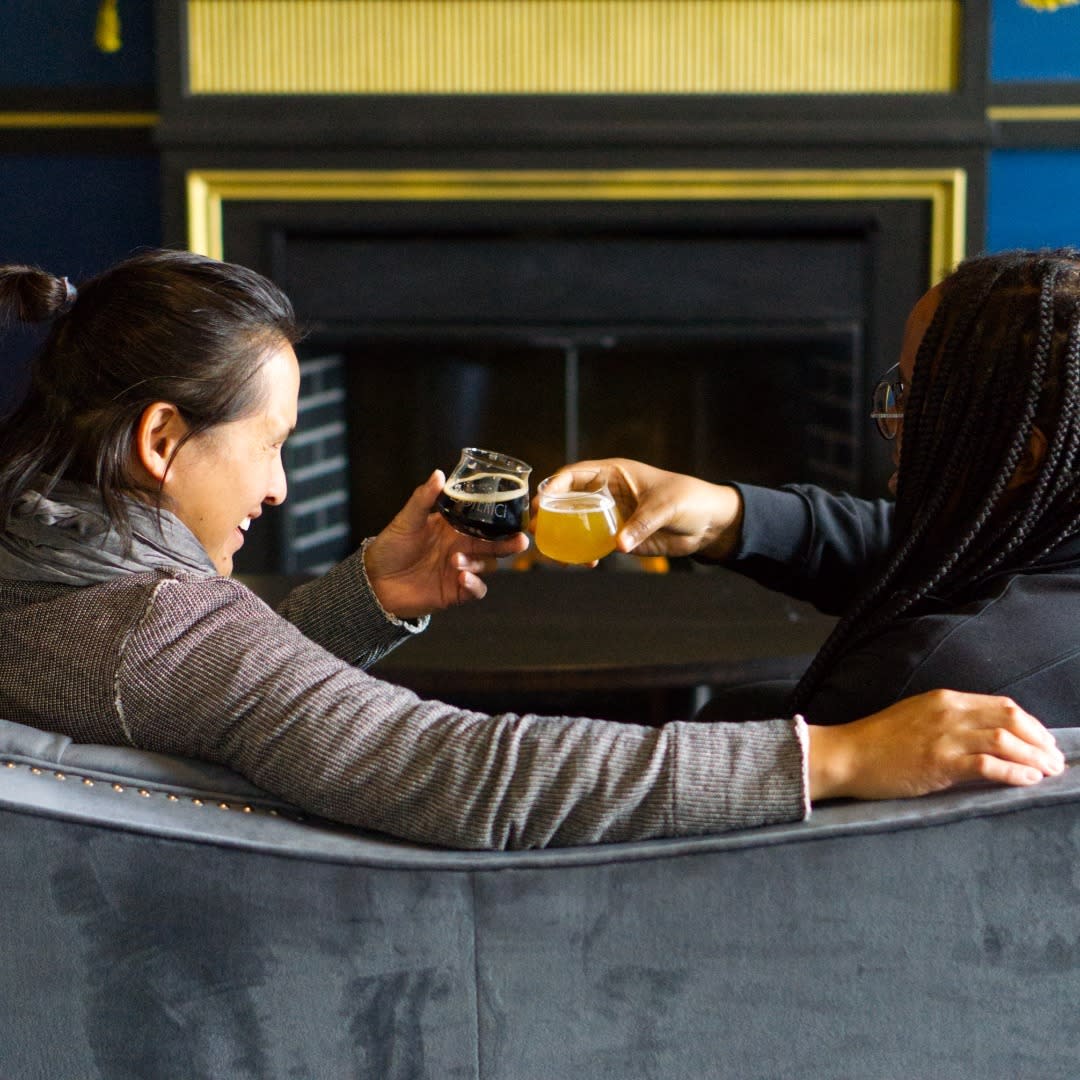 Photo credit: Esoteric Brewing
Cincy Brewing
From easy-drinking light beers to experimental IPAs and stouts, Cincy Brewing has a beer for everyone.
Revel OTR
A cool urban winery, Revel OTR, offers handcrafted wines, snacks, and live music in the heart of Over-The-Rhine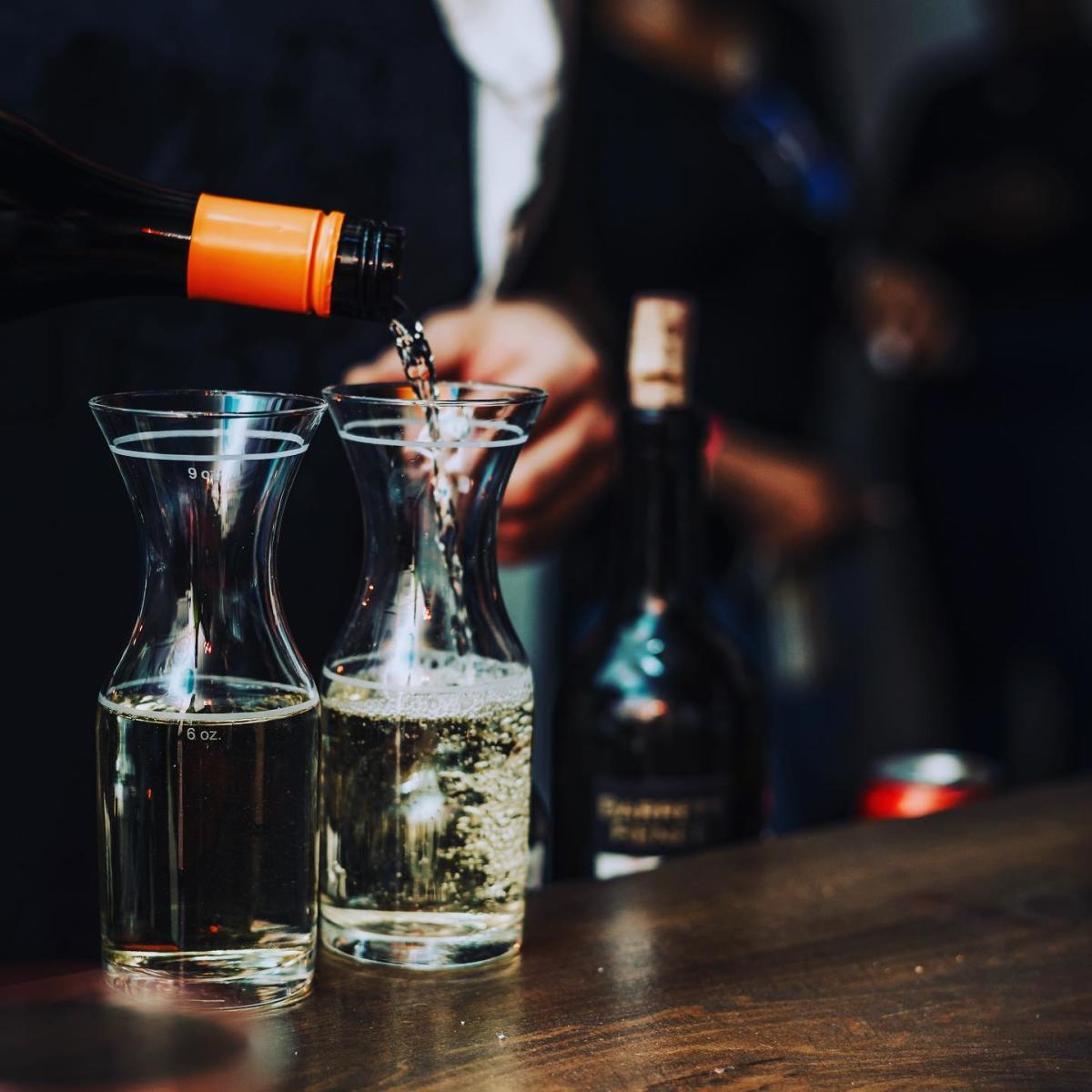 Revel OTR
Black-owned skin care and spas in Cincinnati
Grace + Grit  
A spa with purpose, Grace + Grit offers in facials, massages and waxing along with loving on those navigating the cancer journey.
True Shea
Black-Owned and ethically sourced, True Shea is a natural skin care product line that feels good on your hair/skin and your consciousness. 
Pure Beauty Skin Bar
Get glowing with skin care treatments, facials, and acne prevention. Pure Beauty Skin Bar has their own product line of serums, cleansers, UV shields, and more. 
Cultural institutions and tours
Under one roof: The African American Experience in Music Hall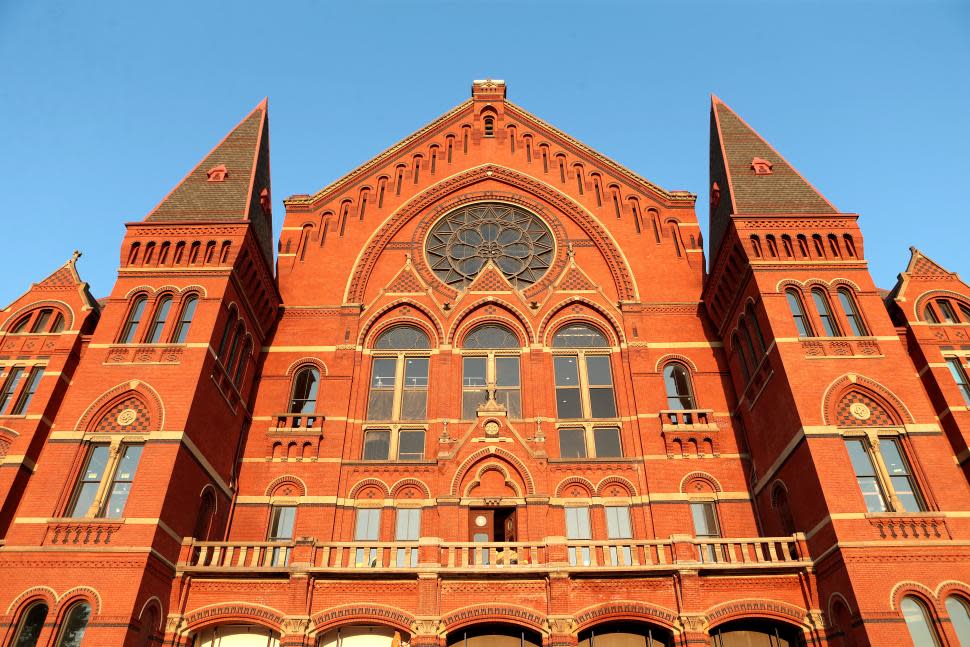 This one-hour presentation by the Friends of Music Hall explores the history of African Americans, like Duke Ellington and Ezzard Charles, who helped forge the culture and character of Music Hall and the Cincinnati community. The presentation and a virtual tour of Music Hall can be scheduled through the Friends of Music Hall Speakers Series.
Cincinnati Public Library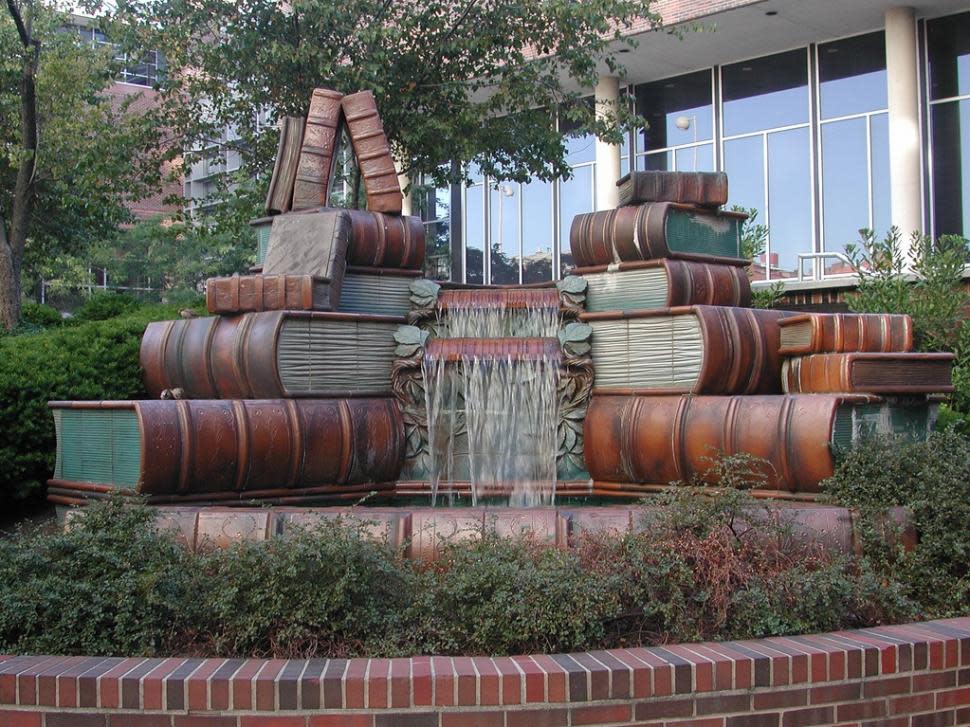 The Cincinnati Public Library honors Black History Month with a variety of events all month in several area branch locations. Also, from famous singers to abolitionists to journalists and photographers, the library has put together a list of 19th Century Black Cincinnatians You Should Know.
Covington Black History Tour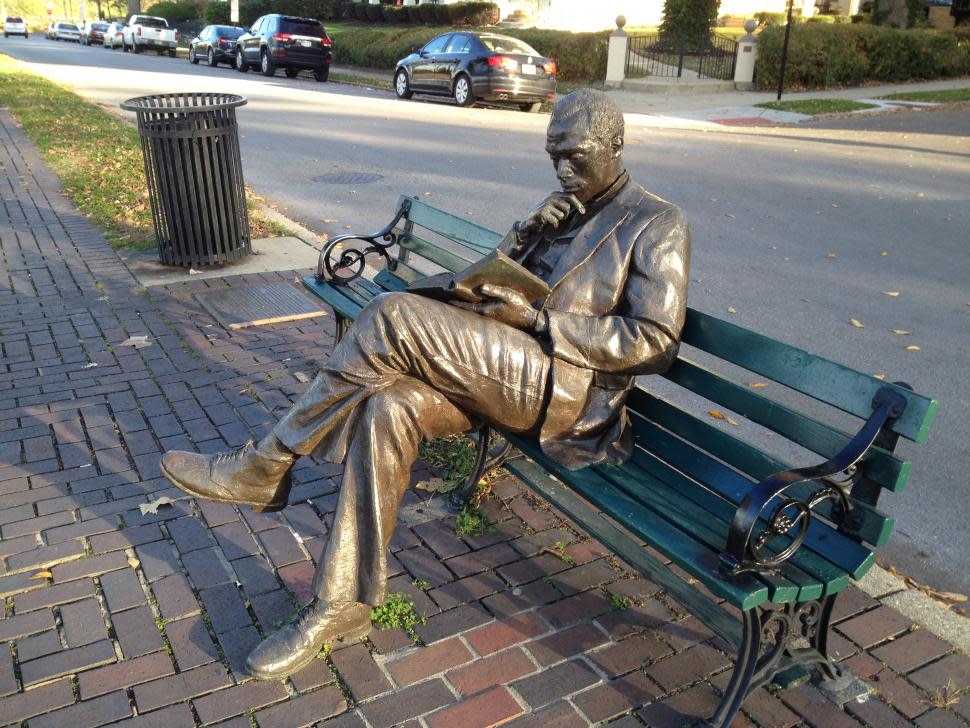 Developed by the Northern Kentucky Community Action Commission, this self-guided walking tour includes 18 spots around Covington, Ky., highlighting African Americans' history and accomplishments in the city. The tour includes landmarks like the statue of James Bradley, a former slave who worked his way to freedom and broke racial barriers in the world of education; and Randolph Park, named after the first African American on the staff of St. Elizabeth Hospital, Dr. James Randolph.
For more Black History Month information check out these local organizations:
VIBE Cincinnati - Visit Cincy's diversity and inclusion engine hosting events, initiatives, and speaker series all year long
Revolution Dance Theatre - ​​Cincinnati's ONLY African American dance company