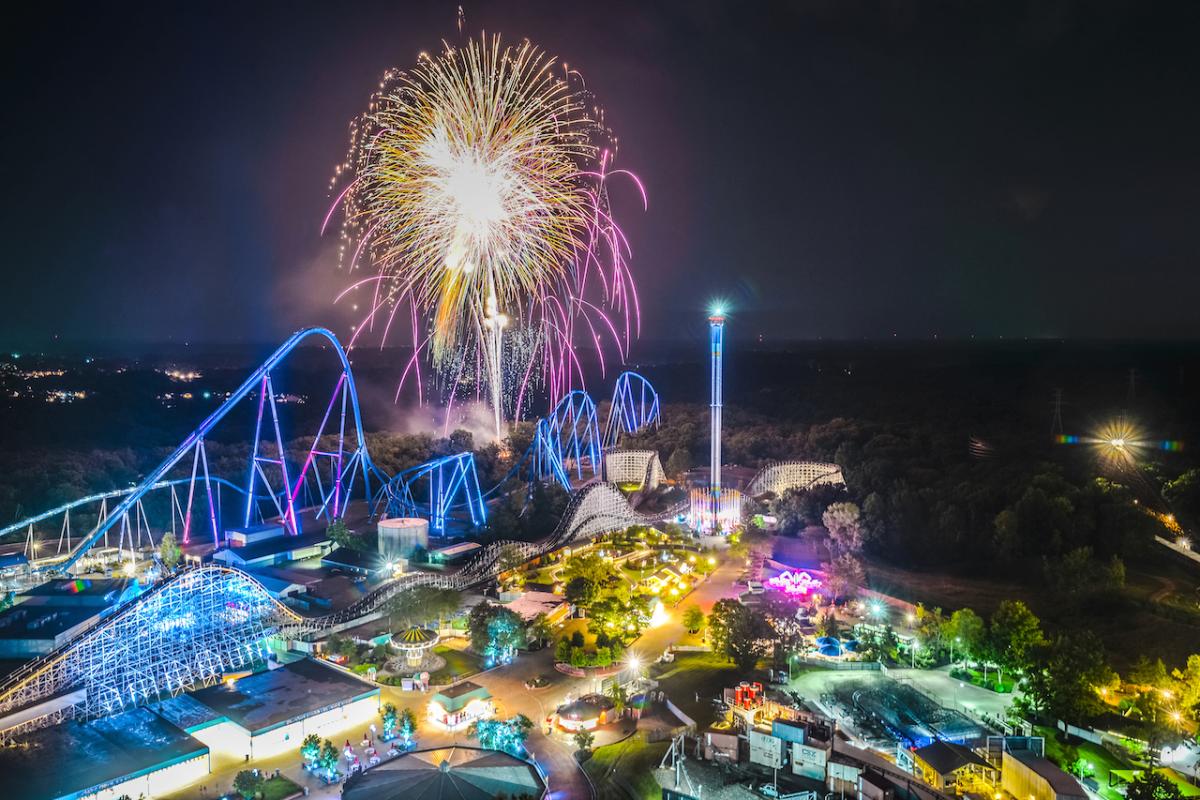 Kings Island 
As Kings Island kicks off its 2023 season we want to help you make the most of your visit. Whether you're a season gold pass holder or a first-timer, this list covers everything you need to know before visiting Kings Island amusement park, including park hours, location, helpful tips, what's new at the park, and more. Here's to thrill rides and fun in the sun at Kings Island! 
Kings Island FAQs
Explore answers to the most common questions about Kings Island:
Where is Kings Island located? 6300 Kings Island Drive, Kings Island, OH 45034 Kings Island is located in Mason, Ohio in the Northeast part of the Cincy Region. The park is about a 30-minute drive from downtown Cincinnati. 
Are there hotels & places to stay near Kings Island? Yes! Check out hotels in North Cincy or bundle your hotel and Kings Island tickets and save!
How much are tickets to Kings Island? $35-$109; Kids under 3 are FREE! Buy Kings Island tickets online
What time does the park open and close? Currently, the park is open from Friday-Sunday, 10:00 a.m. - 7/9:00 p.m. Daily hours begin May 22, 10:00 a.m. - 10:00 p.m. Check the Kings Island website for the most up-to-date hour information.  
What happens if it rains? There are no refunds for rainy days. Pass the time at one of the park's indoor shows or restaurants!
Does Kings Island accept cash? Kings Island is cashless. Cash-to-Card kiosks are available throughout the park. 
Where can I store my stuff while I'm at Kings Island? You can rent storage lockers inside the main gate. *You will need one if you plan on riding the thrill rides Banshee, Orion, and Mystic Timbers. You can pay one flat rate of $5 per day and transfer the locker location as needed.
Can I rent a stroller or wheelchair? Yes. You can rent strollers and wheelchairs inside the main gate.
Can I bring my own food inside the park? Outside food and drink are not allowed at Kings Island. Come hungry to Kings Island and enjoy your favorite Cincy restaurants like Skyline LaRosa's Pizza, and Graeter's Ice Cream. You'll also find classic amusement park favorites like hamburgers, hotdogs, funnel cakes, deli sandwiches, and more.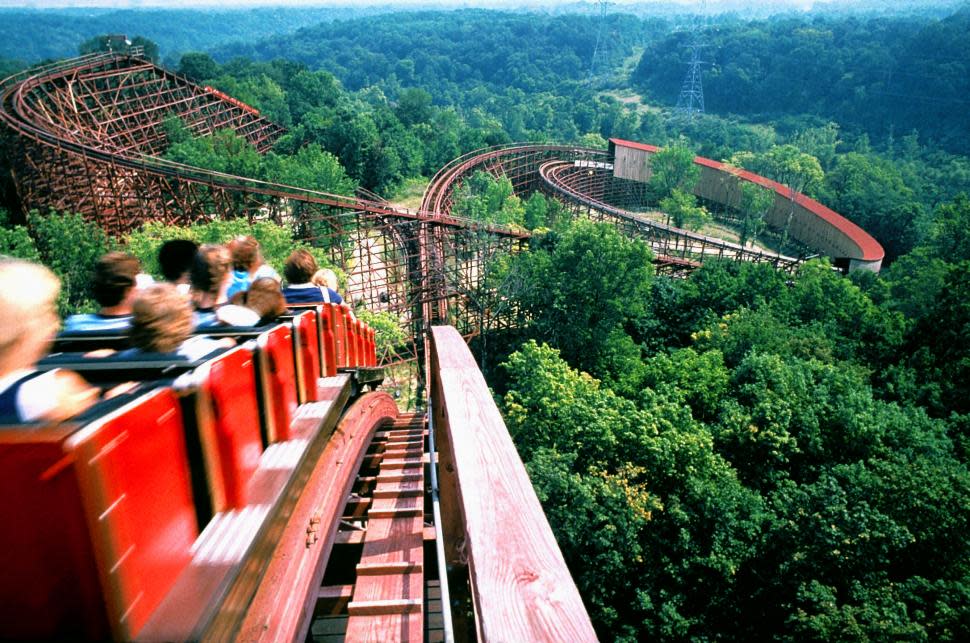 The Beast at Kings Island
Helpful tips to make the most out of your visit to Kings Island amusement park
1. Don't forget where you parked
Take a photo of where you park or take a note on your phone. The last thing you want to do after spending all day at an amusement park is wander around looking for your car. Pro-tip: the Kings Island app includes the option to log your exact location when you park!
2. Buy Kings Island tickets online to save money
The best prices for admission to Kings Island can be found online! The ordering process online is quick and easy. You can also purchase a dining and drink package online before you visit. This helps save time and money. After making your purchase, simply download and print your tickets. Note: Xtreme Skyflyer and various other shows and events require separate admission.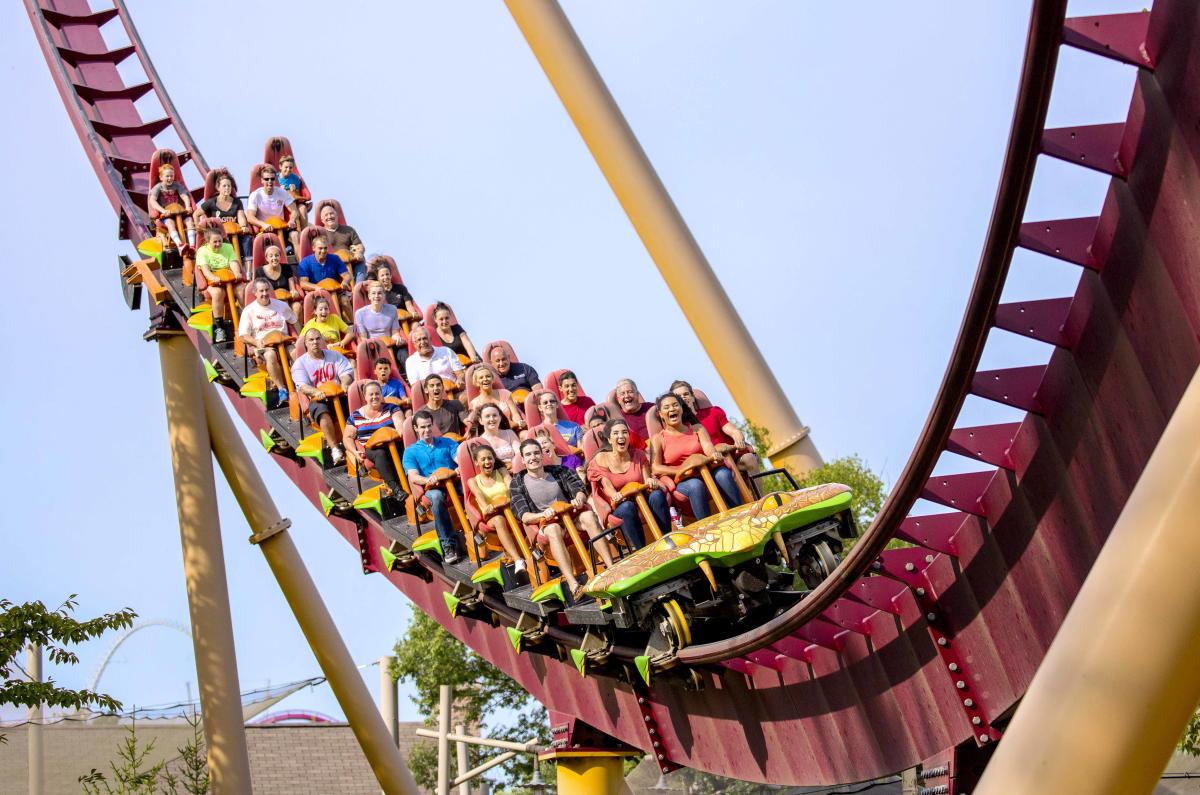 3. Sign up for the Rider Swap Program at Kings Island
If you have little kids in tow you don't have to miss out on the fun - just sign up for Rider Swap! This program allows one guest to ride while another guest waits with the guest who did not ride. When the ride is finished, the guests swap responsibilities at the exit. For more information or to participate in the Rider Swap program, please visit the Help Center near the Front Gate, the Family Care Center near Planet Snoopy Ice Cream, or Soak City Guest Services. Rider Swap is not available at the water park
4. Little kid fun at Planet Snoopy
Little ones will have a blast at Planet Snoopy at Kings Island. This part of the park features Snoopy-themed rides designed for kiddos. Planet Snoopy also hosts a live show with meet-and-greet opportunities with your Peanuts pals. Don't miss the famous blue ice cream (blueberry flavor)!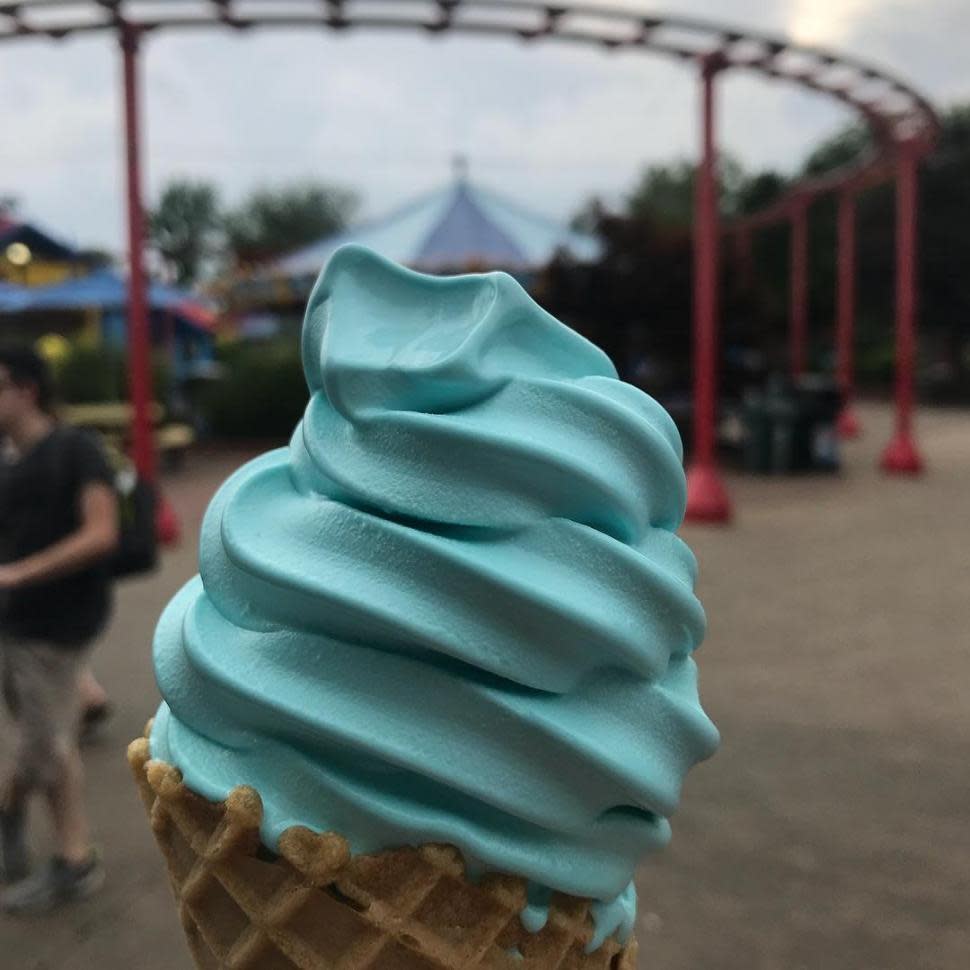 Blue ice cream at Kings Island (photo: @bclaykarla)
5. Take a ride on an authentic steam train 
If your feet need a rest, take the train to the water park. This is a fun activity for young children too. Stops include Rivertown and Soak City. The train is wheelchair accessible. 
6. Take a break from the sun and heat when you need
There are several indoor venues with air conditioning that feature fun and family-friendly shows all summer long. The Miami River Brewhouse is indoors with air conditioning. Pop into one of the many shops at Kings Island for a little break. Snoopy Boutique has fun toys for little kids; the Sweet Spot for those with a sweet tooth; the Diamondback Trading Post is packed with unique souvenirs.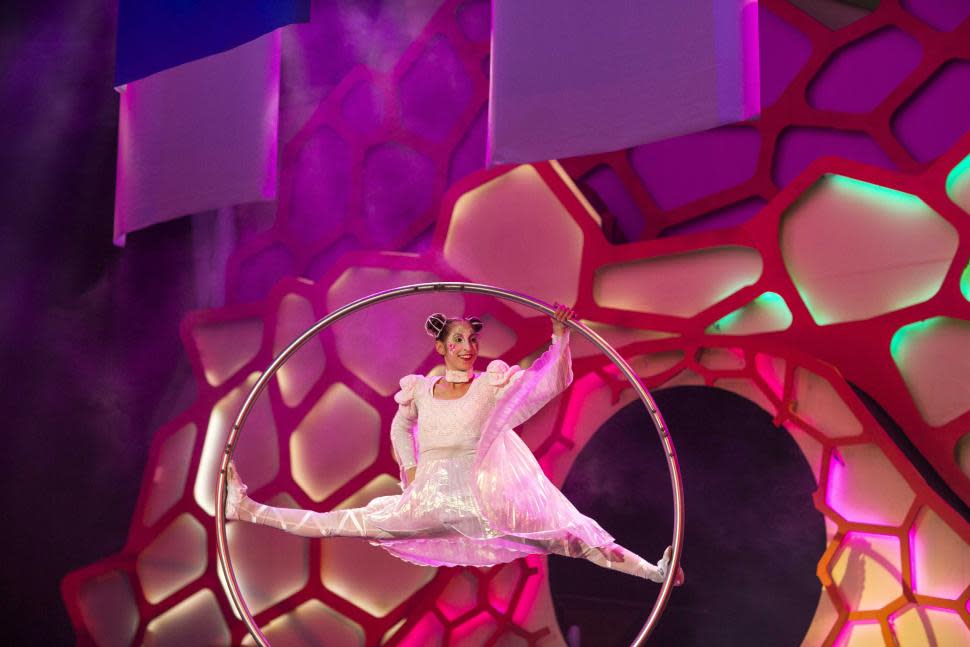 Live entertainment at Kings Island (photo: Kings Island)
7. Stay hydrated at Kings Island
Take advantage of the courtesy cups of water throughout the park. Many of the dining packages include refillable souvenir bottles too. 
8. Take your picture with FunPix
Don't worry about taking photos with your phone when you're at Kings Island. There are digital photo locations throughout the park and roaming FunPix photographers. You can purchase a plan online before you visit, at the front gate, or at any FunPix location. Don't forget to download the Kings Island app to your phone–all your FunPix photos will be stored there! You can download as many digital photos as you want or order prints the same day and receive an awesome discount. 
9. Catch the evening fireworks show at the top of the Eiffel Tower
Don't miss the nightly fireworks show at 10 p.m. on International Street at Kings Island. This incredible show features fireworks, fire bursts, laser projections, and more. For the best seat in the house, ride to the top of the Eiffel Tower for the show and an unbelievable view of the park.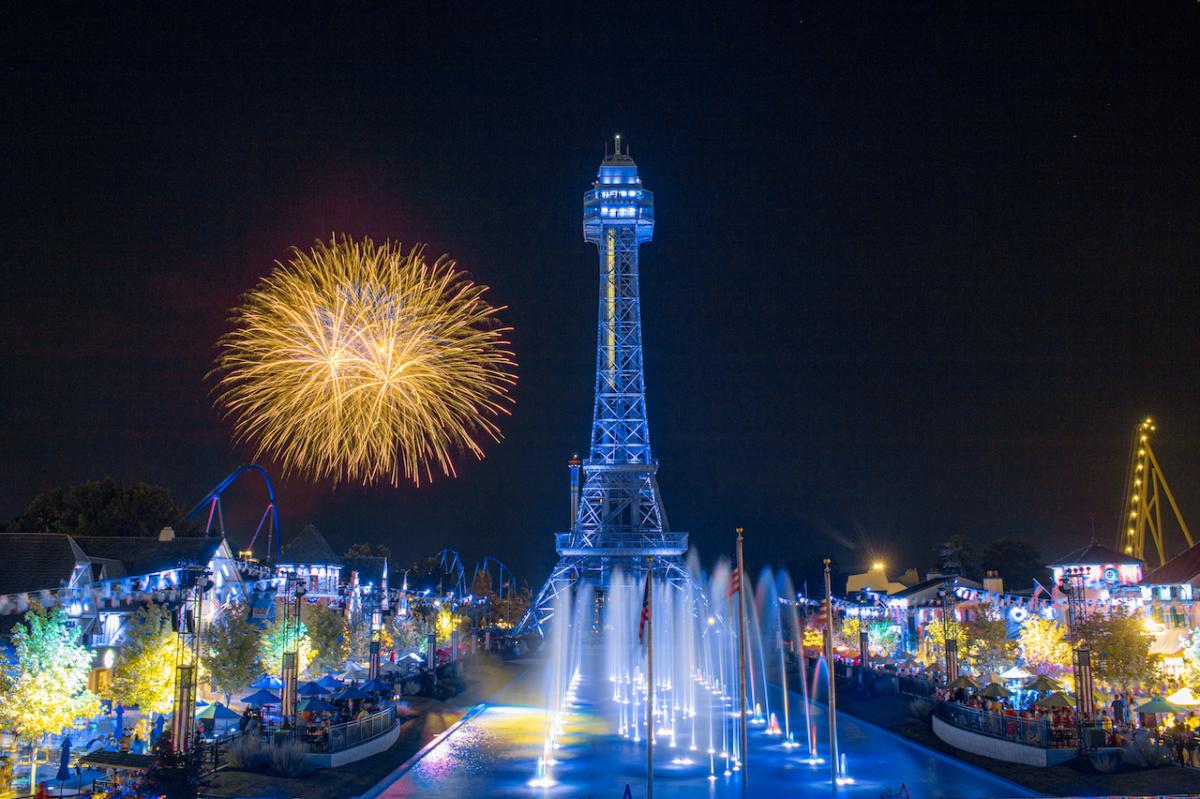 Eiffel Tower at Kings Island
What's new at Kings Island this summer? 
Beat the summer heat with new thrill rides, a frozen cocktail bar, and a variety of new restaurants at Kings Island. Keep reading to learn about the new exciting attractions, food, and drinks to experience at Kings Island this summer.
Adventure Port: Explore the ruins of an ancient civilization, enjoy new rides, and more. New rides include Cargo Loco (dizzying spinning barrels) and Sol Spin (sun disk flying 60 feet in the air). 
New food and drink at Kings Island
Grain & Grill: fast-casual restaurant featuring Eastern-European and Mediterranean-inspired dishes and views of the Royal Fountain
Enrique's: quick-serve restaurant with traditional Mexican dishes like tacos and burritos
Outpost Frozen Cocktails: Frozen cocktails and draft beer
Strawberry Funnel Cake Ale: Fruity and a tad sweet–tastes like summer! The beer will be served at Kings Island and at Sonder Brewing Company. 
Summer in Cincinnati is going to be a blast. See you at Kings Island!