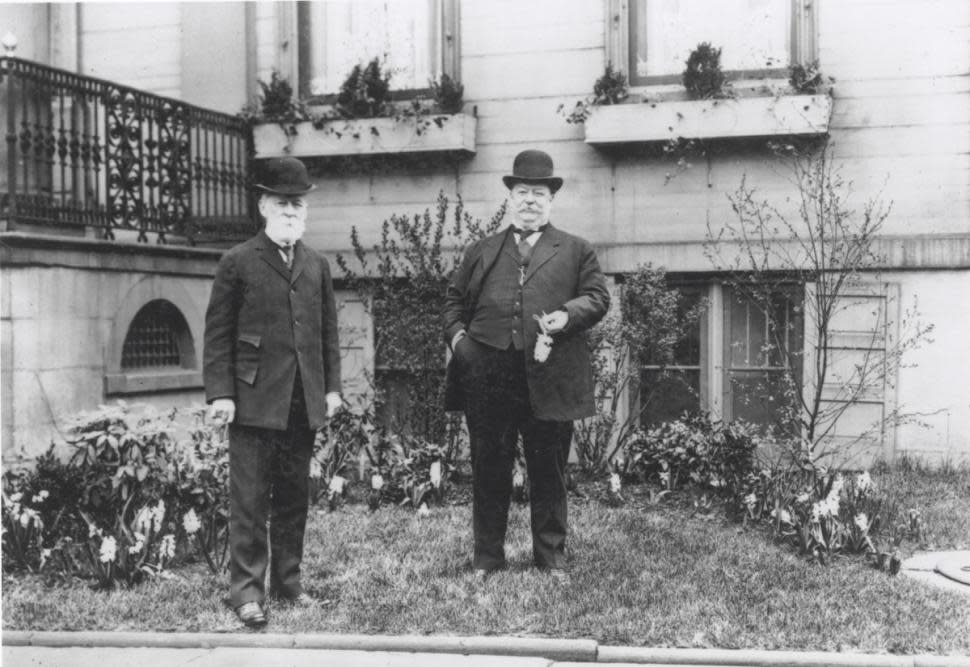 With eight United States presidents hailing from Ohio, the state is known as "The Mother of Presidents." Four of those – William Howard Taft, Ulysses S. Grant, William Henry Harrison and Benjamin Harrison – have ties to the Cincinnati region. 
William Howard Taft
William Howard Taft was born in Cincinnati, Ohio, in 1857 and served as the 27th president of the United States and 10th chief justice of the U.S. Supreme Court.
Taft accepted his presidential nomination from the portico of what is now the Taft Museum of Art. His half brother, Charles, and his wife Anna owned and lived in the house at the time. Now the building is a National Historic Landmark and welcomes visitors to explore its extensive art collection. 
The historic site is comprised of the birthplace and Victorian-era boyhood home of the former president as well as one of Ohio's eight National Parks. Visitors can learn all about Taft and his life growing up by touring the home and the adjacent education center. 
Less presidential historic site (although the brewery is housed in a former historic church), Taft's Ale House is named and themed after the 27th president. Taft's wife, Helen "Nellie" Taft, also lends her name to one of the brewery's popular brews.
Ulysses S. Grant
The 18th president of the United States, Ulysses S. Grant was born in 1822 in Point Pleasant, Ohio, about 25 miles east of downtown Cincinnati.
Visitors can tour the one-room frame cottage where the former president was born as Hiram Ulysses Grant on April 27, 1822 and lived for less than a year before the family moved. 
The president's home, a National Historic Landmark, was built in 1823 and saved from demolition in the early 1980s. Grant's father was a tanner, but the future president took more to farm chores and handling horses before attending the United States Military Academy.
The two-room brick schoolhouse where Grant attended class was built in 1829 and served its purpose for a slightly more than two decades. 
William Henry Harrison
The ninth president of the United States settled in North Bend, Ohio, where his grandson, – and our 23rd president – Benjamin Harrison, was born.
President Harrison was buried in July of 1841 in a family tomb on the summit of Nt. Nebo with a view of the Ohio River. Visit the monument and tomb and take in the panoramic views.