Adulting is hard, and sometimes grown ups need to have fun like kids. Sure, cocktail parties and refined outings are great ways to spend time, but sometimes we just want to go out and play games to get in touch with our inner child.  Here are five ways to have unique "Big Kid Fun" around town. Hope this inspires you to get out and have some crazy good times!
Board Games at Breweries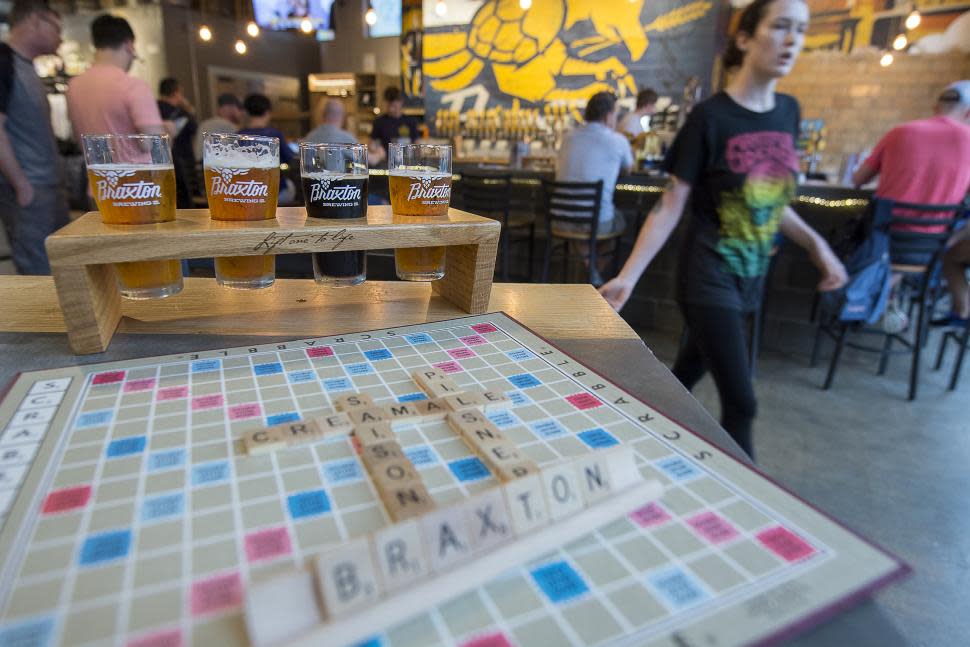 The Cincinnati region is home to numerous craft breweries and each one of them is unique. What they all have in common, in my opinion, is that they are all really fun hangouts. We love to check out breweries in the area and see what beers they have to offer. Some of our favorite hangouts are Braxton Brewing in Covington, MadTree Brewing Company in Oakley and Rhinegeist in Over-the-Rhine. If you and your friends love to play board games, a brewery is the perfect place to kick back and play while sipping from a flight of beers. Some breweries even have games available to borrow. A few of the breweries around town sell food and many of them allow you to bring food in or have it delivered.
Houdini's Room Escape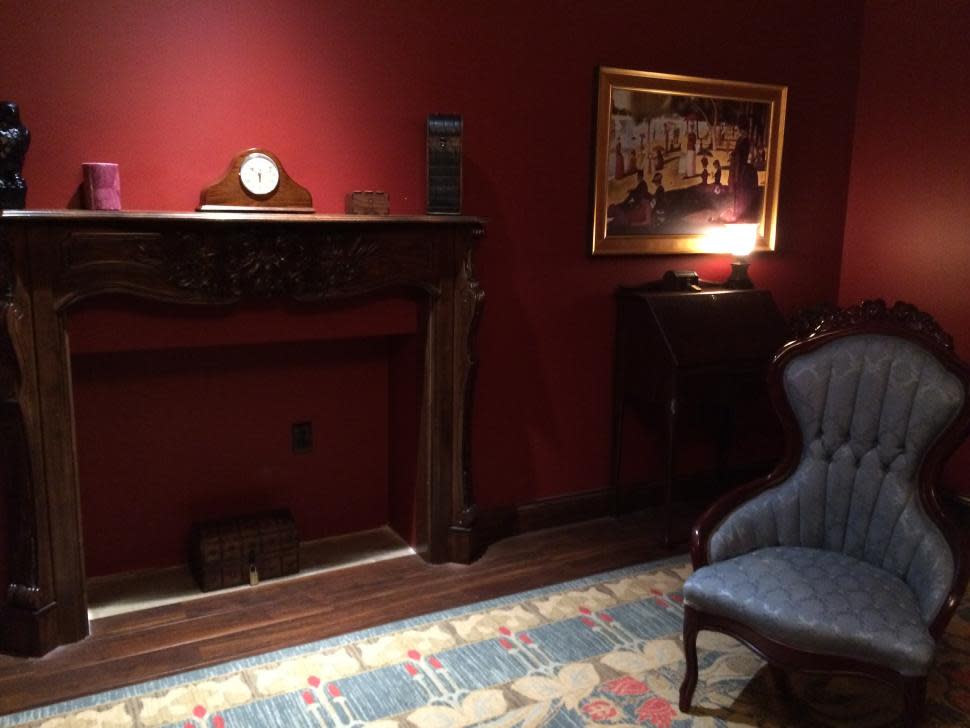 Throw yourself and a group of friends (or family) into a mystery/thriller experience at Houdini's Room Escape. You have one hour to solve the brain teaser problems given to you in order to escape the room in which you have been locked. It's an incredibly fun and exciting experience! There are multiple rooms and levels to choose from, so you can pick an experience that works for your group. Choose from The Tower, – which is a replica of the Observation Deck at Carew Tower – The Lab where you can save the world from zombies, Houdini's very own "Game Room, The Speakeasy or The Oval Office. You can work with up to 12 people, so it's great for large groups. I've heard this is also a great team-building exercise. You really get to know the strengths of your friends when you are locked in a room with them trying to save the world in under an hour!
Other local escape rooms include Escape the Room Challenge, Cincinnati Escape Room, OTR Escape, Breakout Games, Sherlock's Escape Rooms and The Escape Game.
Lazer Kraze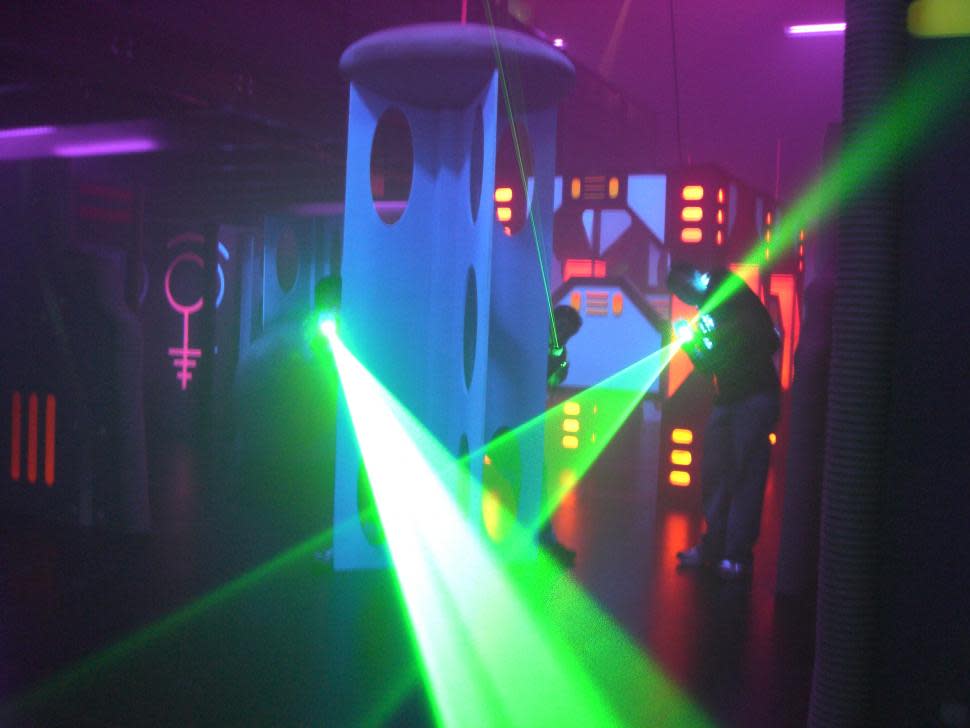 You don't have to be a child to play Lazer Tag! Every time we take our kids to Lazer Kraze, my husband has to get in on the action and play tag with them. Lazer Kraze would be a fun place to meet a bunch of friends and have a lazer tag battle, or even for a date night to shake things up a little bit with some competition. After a few rounds, you can play arcade games or skeeball to earn prize tickets. Don't even tell me you wouldn't love to get a fun eraser or a Chinese finger trap!
Full Throttle Indoor Karting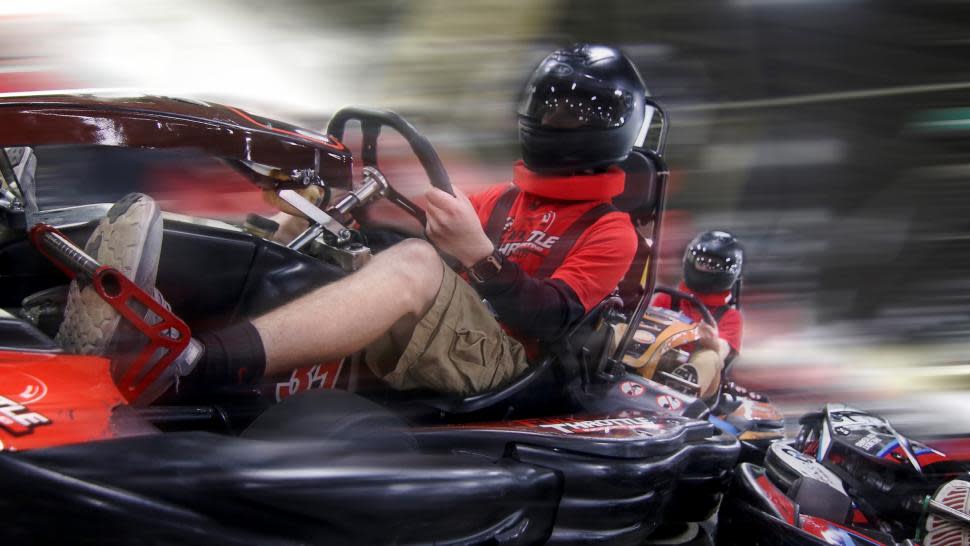 If you have a need for speed then you need to head to Full Throttle Indoor Karting for high-speed go-kart racing. Don't worry about smelling like fumes, the karts are designed to reduce gas output and keeps the air clean to breathe. Take your friends and see who wins the race! Afterward, grab a bite to eat at one of the many restaurants in Florence, Ky. Our favorite place is the nearby Chuy's Tex Mex on Houston Road. And if your crowd is into comics be sure to stop by Comic Book World on Turfway Road. It's a great place to find comics and games (you could pick up a game to take to a brewery!).
Pins Mechanical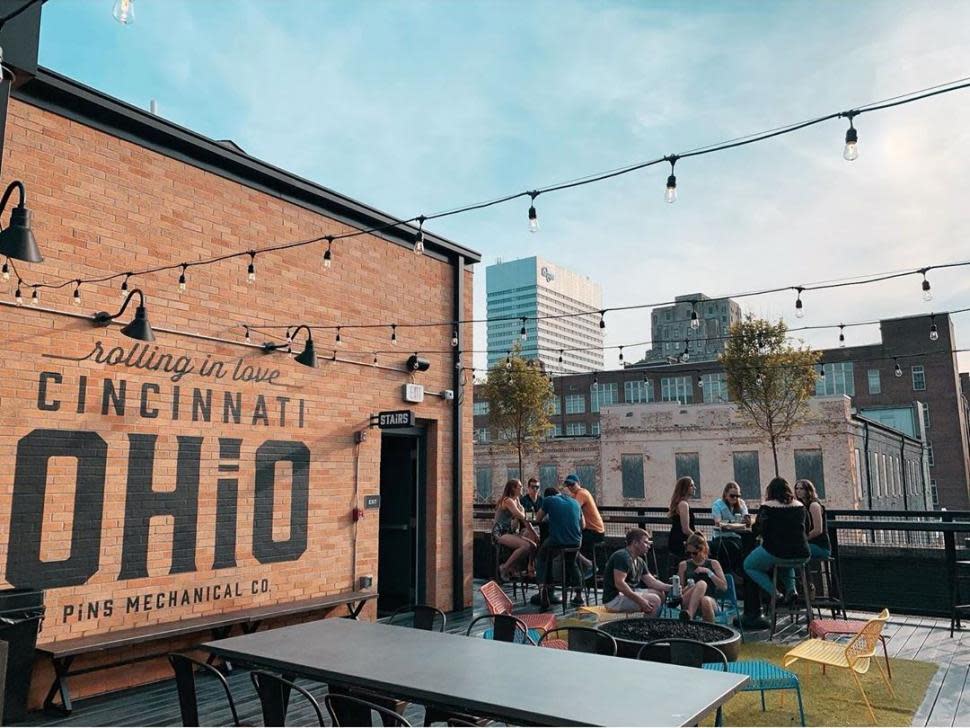 Take game night to a whole new level for the 21 and up crowd at Pins Mechanical in Over-the-Rhine. Choose from foosball, pinball, duckpin, ping pong and bocce ball while sipping on a beer or custom cocktail, like the Pinball Wizard made with blueberry vodka, elderflower, ginger ale and blueberries.
Additional edits by Emily Lloyd & Amber Potter.