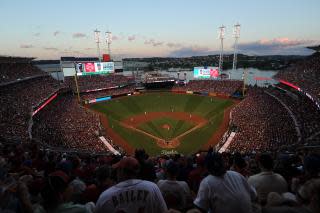 Cincinnati is famous for being pedestrian-friendly, but what about wheelchair friendly? Believe it or not, many of our most popular attractions and modes of transportation are easily accessible for visitors in a wheelchair. This handy guide will give you all the details.
Great American Ball Park, home of the
Cincinnati Reds
, makes it easy for visitors to enjoy a baseball game. With accessible parking, an accessible pickup and drop-off zone, elevators, and wheelchair accessible seats, watching the game is a breeze. The ballpark even provides personal escorts to and from seats for individuals in wheelchairs. Bonus - most accessible seats are equipped with electrical outlets for recharging purposes! Play ball! 
For more fun with the Reds, stop by the Cincinnati Reds Hall of Fame & Museum. The building is fully accessible and offers free wheelchair rental.
Thrills and fun await at
Kings Island
, and it's easy for visitors in wheelchairs to enjoy their time at this Cincinnati favorite. Be sure to make a stop Guest Services as you enter the park. They have many resources including wheelchair and electric convenience vehicle rentals plus a Rider Safety Guide so you'll know which rides are safe according to your health and specifications. Kings Island also offers a Boarding Pass Program, which allows guests to access rides at specified times via the exit ramp in order to avoid crowds and waiting in the regular line queues. 
Looking for wild animals during your visit? The
Cincinnati Zoo & Botanical Garden
and the
Newport Aquarium
are must-see stops! All of the main paths at the zoo are wheelchair accessible, though you may want to steer clear of the Jungle Trails as they have a bit of rough terrain. Wheelchairs can be rented for $10 the day of your visit or reserve an electric convenience vehicle for $30 the day prior to your visit. The aquarium also offers full accessibility and free wheelchair rental. Both the zoo and the aquarium allow service animals as well.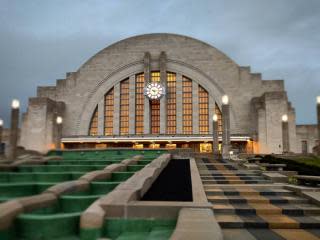 If you're looking to dig up some local history while you're in Cincinnati, head to Union Terminal and immerse yourself in the
Cincinnati Museum Center
. There are 20 parking spots designated just for individuals with officially registered disability decals, and the front entrance is fully accessible at the top of the sloped driveway. Once inside, there are elevators and ramps for easy access to the museums and the OMNIMAX theater. Wheelchairs can be rented for $10 and $5 will be refunded to you upon return.
Set sail with
BB Riverboats
and cruise along the Ohio River, taking in views of Cincinnati and Northern Kentucky. There are ramps that lead onto the first deck of both boats in the fleet. The larger of the two, the Belle of Cincinnati, even has an elevator to the second and third decks, ensuring everyone will find a great view. Both the Belle of Cincinnati and the River Queen are equipped with accessible restrooms.
The Cincinnati region is home to many unique parks, and a wheelchair will not hold you back from exploring most. Wind your way through the labyrinth at
Smale Riverfront Park
, it's wide enough for wheelchairs. While at Smale, e
veryone in your party can take a ride on
Carol Ann's Carousel
thanks to its two chariots that can accommodate wheelchairs. Next, enjoy the river views along the nearly two miles of paved pathway connecting Smale Riverfront Park,
Sawyer Point
and
Theodore M. Berry International Friendship Park
. Another must
-do is the city's largest park,
Mt. Airy Forest
. This urban forest is home to Everybody's Treehouse, Ohio's only wheelchair accessible treehouse. If relaxing entertainment in an outdoor setting is more your speed, take in a concert at
Fountain Square
or
Washington Park
. Both have easily accessible restrooms, underground parking, and host free events nearly every night of the week late spring through early fall.
All of the public transportation options in Cincinnati and Northern Kentucky are accessible to individuals with disabilities, so getting from place to place is a breeze for everyone in your party. The buses in Cincinnati's Metro fleet are low-floor models that provide easy wheelchair access via ramps or wheelchair lifts plus two securement areas for wheelchairs. The Cincinnati Bell Connector streetcar has areas designated for wheelchairs and each station has a ramp. While exploring Northern Kentucky, TANK buses are all wheelchair accessible, including the Southbank Shuttle buses that travel back and forth across the river connecting downtown Cincinnati with Newport and Covington in Kentucky.
Click here
for more about the region's public transportation.