Guest speakers for events
The Visit Cincy team is ready to present on a variety of subjects
Here are some of the topics, trends, and insights that our Visit Cincy (Convention & Visitors Bureau - CVB) leadership team can speak and present locally, regionally, and nationally.
The Visitor Economy: Driving growth through the power of attraction
Leisure visitors. Convention Attendees. Business travelers. Weekend warriors. Add up their collective spending power, and you get a game-changer for a regional economy. For Visit Cincy, the impact has been profound and last year reached record levels. The Visit Cincy CVB will explain why visitors are so critical to our regional economy, how our hospitality industry drives growth, and how the visitor economy affects everything from jobs to destination reputation.
Destination Diversity: A top-to-bottom approach to multicultural awareness & growth
Multicultural travel, tourism, and conventions are increasing at a record pace, including African-Americans, Latinos, and Asians in the LGBTQ+ community. Historically, success as a multicultural leisure destination almost always precedes success as a multicultural meeting and convention destination. For Cincinnati, it's been a strategic, holistic process spanning more than 10 years, incorporating diversity into every aspect of our business and collaborating with partners who do the same. The CVB will discuss that journey and how it's transformed the way Cincinnati tells its multifaceted story to the world.
All In – How a fully engaged community can create the best visitor experience
Great destin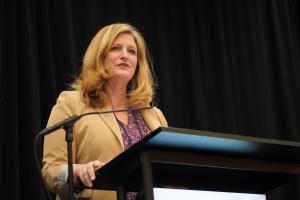 ations rarely sustain themselves on the strength of one or two signature attractions or one or two visionaries. It literally takes a village. In Cincinnati, the CVB has been creative and proactive in building a dynamic coalition of ambassadors, supporters, advocates, and stakeholders. From its Certified Tourism Ambassador program to its legion of 4,000 events and Visitors Center volunteers, the CVB has activated people from all across the region to positively impact the visitor experience and enhance Cincinnati's reputation around the world. Learn how the CVB rallies its residents and invites everyone – from realtors and Uber drivers to hospital staffers and CEOs – to represent Cincinnati to the thousands of visitors who travel through each day.
Playing to Your Strengths – Targeting conventions that connect to your market
Cincinnati is home to P&G, Kroger, and five other Fortune 500 companies. This gives the CVB strength to attract corporate meetings from around the world.  Similarly, the region's innovative and world-renowned medical community helps the CVB attract medical-related conventions. It's a pattern that repeats itself in everything from religious meetings to conventions focused on engineering and entrepreneurship. Hear from the CVB leadership team about its intentional approach to community-based selling and how organizations and individuals partner to bring large and small conventions to their hometowns.
When Collaboration is King: An innovative approach to regionalism powers a destination
Promoting the Cincinnati destination presents a unique geographical opportunity. The market spans 15 counties across three states (Ohio, Kentucky, and Indiana), encompassing a significant number of political, civic, and business concerns. Hear from the Visit Cincy CVB leadership team about this innovative approach and its strategies for effectively working across state and county lines to build a collaborative coalition and drive economic impact.
To request a speaker, contact Christy Canty at 513.632.5396
Speaker roster
The following members of the CVB leadership team are available for speaking events and panel discussions on topics affecting the meetings and convention, travel, tourism, and hospitality industries.​
Julie Calvert, President & CEO
TOPICS: Destination leadership, driving economic impact, coalition building, reputation management, destination financial stewardship
Andy Conklin, Executive Vice President, Sales & Marketing 
TOPICS: Convention sales, advanced metrics driving economic impact, community-based selling
Deana Taylor-Brewer, Vice President, HR & Employee Engagement
TOPICS: Community engagement, diversity and inclusion, advocacy building​, workforce issues
Randie Adam, Vice President, Marketing & Visitor Experience 
TOPICS: Community engagement, destination marketing, and leadership, reputation management, customer service