Toilynn O'Neal
Celebrating diversity, inclusion and activism through art
Guided by her father's example, Toilynn strives to promote artistry and advocacy.
Fifty years ago, amid a setting of riots, protests and civil unrest, a group of men – artists, poets and writers – came together in the name of art. Robert O'Neal's New American Art Gallery, located in Over-the-Rhine in the late 1960s, served as a hub for up-and-coming local artists, for cultural exchange and for community activism. As the Civil Rights Movement marched on, the New American Art Gallery used art as an opportunity to be unified.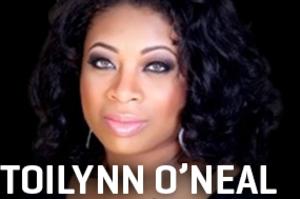 Today, Toilynn O'Neal, Robert's daughter, carries on her father's mission through the New American Art Gallery II. A product of both nature and nurture, Toilynn has taken her father's artistry and advocacy, along with the experiences of her upbringing and adulthood, to promote art and Cincinnati's civic and cultural communities.
 
"One of the things I grew up with was seeing the importance of art and how the arts made a significant impact, not just on our inner-city community, but on the city as a whole," Toilynn said. "I learned at a young age that the arts created a space where people of all races and socioeconomic backgrounds could come together and really celebrate the greatness of Cincinnati."
 
Toilynn wears several hats, each with the overarching mission of working to bring people together through new experiences and using art as a catalyst. As the Director of Diversity Recruitment and Retention at St. Ursula Academy, the founder and director of New American Art Gallery II and the executive director of the Queen City Foundation, Toilynn works tirelessly to promote diversity, inclusion and the arts throughout Cincinnati.
 
New American Art Gallery II serves as a way to revitalize the work that Robert O'Neal originally started by opening the doors for multicultural artists to have mainstream venues, make money and have a platform for their work to be seen. Through New American Art Gallery II, Toilynn curates themed art exhibitions at major corporations throughout Cincinnati, including Procter & Gamble, Duke Energy, Fifth Third Bank and the Westin. Showcasing local artists work in such exhibitions helps expose the work of some of Cincinnati's most talented artists on a large scale.
 
"My dad's vision was to create opportunities, and those opportunities expanded not just to people showing their work or talent, but opportunities for people to grow and appreciate and value the diversity of our city," Toilynn said. "I think his initial approach of creating opportunities and showcasing things that people wouldn't normally get to see based on the geography of our city or their socioeconomic environment kind of blossomed into us being able to be the product of that."
 
As part of Toilynn's mission, she joined with Vibe Cincinnati, the multicultural platform of Visit Cincy, to organize and participate in Vibe events through a series of free entertainment, local art and immersive multicultural experiences held on Fountain Square during the Cincinnati Music Festival.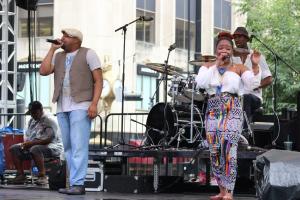 "I think being part of this initiative really grew out of my personal experience of growing up in an environment where we used the arts to promote diversity and to promote inclusion," Toilynn said. "It's all about creating that synergy on the Square, of supporting the tourism piece, but also about bringing local people downtown to be part of this experience of culture and diversity."

"We created a venue for artists to be seen and showcased in the heart of our city, and giving them an opportunity to build commerce for themselves. We are showcasing some of the hidden secrets in our community that most people wouldn't get to see without the Vibe initiative," Toilynn said.
 
For Toilynn, her passion for the work she's doing runs deep within her veins. Like her father, and the men who paved the way years ago, Toilynn continues to work tirelessly to promote cultural activism, an appreciation for the arts and a unified spirit between the two throughout Cincinnati.
 
Fifty years have passed. Many of the issues, conversations and happenings in the region have changed. Cincinnati, in many ways, has evolved. But for Toilynn, a celebration of the arts in Cincinnati has always been a constant. And if it's up to her, it always will be.