Soul Palette
Creating original artwork that comes from the soul
Step-by-step painting with Soul Palette shows value of differences in creating art.

Deep within each of us are dreams, goals, visions and souls that are rarely, if ever, made visible to the naked eye. Words are said, plans are made, hopes are expressed, but a truly visible representation of our innermost selves is uncommon.
 
For Ewaniki Moore-Hawkins and her husband Brandon Hawkins, all it takes is a blank canvas, a palette of paint and a little soul searching to turn the often intangible into art.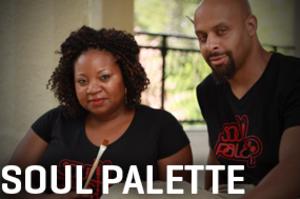 Soul Palette, the Hawkins' customizable paint party experience, takes on a unique approach to the trendy step-by-step painting sessions. More than simply offering a social experience, Soul Palette also uses art as an expression of education, leadership, culture, ministry and more. For Soul Palette, art is a way of celebrating the intricacies that make every group, person and moment diverse in their own way.
 
"Soul Palette isn't only about the painting experience. We ask a series of questions about what's being celebrated and what the focus is to find an image that targets that focus theme or topic. While some paint parties are mostly social, we take it a step further," Ewaniki said.
 
Born from Brandon's passion for painting and teaching, Ewaniki's experience in higher education and business, and the couple's entrepreneurial spirit, Soul Palette began in January of 2016. As a mobile company, without a bricks and mortar establishment, Soul Palette is able to offer lower prices and a more customizable experience. In the year and a half of the company's existence, Brandon and Ewaniki have hosted parties for anniversaries and birthdays, along with events held by Xavier, University of Cincinnati, Procter & Gamble and the National Underground Freedom Center, to name a few.
 
"It's utilizing both of our skills and talents, and I think that's why it's been so successful," said Ewaniki. "We've had other businesses that we've done separately, but Soul Palette was Brandon and I bringing our gifts and the best of us together, which is why it's been such an amazing opportunity."
 
Unique to Soul Palette is the concept of "Canvas and Conversation." Through these events, participants are encouraged to delve deeper than simple brushstrokes by allowing their souls to come through in their paintings. Guided by a theme, such as "diversity" or "leadership," Ewaniki and the party's host select an image that Brandon will teach step-by-step throughout the event. As he is teaching, a facilitator leads participants in a discussion around the theme, inviting them to reflect while painting.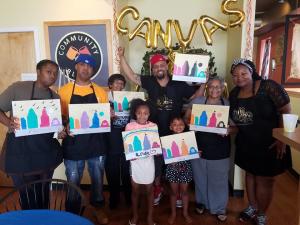 "Our first Canvas and Conversation had the theme of "Unity in the Community." As we were leading them through the painting we asked them to identify a word that comes to mind when they think about their community or their visions for the community. People painted "justice," "equity," "love," "unity." They were able to make their visions a reality through art," Ewaniki said.
 
Soul Palette offers a similar experience to children centered on the idea of following your dreams. While painting the image of a dreamcatcher with Brandon, the children talk with Ewaniki about their goals and dreams and what it will take to reach those dreams. The group discusses the importance of education, of leadership, of making a good impression, of being your best self. The children are then encouraged to paint a word that symbolizes what their dream is below the dreamcatcher.
 
"At Soul Palette, we feel like we are the vibe of the paint experience in the city, and that when we celebrate people's differences and their uniqueness, then we can appreciate everybody a lot more," Ewaniki said. "If we can take time to learn about who we are as individuals in our culture, our ethnic backgrounds, our race, religion, sexuality, I think we can better understand each other and understand how beautiful it is to be different."