Kristen Bailey
"It's not four years, it's for life."

This common phrase among sorority sisters is one that is recited time and time again, but for Kristen Bailey, an active member of Delta Sigma Theta sorority, it could not be truer.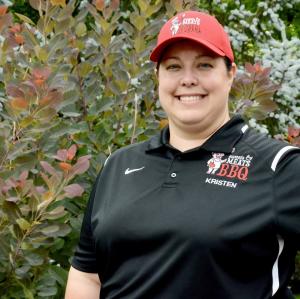 Kristen Bailey, a Caucasian woman from Cincinnati, is an 18-year member of Delta Sigma Theta, the country's largest African-American women's organization. As a white woman in a predominantly black sorority, Kristen is an anomaly, but her commitment, passion and character prove that membership in this prestigious sorority goes far beyond skin color.

Mount Washington is where Kristen's story begins, and where it continues even today. As a student at Cincinnati Bilingual Academy, Kristen's view of Cincinnati and her life experiences involved people of various backgrounds. "Mount Washington was always very diverse, and I had students in my class from all over Cincinnati. It was really a nice melting pot and I was exposed to so many different people, which was more realistic as a child growing up in the city," she said.

As she grew up, Kristen became involved in a variety of sports, extracurricular activities and part-time jobs throughout high school, with a particular interest in community service. After earning a scholarship to Wittenburg University for her community involvement, Kristen knew that continuing her call to service would be a priority. That's where Delta Sigma Theta came in.

"My best friend in high school was African American and her sister was a Delta, so I heard a lot about it and wanted to learn more," she said. "Delta Sigma Theta is a public service sorority and I wanted to be part of something that would be lifelong, not just during college, and where I could continue to give back. That's ultimately what led me to pledge at Wittenburg, and I've been an active member since."

True to her desire for something lifelong, Kristen's involvement with Delta Sigma Theta has helped her pursue her passions and create opportunities. In 2014, Kristen and her partner Anton took the bold leap to start their own business, Sweets & Meats BBQ. What started as a backyard cookout with friends and family began to grow into a potentially profitable endeavor as a food provider. According to Kristen, it was one of her Delta sorority sisters who encouraged her to take the risk and start a business saying, "Start with what you have."

"We were having cookouts and people would come and invite friends and next thing you know we had 50 to 60 people in our backyard. People loved our food and kept telling us we should start a business," Kristen said. "Anton and I have always had an entrepreneurial spirit and we knew we wanted to start something together to create a legacy for our family, so we decided to really do it."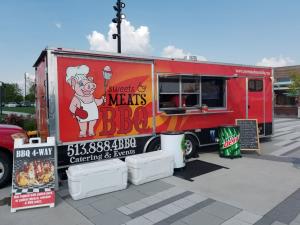 Sweets & Meats BBQ, which features a variety of smoked meats and homemade comfort foods, started small and has taken time to grow. In 2014, Kristen and Anton began their business and were able to move from a tent to a food truck by 2016 with support from local businesses, events and organizations like MORTAR. In 2017, Sweets & Meats opened as a brick and mortar restaurant in Mount Washington, a pivotal and celebratory moment for Kristen.

"We've built a family with the people that come in here," Kristen said. "Our customer base is so diverse – white, black, young, old – but when they're in our restaurant waiting for food, they're talking, having a good time, enjoying food and the service we provide. If you like homemade, homecooked food like what your grandma would make, you're going to like it here."

As Sweets & Meats has continued to grow, it's easy to see where the qualities and experiences from Delta Sigma Theta have carried over into Kristen's success. In 2018, more than 2,200 members of Delta Sigma Theta convened in Cincinnati for the Midwest Regional Conference. "My Delta sisters have supported me with Sweets & Meats, and we were excited to be part of the conference," Kristen said. 

To learn more about Sweets & Meats BBQ, click here.