DJ Vader Mixx
Following passions to serve the community
Kenyatta Smith uses his diverse skills and interests to provide customer service.
 Award-winning firefighter. Community leader. Published chef. Accomplished DJ.
 
This is Kenyatta Smith.
 
This is DJ Vader Mixx.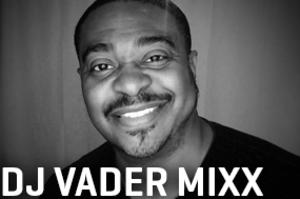 From saving lives to starting parties, and cooking up a mean dish in between, Kenyatta has mastered the balancing act of living a diversified, meaningful life.
 
"It's all about diversity. I'm very diversified, just as Cincinnati is, and I'm able to follow my passions and make them all part of who I am day to day," Kenyatta said.
 
Kenyatta's passions were ignited at a young age, guided in large part by the influence of his parents. His father, a Lieutenant in the Cincinnati Fire Department, would regularly sit Kenyatta on his lap as a child to listen to music of all genres. According to Kenyatta, music became his first love. His mother inspired him to cook.
 
Beginning in 1999 and into the early 2000s, Kenyatta's interests became more than simply hobbies, and intertwined to become an integral part of his life. On his first day on the job as a firefighter and paramedic for the Cincinnati Fire Department, Kenyatta's cooking career took off as well.
 
"That first day at the firehouse they said, 'Hey kid, it's your turn to cook, and if it's not good, we'll let you have it for the next 25 years.' So I thought, it better be good," Kenyatta said. "They ended up liking what I put together, and I thought it was pretty cool, so I kind of just stuck with it."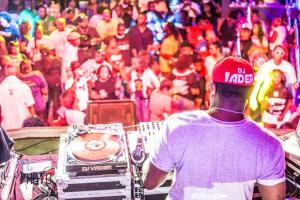 Outside of the firehouse, Kenyatta took on a different persona, assuming the role of DJ Vader Mixx. What started as a side-gig of spinning at house parties and producing mixtapes for friends turned into a career as a DJ for nightclubs, parties, local radio stations and more. DJ Vader Mixx, named after his avid Star Wars fandom and a childhood nickname, quickly became one of Cincinnati's best DJs, and has had opportunities to work with world-renowned entertainers like Doug E. Fresh, Naughty by Nature and Cedric the Entertainer, among others.
 
"One of the good things about being a firefighter is that it leaves you room for other opportunities. We work 24-hour shifts once every three days, so that opens up the opportunity to have other experiences and hobbies," Kenyatta said.
 
Kenyatta attacked each opportunity that arose in his professional life, and in time began to make a name for himself, both locally and nationally.
 
In 2012, Kenyatta was elected as the Executive Vice President of the International Association of Black Professional Firefighters (IABPFF). In this role, Kenyatta represented more than 125,000 minority firefighters throughout the U.S., the United Kingdom and the Caribbean. Previously, Kenyatta served as the North Central Regional Director of the IABPFF for two terms as the youngest to be elected to the position.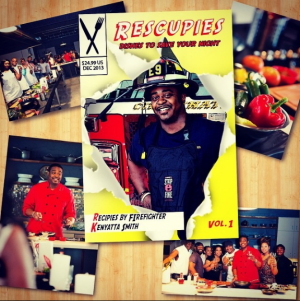 The following year, Kenyatta continued in his pursuit to follow his passions with the release of his first cookbook, "Rescupies: Dishes to Save Your Night." Themed after the idea of "rescue recipes," the cookbook featured flavor-packed recipes for every meal, desserts and even cocktails, all inspired by his Midwestern and southern culture and his mother's encouragement to create his own twist on recipes. As a result of the success of his cookbook, Kenyatta is currently working on a follow-up book, in addition to teaching cooking classes and events.
 
In recognition of his accomplishments, Kenyatta was named to the Cincinnati Business Courier's 2013 Forty Under 40 list, which honors young professionals throughout Cincinnati who make great strides to shape the community's future. In a quote shared at the time of the award, Kenyatta said, "All that I am, I owe."