You survived the holiday gift-giving and the blizzard of a generation, now you deserve some fun. Spring break is around the corner but you don't have to travel far for the kids to have a good time. Home to world-class museums, professional sports, amusement parks, excellent restaurants, and more–the Cincy Region has family-friendly spring break fun in spades! Planning spring break on a budget has never been easier. This guide will help you find fun things to do in Cincinnati on spring break with your family. With many free and affordable attractions, you and your wallet will be happy too.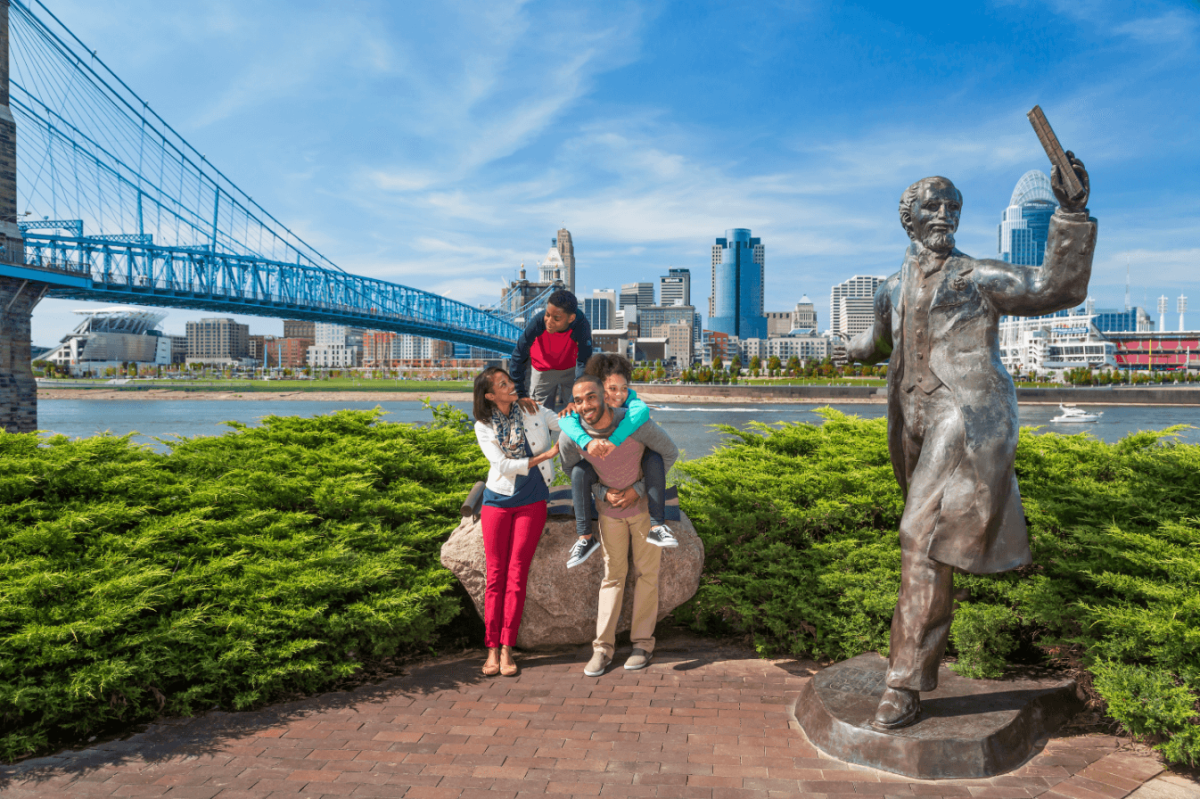 Spark imagination with these family-friendly arts and cultural attractions in Cincy
Contemporary Arts Center
No matter your age, the Contemporary Arts Center in Cincinnati is a feast for the eyes and mind. With free admission every day, and Creative Center, an educational and hands-on creative center, the CAC is a great place to visit for the whole family. Enjoy unique views of Zaha Hadid's design, create in the zero-waste art lab, and enjoy interactive exhibits. The CAC also offers family programming every Thursday with Art Play, a hands-on art-meets-yoga activity for kids, and Art Play Hike, an outdoor educational series. 
DIY mural tour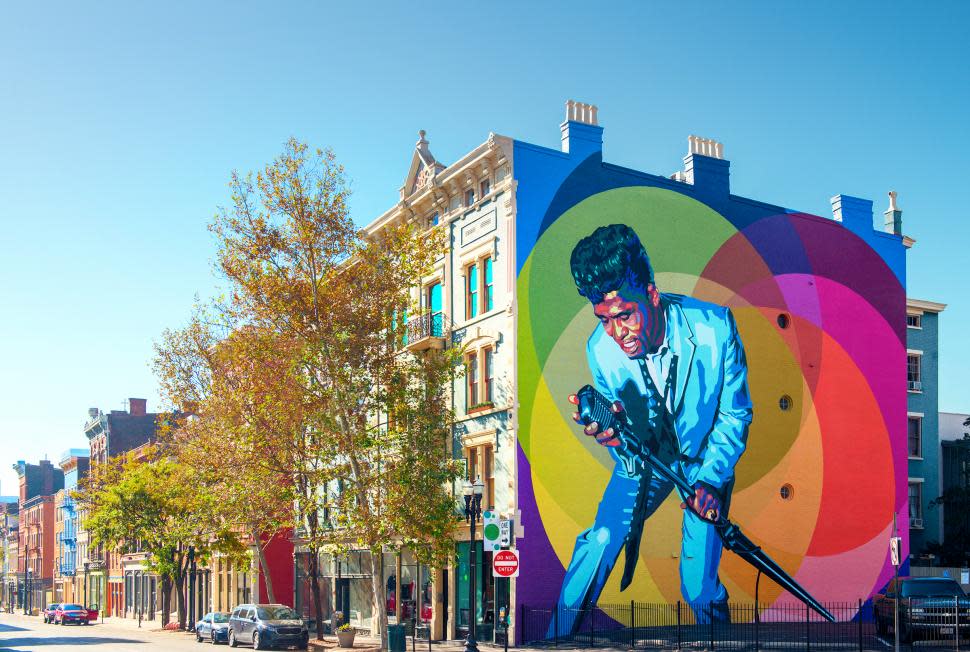 Cincy is bursting with creativity. Local, regional, and national artists have brought their talent to the streets and created hundreds of vibrant murals around Cincinnati and Northern Kentucky. Create your own mural scavenger hunt for a fun and free activity that the whole family can enjoy. Here's a list of 10 must-see murals to get you started. If you're looking for a guided experience, check out ArtWorks Cincinnati, a local non-profit offering mural tours around the Cincy Region. 
Free museums and museum days in Cincinnati: 
Unique family-friendly attractions and affordable things to do in Cincinnati
Cincinnati Museum Center
Bouncing around from place to place with kids in tow can be challenging. The Cincinnati Museum Center is an excellent place for families to explore because it has three museums, The Children's Museum, Cincinnati History Museum, and Museum of Natural History & Science in one location, plus an OmniMax theater. Tickets are required but there is always a package option that typically includes the current special exhibit plus entry to other museums. For art and architecture lovers, explore the incredible Art Deco union terminal building that houses the museum center free of charge.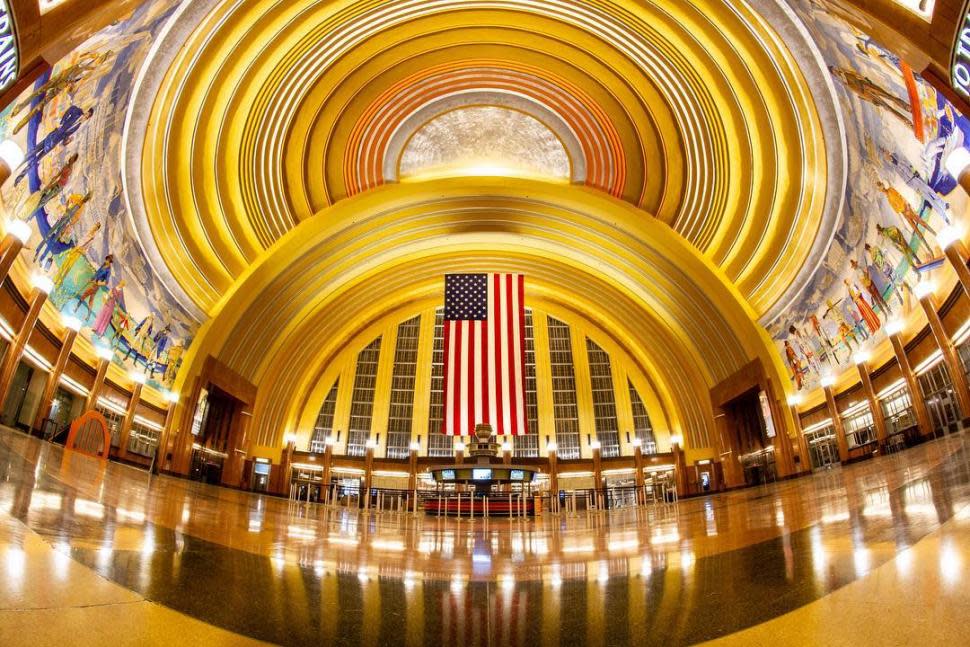 National Underground Railroad Freedom Center
Learn about courageous freedom fighters of the past and contemporary civil rights activists at the National Underground Railroad Freedom Center. The center is both challenging and inspiring for visitors of all ages. In addition to learning about the heroes of the Underground Railroad, the Freedom Center offers a unique opportunity to learn about modern abolition through interpretive exhibits. Enjoy free admission on the fifth and third Sunday of each month, plus MLK Day and Juneteenth.
Cincinnati Zoo and Botanical Gardens
Animal lovers will have a blast at the Cincinnati Zoo and Botanical Gardens. Meet the famous Fiona and her brother Fritz, test your agility at the Kanga Klimb high ropes course, ride the Zoo train, and more. The key to saving big bucks on your zoo ticket is planning and buying them early online. Ticket prices can increase closer to the day you may want to visit. For more tips, check out our Insider's guide to the Cincinnati Zoo.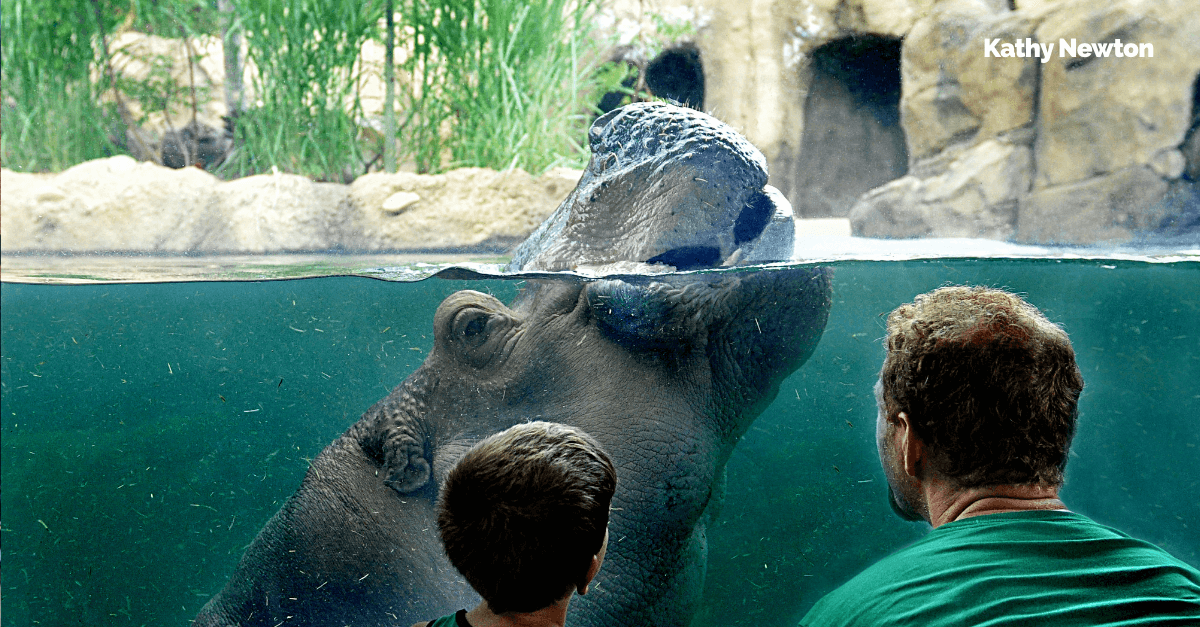 Riverboat Cruise
One of the best ways to see Cincinnati and Northern Kentucky is by cruising down the Ohio River. BB Riverboats has been around since the late 1970s offering unique sightseeing and dining cruises. Break up your day with the High Noon Cruise. Enjoy some sunshine and river lore about the Cincy Region. This tour is available starting March 2 at $23 for kids. Or enjoy Sunday dinner with the whole family on BB Riverboats Sunday family dinner cruise starting April 2nd. The tour includes a stacked buffet, a two-hour river cruise, and a DJ! Thanks to an earlier cruise time, have some fun and still get the kids to bed on time. Kids' tickets start at $42. Check out all of the cruises available with BB Riverboats.
 More free, outdoor things to do in Cincinnati city center:
Smale Waterfront Park - giant swings on the riverfront and a splash pad
Washington Park - playground and splash pad
Mt. Airy Forest - hiking trails, disc golf, Ohio's only wheelchair-accessible public treehouse, mountain biking, playground, and picnic areas
Historic Licking Riverside river walk in Covington, Kentucky
Idlewild Park in Burlington, Kentucky - one of the top-rated disc golf courses in the country 
Glenwood Gardens - playful discovery gardens and hiking trails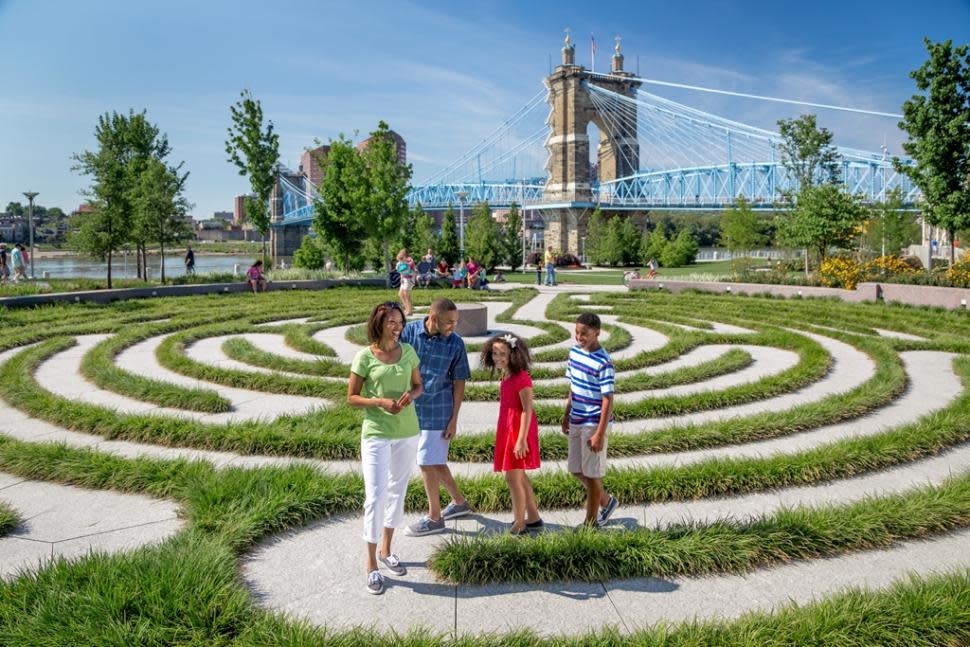 Best kid-friendly restaurants to visit in Cincinnati
Maplewood kitchen and bar  
Head to Maplewood Kitchen and Bar for delicious west coast style eats in the heart of Cincinnati. They've got breakfast all day with trendy and classic dishes, a beautiful juice bar, and brunch cocktails for the grownups–this is an awesome family-friendly spot for brunch or lunch.
Eli's BBQ
With mac n cheese a plenty, barbecue restaurants are usually a great choice for families. Eli's BBQ is one of the best, thanks to tasty smoked meats and lots of sides for every taste. For more family-friendly BBQ spots, check out this list.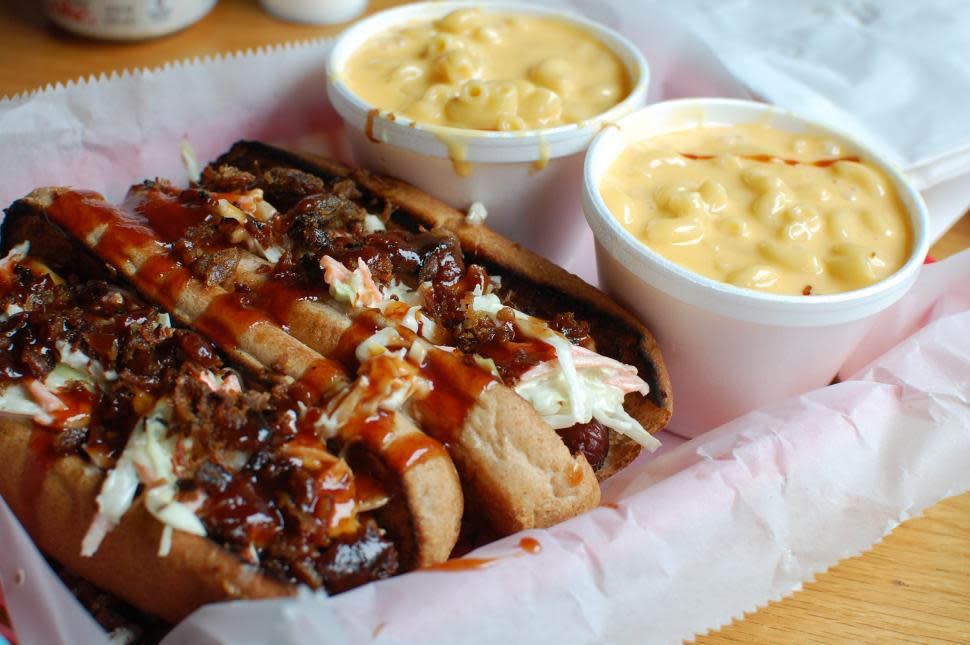 Cincinnati Chili
It's hard to name names when it comes to Cincinnati Chili. Whether you prefer 2-way or Coneys, you've got to check out one of Cincinnati's Chili parlors for a taste of Cincinnati's heritage.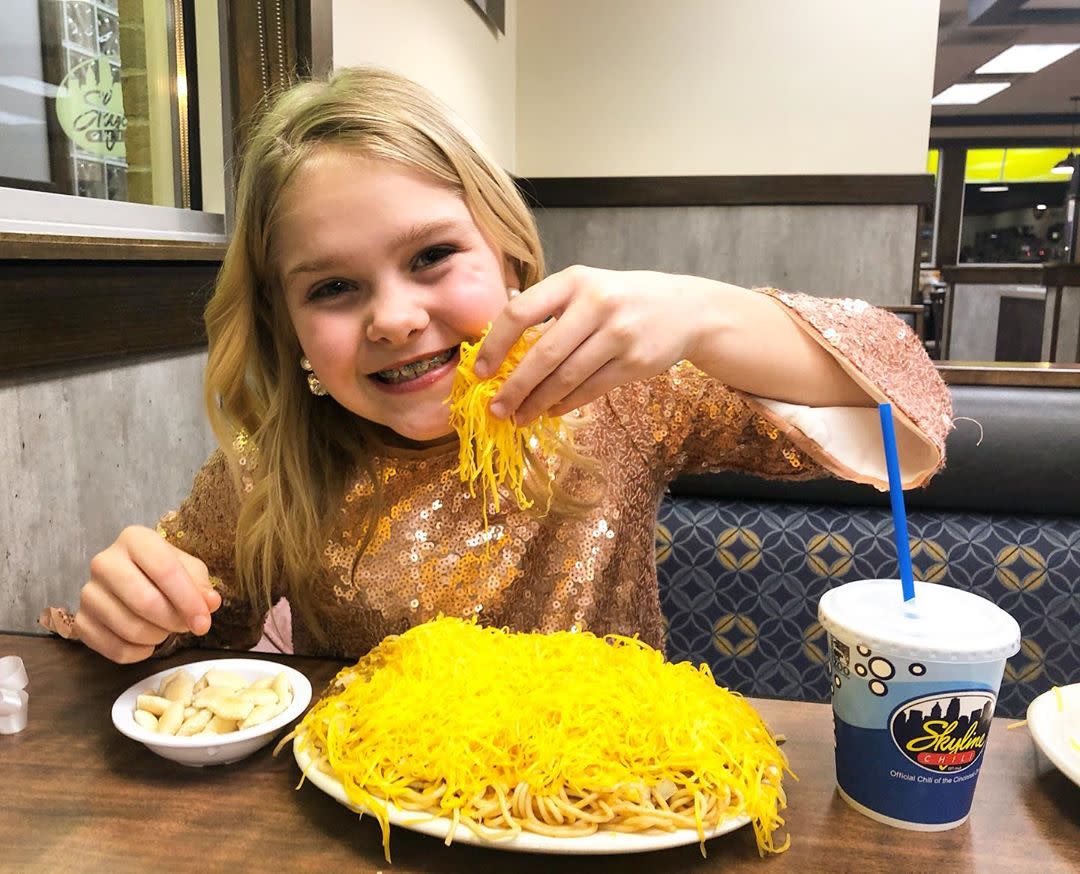 Bridgeview Box Park
With outdoor games, restaurants, shops, and a view of the river, this open-air container park has it all! Bridgeview Box Park is a great place to grab a bite before or after a visit to the aquarium!  
The Gruff 
A bonafide sandwich emporium, The Gruff is a casual spot for yummy sandwiches, pizza, salads, a full bar, and more. Their kid's menu has the traditional grilled cheese but they also offer a kiddo charcuterie plate, veggie spread, and grass-fed cheeseburger. Don't forget a round of milkshakes for everyone before you explore Northern Kentucky.  
Cheer on the home team 
Home to the first professional baseball team in the United States, you've got to experience a Cincinnati Reds game when you're in Cincy. The excitement starts with the Reds opening day on March 30 with the Opening Day Parade. This unofficial holiday has been around for over a century. There are parties throughout the Cincy Region but don't miss the one at Washington Park. This is a great spot to watch the parade and they have live music, family-friendly games, and activities.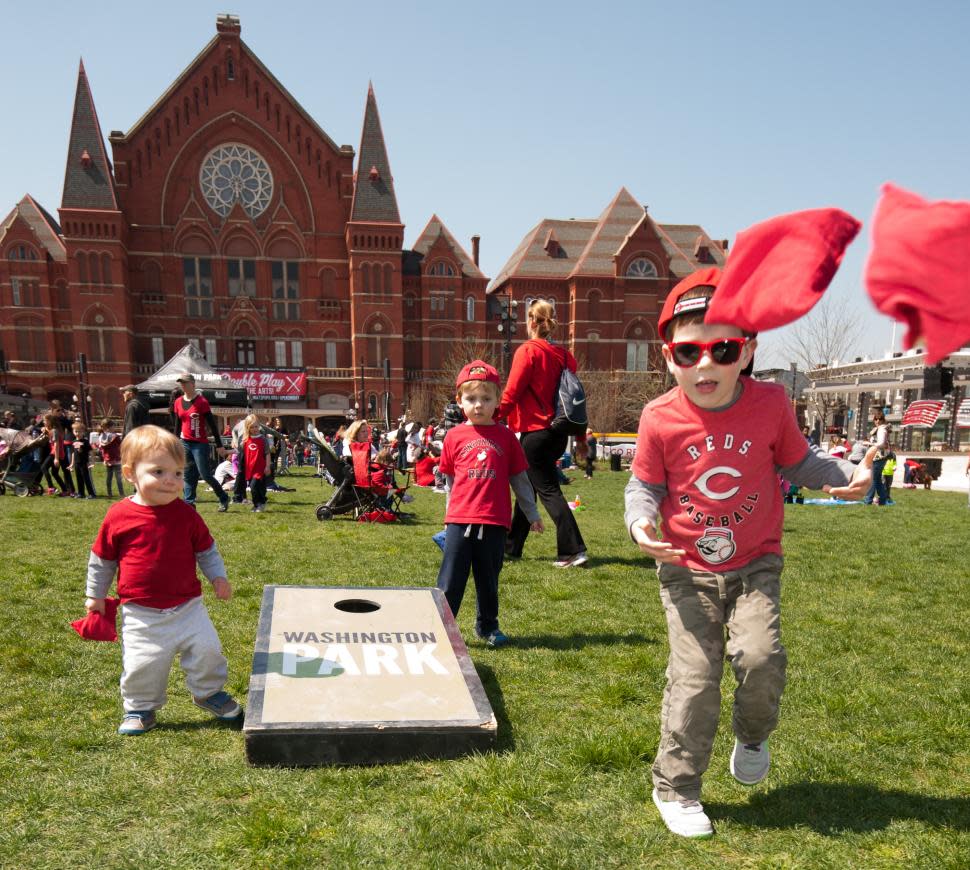 For more Reds fun, check out Kids Opening Day at the ballpark on April 1. There will be a pregame red carpet parade with Reds players and mascots, plus many more fun activities for young fans. Kids 14 and younger at the game will also receive a kid's Reds Cap (while supplies last).
You don't have to be a big soccer fan to have a blast at an FC Cincinnati match at TQL Stadium. The energy is absolutely electric. Pro tip: Join the pre-match party and parade that begins at Washington Park. Enjoy live music, food trucks, and craft beer, before marching to the stadium amidst a sea of blue and orange. 
For even more action and fanfare, check out the Cincinnati Cyclones on the ice through April 2023. With every slap of the puck, the crowd cheers louder. These family-friendly games are full of excitement and budget-friendly promotions–think $1 beer and hotdogs–can't beat that!   
Check out the full Visit Cincy events calendar to find out everything happening during your spring break in Cincinnati and Northern Kentucky. 
Family-friendly breweries in Cincinnati
After the game, grab a beer at one of these kid-friendly breweries to cap off your spring break in Cincinnati.
Here's to a fun-filled and affordable spring break for the whole family! 
From family-fun hotel packages to discounted offers to use during your visit, here are a variety of options to help you book, save and enjoy your visit to the Cincy Region.