It's no secret that Cincy is a sports town. Soccer is the new hotness in Cincinnati, as evidenced by FC Cincinnati's rapid rise to the Major Leagues. Not only that, but FC Cincinnati broke several attendance records for the whole United Soccer League between 2016-2018. The team also holds the record for highest attendance at any Ohio soccer match. 
This year is particularly exciting for fans and the team–FC Cincinnati has a real chance to make it to the MLS Cup.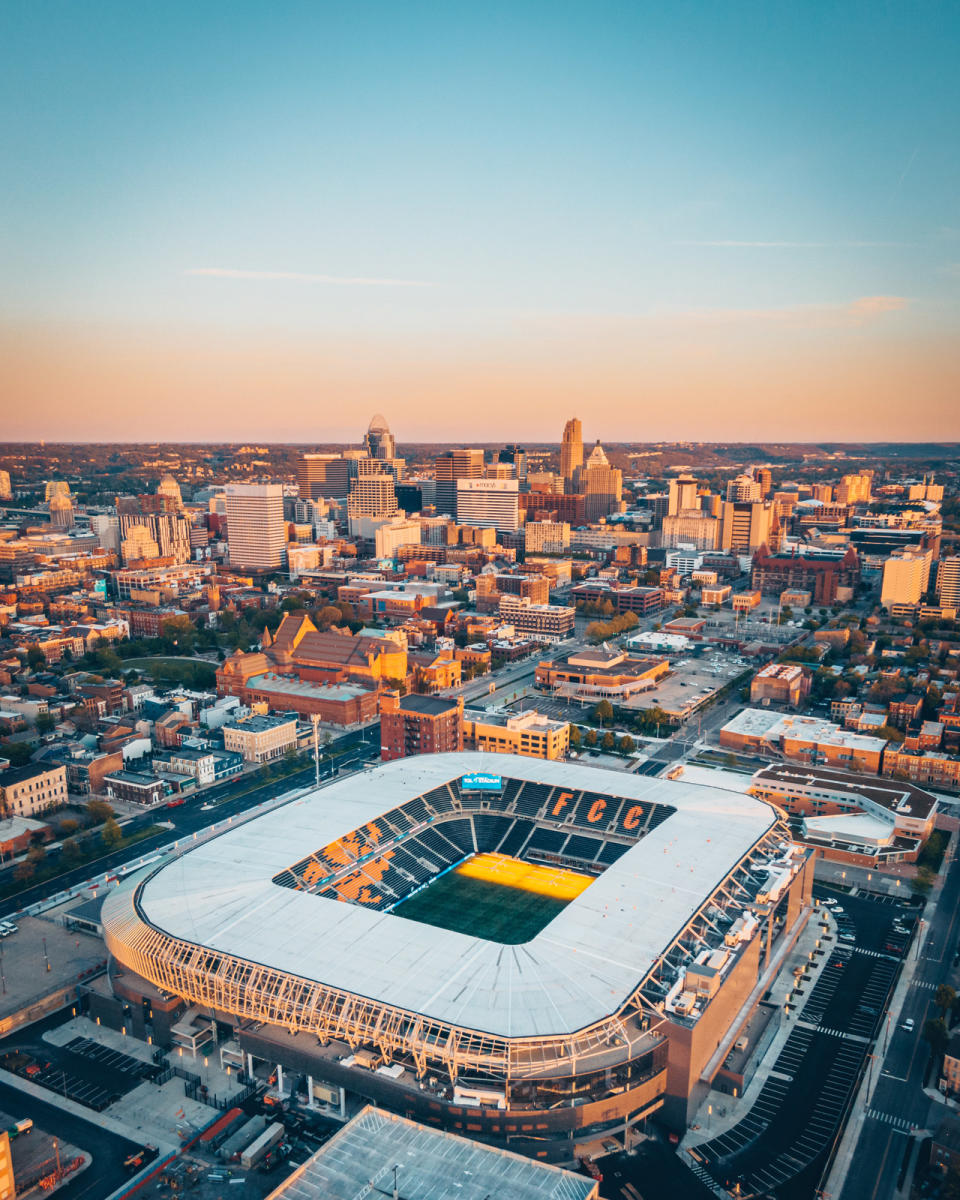 It's not too late to experience the excitement of cheering on Cincy's newest Major League team this season. If you're itching to watch FC Cincinnati, The MLS regular season continues through October 21, when FCC hosts Atlanta United at TQL Stadium.
Visiting and parking at TQL Stadium
So far in the 2023 season, most FC Cincinnati games have sold out by game time. But don't worry– you won't find yourself in the nosebleeds if you buy your tickets last minute. TQL Stadium seats about 25,500 fans, and there's not a bad seat in the house. First-attendees can look forward to a stadium that is easy to navigate and accessible.
Parking is a breeze as well. For parking at the stadium, FC Cincinnati sells passes along with game tickets. Note: you won't be able to park at FC's official parking areas without one of these pre-purchased passes. 
However, with many bars and other pre-game gathering spots within walking distance of the stadium, many fans choose to park in surface lots or garages in the surrounding area. 
The closest lot available without a parking pass is the Temporary North Parking Lot, at the corner of W. Liberty St. and Central Ave. in the West End. 
If you purchase a parking pass along with your tickets from SeatGeek, your closest FC Cincinnati parking options are:
West End Garage: 1530 John St., 45214
Town Center Garage: 1223 Central Parkway, 45214
East Garage: On Central Parkway, east of TQL Stadium
West Surface Lot: On John Street, southwest of TQL Stadium
FC Cincinnati games are family-friendly
Going to an FC Cincinnati game is a family-friendly outing, and that includes the FC Cincinnati Pre-Match at the Park which takes place at Washington Park in Over-the-Rhine before every home game.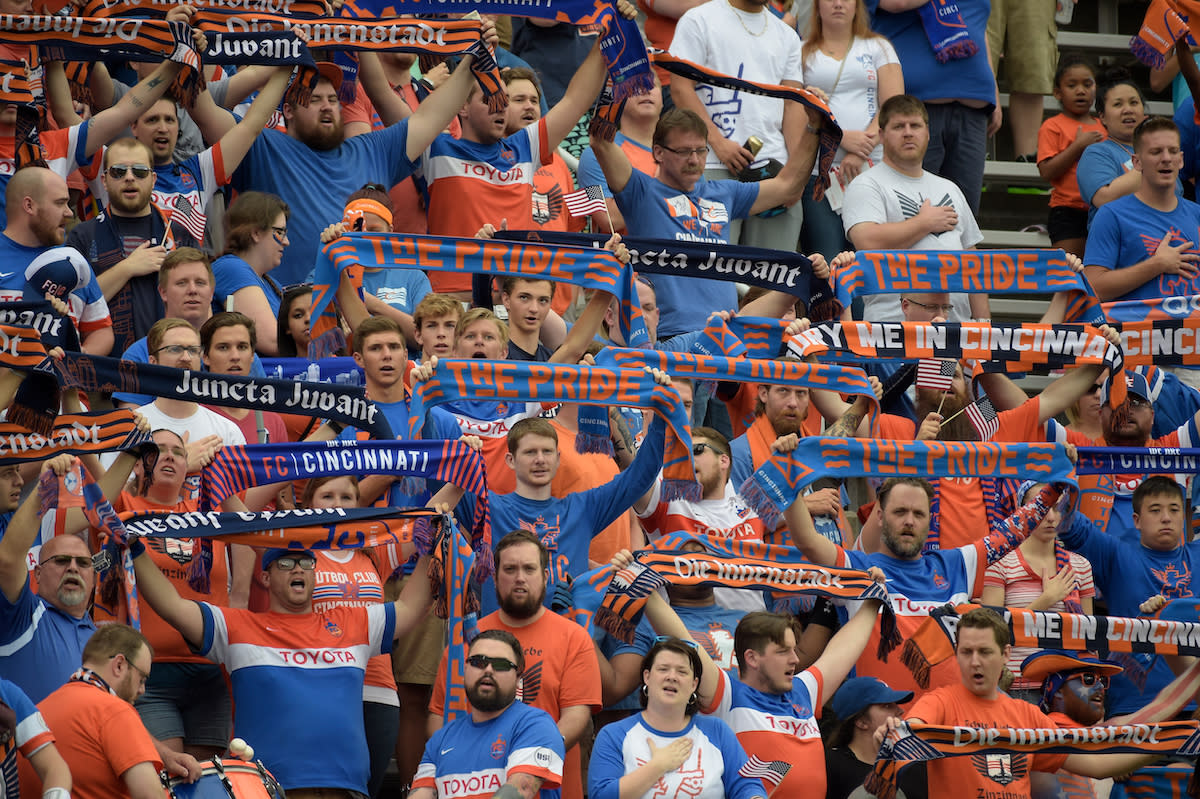 For the true fans, FC Cincinnati offers a Kids Club for those 12 years and under. The Blue Membership is sold out, but the Orange Membership costs $20 for the season. The Kids Club membership offers discounts on tickets and merchandise, along with some free FC Cincinnati swag.
The 2023 Orange membership includes:
Kids Club Pack:
FCC Clear Drawstring Bag
Kids Club Lanyard
Kids Club Membership Card
Special Giveaways:
Card During Your Birthday Month
10% In-Store Merchandise Discount
Ticket Discounts for Select Games in Select Sections
Quarterly Newsletter
When bringing children to the stadium, check in at the Guest Experience Center for Child ID wristbands, which will help stadium staff locate their seats if they become separated. The Guest Experience Center is located on the Concourse Level behind Section E6.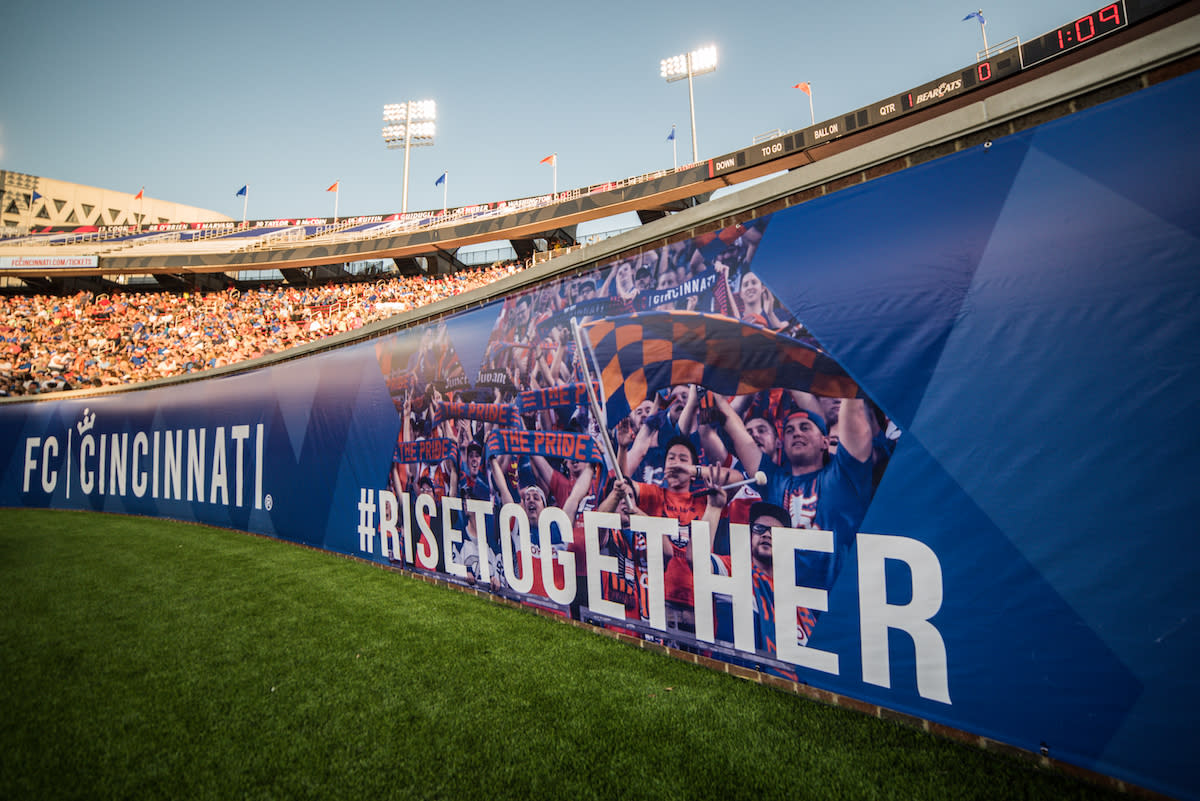 FC Cincinnati's official pre-game rally
If you've seen photos or promotional videos, you know the pre-game festivities are a bit of a production. From the mini-parade through Over-the-Rhine, loud with drumming and chanting, to the pep rally-style pre-game celebration at Washington Park, fans create a lively environment of team spirit. 
FC Cincinnati Supporter Groups, made up of die-hard fans, lead the March to the Match from northern OTR, down Elm St. and Pleasant St. Anyone is welcome to join in the march, but there are some rules to follow. The march culminates at the park, where there are food trucks, activities for kids, and adult beverages available at The Porch. Washington Park is a short walk to TQL Stadium.
For a less rowdy pre-game experience, the pre-match Happy Hour inside the stadium is held behind sections 111 and 112. The Heineken Bar and the Coors Light Bar offer $2 off beers, seltzers, and wine up until kickoff.
Game time and the Bailey
Inside the stadium, you have numerous concession options, including Cincinnati favorites like LaRosa's Pizza, Gomez Tacos, Luscious Q, and Skyline Chili, among others. Adult beverage options include Fretboard and Rhinegeist brews, Cutwater Canned Cocktails, wine, and other canned and draft beers.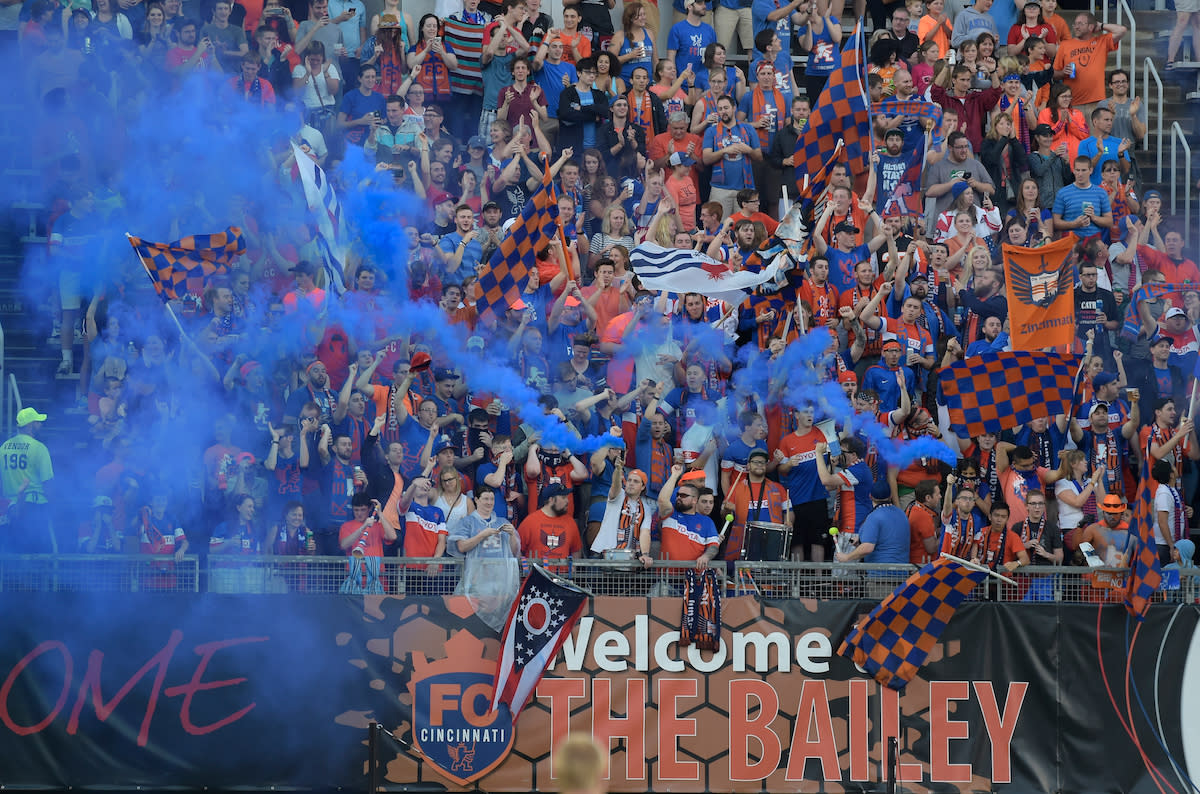 TQL Stadium concessions are cash-free and accept payments via any major credit card, Apple Pay or Google Pay, or FCC gift cards. The stadium also features cash-to-card reverse ATMs, where you can insert cash and receive a payment card to use for food and drink.
Once the game starts, the Bailey brings the energy. The Bailey is a general-admission standing area where designated Supporters Group members use megaphones to lead chants, wave huge flags, and deploy blue and orange smoke devices whenever FC Cincinnati scores a goal. 
Fans can get a spot in the Bailey on a first come first serve basis. The bottom section of the Bailey is temporarily reserved before the game for certain SG members to get in position.
Cincinnati's most popular soccer bars
FC Cincinnati draws a lot of soccer fans to Over-the-Rhine, where there is no shortage of great bars that cater to them. Two of the best bars, which offer food and patio seating, are also the closest bars to the stadium. 
The Pitch bills itself as a soccer bar, and even has a mini soccer field where patrons can kick a ball around. Rotating food trucks bring the grub, which patrons can enjoy inside or on the rooftop or ground-level patios. The Pitch opens early on Saturdays and Sundays to air certain English Premier League matches as well. 
Queen City Radio isn't strictly a soccer bar, but its large beer garden and proximity to the stadium make it an ideal spot for a pre-match drink. The Lübecker serves authentic German street food from their walk-up window. 
Rhinehaus OTR is another sports bar known for opening early to air EPL matches. Just a few blocks further than Queen City Radio, it's an easy walk to the stadium, but it's also a fine spot to watch any game. Rhinehaus has been OTR's local sports bar since 2013.
To get your tickets to Cincy's new favorite pastime, just search FC Cincinnati at SeatGeek.com. Current ticket prices range from $16 to $45. For tickets to multiple games, check out the ticket packages, starting at $88. Suites that include limited food and beverage are also available, starting at $400.