Football fans will be in for a treat this year when attending a Cincinnati Bengals game at Paycor Stadium. A newly renovated stadium debuts this season with new food and drink options, new bars and jungle-themed flair, and other visuals throughout. 
With the team once again poised for a playoff appearance and Super Bowl run, every game at Paycor this season will be an exciting one. From pre-game tailgating to game-time action and camaraderie with fellow fans, the entire experience is set to be a memorable one for all who enter the Jungle.
Attending a Bengals game should be on every football fan's to-do list this fall or winter.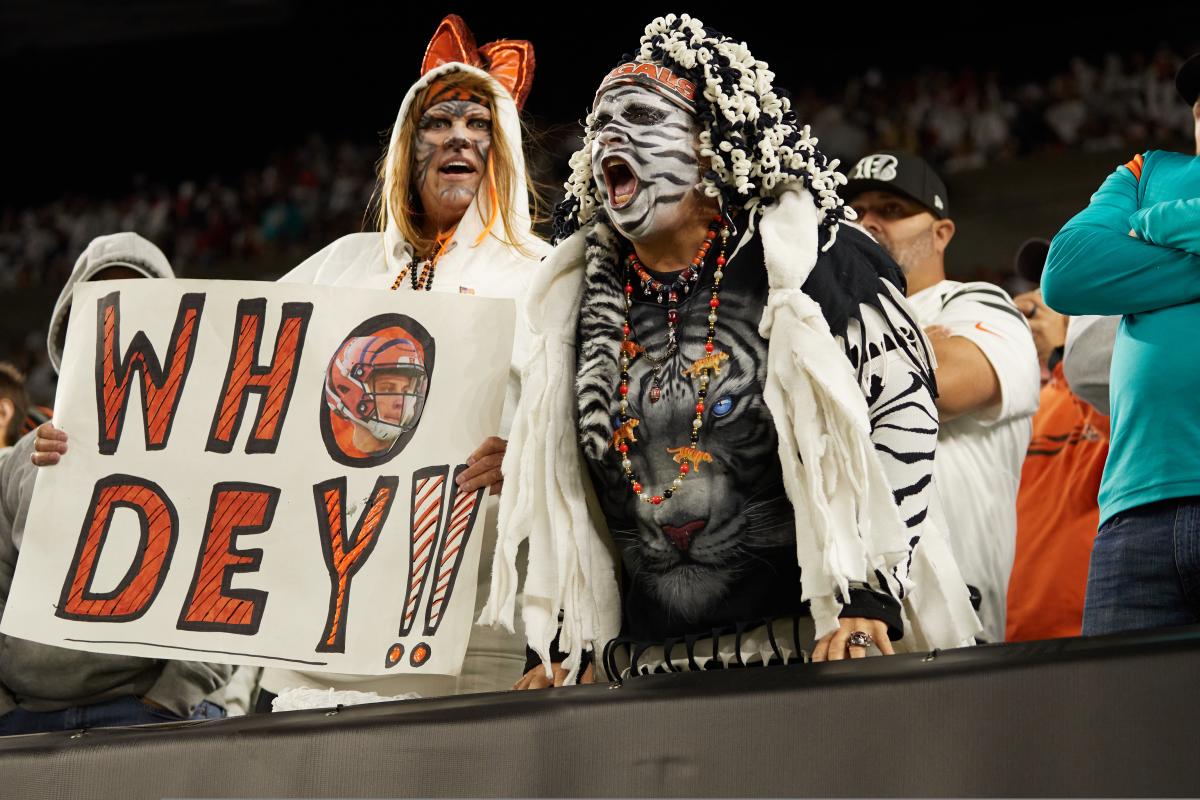 Source: Cincinnati Bengals
What's new at Paycor Stadium
The Bengals already rank in the top five for Season Ticket Member satisfaction and game entertainment, according to an NFL-wide fan survey. And the experience got even better for this year. 
A fun new feature this year is the jungle-themed media day set, where Bengals players had promotional photos taken in the offseason. Fans will have a chance to pose for their own photos with the set serving as a backdrop for those Instagrammable moments.
New jungle-themed banners and bengal-stripe visuals bring the atmosphere to life from the moment you arrive. An eye-catching Cincinnati mural by a local artist graces the east side of the stadium. 
New Paycor Stadium concessions 
The east side also features a new destination bar, and on the west side, the Queen City Tap House has been transformed into the Jungle Bar. Up on the 300 level, The Perch offers grab-and-go drinks on both sides of the stadium.
Speaking of grab-and-go, the stadium now offers several self-service express markets, allowing for quicker drink and snack runs. 
For more local flavor, you won't have to walk far to find Skyline Chili because their coneys will be available at concessions throughout the stadium. Tenders, Love, and Chicken (TLC) will have two additional locations, and a new BBQ joint called Smoke and Sizzle makes its debut.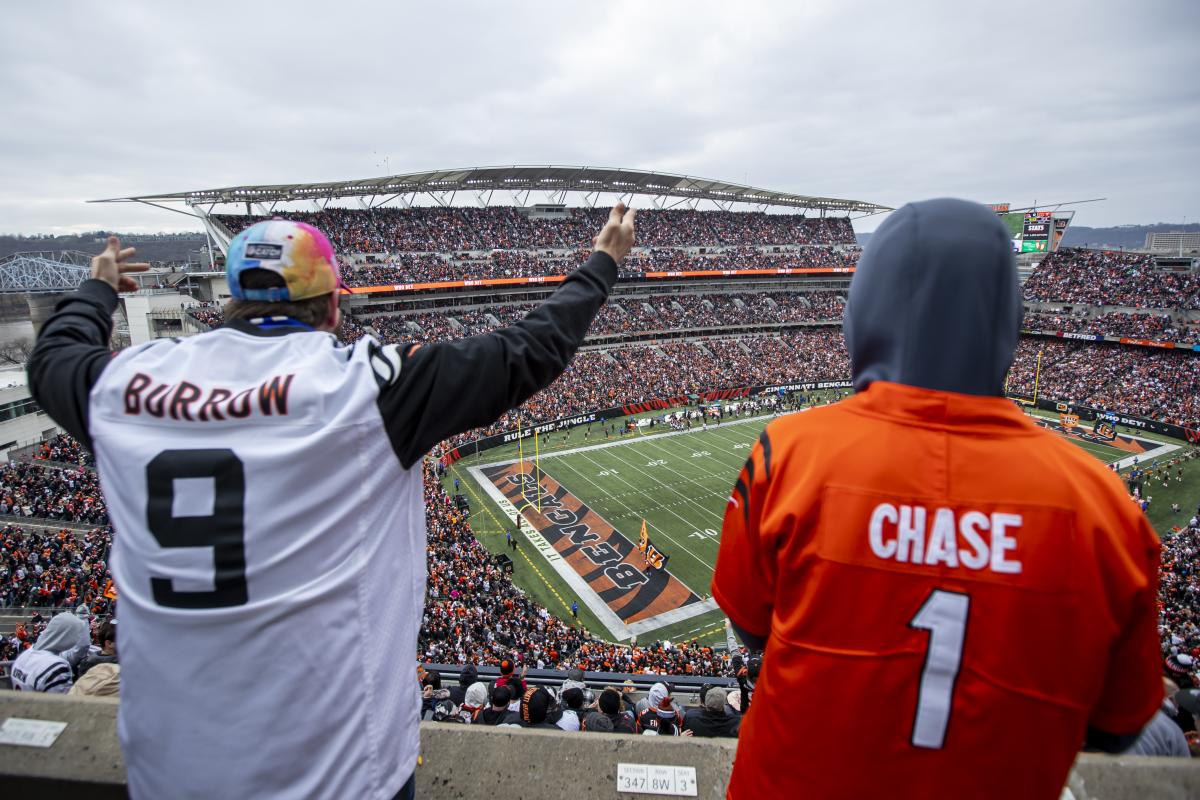 Source: Cincinnati Bengals
Are Bengals games family-friendly?
A game at Paycor Stadium can be a fun outing for families. PicksWise.com just rated Paycor Stadium as the most affordable NFL stadium for families attending a game. 
Paycor Stadium is steps away from Smale Riverfront Park, which is worth a visit any time of year. If the weather permits, kids will love the Great Adventure Playground near the base of the Roebling Bridge. Adults and kids will both enjoy the giant swinging benches that overlook the Ohio River. For an indoor attraction at the park, check out Carol Ann's Carousel which features a Bengal tiger character and other Cincy-themed animals on the ride. 
Stadium admission and safety for children
It's a good idea to stop by the Season Ticket Member tent to get your kid a Child Identification Wristband. The tent is located behind section 152 (near entry Gate E). The wristbands aid in finding the child's seat in the event they get separated.  
Children under two years old don't need a ticket for entry. Keep in mind that you won't be readmitted to the stadium once you leave. 
Parking at Paycor Stadium
Paycor Stadium operates numerous lots in the immediate vicinity. To purchase parking for a single game event, passes are available through Ticketmaster. 
Other parking options abound, including the garages at the Duke Energy Convention Center, the Scripps Building, and Fountain Square. 
Arrive at the game in style by parking in Newport and hopping on a Queen City Riverboat for a lift to the stadium for $6 per person, round trip. Board the boat at the Beer Sellar/Hooters dock. Riverboat pick up begins two hours before kickoff, departing every 30 minutes.
Also on the Kentucky side, many people find lot or street parking in Covington for very reasonable rates. From Covington, a walk across the Roebling Bridge gets you to the Banks, steps away from the stadium. 
Pre and post-game activities in Cincy
Bengals Tailgating
There's never been a better time to experience Bengals tailgating than this year. Tailgating is allowed at all parking lots surrounding the stadium. The parking lot at the storied Longworth Hall offers arguably the best pre-game tailgating fun. Fans bring everything from Bengals flags and banners to corn hole games, grills, and drinks to kick off the party early and get pumped up for the game.
Get there early to nab a parking spot, or just walk in and make new friends. Lots typically open four hours before game time. Reserve a spot at Paycor Stadium surface parking lots 1, 1U, A, B, D, E, and Hilltop through Ticketmaster.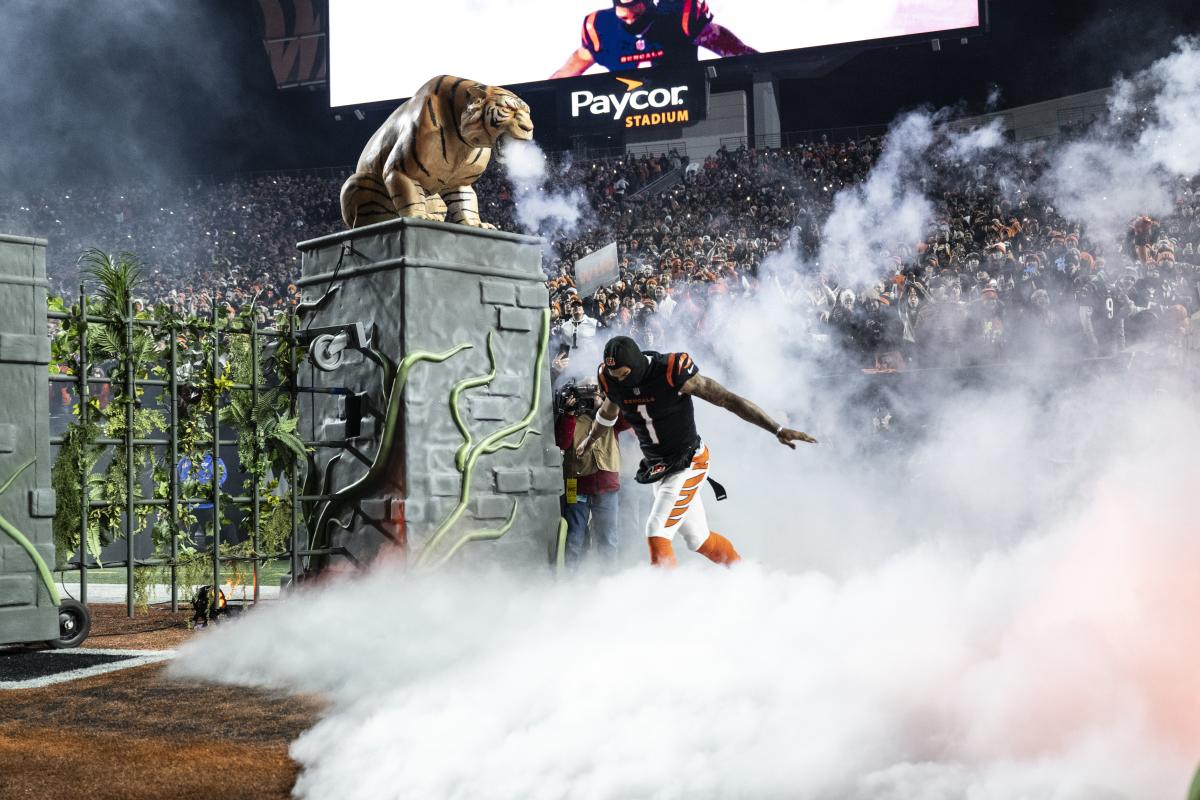 Credit: Cincinnati Bengals
Bengals sports bars and restaurants
If you'd prefer to stay out of the cold and enjoy some food and drinks indoors, there are plenty of sports bars and restaurants at The Banks and in the surrounding area. The nearest to the stadium is Kitty's Sports Bar and Cafe, known for its grilled and fried wings and other bar food. Holy Grail Bar and Grill is nearby and is very popular for its larger space, tasty food, and great service. 
For more options, check out some of our favorite local sports bars in the area.
Get Bengals tickets while you can
Games will likely sell out by game time, so plan ahead and get your tickets through Ticketmaster. All tickets are mobile, so you'll also need to download the Bengals smartphone app to access, transfer, and present your tickets at the gate.
Whether you're a local or a visitor to town, this is the year to root the Bengals on to (hopefully) their next Super Bowl appearance. With the new Paycor Stadium upping the ante this year, catching a live game will be more fun than ever before. So get your friends together or take the family out to one of the most exciting sporting events Cincy has to offer. Who Dey!