Cheesy, salty, gooey–who doesn't love a piping hot pizza? From wood-fired pizza to deep-dish pies, you can find all styles of pizza in the Cincy Region. We've rounded up 10 of our favorite pizza joints to help you decide which ones to eat first. 
St. Francis Apizza
Family-owned and operated in Hyde Park neighborhood, St. Francis Apizza is a cozy neighborhood pizza joint. They keep it simple–making dough and sauces from scratch and sourcing their ingredients from the best local farms and purveyors possible. Each pie is 16" and they will accommodate half-and-half orders. A must-try is the New Richmond Signature pizza topped with local oyster mushrooms. Many pizzas can be made vegan as well. This is a pick-up-only spot so grab your pie and make your own pizza picnic.
A Tavola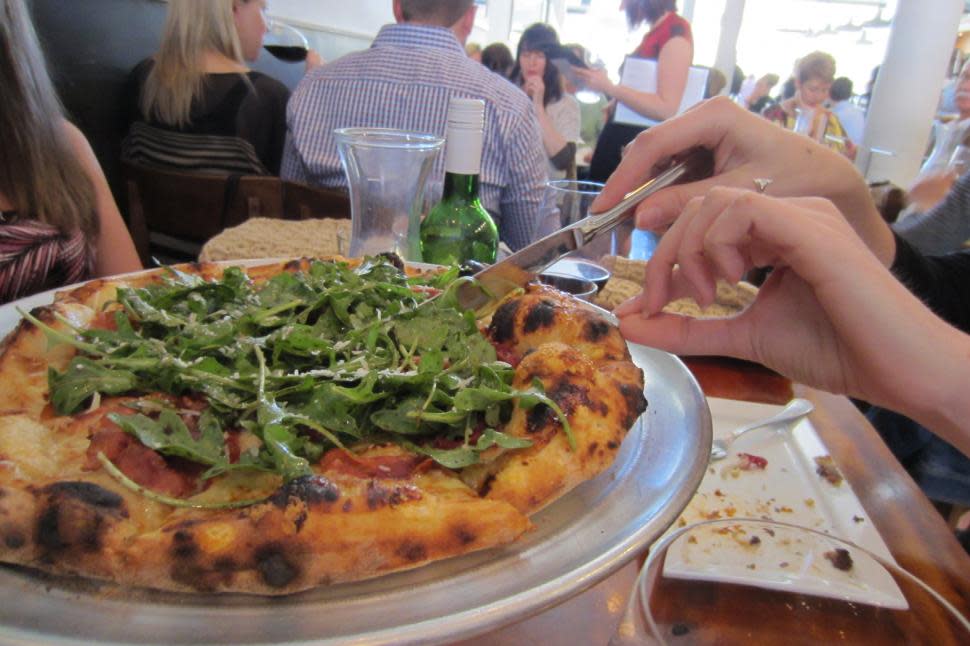 Known for wood-fired pizzas, A Tavola also boasts some delicious salads, and don't even get me started on the house-made gelato! You can either order one of A Tavola's Signature Pizzas or create your own. They also have a great wine selection and some delicious craft cocktails for the parents. After dinner, you can stroll around Over-the-Rhine and enjoy the fresh air and iconic view of Music Hall with a walk through Washington Park (there's even a playground area for the kids). If you're staying in, the restaurant also offers make-your-own pizza and pasta kits for at-home fun! Two locations: 1220 Vine Street in Over-the-Rhine and 7022 Miami Avenue in Madeira
Catch-a-Fire Pizza at MadTree Brewing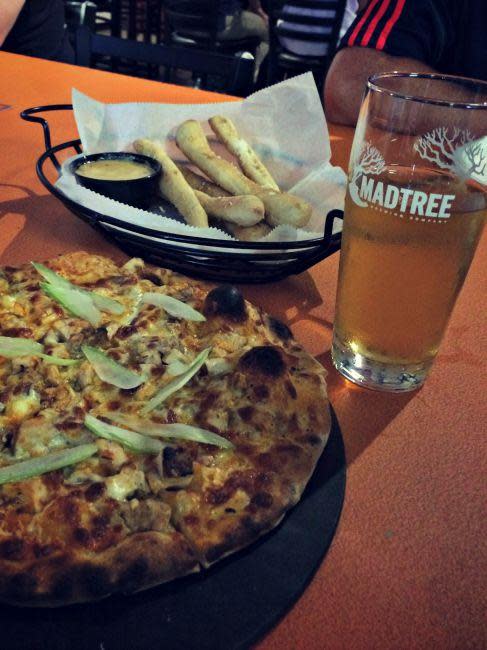 Hang out at one of Cincinnati's many cool breweries and munch on wood-fired craft pizza from Catch-a-Fire while drinking your craft beer. Along with pizza, you can also chow down on unique snacks, salads, and desserts. You can find Catch-a-Fire at MadTree Brewing or check the website to see where its food truck will be during events throughout the region. Catch-a-Fire is also available for catering and now has a second location in Blue Ash. Two locations: 3301 Madison Road in Cincinnati and 9290 Kenwood Road in Blue Ash.
Dewey's Pizza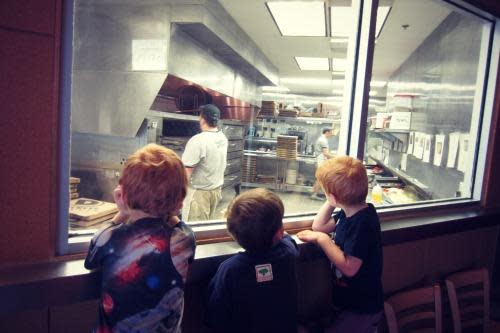 With several locations around Cincinnati and Northern Kentucky, Dewey's Pizza is a local favorite known for using fresh ingredients on the pizzas and serving local craft beer. My kids love going to Dewey's for the meatball pizza and hanging out by the kitchen window watching the cooks put together the pizzas. It's highly entertaining! Multiple locations.
Fireside Pizza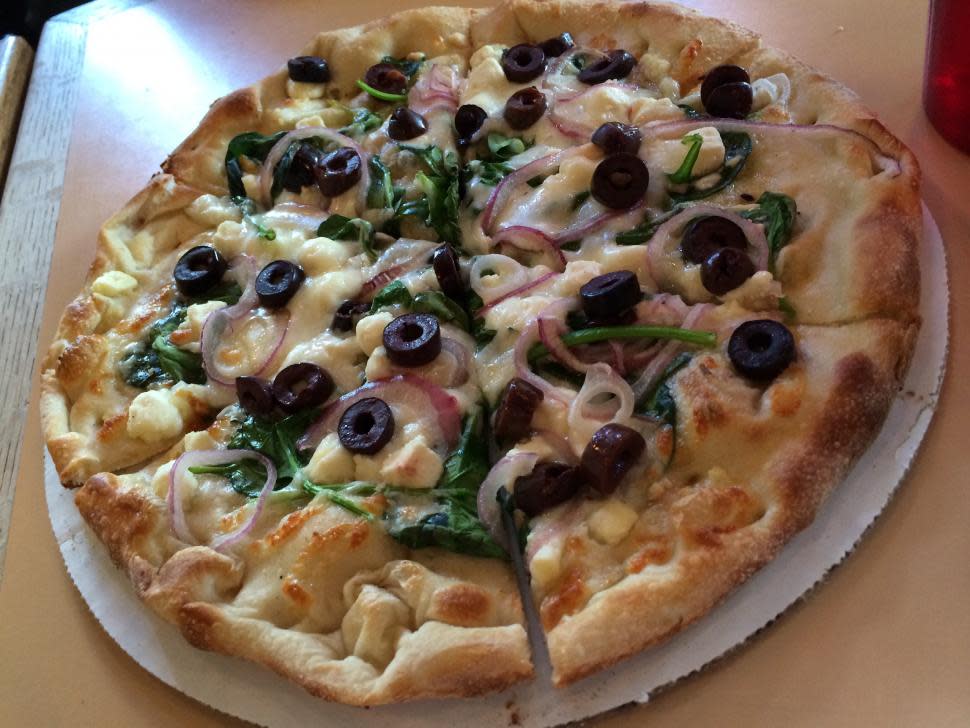 Wood-fired pizza in a firehouse doesn't get much hotter than that! What started out as a mobile pizza company now has a permanent home inside an awesome old firehouse in Walnut Hills. You can watch your pizza get fired up while you start out with a fresh salad and a craft brew listening to tunes from the jukebox. Fireside Pizza is the most unique place to grab a pizza in Cincinnati, you almost feel as if the firemen are still snoozing upstairs until the bell rings and they slide down the pole into duty. Fireside Pizza also still offers a mobile unit for catering at events and parties. Location: 773 E. McMillan Street in Walnut Hills
Goodfellas Pizzeria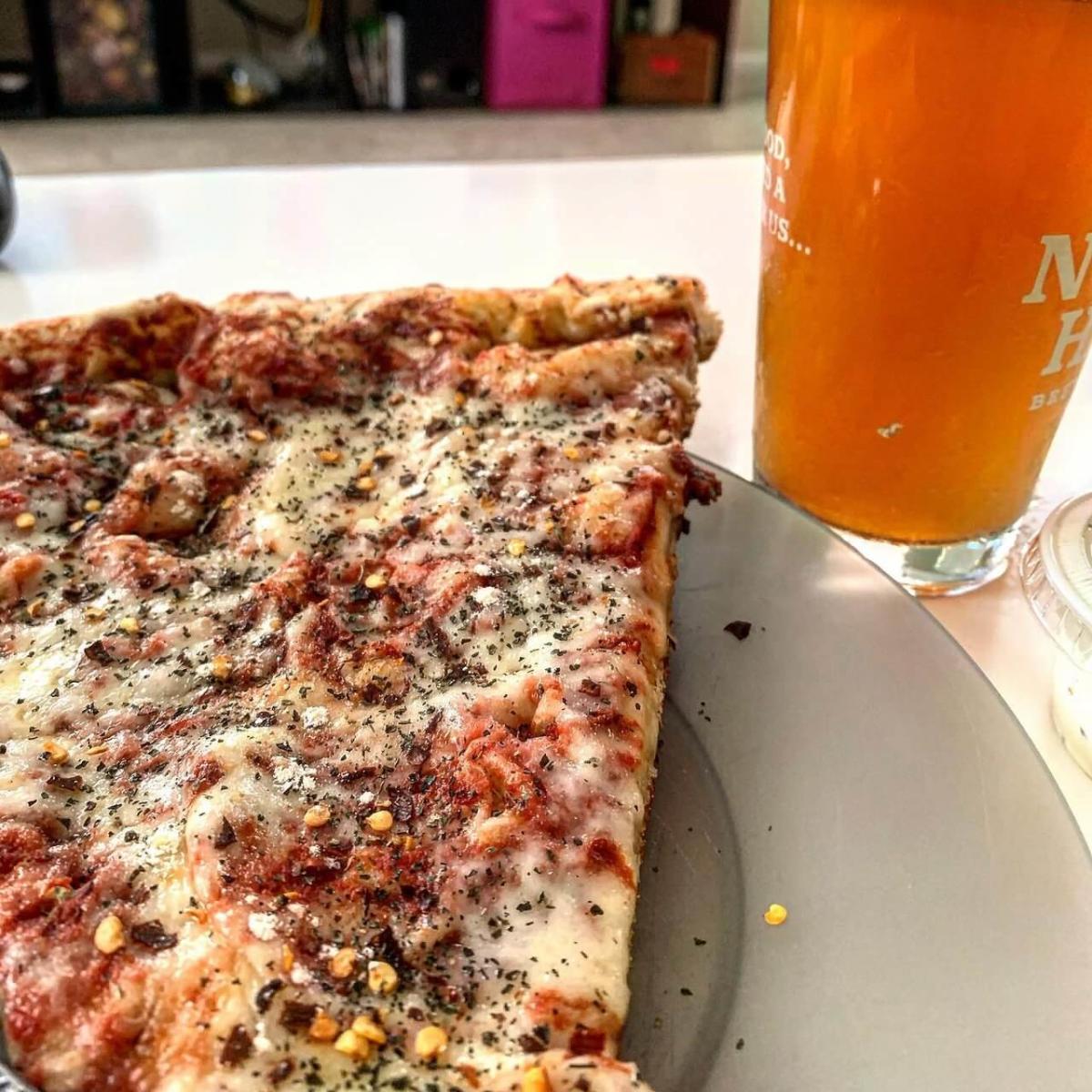 Goodfellas Pizza; photo by @foodieinthecincy
With locations in Over-the-Rhine and Covington, Goodfellas is my favorite place to get a deal or feed a crowd. They have a great lunch special on the New York-style pizza, and if you are feeding a crowd, the 22" pizzas are just the thing to serve. Goodfellas offers dine-in seating, or you can carry it out from the Covington location and have a picnic at Goebel Park. The OTR location would be perfect for carry-out for a picnic at Washington Park. Two locations: 603 Main Street in Covington and 1211 Main Street in Over-the-Rhine
The Gruff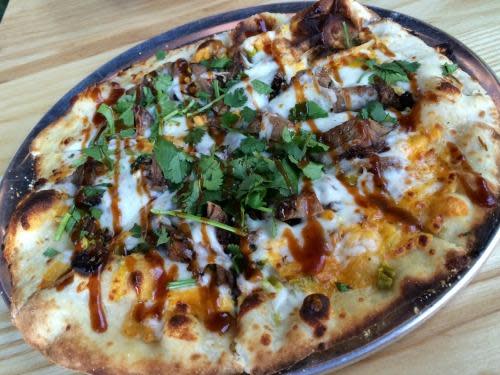 Not only does The Gruff have great brick oven pizzas, but they also have pickle fries on the menu (along with sandwiches, starters, salads, desserts, and craft brews)! My favorite pizza is the Smoked Brisket pie....yum! The Gruff is perfectly situated in Covington, a block away from the Ohio River and right at the end of the Roebling Suspension Bridge. After your meal, you can walk along the riverside in Covington or over the bridge to hang out in Smale Riverfront Park. The Gruff also has a small deli with gourmet items and offers a drive-through window. Location: 129 E. 2nd Street in Covington
Incline Public House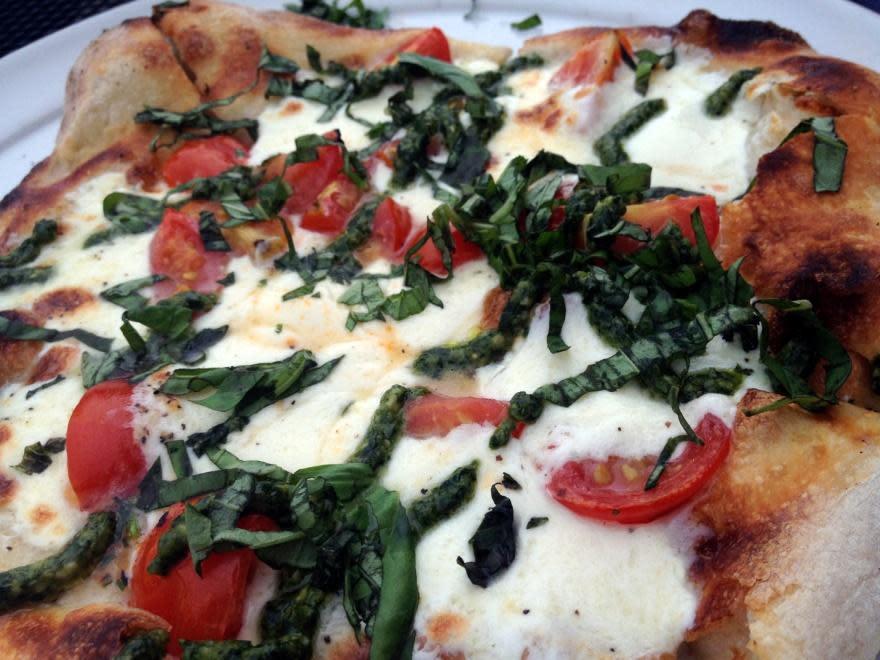 Come for the view and stay for the pizza! While pizza isn't the only item on the menu at Incline Public House, the brick oven "Garbage Pizza" is all the rage. There's a little bit of everything on this pizza…but if that's not your thing, they also offer other gourmet pizza choices like a Prosciutto Fig, Shroom, Caprese, and more! Outdoor dining is the way to go in the warmer months because the view is outstanding. Location: 2601 W. 8th Street in Cincinnati
Padrino Pizza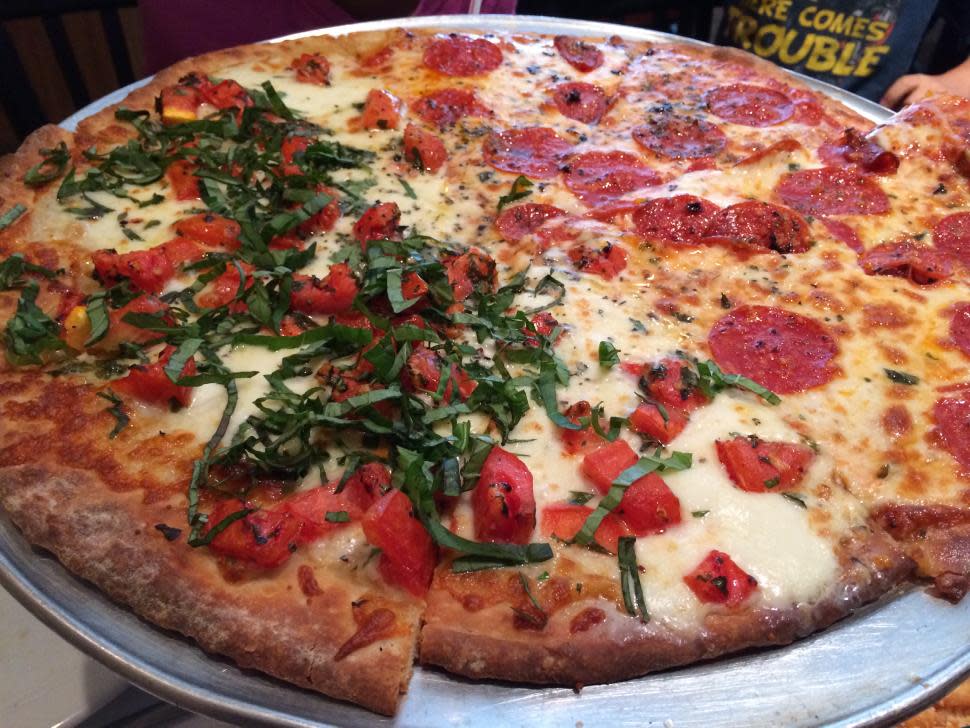 Located about 25 minutes from downtown Cincinnati, Old Milford is a great place to explore. While you are there, be sure to stop by Padrino Pizza for a reasonably-priced Italian meal that will leave everyone full and happy. They offer many tasty appetizers, salads, hoagies, and pizza – either choose one of the unique gourmet options or create your own. After pizza, take a leisurely stroll down Main Street, visit the charming shops, and stop for ice cream and coffee at the Old Milford Parlor. And don't miss our favorite store on Main Street, the Coolest Toys on Earth shop. Everyone feels like a kid in this awesome toy store! Location: 111 Main Street in Milford
Strong's Brick Oven Pizzeria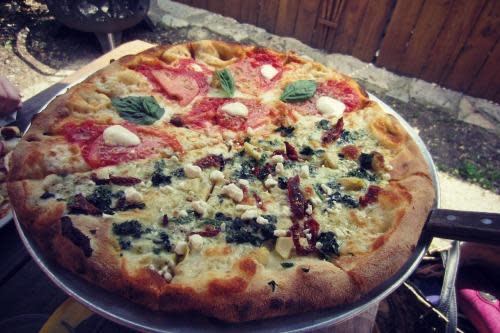 Located a hop, skip, and a jump away from Newport on the Levee, the Strong's Newport location is the perfect place to grab a pie before heading to the Newport Aquarium or checking out the new Bridgeview Box Park plaza area. Strong's offers tasty gourmet pizza options, but I recommend pairing that pizza with a salad. The Strong's Signature "Polpetta Insalata" is amazing…a salad with a meatball! You can't go wrong. Multiple locations
This list is just a sampling of the many great restaurants in Cincy. Where's your favorite place to grab a pizza?