If you're feeling like an outdoor adventure, the Cincy Region has many camping options for you to choose from. We've rounded up our favorite places to camp by region to help you find the perfect spot. So pack the car and get ready to enjoy the great outdoors in the Cincy Region.
Campgrounds in North Cincinnati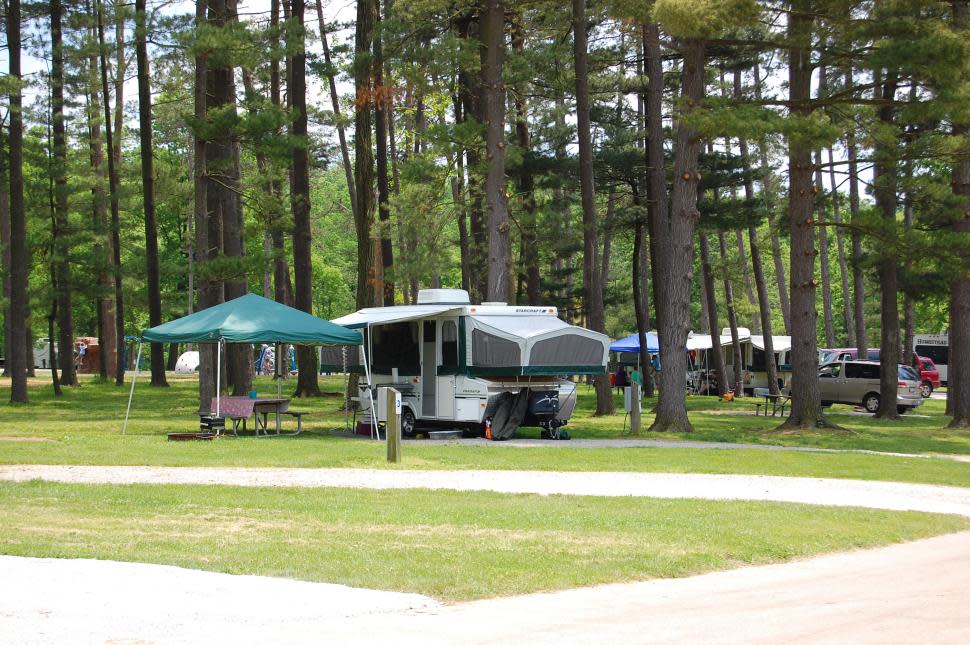 Winton Woods (14 miles from downtown Cincinnati)
The park offers 123 campsites total including cabin options and RV back-in and pull-through. Walking distance to Winton Woods Harbor, a boathouse, snack bar, and playground, Winton Woods makes it easy to keep the fun going for everyone. The campground is located approximately 20 minutes north of downtown Cincinnati and 30 minutes south of Kings Island amusement park.
Lebanon Cincinnati Northeast KOA (33 miles from downtown Cincinnati)
Lebanon Cincinnati Northeast KOA is located 30 minutes from both downtown Cincinnati and Dayton, and it is only eight miles from Kings Island. The campground offers spacious campsites of all sizes and can accommodate RVs up to 45 feet.
Olive Branch Campground (36 miles from downtown Cincinnati)
This campground has 15 pull-thru RV sites, 106 back-in RV sites, 1 park model, and 1 rustic cabin. Services and amenities include a laundry room, game room, playground, basketball net, pool, shower house, wireless internet, a stocked fishing pond, and firewood for sale.
Caesar Creek State Park (44 miles from downtown Cincinnati)
The campground has 283 shady or sunny spots with electric hookups. Each spacious campsite offers a paved pad that can accommodate a 35-foot trailer or RV, pop-up, tent, or another camping unit. The campground provides miles of hiking trails and it is adjacent to the state park mountain bike trail. There is a boat ramp in the campground free to use while camping. The Little Miami Scenic Trail is a short drive away.
Hueston Woods State Park (47 miles from downtown Cincinnati)
Nearly 3,000 acres of natural resources for hiking, fishing, canoeing, and even fossil hunting! Pitch a tent or park your RV at one of the many campgrounds, camp in a cozy two-bedroom cottage, or sleep in the 94-room resort lodge.
Campgrounds in Northern Kentucky 
Bison at Big Bone Lick State Historic Site (Photo: Erin Woiteshek)
A.J. Jolly Park and Campground (20 miles from downtown Cincinnati)
A.J. Jolly Park and Campground is one of the largest county parks in the state of Kentucky. The thousand-acre park boasts 75 camp spots and a 200-acre fishing lake. There are picnic areas and a pavilion, four baseball fields, basketball, sand volleyball, tennis, and an 18-hole Frisbee golf course.
Oak Creek Campground (22 miles from downtown Cincinnati)
This family-owned campground offers 99 sites, five of which are pull-through, 94 back-ins, and eight primitive tent areas. Check out some great live music most Saturdays from 8 pm-12 am from May-October in Walton's largest live music venue, OCP. This campsite also includes water and electricity, cable, a swimming pool (in season), and free internet access
Big Bone Lick State Park (25 miles from downtown Cincinnati)
Big Bone Lick State Park campground is open from April 1–October 31. With 62 campsites with utility hookups, grills, a swimming pool, and playground areas this is a great spot for families that camp. The state park also has showers, restrooms, laundry facilities, and a grocery store. The state park has many hiking trails open year-round, and there's even a Bison observation area, museum, and visitor center.
River Ridge Park (26 miles from downtown Cincinnati)
Located 2 miles from the Rabbit Hash General Store, River Ridge Park offers back-in campsites for trailers and RVs. Amenities include a grocery store, swimming pool, laundry facilities, boat ramp, and playground.
Cabin Run Creek Campground (40 miles from downtown Cincinnati)
Cabin Run Creek features 32 campsites, 25 of which have water and electric hookup. The bathhouse and restroom are handicap accessible and there's a playground and basketball court to enjoy. Fishing is also available.
Sparta Campground (45 miles from downtown Cincinnati)
Located just 3.5 miles from the Kentucky Speedway, this campground offers 300 campsites, a bathhouse with hot showers, a dump station, a water-fill station, and a fire ring at each campsite. Both RVs and tents are welcome.
Three Springs Campground (50 miles from downtown Cincinnati)
This family-friendly campground has an emphasis on healthy outdoor activities and boasts a swimming pool, fishing pond, and playground. There are electric RV sites and two rustic cabins.
Campgrounds east of Cincinnati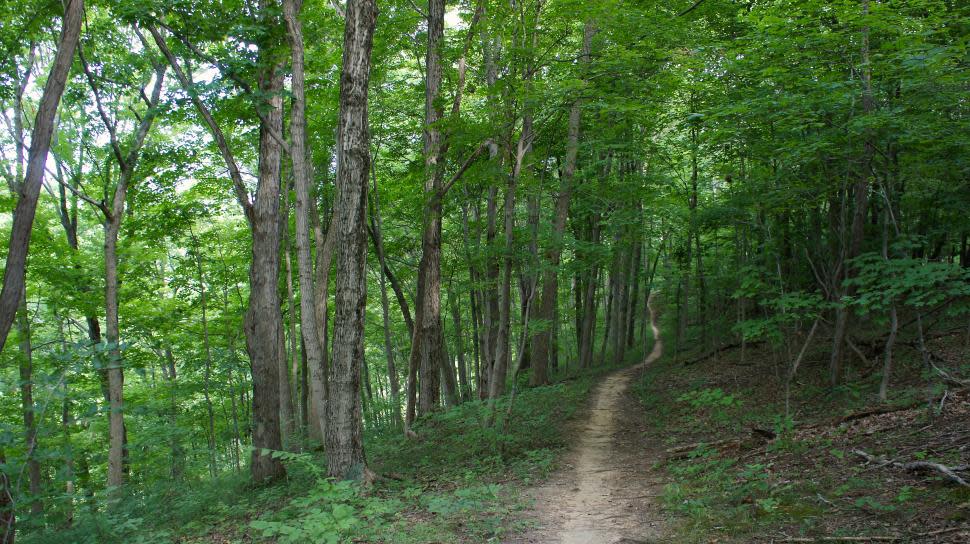 Mountain bike trails at East Fork State Park
Steamboat Bend at Woodland Mound (15 miles from downtown Cincinnati)
Steamboat Bend is located in 1,030-acre Woodland Mound five minutes from Riverbend Music Center. This campground lays on the shores of the Ohio River and each site features water and 30 amp electric hookups, a picnic table, and a fire ring. Nightly rentals and first-come-first-served rentals are not available at the campsite at this time. Self-contained trailers or RVs are only permitted with paid, advance reservations. Rentals are available on a weekly or monthly basis.
East Fork State Park (25 miles from downtown Cincinnati)
Anything you desire you can do and have at East Fork State Park. Ranging from boating and fishing to hunting and bridle trails, even mountain biking trails. This 4,870-acre East Fork offers a great diversity of recreational activities. There are 384 electric sites and five full hookup sites, an equestrian camp with 17 electric sites, and two spacious cabins.
Stonelick State Park (35 miles from downtown Cincinnati)
Featuring 108 electric sites and six non-electric sites as well as spacious cabins, Stonelick State Park offers boating, fishing, hunting, swimming, and multiple trails. Boats with electric motors are only permitted on the lake. The camp has a store and laundry facilities and the camp office has games and sporting equipment to check out along with bike and boat rentals.
Campgrounds west of Cincinnati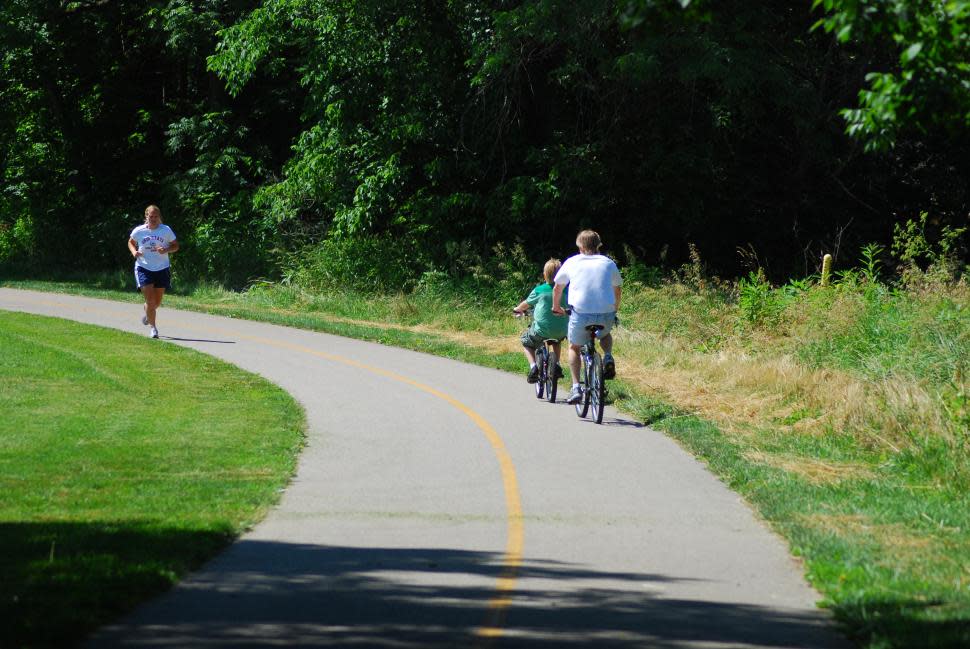 Miami Whitewater Forest (photo: Great Parks of Hamilton County)
Miami Whitewater Forest Campground (22 miles from downtown Cincinnati)
When you camp at any of the 46 sites with 30 amp electric hookups, picnic table, and fire ring, you are within walking distance to the Miami Whitewater Forest Harbor and 85-acre lake. Located within the campground are a renovated shower building, playground, and dump station.

Indian Springs Campground (25 miles from downtown Cincinnati)
Indian Springs is for RVs only, no tents are permitted. There are 60 sites with electric, water, and sewer hookups, with 13 pull thru sites and 47 lakeside sites. Fishing, canoes, and paddle boats are available at the lake, and there's also a bathhouse, playground, and walking trail.

RV Park at Rising Star Casino (39 miles from downtown Cincinnati)
This casino offers a campground just for RVs. Back in your RV or pull thru into one of the 59 spaces, each with full hookups including power, water, and sewer. Amenities include private bathrooms with showers, washers and dryers, cable TV and Wi-Fi. Climb on the playground, take a dip in the indoor pool, and play a game of bocce ball. There's even a dog park for your best friend and a grocery store nearby.
Brookville/Whitewater Complex (50 miles from downtown Cincinnati)
The Brookville/Whitewater Complex has over 13,500 combined acres of land. Combined properties include camping, fishing, hunting, boating, hiking, and swimming. Camping options include cabins for rent. Want to switch it up for a few days? Each property has a lake. Brookville Lake is approximately 5,260 acres and Whitewater Lake is approximately 200 acres. You name it, this property has it all!
Written by Micaela Molini. Updated by Laura Barfield.
For some good old-fashioned, free, family fun in the Cincy Region, take a hike with the whole family. Spending time outside is beneficial for everyone but especially kids–what kid doesn't love the freedom to run wild? When…
Behringer-Crawford Museum's Behringer Crawford Museum (photo: Behringer-Crawford Museum) Families will love exploring kid-sized log cabins, a cruise line swing, following imbeded animal tracks in a greenery-lined walkway and more at…