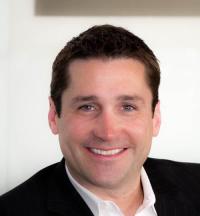 Hotel and destination executive Andy Conklin has been named Executive Vice President, Sales and Marketing, at the Cincinnati USA Convention & Visitors Bureau following a national search by Minneapolis-based SearchWide.
Conklin is an accomplished, 25-year global hotel and destination management executive with a consistent track record of increasing responsibility and leadership roles at the industry's most recognized and respected brands. Conklin formally begins his new role on March 4.  
Positioning Cincinnati for the Future
"We are excited to have a proven and dynamic leader join our executive team," said Julie Calvert, President & CEO. "Andy's success in building sales, developing strategic relationships with partners and creating new incentive and cross-selling efforts will be essential in helping Cincinnati become the destination of the future."

Most recently, Conklin was Vice President of Sales responsible for owned and managed Trump Hotel properties around the world. There, he led sales, marketing and meeting planning teams, focusing on global sales strategy, maximizing brand exposure and growing market share and revenue. 

He also has held senior sales positions with Starwood, W, Sheraton and Hyatt Hotels.  His work included developing new revenue-building initiatives, fostering team collaboration and forging mutually beneficial co-marketing programs with regional convention and visitors bureaus. 

Economic impact studies have shown more than 26 million people visit the Cincinnati region annually, creating $5 billion of new money spending.  Visitors help generate over $1 billion in tax revenues and directly support 80,000 jobs in the region.
 
Global Experience, Regional Roots
Conklin attended high school in Columbus, Ohio, and graduated from Ohio University with a degree in organizational communications. His career has led to posts throughout the Midwest with responsibilities at the local, national and international levels.  At the same time, he and his family have maintained strong roots in the region.

"This is a tremendous opportunity to represent such a vibrant, exciting community," Conklin said. "We have incredible assets in our hotels, facilities, culture, culinary and entertainment choices.  I look forward to leading our CVB Sales team and working closely with our hotels, convention center partners and CVB members to make Cincinnati the destination of choice for conventions, meetings and for all visitors."

"Andy is the right leader at the right time for the Cincinnati region," Calvert said.  "Our search committee, which included CVB Board members, regional hospitality partners, civic and business leaders, was energized by his knowledge, ideas and ability to collaborate not only within his own organization, but across the communities in which he has worked."
 
---

About the Cincinnati USA Convention & Visitors Bureau
The  Cincinnati USA Convention & Visitors Bureau is a sales, marketing and service organization whose primary responsibility is to positively impact Hamilton County's and the City of Cincinnati's economy through convention, trade show and visitor expenditures. The travel and tourism industry traditionally has been a $5.3 billion industry in Cincinnati USA, employing more than 80,000 people in a variety of fields and bringing 26.6 million visitors to the region annually. Visit www.cincyusa.com for more.