Looking for that one-of-a-kind gift for the holidays? Shop one of Cincinnati's festive holiday markets this year to make your holiday shopping a breeze. Cincy is home to a wide variety of holiday markets from funky artisan pop-ups with cool, handcrafted items to traditional Christmas markets with a nod to the deep German heritage of the region.  
You'll find something for everyone on your list this year—and maybe even a few things for yourself, too. We won't tell!
Here's your ultimate guide to Cincy Region holiday markets this season
Holiday markets in Cincinnati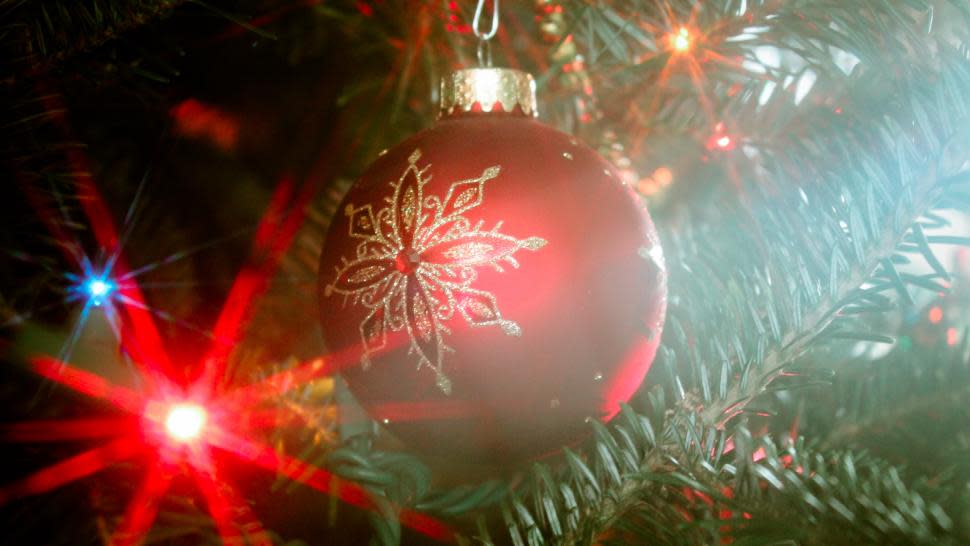 Germania Society Christkindlmarkt (Nov. 3 - 5): Welcome the holiday season at the oldest and most authentic German Christmas Market in the Cincy region. Lots of German entertainment and shopping–enclosed and heated. You'll find the most unique imported German gifts, such as nutcrackers, smokers, clocks, steins, linens, Advent calendars, and plenty of Christmas candy and toys.  Plus lots of German food and you don't want to miss the Dill Pickle Soup. There's plenty of German beer, hot mulled cider, a full holiday bar, and much more.
Greater Cincinnati Holiday Market  (Nov. 9 - 12): Come early, stay late, and wear your most comfortable shoes for one of Cincy's most popular holiday show-stopping, shopping events located in the spacious Duke Energy Convention Center. More than 400 local vendors and nearly 40,000 shoppers make this holiday tradition one of the most attended shows in the U.S.—now offering four full days of shopping. You can start and finish your shopping here. There are special VIP tickets for early access hour, discounts, and swag bags and you don't want to miss Girls' Night Out both Friday and Saturday from 4-7 p.m. when the doors stay open late and the evening is filled with shopping, prizes, and cocktails.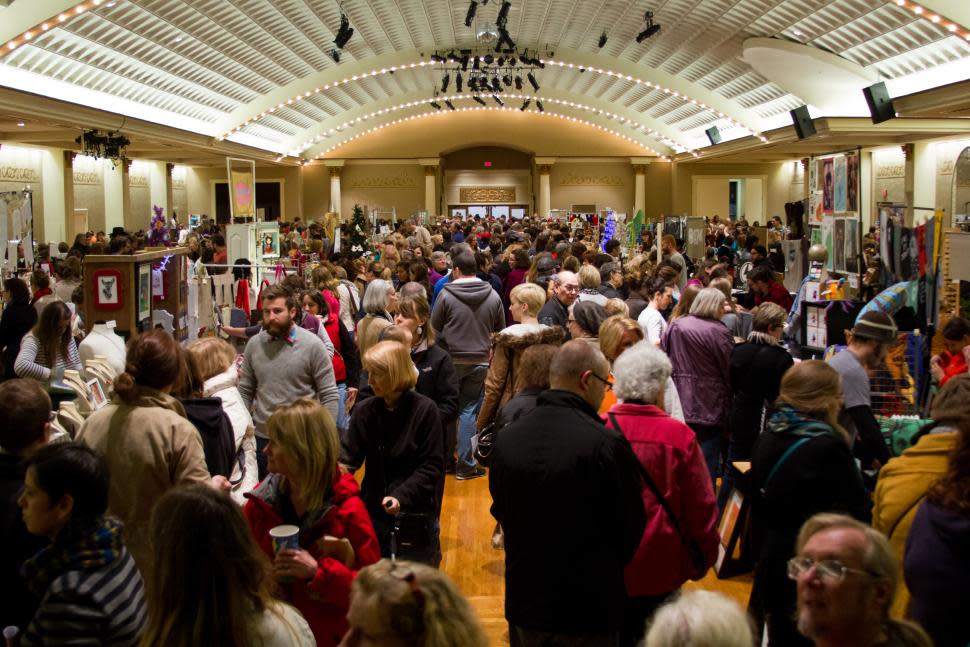 Crafty Supermarket, Music Hall Ballroom (photo: Crafty Supermarket)
Holiday Market (Nov. 18): The Cincinnati Art Museum transforms the lobby into a winter wonderland for its traditional gift market bringing together local artists and artisans for a unique shopping experience. Jewelry, pottery, a wide variety of mixed media art, and much more unique art-inspired gifts for everyone on your list. Holiday market shoppers will enjoy free gift wrap plus 10% off all purchases in the well-stocked gift shop, and members receive a 20% discount. 
The O.F.F. Holiday Market Nov. 18): The O.F.F. Market in Summit Park in Blue Ash shows up for the holidays as small businesses, artisans, brewers, bakers, and farmers come together to provide a unique holiday shopping experience that supports the community. 
Cincinnati Christkindlmarkt at Moerlein Lager House (Nov. 22 - Dec. 31): The Cincy Riverfront will come alive with the first-ever Servatii Cincinnati Christkindlmarkt this holiday season. Located in Smale Riverfront Park this more than month-long market kicks off the holiday season on Small Business Saturday and ends with a New Year's Eve celebration. The Christkindlmarkt, a traditional European seasonal market, will extend its hours and open every day during Christmas week. This festive market features open-air stalls with holiday lights, music, and entertainment. Shop for authentic cuckoo clocks, nutcrackers, ornaments, and other holiday items for everyone on your shopping list. 
Winter Market at Washington Park (Weekends Nov. 24 - Dec. 17): Head over to Washington Park, in the heart of downtown Cincy, again this year during the holiday season for one of the most popular shopping experiences! Bundle up, grab a warm beverage, and stroll through the cozy huts as regional artists present their one-of-a-kind pieces that will complete your holiday shopping list. Vendors will vary from weekend to weekend so come check it out each week.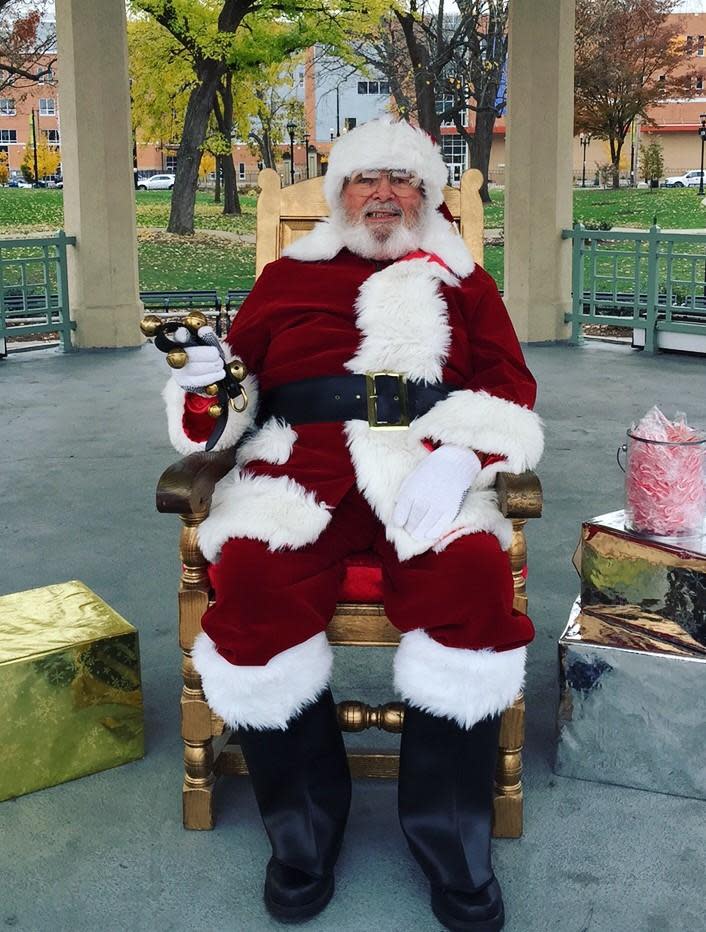 Santa's Workshop at Washington Park (photo: 3CDC)
Fibonacci Brewery Bazaar (Nov. 25): Support local businesses for Small Business Saturday and drink beer–could holiday shopping get any better? This Christmas bazaar is a fun opportunity to purchase gifts for the holidays and enjoy the Fibonacci Brewing Company beer garden. 
Findlay Market Holiday Market (Dec. 2 - 3): Don't miss the always bustling Findlay Market merchants as they bring on the holidays. In addition to the 50+ regular merchants selling holiday gifts, food, and decorations, there will be a lively outdoor market filled with unique gifts, handmade goods, and so much more. Head to OTR to support small businesses and start crossing names off your holiday gift-giving list.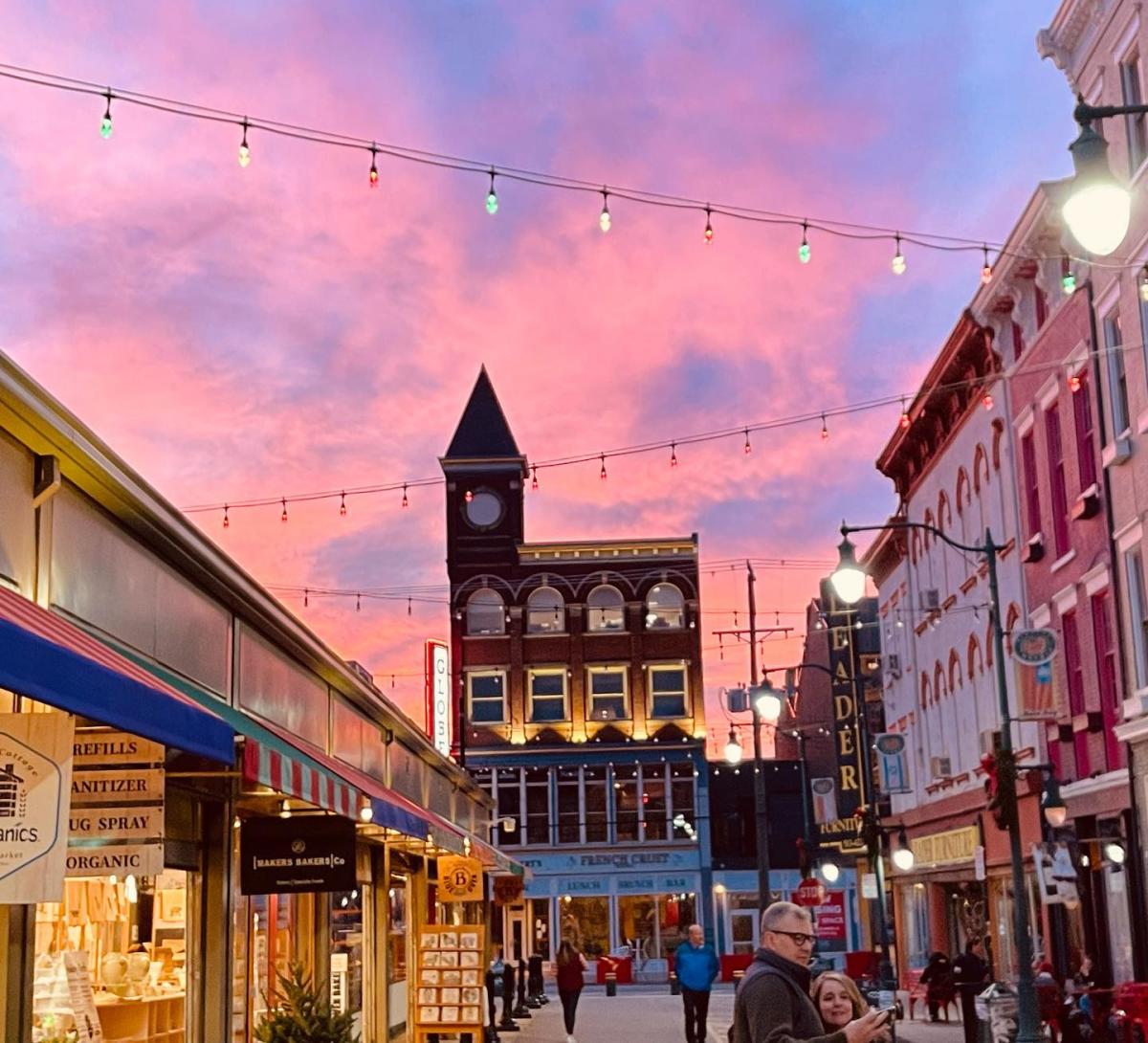 Findlay Market (Photo: @at_home_in_otr)
Holiday One Stop Shop (Dec. 2): The Wyoming Civic Center, just 20 minutes north of Cincy, transforms into a festive holiday bazaar for this one-day shopping extravaganza. Shop local vendors and artisans for jewelry, personalized stationery, monogrammed gifts, arts, and crafts, and more. You can also enjoy holiday music and food while you stroll through this posh event center in search of the perfect gift this year. 
ArtisanFest513 Holiday Market (Dec. 3): Support small businesses and vendors from across the region at ArtisanFest513's and discover unique gifts for everyone on your shopping list. There's also live music, games, and plenty of fun activities throughout Memorial Hall OTR. So come out and see for yourself why Cincy is home to the most talented artisans and creative small business owners!  
Christmas at the Vineyard—A Vintage Market (Dec. 8 -10): Sip some holiday cheer and shop at this three-day event at Verona Vineyards in NKY. This curated market features antiques, vintage-inspired, repurposed, and upcycled products, trendy boutique gifts, artisan food, and everything that sets the mood for the holidays—including a Christmas tree lighting event for the family to enjoy on Friday night.
The City Flea Winter Market (Dec. 9 - 10): Shop this two-day holiday flea market in the heart of Washington Park to check off everyone on your holiday shopping list. Stroll through the festive booths from dozens of local vendors and small business owners throughout the park and select the perfect gift that you won't find anywhere else. Choose from holiday home decor, cozy winter accessories, hand-crafted jewelry pieces, vintage items, artisanal food items, and so much more.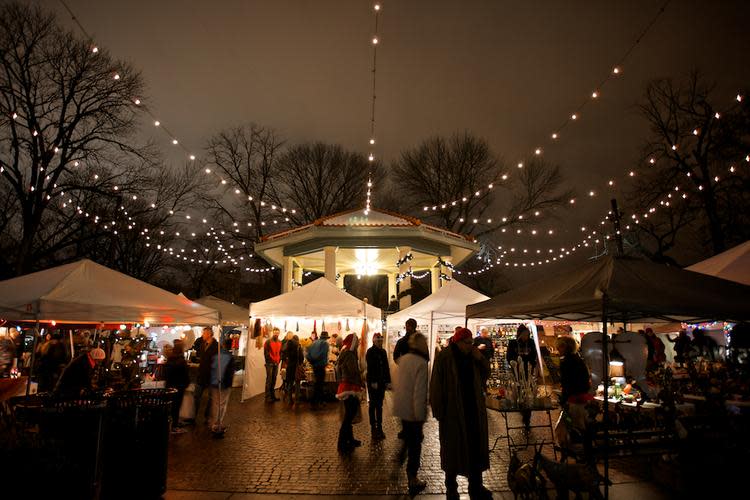 Howliday Market at The Roost Latonia (Dec. 9): Find the "perfect" gift for your furry friend at this tail-wagging holiday shopping event where you can browse a wide variety of pet products from toys to treats. This is an in-person event at The Roost Latonia in Covington in NKY, so bring your four-legged companion for this fun-filled day where you are sure to find the pawsitively perfect gift for your pet or the pet lover in your life.  
Art on Vine Holiday Gift Sale (Nov. 10 & Dec. 17): Finishing off that holiday shopping list or just getting started? Grab a craft beer and shop 'til you drop.  More than 80 local creatives and makers will showcase their goods inside the fan-favorite Rhinegeist Brewery for this 10th annual holiday market.  
Meowy Christmas at The Roost Latonia (Nov. 16): For all things meowy and bright this season, look no further than this unique event in NKY.  Bring your favorite furry feline for a photo session with Santa and enjoy a house special Kat Latte for this purrrfectly festive shopping event in historic Covington, KY. There will be plenty of holiday cheer, local vendors on hand, and plenty of adorable kitties. Whether you're a cat lover or you know a cat lover, this event is for you. 
Cincy craft shows to shop for the holidays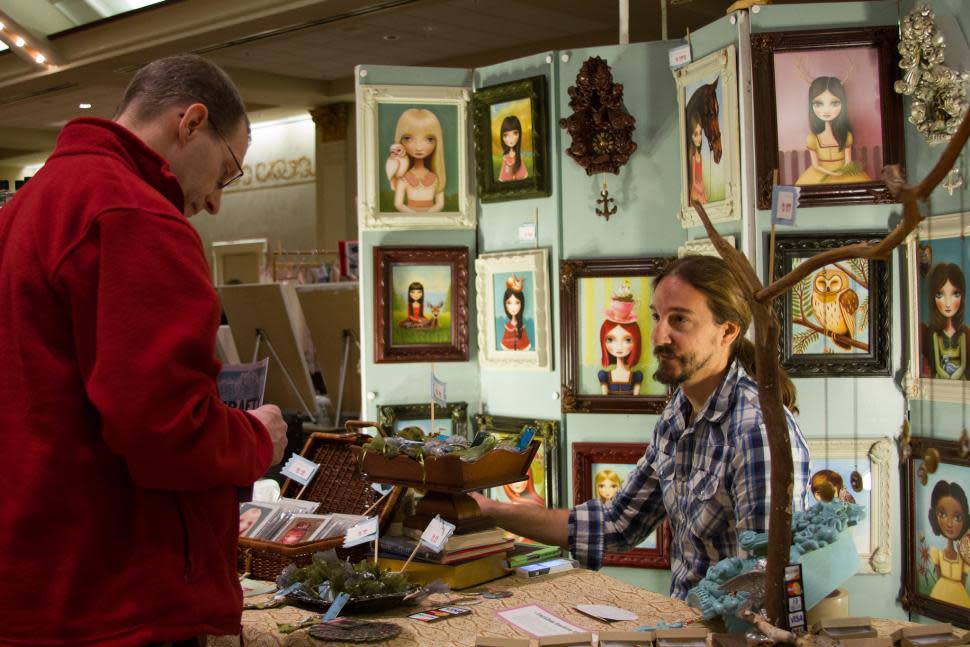 Crafty Supermarket Holiday Show (photo: Crafty Supermarket)
Loveland Athletic Boosters Arts and Crafts Show (Nov. 4): Don't miss this gigantic holiday craft show with more than 200 artists and crafters. This indoor market features hand-crafted jewelry, woodcrafts, candles, purses, hats, pottery, and more. Admission is $3 for adults.  
Winter Craft Show (Nov. 4): Get ready for the holidays and support local small businesses at the 2nd Annual Winter Craft Show in West Chester. Shop dozens of local vendors and small shops for everyone on your Christmas list. 
Keepsake Christmas Craft Show (Nov. 3 - 5): Don't miss the oldest Christmas craft fair in Northern Kentucky at the Edgewood Liberty Hall. It's a boutique-style show full of holiday spirit, handmade and one-of-a-kind crafts, candy, and more. Support your local artists, finish off that holiday shopping list, and support Kindervelt of Children's Hospital with a raffle of hand-crafted items. 
46th Annual Colerain Boosters Craft Shows (Nov. 4 - 5): Save the date for one of Greater Cincy's longest-running local craft shows just in time for the holidays. Featuring more than 150 artisans and crafters, this show will get you get you in the holiday spirit and put a serious dent in that holiday shopping list.  
Deerfield Handmade Market (Nov. 5): Celebrate the start of the holiday season and get a jump start on your holiday shopping at this festive holiday market featuring more than 90 local and regional artisans and creators selling their handmade, unique gifts at this family-friendly event inside the beautiful Manor House. Choose from a wide selection of jewelry, ceramics, woodworking, painting, glass, and much more. Be one of the first 100 guests and receive a goody bag. There's an open bar and craft demonstrations throughout the afternoon. There's a $3 admission and if you want to show up early it's $5. 
Crafty Holiday Supermarket (Nov. 25): Check out one of the biggest and best indie craft fairs in the region at the Cincinnati Music Hall. This fabulous festive event features more than 100 artisans showcasing an eclectic mix of funky and traditional handmade goods from local, regional, and national artists.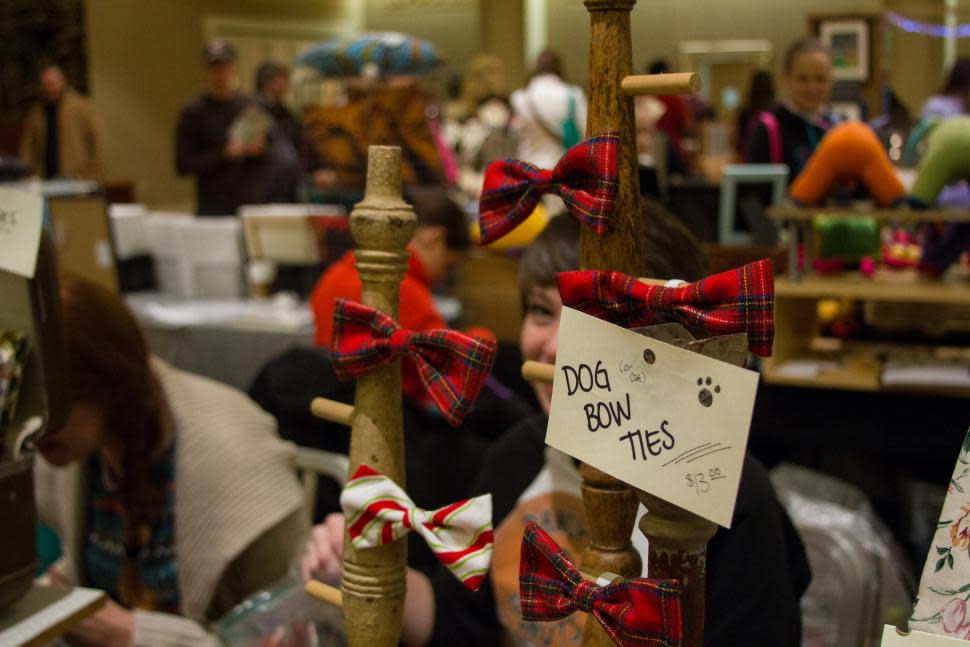 More Cincy holiday markets and craft shows