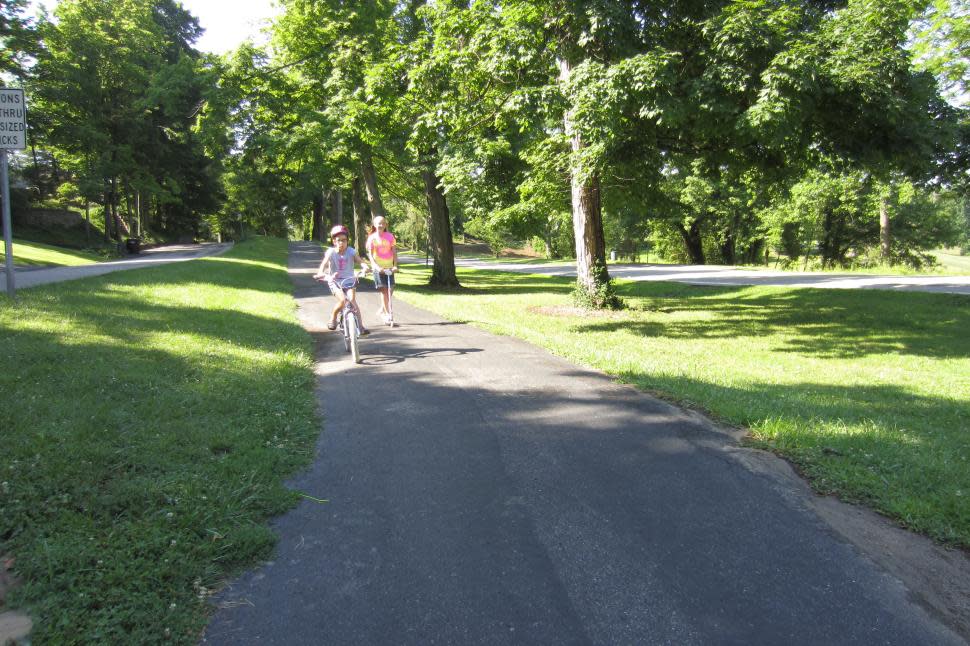 Now that my kids are getting older one of our favorite things to do is to get out on our bikes, and the Cincinnati region has so many great places to ride. Sometimes we need an easy, flat ride (for those that are still working on mastering riding a two-wheeler) and sometimes we opt for a ride full of hills. Sometimes we want to be where there are lots of trees, and sometimes we opt to coast by the Ohio River. There's really a bike trail for everyone, and so many to explore that it's not possible to list them all. I've put together a list of our favorite places to ride bikes in the area.
Devou Park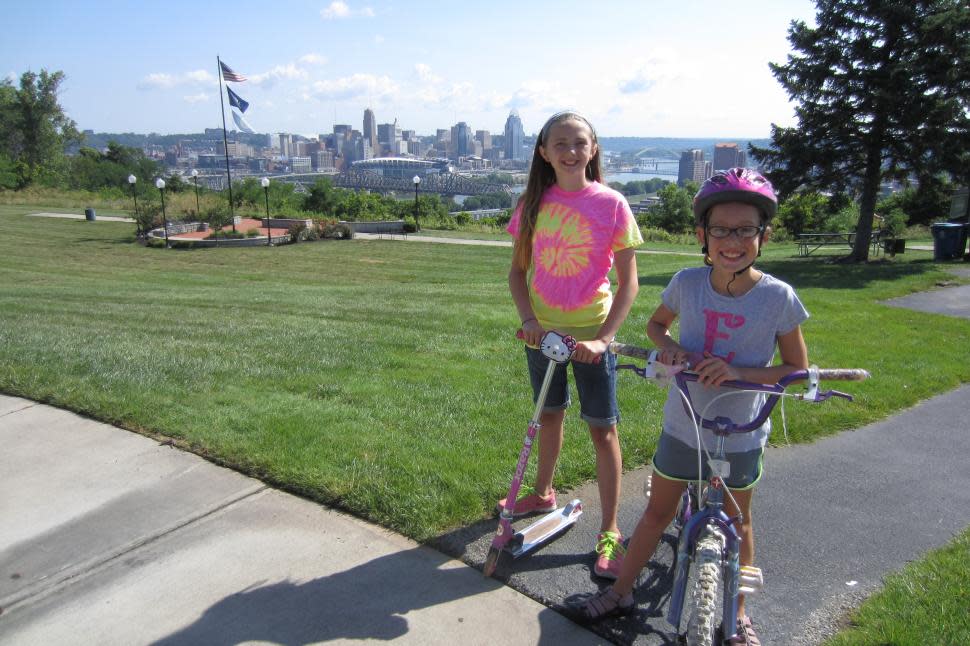 I grew up near Devou Park, so it makes sense that this is one of my favorite places to ride a bike. There's a great path through the park that begins at the Devou Park Golf Course and ends at the Overlook near the Drees Pavilion, where you can get a great bird's-eye view of Cincinnati and Covington. While you are in the park, stop at the Behringer Crawford Museum and make a day of it! I usually ride in Devou Park with my older kids, as there are hills and roads to cross. If you have older kids or are feeling more adventurous, Devou also has backcountry trails for biking. You can now rent a bike from DevouCycle. 
Giles Conrad Park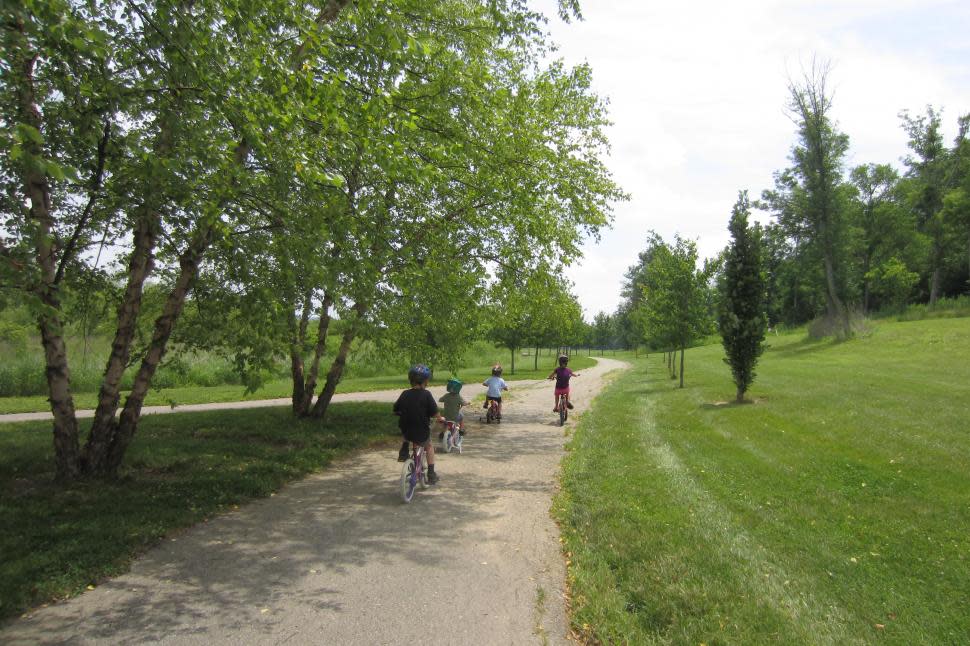 Located in Boone County, Giles Conrad Park offers a great view of the Ohio River as you ride your bike along a very flat 1.3 mile bike path. This is a perfect place to take new bike riders since it's so flat. And as an added bonus, there's also a playground and a creek you can explore. Or you can pack a picnic lunch and watch the boats go by on the Ohio River while you eat. We love to ride our bikes in this park, and then sometimes on the way home down the beautiful winding Route 8, we stop to go across the Ohio River on the Anderson Ferry.
International Friendship Park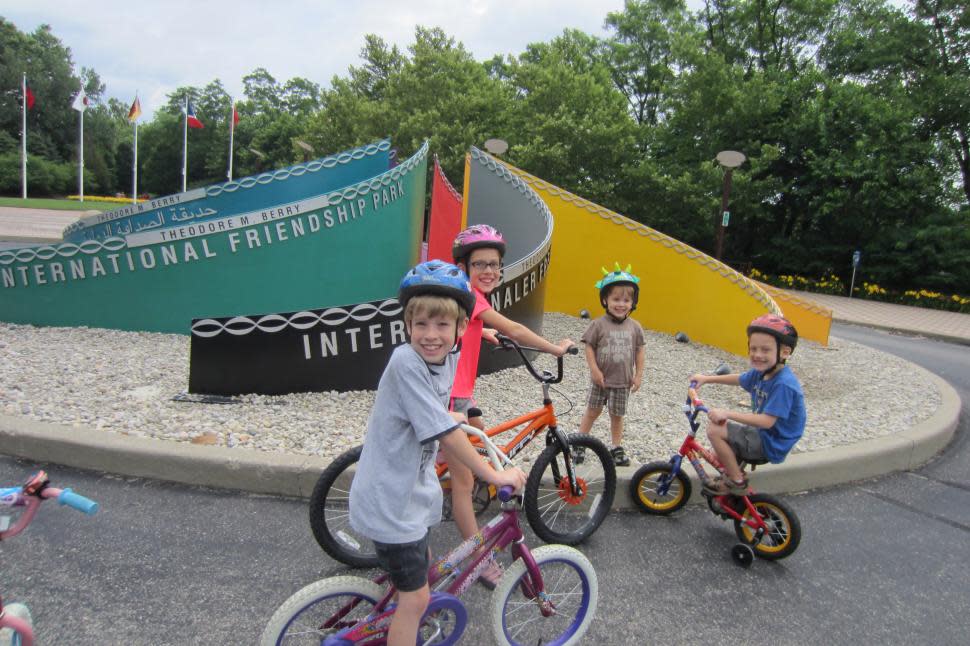 The Theodore M. Berry International Friendship Park is hands down my favorite place to take the kids when they are learning how to ride their bikes because it is a very easy and smooth ride for the young ones, with only a couple VERY small hills. Not only is it a simple ride for young riders, but it is a gorgeous place to ride your bikes, walk or run because you have a great view of the Ohio River, and the park is full of beautiful landscaping and awesome sculptures. Once the kids are ready for a longer ride you can take them from the Friendship Park along the trail to Sawyer Point and then on to Smale Riverfront Park. There are many places to play along the way, and a few places to dine as well, or you can pack a picnic. It's a perfect place to spend the day! The FREE parking lot for the International Friendship Park is on Riverside Drive, on the right, just past Montgomery Inn Boathouse. This route  is part of the Ohio River Trail which continues east toward Lunken Airport. This route can also be easily extended across the river via the Purple People Bridge. 
Loveland Bike Trail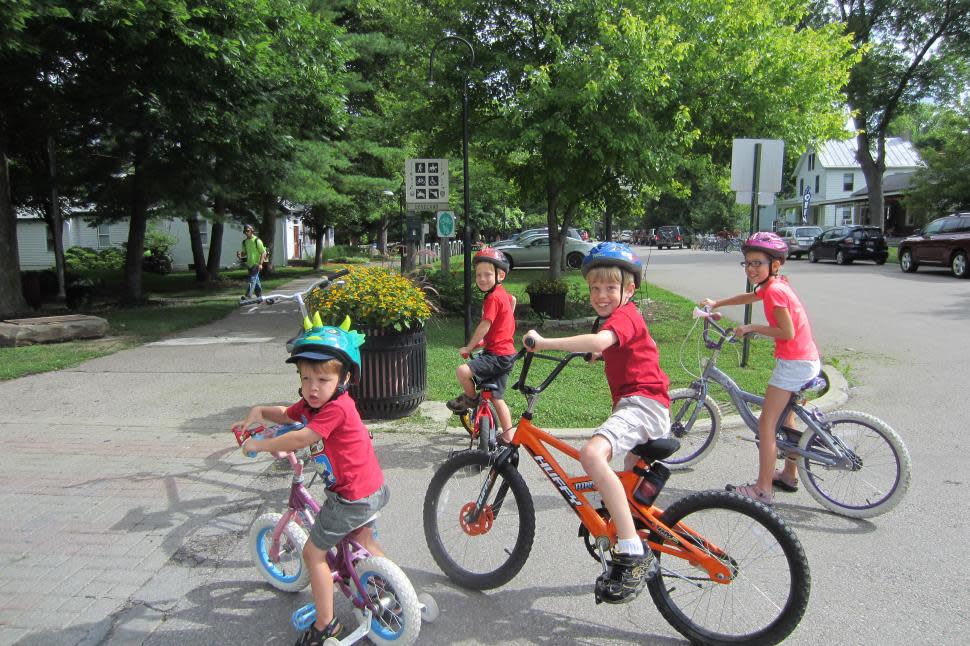 The Loveland Bike Trail is a part of the Little Miami Scenic Park which contains over 70 miles of paved trail, and there are many spots where you can park and ride from along the trail. We chose to start our bike ride in the charming town of Loveland, and I rode for a few miles down the trail with all four kids. The path is easy enough for even the young riders to maneuver, but I sort of wish I had left the youngest of mine with his grandparents because the older kids were itching to go farther along the trail! We had gorgeous views of the Little Miami River, and even saw deer crossing our path! When you finish your ride there is much to do in Loveland, especially if you are hungry! They have many restaurants to choose from, and then you can let the kids play in the playground or take a little drive to visit the Loveland Castle, which my children love.
Lunken Airport Bike Path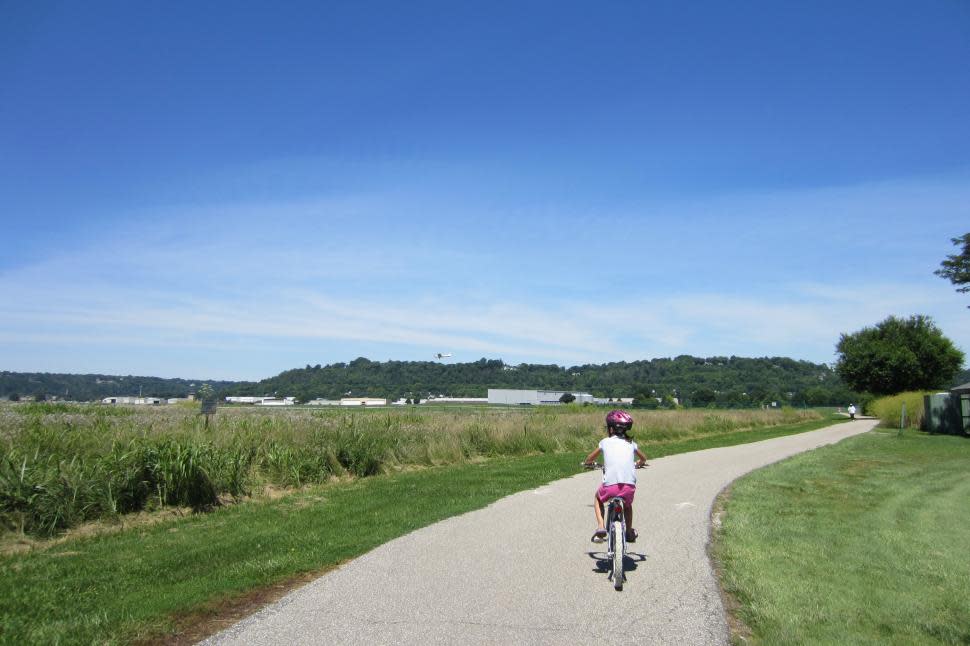 Get up-close-and-personal with airplanes and helicopters on a bike ride around Lunken Airport! There is a five-mile loop around the airport that is always fun to ride on. If you are hungry after the ride, you can stop off at the Sky Galley Restaurant and grab a bite to eat. The Lunken Bike Path also connects to a path that leads to the Armleder Park Trail, which would add another two miles to your ride. There is very little shade on this ride, and a few very big hills, so don't forget the sunscreen and consider leaving the rookie bike riders at home if they aren't good with hills. The path is very wide, and it's always busy with bike riders, walkers, runners, and others out for exercise. The highlight for us on this path is to watch the planes take off and land while we enjoy our ride. There is a free parking lot across the street from the airport. This route is part of the Ohio River Trail. 
Spring Grove Cemetery and Arboretum
CURRENLTY SPRING GROVE IS NOT PERMITTING CYCLISTS. You might find it odd that I've included a cemetery in my list of places we love to bike ride, but the Spring Grove Cemetery welcomes walkers and bicyclists to enjoy the historic and exquisite grounds. This is one of my favorite places in Cincinnati to wander around, whether it be driving, biking or walking. There are so many nooks and crannies to explore, and while you are wandering you will see trees of so many varieties (labeled so you know what they are), swans swimming gracefully, and notable figures from Cincinnati's history buried on these sacred grounds. It's such a peaceful place to be, I always feel so calm and restful after visiting Spring Grove.

While you're in the neighborhood, just across from Spring Grove is Salway Park that offers a flat bike path about 1.5 miles in length. Spanning the path is a visual art installation called Space Walk, a to-scale simulation of the solar system. 
Tips for fun & safe bike rides: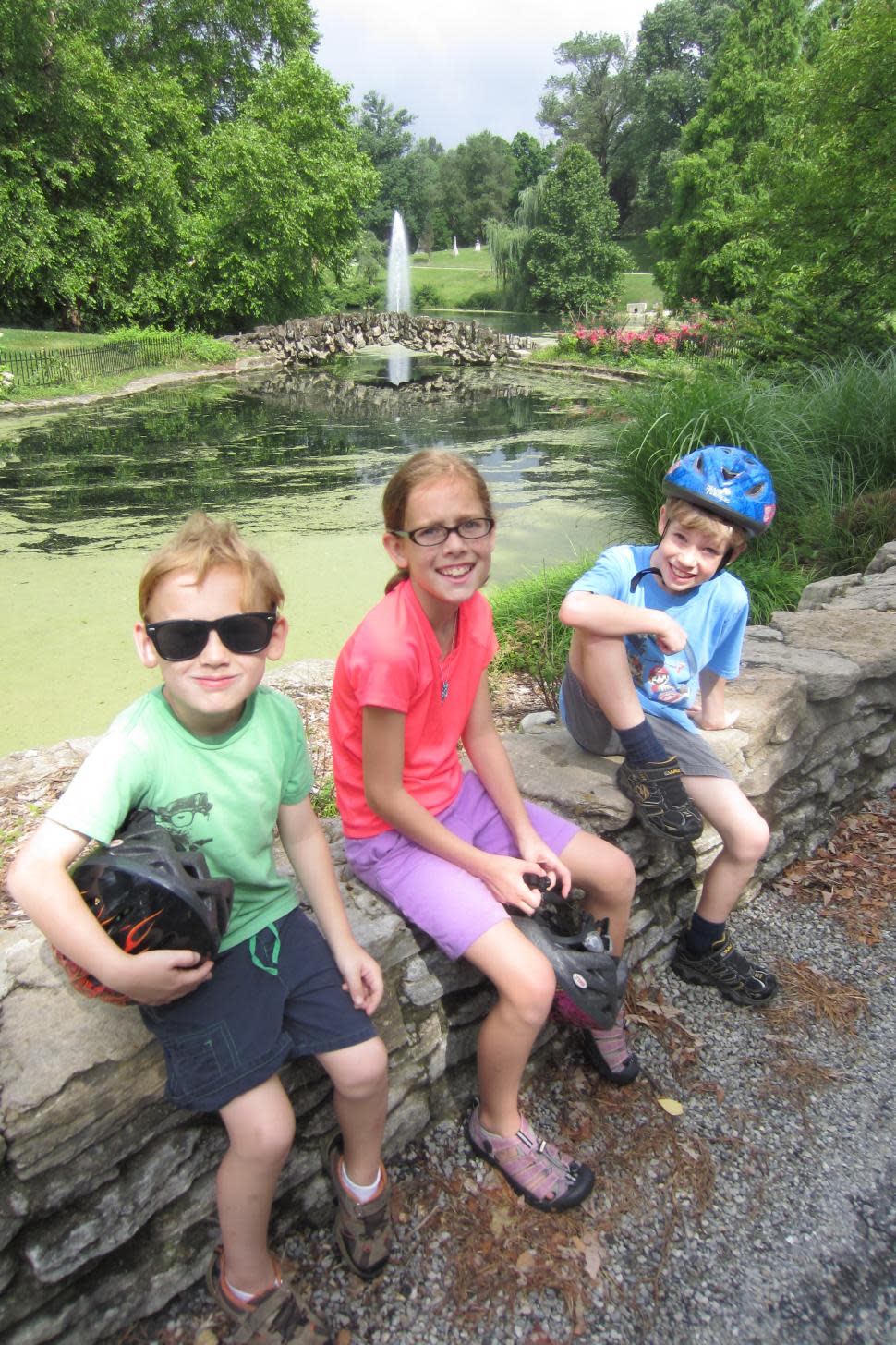 Wear a helmet
Water, Water, Water – keep hydrated!
Take sunscreen and hats if it's a trail without shade
Talk to your children before rides about bike safety (stay to the right, alert other riders you are going to pass by saying "On your left")
Lock your car and leave valuables at home
Additional Routes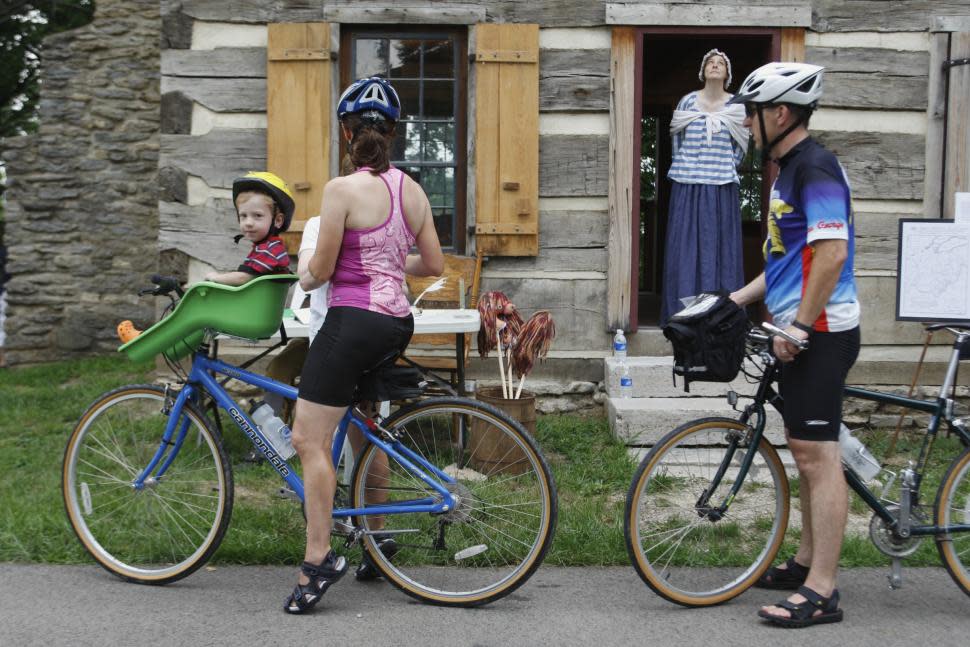 There are many additional route options, plus some that are being extended and connected around the Cincinnati region. One such example is the Ohio to Erie Trail which Here are some other trail options to consider as you're biking around the region. 
Updated by Julie Brock