In 2016, more than 26 million people visited the Cincinnati region and spent $5 billion collectively, according to a new report, The Economic Impact of Tourism in the Greater Cincinnati Region. Growth in the region's travel and tourism industry outpaced national averages in most key categories, reflecting the local industry's trend of year-over-year progress.

The new research, conducted by Tourism Economics and Longwoods International, studied the economic impact of travel and tourism in the 15-county, three-state Cincinnati region in 2016. Increases in visitation and direct visitor spending – by 2 and 4.6 percent, respectively – are among the study's highlights.

"Tourism is undeniably a huge economic driver for our region, and these results show that the impact is continuing to grow," said Dan Lincoln, president and CEO of the Cincinnati USA Convention & Visitors Bureau. "In terms of jobs, tax revenue and support for local businesses, tourism is vital to our economic health as a region."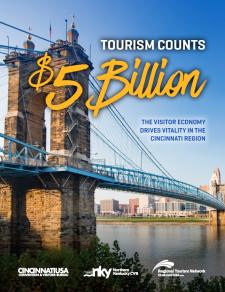 Key findings from the study include:
The Cincinnati region hosted 26.1 million visitors in 2016.
 
Visitors spent $5 billion in the region, driven by spending on food and beverage, retail and lodging.
 
More than 77,000 jobs are sustained by the travel and tourism industry in the region.
 
Tourism generates $1.1 billion in tax revenue, including state and local taxes, offsetting the regional household burden by $630 yearly.
 
The Cincinnati region's growth in visitor volume, room demand, revenue and hospitality employment in 2016 outpaced the growth of the United States in these measures.
"These results are a testament to the work our region is doing to position itself as an attractive and opportunity-filled destination, both for convention attendees and leisure travelers" said Eric Summe, president and CEO of meetNKY. "We intend to continue in this mission to build on the momentum, plan for the future and continue moving forward as a region."
Visitors to the area in 2016 were primarily regional, according to the study. The largest markets of origin for overnight visitors to the Cincinnati region were Columbus, Ohio; Lexington, Ky.; Charleston/Huntington, WV; Indianapolis and Chicago.
"We attract visitors who seek to connect to our big-city arts and authentic experiences, professional sports, family fun, festivals and culinary and outdoor adventures," said Linda Antus, president and CEO of the Cincinnati USA Regional Tourism Network. "It is gratifying to see our region's hard work and collaboration creating impact and enhancing the economic benefits of travel and tourism."
The study was commissioned by the Cincinnati USA CVB, meetNKY – Northern Kentucky CVB and the Cincinnati USA Regional Tourism Network.
---
Spread the Word
Members, partners and media are invited to share the good news that Tourism Counts via social media. Images of Cincinnati icons like a cheese coney, flying pig statue, beer and, of course, Fiona have been created to demonstrate the economic power of travel and tourism for Cincinnati. The images can be found at www.cincyusa.com/tourismcounts.
 
---
About the Cincinnati USA Convention & Visitors Bureau
The Cincinnati USA Convention & Visitors Bureau is an aggressive sales, marketing and service organization whose primary responsibility is to positively impact Hamilton County's and the City of Cincinnati's economy through convention, trade show and visitor expenditures. The travel and tourism industry traditionally has been a $4.4 billion industry in Cincinnati USA, employing 74,000 people in a variety of fields and bringing 24.1 million visitors to the region annually. Visit www.cincyusa.com for more.