When choosing your next event venue, you're probably like a lot of meeting planners: You want new and you want different. And as surprising as this might be to hear, we think this is exactly why you need to consider a church for your next event. 

Recently, Cincinnati has had three new event venues that have opened up that were churches in their past lives. WIth their multi-million dollar renovations, these churches are finding new life with many different kinds of celebrations. 

Here's why you need to consider these newly re-vamped churches for you next event:
Great location
Churches are used as a gathering place for the community and because of that, tend to be located in central locations with easy access to neighborhoods. Taft's Ale House and The Transept are both located in the Over-the-Rhine neighborhood. That means easy access to Washington Park, a beautiful outdoor space that could easily also be utilized as a part of your event. You also have access to some of Cincinnati's trendiest restaurants and shopping. Your attendees can get a taste of Cincinnati just steps from your event's location or you can schedule an after-party without having to invest in transportation. 
Save Money on Decor
When you decide that you need a larger venue, that means you need more of everything and that is especially true of decor. But if you choose a large venue like the Monastery Event Center, the beautiful brick and the amazing altar means that it really does not take much to whisk away your attendees to a whole other world. Just simple lighting goes a long way in this space. 
Many Different Types of Rooms
Churches have always been used for more than just worship, and because of that, many have several rooms that were used for other events. That is especially true of The Transept. You have a much larger room that is great for presentations, but then you can throw a cocktail party downstairs in the bar area. Or maybe throw a chef's dinner in a beautiful brick room just off of the kitchen. If your event has a lot of moving sub-events, this is a great option to look into.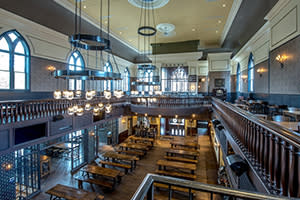 Unique Room Details
Have you ever dreamed of having an event in a bell tower? Or maybe the mezzanine of a church while looking at tanks of beer where an organ used to be? These little details from Taft's Ale House will have your attendees talking for many years to come. 
At the Monastery Event Center, you'll find a confessional that's been turned into a bar and another that is being used for wine storage. These sinners & saints details can go so far as becoming a theme for your event or maybe just another unforgettable detail for your attendees. 
Rich History
Each one of these churches served an important role in our city, and because of that, their stories are the stories of our city. The three churches have been meticulously researched by their new owners and they have kept many of the historical details intact. That means you have access to people that know a great deal about why these buildings were so important and the care that went into bringing them back to life. And these interesting tidbits could be small elements that could be incorporated into a session or throughout the event. 
Have you hosted a business event in a church?