When we heard that the 2017 Pantone Color of the Year was "Greenery", we were excited. Our heads swam with all of the possibilities for events. 

From invitations to lighting, this color has the potential to add just the right tone to your event and bring it from ho-hum to spectacular. 

But before you get to the individual elements, you have to start with a theme. And when we think of themes using Greenery, these are just a few that could dazzle your attendees:
Golf
A golf theme may seem targeted to a very limited audience and not great for a larger crowd, but that is why you need to leave the traditional golf course behind. 
Try a venue like TopGolf   instead. This all-weather driving range gives long-time golf lovers a new challenge with different games around driving the ball into certain targets. And since it's a range rather than a course, it provides a chance for newbies to easily take a swing as well. 
But what about those that have no interest in golf? Or what if your event is a family affair with children? TopGolf has easy access to games as low-tech as billiards to the very high-tech Xbox Kinect. And with a rooftop terrace, you can add yard games like Giant Jenga or Cornhole. You might even turn it into a club atmosphere to provide another element to your event. 
If you want to go this route, we recommend doubling down on the golf theme. Consider having your attendees dress in their silliest golf outfits. Provide putting stations throughout the venue, bringing more of 2017's color into your event while providing an opportunity for fun contests. This theme allows for the ability to get a little sillier, so don't be afraid to go there. 
Forest
With Greenery, you really have the chance to take your attendees somewhere special, so why not take them to an indoor forest? 
Look for a larger venue that allows you to build what you need from scratch, like the National Underground Railroad Freedom Center. Within this venue, you have access to a large room that can be made mostly empty, as well as a theater with a star-lit ceiling. Both elements provide a lot of opportunities. 
We suggest starting your attendees off in the theater and shielding the rest of the event from them. This would allow for you to do any traditional programming and begins your attendees' journey. 
With the completion of your traditional event, you can then drop the veil. In this case, it's best to think big. Big trees, big flowers and big ideas. Remember that you're taking your attendees somewhere. They should not be able to recognize what was once there and instead feel like they are stepping into the serene forest. 
Mad Hatter's Tea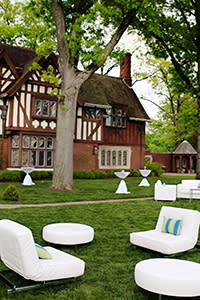 Your standard garden party could work for Greenery, but why be standard? Instead, go for a Mad Hatter's Tea!
With this theme, we can't help but think of Pinecroft at Crosley Estate. This estate provides ample outdoor space with great indoor options as well. 
Much like the forest theme, you want to go big. Bright colors and a bit of zany should be on your agenda. 
Think of taking the inside outside. This could mean simply bringing furniture like couches and ornate tables outdoors. Or it could mean taking natural elements and turning them into the furniture for your event. 
And the best part of this theme is that it calls for heavy attendee participation with big, crazy hats. So in the end, your attendees become the real decoration. 
How are you using Greenery at your events in the coming year?