Need to know the ins and outs of a destination? Are you are missing out on opportunities that can make you and your attendees' experience so much better?

Your destination's convention and visitor bureau (CVB) is ready to serve as an official point of contact for meeting and convention planners – offering a more streamlined way to plan any sized event. CVBs are the local experts, with comprehensive contacts and relationships with hotels, event space, services and more.

Here are just a few ways a convention and visitors bureau can help you (free of charge) to overcome challenges and make your meeting planning easier:


Picking a Date
 
Your meeting date makes a huge difference when it comes to attendance and what is available to you.

If you are looking for a date for a budget meeting, a convention and visitors bureau can direct you to dates when there are fewer events and more affordable hotel rooms. Or if you want to coincide with a city-wide event to cut down on your entertainment and activity costs, you can go over the possibilities with the convention and visitors bureau.

Simply provide the bureau with your different variables, and you can get your best dates to take advantage of the city's resources. 
Unique Experiences
CVBs know, and love, their destinations. And they want to share that insight with you.
Do you have attendees looking for healthy options and unique exercise experiences? You can connect your attendees to the free exercise classes at 
Washington Park
. Or maybe your attendees are more creative? Then connect them with the free docent tours at 
21c Museum Hotel
. You can list options like these in your proposals and CVBs can help you seek out these experiences.    
Stretch Your Budget & Save Time

There are so many ways to stretch your budget beyond picking that perfect date.

CVB can send your RFP out to any or all hotels in the area with the click of a button. Then, they can provide you with a comprehensive, easy-to-navigate proposal in about the same time it would take you to follow up with one hotel. Again, all for free.

What if there is another conference in town? Could you possibly share items such as centerpieces or even an event photographer? A relationship with a convention and visitors bureau could potentially explore sharing items with another conference.

You can also get an extra set of hands for activities such as marketing, staffing the event, etc. All you have to do is ask, and CVBs can help to stretch your event budgets. 
A FREE Welcome Party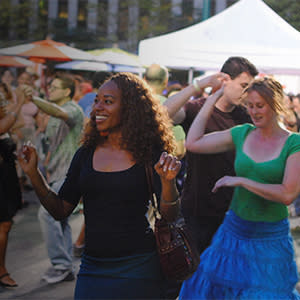 Yes, you did read that right: a FREE welcome party.   
Along with all of the other ways a convention and visitors bureau can help you plan your event, the Cincinnati USA CVB is offering a party to introduce your attendees to why the Cincinnati region is so special. That includes visits from some of our favorite local mascots, as well as the adorable critters from the
Cincinnati Zoo
. 
With this, you can get incentives such as a 2% credit to the master account on room revenue at the
Hyatt Regency
and the
Hilton Cincinnati Netherland Plaza
, free rental space at the
Duke Energy Convention Center
with $200,000 food and beverage spend or a 10% across the board discount on room rental, food and beverage, internet and preferred A/V. No matter how you slice this, you can give your attendees an event to remember.
Check out everything you need to know about this
event planning deal
. 
How has a convention and visitors bureau helped your event out?