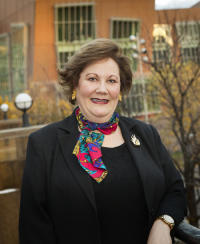 Mary Beth Baluta, regional director of sales for Washington D.C. for the Cincinnati USA Convention & Visitors Bureau, has been nominated for the "Supplier of the Year" award by the Professional Conventions Management Association (PCMA). PCMA is the world's largest network of business events strategists, and its Professional Excellence Awards are considered among the most prestigious in the meeting planning industry.
"The finalists for our Professional Excellence Awards are true leaders in the business events industry who have made significant contributions toward the advancement of their organizations and the industry as a whole. The Cincinnati business event community should be proud to be represented by one of the industry's best – Mary Beth Baluta," said PCMA President & CEO Sherrif Karamat.
PCMA's Professional Excellence Awards are peer nominated based on distinguished accomplishments and noteworthy contributions to the business events industry. Baluta's nomination comes after a two-year tenure as a board member of the PCMA Capital Chapter, the largest chapter in the organization.
In Baluta's nomination for "Supplier of the Year," she was commended for her "vigorous efforts in liaising with potential clients, convention bureaus and suppliers" and for "taking in every detail before offering an idea or possible solution." Baluta is one of three nominees for this year's award, and one of only 15 finalists for the entire awards program.
"I am beyond honored to have been nominated for this award. It's not work if you love what you do, and it is such a joy to promote Cincinnati and to be so involved within the D.C. market. To be recognized by PCMA is both validating and flattering," Baluta said.
Baluta, who joined the Cincinnati USA CVB in 2009, is a 39-year veteran of the industry. Baluta has played an integral role in bringing important convention business to the Cincinnati region, including events hosted by the American Association of Colleges for Teacher Education, the American Academy of Orthopedic Manual Physical Therapists and the National Catholic Educational Association, which will bring nearly 5,000 attendees to Cincinnati this spring.
"Mary Beth is a real force of nature and a major asset for the CVB," said Barrie Perks, vice president of sales and services for the Cincinnati USA CVB. "When she walks into a room full of meeting planners, the place lights up. The impact that Mary Beth has made in terms of forging relationships and attracting business to the Cincinnati region has not gone unnoticed, and she is more than worthy of this important recognition."
Throughout the last year, Baluta has been recognized for her reputable career in the industry: In June 2017 she was presented the President's Award by the Potomac Chapter of Meeting Professional International (MPI); In January 2018 Baluta was named "Star of the Winter" by MPI for her work in professional development and education; Baluta was also recently named Vice President of Education for MPI's Potomac Chapter.
A complete list of nominations for the PCMA Professional Excellence Awards can be found
here
. The award winners will be announced at the PCMA Education Foundation's 2018 Visionary Awards in May.
---
About PCMA
PCMA educates, inspires and listens, creating meaningful experiences where passion, purpose and commerce come together. We are the world's largest community for Business Events Strategists providing senior education and networking for the business events sector. PCMA crafts and shares knowledge and market intelligence, enabling organizations to make informed business decisions while providing a platform for peer-to-peer exchange. Headquartered in Chicago, PCMA has 17 chapters throughout the United States, Canada and Mexico with members in more than 40 countries. Visit
www.pcma.org
for more.
---
About the Cincinnati USA Convention & Visitors Bureau
The Cincinnati USA Convention & Visitors Bureau is a sales, marketing and service organization whose primary responsibility is to positively impact Hamilton County's and the City of Cincinnati's economy through convention, trade show and visitor expenditures. The travel and tourism industry traditionally has been a $5 billion industry in Cincinnati USA, employing 77,000 people in a variety of fields and bringing 26.1 million visitors to the region annually. Visit
www.cincyusa.com
for more.