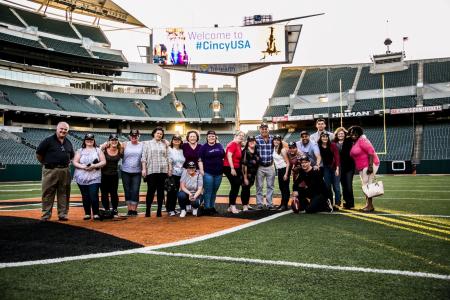 Travel professionals from Ireland and the UK were treated like royalty in the Queen City last week during a segment of Brand USA's 2017 MegaFam.

The group, made up of travel agents from Ireland and the UK, qualified for the trip by booking travelers to the U.S. on American Airlines and British Airways. Hosted by the Cincinnati USA Convention & Visitors Bureau, the 17 visitors experienced a tour of Cincinnati's underground lager tunnels and spent time on the field at Paul Brown Stadium, home of the Cincinnati Bengals. Cincinnati was included in one of seven U.S. itineraries in this year's MegaFam.
Following a brief stop in Cincinnati and other regional cities, the group convened in Chicago on May 17 to reunite with other agents on the multi-destination tour.
"We are proud to consider Cincinnati a world-class destination, and we value the opportunity to showcase our city to influential members of the international travel industry," said Barrie Perks, Vice President of Sales and Services at the Cincinnati USA CVB.
---
About the Cincinnati USA Convention & Visitors Bureau
The Cincinnati USA Convention & Visitors Bureau is an aggressive sales, marketing and service organization whose primary responsibility is to positively impact Hamilton County's and the City of Cincinnati's economy through convention, trade show and visitor expenditures. The travel and tourism industry traditionally has been a $4.4 billion industry in Cincinnati USA, employing 74,000 people in a variety of fields and bringing 24.1 million visitors to the region annually. Visit www.cincyusa.com for more.