The Cincinnati USA Convention & Visitors Bureau is pleased to announce local sales professional Kathy Ehlman has joined the CVB team as senior sales manager for specialty markets. In this role, Ehlman reports to Executive Vice President Andy Conklin and is responsible for prospecting for new business in the state association, cultural fine arts, hobby, and direct sales segments.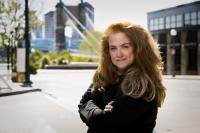 Ehlman comes to the Cincinnati USA CVB with more than 20 years of hospitality sales experience in the Cincinnati region. In her most recent role, Ehlman was a top producer year over year as a senior sales manager for the sports, state association and specialty markets at meetNKY, the Northern Kentucky Convention and Visitors Bureau. Her years of experience also include positions at Westin Cincinnati, Tri State Travel School, and AAA Cincinnati.
"With ongoing developments along the banks of the Ohio River and new hotels, restaurants and attractions coming online, it's important for our CVB to have a well-rounded and robust sales force to continue promoting Cincinnati to groups and planners. Kathy's track record and familiarity with the region make her the perfect fit for this position," said Executive Vice President Andy Conklin.
In addition to her local experience and connections, Ehlman boasts a long list of professional affiliations within the hospitality industry including the Kentucky Society of Association Executives (KSAE), Ohio Society of Association Executives (OSAE), Sports ETA (formerly NASC) and Professional Convention Management Association (PCMA).
"The renaissance taking place downtown and in the northern suburbs makes it easy to promote the Cincinnati region as a friendly and affordable destination for conventions and meetings," Ehlman said. "There is so much potential to host groups within this market. I'm excited to join the Cincinnati USA CVB and look forward to tapping into those growth opportunities within the state association, arts and direct sales segments."
Ehlman has also received several certifications – Institute of Certified Travel Agents Certified Travel Associate, Institute of Certified Travel Agents Destination Specialist and Certified Tourism Ambassador.
Click here to download a high resolution photo of Kathy Ehlman.
---
About the Cincinnati USA Convention & Visitors Bureau
The  Cincinnati USA Convention & Visitors Bureau is a sales, marketing and service organization whose primary responsibility is to positively impact Hamilton County's and the City of Cincinnati's economy through convention, trade show and visitor expenditures. The travel and tourism industry traditionally has been a $5.3 billion industry in Cincinnati USA, employing more than 80,000 people in a variety of fields and bringing 26.6 million visitors to the region annually. Visit
www.cincyusa.com
for more.