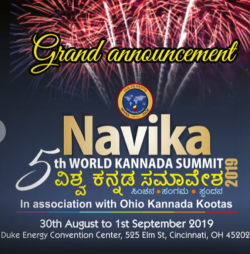 Cincinnati has been selected as the host site for an international celebration of Indian culture with the NAVIKA 5th Annual World Kannada Summit, set for Aug. 30 through Sept. 1, 2019. The event, expected to draw nearly 2,500 attendees from around the world, is a celebration of culture from the Indian state of Karnataka, where 'Kannada' is the primary language. This marks the first time the event will be held in Ohio.
NAVIKA (North American Vishwa Kannada Association) is a non-profit organization that aims to bring all Kannada-speaking people together in North America to foster friendships, celebrate diversity and share the culture, values and rich heritage of Karnataka. The ancient history of Kannadigas dates back to 3000 BC. Today, nearly 200,000 Kannada-speaking people live in the U.S. with more than 150 in the Cincinnati region.
"Cincinnati is home to so many distinct cultures that each add a sense of vibrancy and diversity to our region. Hosting the NAVIKA World Kannada Summit here is an example of how embracing our community's cultures can lead to powerful opportunity for Cincinnati," said Julie Calvert, President and CEO of the Cincinnati USA Convention & Visitors Bureau (CVB).
The three-day convention, held at the Duke Energy Convention Center, will feature top entertainers from throughout North America and India who will perform various dances, music, skits and more. Traditional Indian food prepared by locals as well as chefs arriving from India will be a highlight of the event. Additionally, attendees can participate in health and fitness opportunities along with entrepreneurial workshops, a business forum and continuing professional education sessions. All events will be available to the public.
"Hosting the NAVIKA World Kannada Summit in Cincinnati in cooperation with volunteers from Columbus and Cleveland will be a true celebration of home," said Arudi (Raj) Rajagopal, Ph.D., Co-Convener of the NAVIKA World Summit. "We take great pride in sharing our Kannadiga culture with the Cincinnati region, and are thrilled to introduce our visitors to the Queen City, a place that many of us have called home for years."
The NAVIKA World Kannada Summit is one of several multicultural conventions being hosted in Cincinnati in 2019, building on the city's reputation as a top host destination for diverse meetings and events. In the past decade, multicultural meetings in Cincinnati have represented more than one-third of all CVB new business.
"Developing relationships with the various cultural communities at a local level is integral to creating an authentic sense of place in Cincinnati and continuing to make our region welcoming to all," said Jason Dunn, Group Vice President of Diversity Sales and Inclusion at the Cincinnati USA CVB. "It has been a pleasure to work with and learn more about the Kannadigas in the Cincinnati region and to partner with them as we prepare for this exciting event."
To learn more, visit
ohio.navika.org
.
---

About the Cincinnati USA Convention & Visitors Bureau
The  Cincinnati USA Convention & Visitors Bureau is a sales, marketing and service organization whose primary responsibility is to positively impact Hamilton County's and the City of Cincinnati's economy through convention, trade show and visitor expenditures. The travel and tourism industry traditionally has been a $5.3 billion industry in Cincinnati USA, employing more than 80,000 people in a variety of fields and bringing 26.6 million visitors to the region annually. Visit www.cincyusa.com for more.