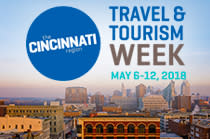 The Cincinnati region's destination marketing organizations are celebrating the 35th annual National Travel and Tourism Week, May 6-12, with a series of showcase events to recognize and raise awareness of the importance of the Cincinnati region's hospitality industry.
The regional collaboration by the Cincinnati USA Convention & Visitors Bureau, meetNKY | Northern Kentucky Convention & Visitors Bureau and the Cincinnati USA Regional Tourism Network is part of a national effort led by the U.S. Travel Association to draw attention to the jobs, economic growth and enhanced quality of life that travel and tourism fosters in a community.
"We understand the incredible impact that the local travel and tourism industry has on the Cincinnati region, and we are committed to growing visitor expenditures through conventions, tourism and events," said Mike Laatsch, interim president and CEO of the Cincinnati USA Convention & Visitors Bureau. "This week serves as a reminder that visitors bring new money into our economy, which in turn recirculates dollars, jobs and opportunities back into the community."
The Cincinnati region hosts more than 26 million visitors each year, generating $5 billion collectively in visitor spend. As the summer travel season approaches, local attractions like the Cincinnati Reds, the Newport Aquarium, Cincinnati Museum Center, Kentucky Speedway and more are gearing up for an increase in visitation.
"Baseball fans from across the country travel to Great American Ball Park year after year, and while they're here they have the pleasure of experiencing all that Cincinnati has to offer," said Phil Castellini, president and COO of the Cincinnati Reds. "I have been fortunate to be a part of and to support our local tourism industry with the Reds for a number of years, and I witness firsthand what travelers mean to the Cincinnati region."
National Travel and Tourism Week will begin with the Cincy Staycation Showcase at Fountain Square on Monday, May 7 from 11 a.m. to 1:30 p.m. There, more than 40 vendors will host booths with interactive experiences, giveaways and prizes for local residents and the downtown business lunch crowd to learn about the attractions, events and experiences that make Cincinnati a vibrant destination. Attendees will have the opportunity to win more than $5,000-worth of prizes, take photos with various local mascots and engage directly with regional attractions to plan a summer filled with unmistakably Cincinnati experiences.
"The travel and tourism industry in the Cincinnati region is incredibly far reaching, and has outpaced national averages in terms of growth in most categories. This week, we are drawing special attention to travel as an economic engine and are calling on our leaders, legislators and stakeholders to join us in growing the positive impact of tourism in our region," said Eric Summe, president and CEO of meetNKY.
Representatives from the local travel and tourism community will come together throughout the week to advocate for the industry as an economic driver and job creator by contacting local policymakers and key stakeholders. The Cincinnati region will be represented at Ohio Tourism Day at the Ohio Statehouse in Columbus on Wednesday, May 9.
A free day of education will be offered to the local travel and tourism community on Thursday, May 10, featuring guest speakers who will host workshops about enhancing the online presence of businesses in the travel industry on TripAdvisor and Google.
"Throughout the Cincinnati region, the travel and tourism industry employs a prosperous and diverse workforce of more than 77,000 jobs, from airline and hotel employees to restaurant, attraction and retail workers," said Linda Antus, president and CEO of the Cincinnati USA Regional Tourism Network. "We come together to celebrate the power of travel and tourism and to share how the industry's strength positively benefits the vitality of the Cincinnati region for its residents."
To learn more about National Travel and Tourism Week in the Cincinnati region, please visit
www.CincyTourismWeek.com
.
Click here for more details on the Cincy Stayacation Showcase on Monday, May 7 at Fountain Square.