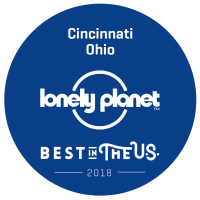 The Cincinnati region has earned national recognition as an important travel destination once again. Today, Cincinnati was one of 10 U.S. destinations included in the "2018 Best in the U.S." campaign by Lonely Planet, the number one travel guidebook brand in the world. Cincinnati ranks No. 5 on the list, just weeks after earning a top spot in the New York Times' "Best Places to Go in 2018" and American Express Essentials' "2018 Trend Destination Hot List."
"These are the places American travelers should know about in 2018," said Lonely Planet U.S. magazine managing editor Alexander Howard. "The U.S. is packed with timeless, well-known destinations, but if you're looking for something different to shake up your travel plans this year, this list will get you inspired."
Lonely Planet travel experts research, visit and determine the "most compelling destinations" to visit in the year ahead, and found Cincinnati to be a top choice for 2018 with its "beer, arts and savvy neighborhood development giving it some swagger."
In 2018, Cincinnati will celebrate several icons that reference the region's deep-rooted history, while also continuing the local renaissance that has led to such acclaimed national and international recognition. Music Hall will celebrate its 140th birthday after undergoing massive renovations; the Flying Pig Marathon will be run for the 20th year; the historic Union Terminal will return in all its glory after a $224 million renovation; and the region will introduce a new locally distilled bourbon from New Riff Distillery.
"The Cincinnati region is thriving, with an impressive amount of development either complete or in the works and a community that takes pride in supporting and showing off its assets," said Mike Laatsch, interim president and CEO of the Cincinnati USA Convention & Visitors Bureau. "It is evident that Cincinnati has caught the nation's attention, and is being recognized as a world-class, must-visit destination."
As the Cincinnati region establishes itself as one of the best in the U.S., the travel and tourism economy continues to flourish. According to the most recent economic impact report, the region hosts 26.1 million visitors annually, resulting in $5 billion in direct visitor spending. The region's tourism industry generates $1.1 billion in tax revenue, which offsets the regional household burden by $630 each year. In 2017, travel and hospitality was the fastest growing job sector in the Cincinnati region.
"I have said before that there is no better city for development than Cincinnati, and that has proven to be true within the region's travel and tourism industry," said Cincinnati Mayor John Cranley. "On almost a daily basis we are opening new shops, restaurants, attractions and festivals. These exciting additions to our city – the exact ones that make it a desirable destination – would not be possible without the impact of tourism."
The recent slew of recognitions is the product of committed businesses, leaders, developers and change-makers that support and grow the region's travel and tourism economy. Civic collaborations, like the regional efforts behind last year's BLINK festival, have put Cincinnati on the map in terms of innovation, arts and culture, and unique, hyper-local experiences. An increase in demand has led to more than 1,400 hotel rooms either under construction or in development throughout the region. Additionally, continued efforts from the Cincinnati/Northern Kentucky International Airport (CVG) to lower airfares and increase flights make the Cincinnati region more affordable and accessible for visitors.
"We recognize the profound impact visitors have on our region, and thanks to our airline partners and new low-cost carriers it is affordable and convenient to get here," said Candace McGraw, CEO of CVG. "The work being done to elevate Cincinnati's reputation as a travel destination is getting the attention it deserves, and I'm confident that this is only the beginning."
As the nation turns its attention to Cincinnati as a travel destination, leaders in the region's tourism industry emphasize the importance of buy-in and involvement from local residents.
"The Cincinnati region is topping the charts and making exciting things happen, and we have the privilege of calling it home," Laatsch said. "We have one of the best cities in the U.S., and it's a tremendous quality of life benefit for residents to be able to take advantage of the opportunities that visitors and tourists are traveling hundreds of miles to experience."
To view Lonely Planet's complete 2018 Best in the U.S. List,
click here
.
About the Cincinnati USA Convention & Visitors Bureau
The Cincinnati USA Convention & Visitors Bureau is a sales, marketing and service organization whose primary responsibility is to positively impact Hamilton County's and the City of Cincinnati's economy through convention, trade show and visitor expenditures. The travel and tourism industry traditionally has been a $5 billion industry in Cincinnati USA, employing 77,000 people in a variety of fields and bringing 26.1 million visitors to the region annually. Visit www.cincyusa.com for more.