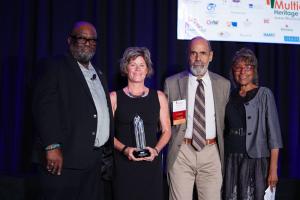 Julie Calvert, president and CEO of the Cincinnati USA Convention & Visitors Bureau, was honored with the 2019 Apex Award for Distinguished Service from Black Meetings & Tourism Magazine. Calvert received the award on July 27 during the International Multicultural & Heritage Tourism Summit & Trade Show in Miami.
Black Meetings & Tourism's Apex Awards for Distinguished Service are presented annually to individuals who have made outstanding contributions in their fields of endeavor that have positively impacted travel and tourism. To be considered, candidates must provide long-term benefits for the travel industry and the African American market segment; represent a national level of prominence; and demonstrate a track record of service and impact.
"Julie understands the power of diversity and inclusion in the travel and tourism industry, and she's made them key parts of the strategic foundation at the Cincinnati USA CVB," said Solomon Herbert, publisher of Black Meetings & Tourism. "It's easy to talk about multicultural strategy, but Julie is actually implementing powerful, impactful programs that are making a difference, and we appreciate her for that work."
Under Calvert's leadership, the CVB announced earlier this year a new diversity and inclusion initiative to make it more relevant for community residents and visitors alike. The CVB's new Diversity Sales & Inclusion department is responsible for five key initiatives, from selling to diverse markets and supplier diversity to expanding the Vibe multicultural marketing platform and the Dan Lincoln Institute for Hospitality Leadership, which trains students for careers in hospitality and tourism.
"Through innovation and collaboration, our team with the CVB works each day to improve and expand diversity and inclusion initiatives," said Calvert. "I'm fortunate to work with so many talented and passionate individuals whose commitment to diversity and inclusion is making Cincinnati a city of the future."
Former CVB President Dan Lincoln and current Group Vice President of Diversity Sales & Inclusion Jason Dunn are past recipients of the Apex Award for their foundational and transformational work in diversity and inclusion for the Cincinnati USA CVB.
"Julie has spent her career in the conventions and tourism industry and has always been committed to building a culture of inclusion across our region," said Cincinnati USA CVB Board Chair Mario San Marco. "She's implemented diversity and inclusion goals as part of every CVB staff member's performance review. She's implemented ongoing diversity training sessions for our CVB team. She's expanded our multicultural marketing footprint. That's powerful progress and, as a Board, we're gratified to see this important work recognized with this honor."
As president and CEO of the CVB, Calvert has been a vocal advocate for Cincinnati and for the region's commitment to diversity, from speaking at the Congressional Black Caucus to serving on the advisory board of the Cincinnati Music Festival.
"Julie has a clear understanding of what it takes for Cincinnati to become a world-class tourism destination," said Andy Ingraham, president of the National Association of Black Hotel Owners, Operators and Developers. "Her commitment to diversity is in her DNA. Leadership sets the stage, and she has exhibited a commitment to heritage and multicultural tourism across the Cincinnati region."
---
About the Cincinnati USA Convention & Visitors Bureau
The Cincinnati USA Convention & Visitors Bureau is a sales, marketing and service organization whose primary responsibility is to positively impact Hamilton County's and the City of Cincinnati's economy through convention, trade show and visitor expenditures. The travel and tourism industry has traditionally been a $5.3 billion industry in Cincinnati USA, employing more than 80,000 people in a variety of fields and bringing 26.6 million visitors to the region annually. Visit www.cincyusa.com for more information.