Cincinnati Reds Opening Day is just around the corner, and to say that we're excited is an understatement. A relaxing day at the park with a beer and brat while we cheer on our favorite team is what we live for. And unsurprisingly, it's the kind of day a lot of event attendees love as well.
Luckily, you can bring all of those feelings to your next event. Sports are a great way for attendees to bond, and a fantastic way to unwind after a long day of breakouts and keynotes. So if you are ready to have your attendees cheering, here is how to bring that excitement to your next meeting:
Tailgate
Throughout the year, there are games that everyone wants to watch. From Opening Day to basketball madness, your event could be competing against people watching games on their phones. Why fight it?
A location, like Sharonville Convention Center, that has indoor and outdoor spaces means that you could grill out for a tailgating feel and the ability to play the game on the big screen inside. So you have the excitement of watching the game together, while also having a place for those who may not necessarily be so into the game. 
Or you can tailgate before actually going to a game. The Hideaway makes for a great meeting place that is only steps away from Great American Ball Park and Paul Brown Stadium. That means your attendees can have a great time pre-gaming and networking while having a great sports view.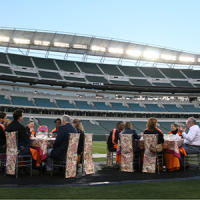 Go to a stadium
And if you are thinking of going to a game, why not do one better? Host your actual meeting at a stadium!
The events teams at Great American Ball Park and Paul Brown Stadium are great at bringing sports into events as much or as little as you want. Think Powerpoints on the scoreboard or even a more elegant affair that overlooks the field. That will have your attendees talking for years to come!

Bring in a player
There is no better way to talk about the great games than with someone that has been there. Our annual meeting recently hosted Joe Morgan, and the audience was captivated as he told story after story about his life as a Cincinnati Red. He also shared lessons he learned that are applicable to almost any industry, including how to work together to be a great team. 
Every sport has their greats. So take a look at what sports interest your attendees and bring in someone that will not only wow them but also teach them how to be better at their jobs. 
How are you bringing sports to your event?